Hong Kong's triathletes produce 'remarkable' performance to bag historic team silver at Asia Championships
Mixed-relay joy for city quartet in as Charlotte Hall leads team to second place
Japan claim gold, with China finishing third at event in Kazakhstan
Hong Kong's triathletes bounced back from a bout of food poisoning to bag a first team silver medal in the mixed relay at the Asia Championships in Kazakhstan on Sunday.
The city's foursome – Jason Ng Tai-long, Hilda Choi Yan-yin, Oscar Coggins, and Charlotte Hall – just held off the challenge of the Chinese team, finishing three seconds ahead in a time of one hour, 28 minutes and 18 seconds.
Japan grabbed gold, finishing more than a minute ahead of their rivals in a time of 1:27.03.
Head coach Andrew Wright hailed his team's incredible performance, which he said came despite the quartet all being far from 100 per cent fit.
"The athletes raced out of their skin and performed incredibly well," Wright said. "This is our first silver medal in any relays, and considering the team was not at full strength with illness, this was even more of a remarkable performance."
Coggins, who was among a number of competitors struck down by food poising on Saturday and missed his individual race, hailed the performance of Choi and Hall, with the latter completing the anchor leg for her team.
"It was a very hard weekend for me," Coggins said. "I was feeling really good coming into this Asia Championships and was very disappointed to get ill just two days out from the individual race.
"I did everything I could but I was barely able to jog the morning of the individual race [on Saturday] so I was forced to pull out.
"Fortunately I was just well enough to race the relay today [Sunday]. I was still struggling from the back end of my illness so I wasn't able to perform at my best but I put everything I had into the race. Honestly, without the outstanding performances of Hilda [Choi] and Charlie [Hall] we wouldn't have achieved this result."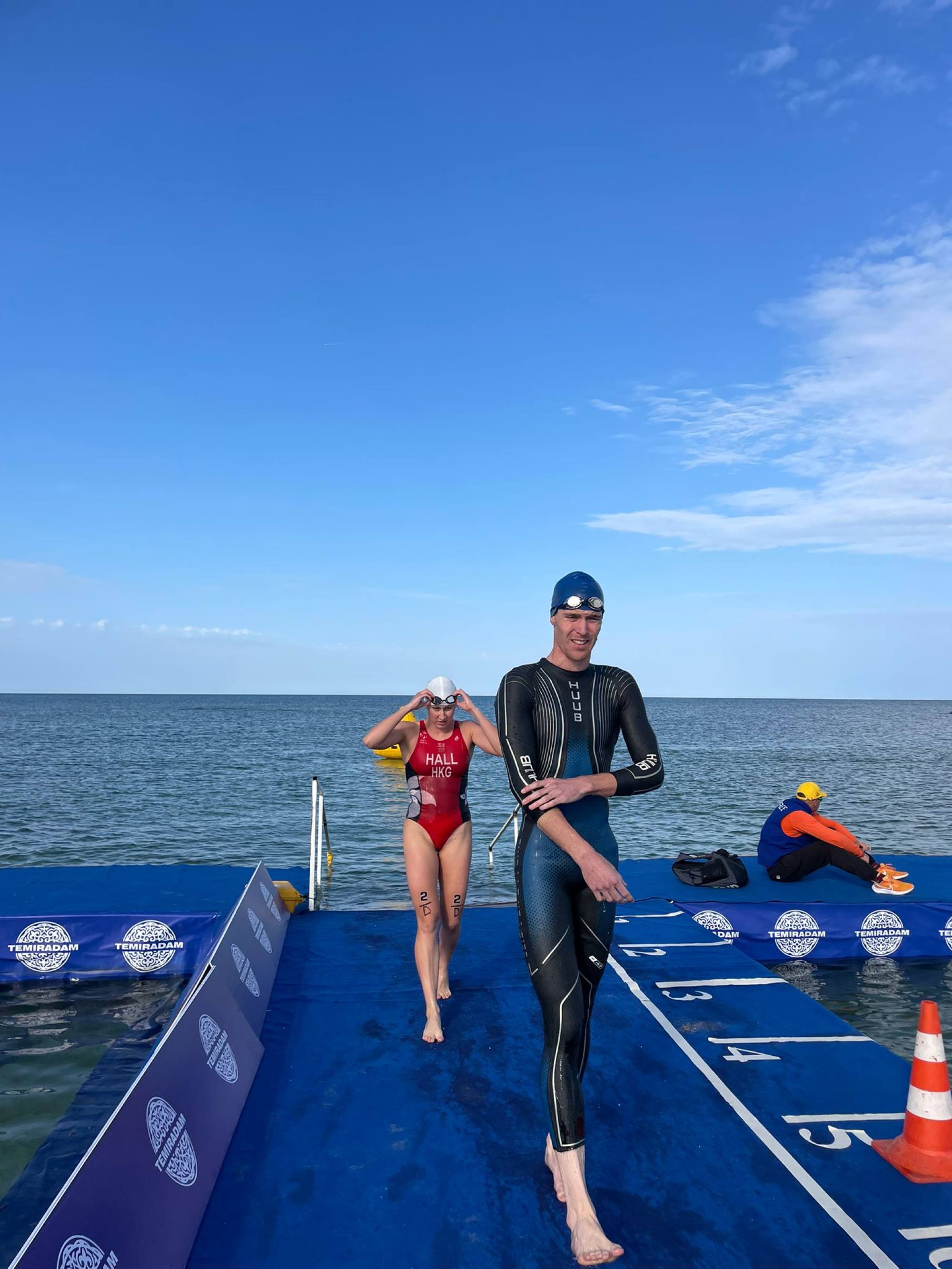 Ng took the first leg for Hong Kong, completing the 250m swim, 3.3km bike and 1.6km run in 21:18, with Choi (22:52) and Coggins (21:41) holding position, before Hall's 22:27 took the team to silver.
"I was so pleased with the team, especially the two girls who were unbelievable in their performance, they definitely carried the team [today] and recovered well from the individuals," Wright said.
"Some of the other teams had brought athletes just for the relay so they had fresh athletes, Kazakhstan had three fresh athletes [they finished fourth], China and Japan have so many athletes of similar level, we have very little depth, so as soon as one athlete struggles we cannot compete."
Wright believes the team's performance should serve as a wake-up call to the city's sports bosses, and shows triathlon needs greater development.
According to the head coach, there are around 40 triathletes training at the Hong Kong Sports Institute, but no clubs or schools producing athletes in the same way that swimming or fencing do.
"If we want world-class athletes, we need thousands of them in our development programmes and clubs," he said.
The team has little time to enjoy its success, however, and the group will travel to Jordan on Tuesday for the Asia Triathlon Cup, on October 1.