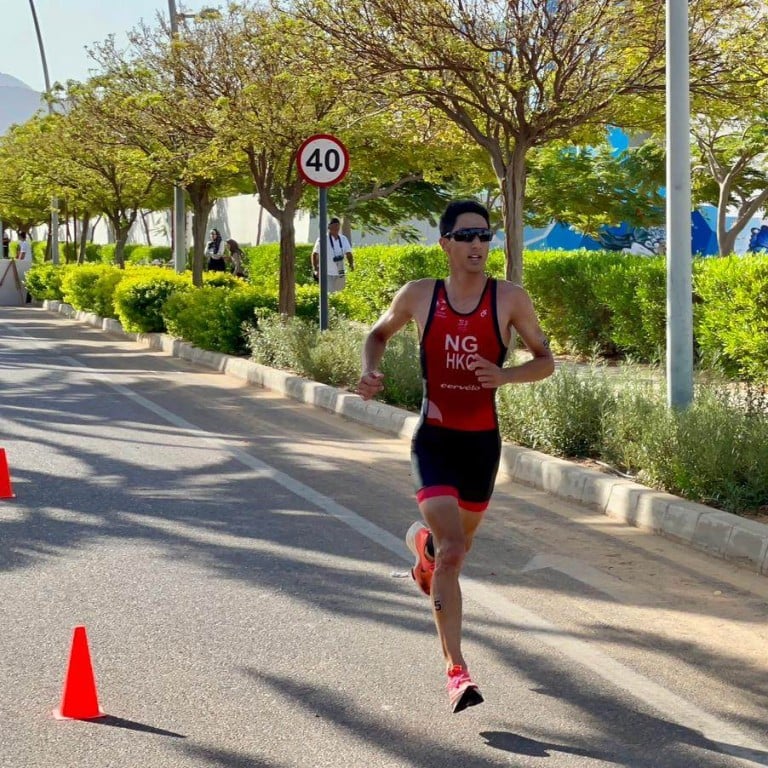 Asia Cup triathlon brings Olympic points for Hong Kong ace – but city delays another race over Covid-19 rules
Jason Ng is third in event in Middle East, a fortnight after helping Hong Kong to win team silver at Asia Championships
Hong Kong delays Asia Youth Championships, having not received government approval in time for October date, when city will now stage local race instead
Hong Kong's triathletes kept up their podium streak in the Middle East on Saturday, with Jason Ng Tai-long taking bronze at the Asia Cup.
Two weeks after sharing in a silver medal-winning performance in the team race at the Asia Championships in Kazakhstan, 22-year-old Ng was third in his own right in a field of 48 competitors in Aqaba, Jordan.
He had a slow start in the 1,500 metres swim, but made up time in the 40km bike ride and 10km run to finish in one hour, 51 minutes and 44 seconds. Matthew Wright of Barbados finished first in 1:51.20, pipping Britain's Iestyn Harrett, who was second in 1:51.22.
Ng and teammates Oscar Coggins, Hilda Choi Yan-yin and Charlotte Hall had earned their medal in Kazakhstan despite some of them having suspected food poisoning the day before, with Coggins withdrawing from the individual event.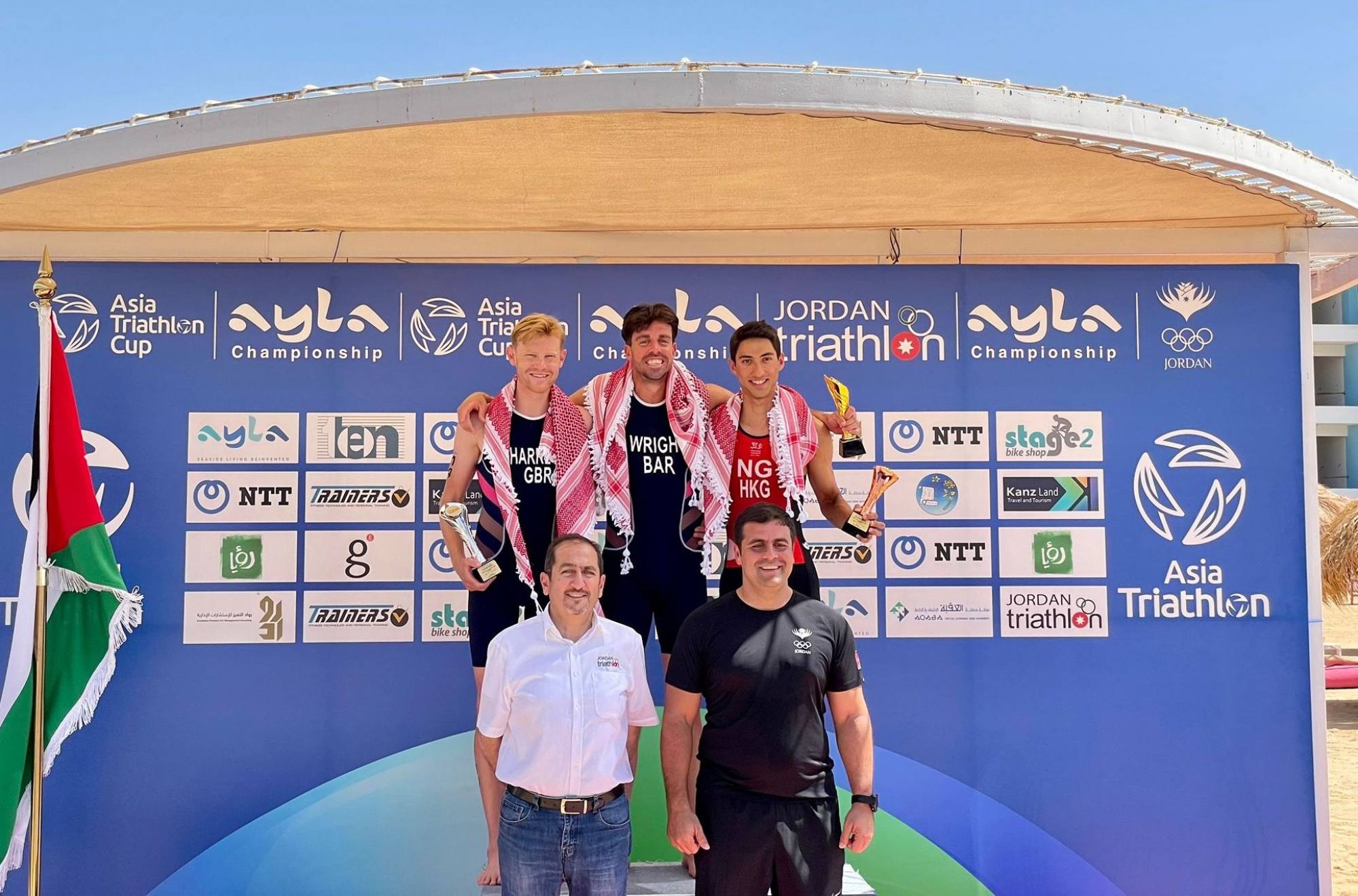 No such hitches were reported for Ng and his compatriots this time by Hong Kong head coach Andrew Wright.
"I'm happy with the performances [today] – they all won good Olympic points," Wright said, referring to the race for places in Paris in 2024.
"Some of the triathletes who finished in top positions in the Asian Championships were quite far back this time in Jordan.
"Jason did a great job today. A similar performance next week [in the Asia Cup in Uzbekistan] will most probably put him in the Asian qualifying places for the Olympics."
Ng's potential became evident when he won two gold medals at the China Youth National Games in 2019 and bronze medals at the Junior Asian Championships in 2018 and 2019.
"I competed in my first Olympic-distance triathlon in Aqaba in 2019, and now I am on the podium – it means a lot to me," said Ng, a student at the Hong Kong University of Science and Technology.
Tokyo Olympian Coggins came sixth in the elite men's competition, while Bailee Brown, Charlotte Hall and Choi were eighth, ninth and 11th respectively in the elite women's division.
"Everyone is fine [after the food poisoning], but we can see Oscar is struggling towards the back end of the race," Wright said. "He could not train for a whole week after the Asians, and only started to feel better a few days ago."
The Asia Youth Championships in Hong Kong have been postponed by six weeks, after organisers did not receive government approval in time for it to proceed this month under the city's Covid-19 restrictions.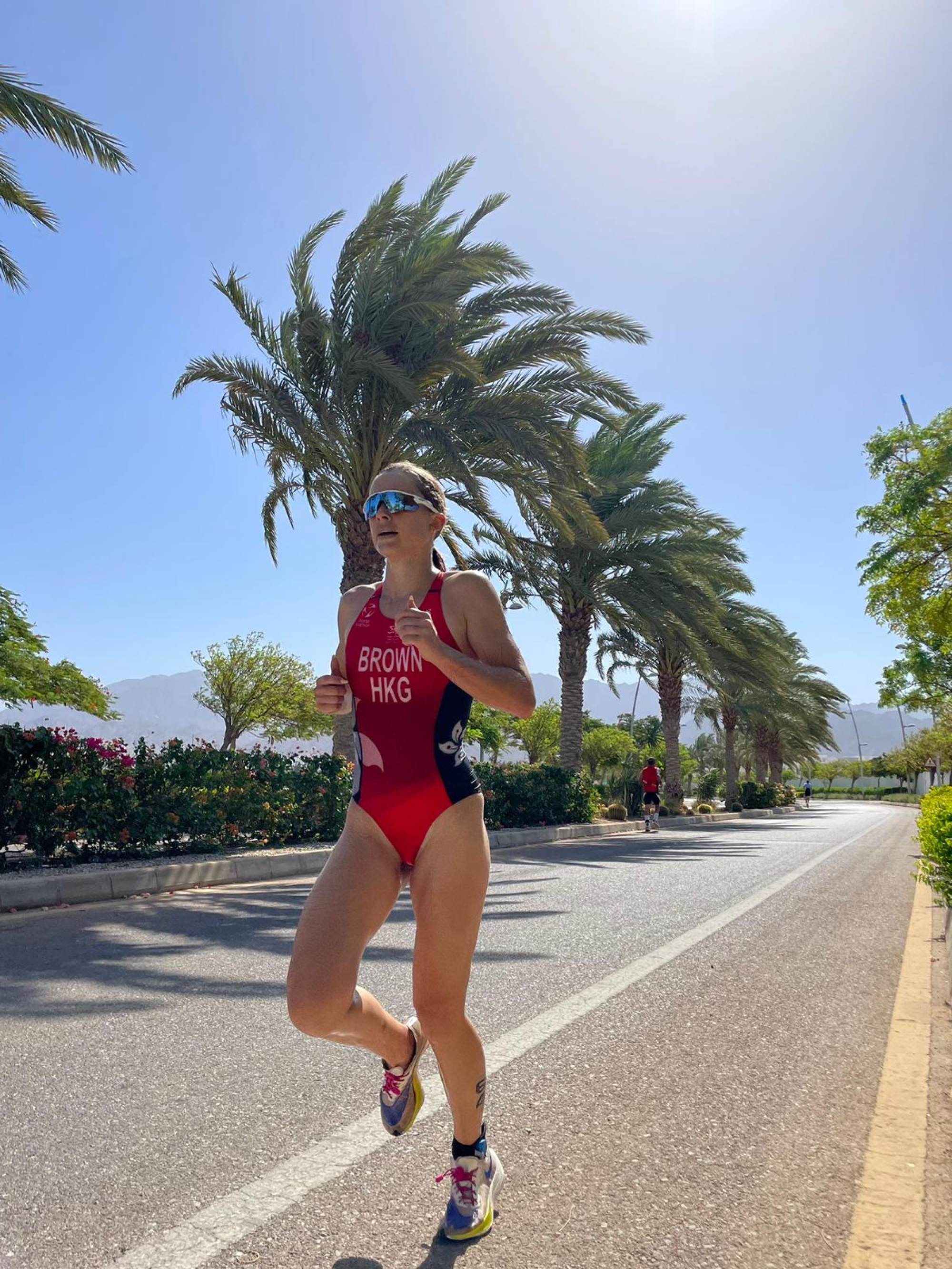 It has swapped dates with the Hong Kong Championships, which will now take place instead on October 16 in Tai Mei Tuk. The Asian race, for under-15s, awaits approval to go ahead at the same location on a new date of November 27.
"We originally planned to host the Asia youth event on October 16, but we still do not have it in black and white from the government, so we put the local championships on that day," said Wan Shu-wah, vice-president of the Hong Kong Triathlon Association.
He said the local event had received government approval for 300 participants, and he was optimistic about gaining approval for the Asia race, also set to feature 300 triathletes from around the continent.
"We hope to send out invitations one month before the event," Wan said.