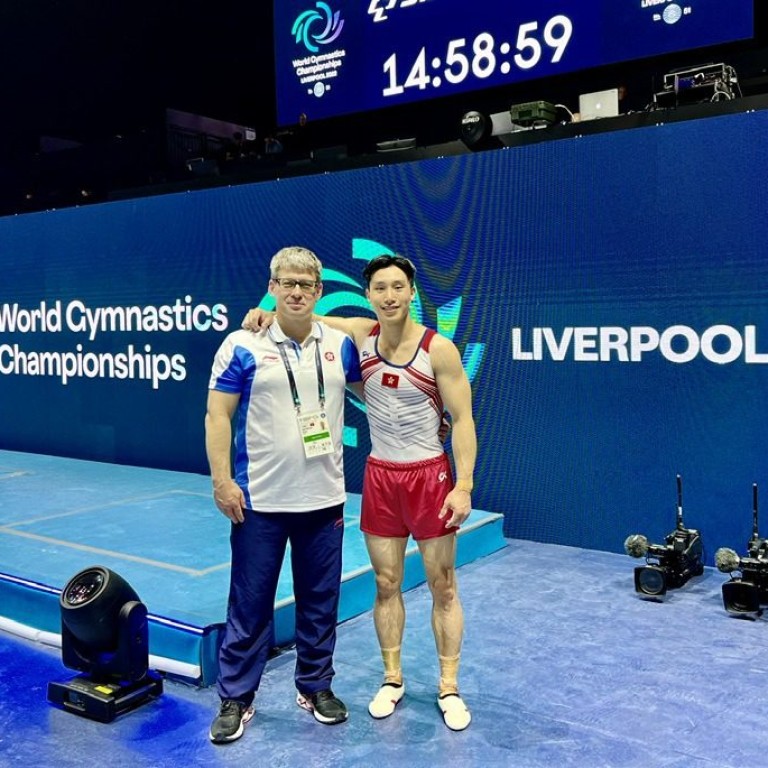 World Gymnastics Championships: Hong Kong vaulter Shek finishes 'frustrating year' after finally winning injury battle
Gymnast's competition ends in preliminary rounds as he abandons signature move over hamstring issues
At 31, Shek is in the twilight of his career, but has vowed to carry on competing with Olympic qualification on the line in 2023
Hong Kong's Shek Wai-hung has capped a "frustrating year" by finishing 22nd in the vault at the World Gymnastic Championships, a month after finally recovering from tearing both hamstrings.
Having battled the injury since March, the 31-year-old struggled through the preliminary round in Liverpool on Monday, and unable to complete his signature 'Ri Se-gwang', settled for attempting two downgraded vaults, which earned him an average score of 13.616 after penalties.
Artur Davtyan of Armenia, the Tokyo Olympic bronze medallist, led the prelims with a score of 14.900, while defending world champion Carlos Yulo of the Philippines was second in 14.849.
The pair will go head to head in this weekend's finals, alongside the other top six vaulters, including two from Korea and one from Japan.
"Finally finished, what a gruelling season for me, I've experienced so much and 'gained' a lot this year," Shek wrote in a Facebook post. "What I meant by 'gained' was the injury that followed me all year."
Shek previously competed at the FIG World Challenge Cup in Paris in September, but could only compete on the horizontal bar.
"To be honest, I was only able to run again last month," he said. "My plan was to perform 'Ri Se-gwang' in the World Championships, but my legs could not handle it, so I only had one month to switch to the downgraded vaulting."
Despite the frustrating year, and his advancing age, Shek has vowed to carry on competing, and with Olympic points up for grabs next year said that "no matter how difficult the road ahead of me, I will persevere, it is not the end".
Angel Wong, another Hong Kong gymnast in the twilight of their career, finished 125th in the women's balance beam, but said she felt like it had "been a good year".
"This is the last competition this season, I really do feel mentally and physically exhausted," the 35-year-old said. "I have not had such a busy competitive year since my knee injury in 2015."