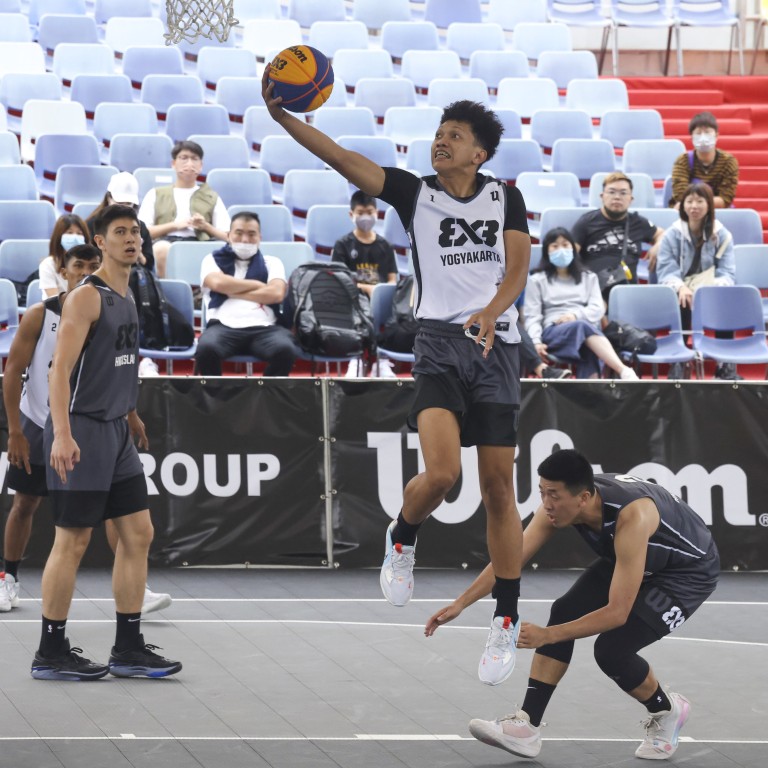 FIBA 3x3 World Tour Hong Kong Masters basketball: local side earn tilt at Latvia's Olympic stars
Team Hong Kong progress through qualifying stage to set up match against Riga, stacked with gold medallists from Tokyo Olympics
'We want to compete against the best, and who better to play against than the Olympic champions?' Bryant Austin says
Hong Kong welcomed
international 3x3 basketball
to Victoria Park on Saturday, with one of the city's four teams setting up the chance to test themselves against Latvia's gold medal-winning Olympians.
Team Hong Kong were the only home team left standing after the qualifying stage of the FIBA 3x3 World Tour Hong Kong Masters, as they clinched back-to-back wins over compatriots HKG Island and Indonesia's Yogyakarta Gojek.
That secured them a place in the afternoon's pool stage – and a high-profile match-up with Latvian team Riga, whose squad of four all featured when the Latvia national team took the men's gold at last year's Tokyo Olympics.
Also through to the pool stage were Taiwanese team Kaohsiung, who dispatched two Hong Kong teams, Wu Kai Sha and Kowloon.
Spearheaded by Tyler Kepkay, of A1 Division team Winling, and Bryant Austin, of Shung Tak Alumni Eagle, the Team Hong Kong players were dominant and led throughout both of their games.
The deadly duo chipped in 15 and 17 points respectively in the two qualifying matches – 82 per cent of their team's total – while Richard Bradsheet and Man Chun-ho contributed the remaining seven points.
Saturday's fixtures represented the first time the quartet had played together.
"The chemistry was great, it was good to play with guys who know the game and compete – it seemed like we were gelling well right away," Austin said.
"We have got great shooters and players with high basketball IQ. We shared the ball and played the right way."
Kepkay set the tone for the opening game against HKG Island with four straight baskets, and Team Hong Kong never looked back.
"It was more like learning how to play 3x3 – the referees and everything were very different," the former Canada international said of the sport's shortened format. "Now we kind of know the pace of the game. They said it was only 10 minutes, but it felt much longer.
"You always want to play against the best guys, so [the Riga match] will be fun – let us just play and have some fun, and we will see what is going to happen."
His team proved too much for Yogyakarta Gojek, thanks largely to Austin's 13 points. After Riga, ranked No 4 in the tour standings, their final game of the day comes against Amsterdam, the No 5 side.
"You would think the home team would not get such difficult opponents," Austin joked. "But that is why we are here. We want to compete against the best, and who better to play against than the Olympic champions?"
The top two from each pool will advance to the quarter-finals on Sunday, with US$40,000 up for grabs for the winning team.