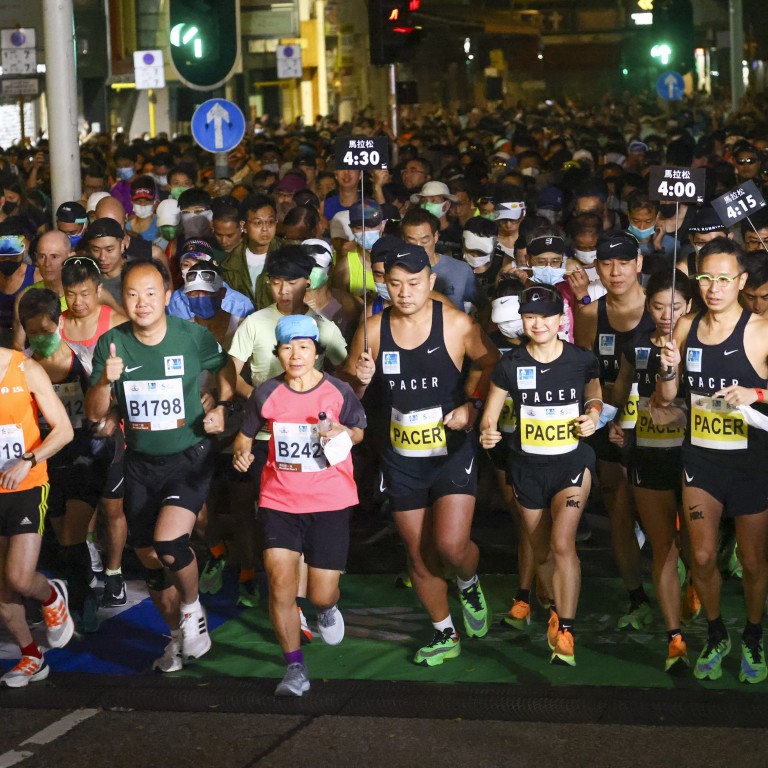 Hong Kong Marathon: organisers may call in police over illegal runner's YouTube race stunt
Lau Chun-hin, who goes by the alias Carriage Lau on social media, took part in Sunday's race despite not officially entering
Lau broadcast live for more than two hours during the event and even picked up a medal at the end
Officials behind the
Standard Chartered Hong Kong Marathon
have said they may call in the police to investigate how a man managed to illegally enter Sunday's race and broadcast himself running for more than two hours.
Despite not wearing an official race bib, Lau Chun-hin, who goes by the alias Carriage Lau on social media and has spent time in jail in Hong Kong and in mainland China for a string of offences, got into the starting area in Tsim Sha Tsui ahead of the half-marathon on Sunday morning.
The 26-year-old broadcast live on his YouTube channel revealing he was not registered for the race, although in an interview with local media afterwards he claimed to have taken the place of a friend who was feeling unwell.
A second live broadcast lasting two hours and 16 minutes showed Lau running inside the Western Harbour Crossing and then arriving at the finish line at Victoria Park, where he was given a finishers' medal by volunteers.
During the second broadcast, Lau said he knew he ran the risk of being arrested, but was doing it because "I really love running".
The event's rules stipulate that only runners with official bib numbers are allowed on the route, but Dennis Ng, executive director of Hong Kong Association of Athletics Affiliates, said it would be impossible to secure the whole course, which takes runners across the city.
Asked if they should have done more to stop Lau, officials said they had "no further comment".
In a statement released on Monday, the HKAAA said it was investigating the incident and could involve the police if they believed it was necessary.
"[We] will follow up the incident with legal advisers, and may seek assistance from relevant government departments, including the police, while reserving all legal rights," a statement read.
"The organiser condemns any behaviour that affects the smooth running of the event or the safety of participants and staff."
Lau, who has a combined 40,000 followers on social media, uploaded nine marathon-related clips on his YouTube channel on Sunday, which generated almost 70,000 views.
Lau was reportedly released from jail in mainland China last month, according to local media reports, which also said he had been arrested and jailed across the border multiple times.
He has also reportedly been arrested in Hong Kong on four separate occasions times, and charged with three counts of criminal intimidation and one count of fighting in a public place.
According to officials, he has been in prison for seven of the past 10 years, with a 2½-year sentence in Shenzhen in September 2016, and a three year jail term in January 2020 after being arrested some six months before.
The Post has approached Lau for comment, but as of Monday afternoon he had not responded and his social media accounts had been inactive since Sunday afternoon.
His stunt did not completely unnoticed, with local media interviewing him before the race started on Nathan Road on Sunday morning.
He later posted a series of photos from during the race on social media, as well as some online headlines from outlets reporting the fact he was running without having officially entered.
Sunday's race was the first to feature overseas runners since 2019, with Kenyan Philimon Kiptoo Kipchumba winning the men's race, and Ethiopia's Fantu Eticha Jimma the fastest woman.