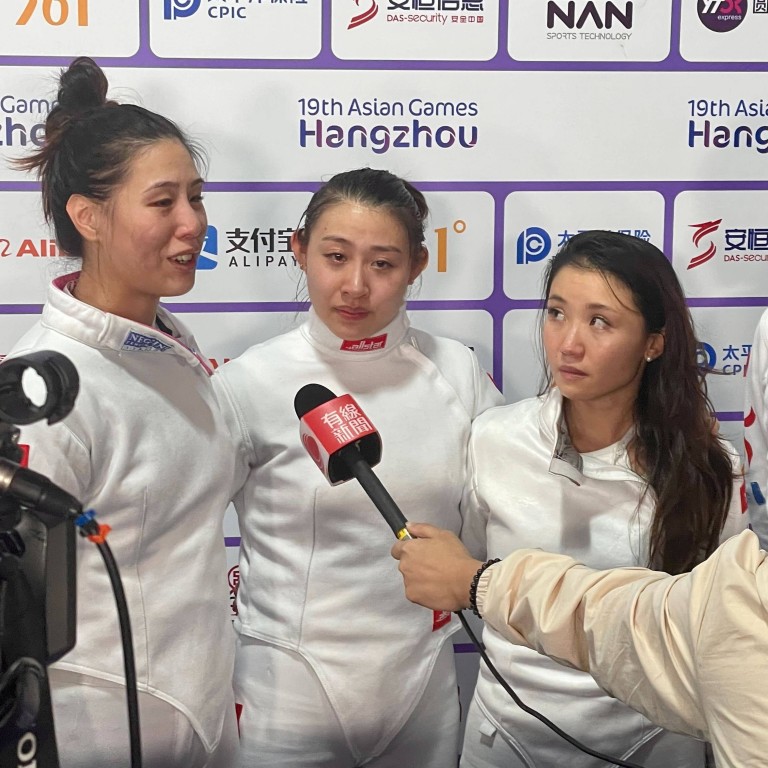 Asian Games 2023: heartbreak for Hong Kong's women as they take silver in team épée, men's foil team settle for 'disappointing' bronze
Women's épée team emotional after 36-34 loss to South Korea in Wednesday's final – but they make history with city's best finish at an Asiad
There was disappointment for the men though, who lost to South Korea in the team foil and had to settle for bronze
Hong Kong's women's épée team could not hold back their tears after losing 36-34 to South Korea in Wednesday's Asian Games final – but they had already made history with the city's best finish at an Asiad.
The city's women were on an equal footing – tied at 13-13 – with the world No 1 side early on, but things soon went south. The Koreans, led by individual gold and silver medallists Song Se-ra and Choi In-jeong, pulled away to lead by as many as six points.
Trailing 29-25 entering the final relay, world No 2 Vivian Kong Man-wai pushed familiar foe Song all the way to bring her team within one point with 6.8 seconds to go, but it was not enough as Hong Kong lost by two in the end.
"It's an important medal for us, I am happy we can finally swap the bronze for silver," Kong, who took bronze in the individual event on Sunday, said. "I hope we can do it once again with another better colour."
The silver medal in Hangzhou snapped the city's long wait for a different medal at the Asiad, and Kaylin Hsieh Sin-yan, who won all three of her relays in the final, insisted the achievement was still meaningful.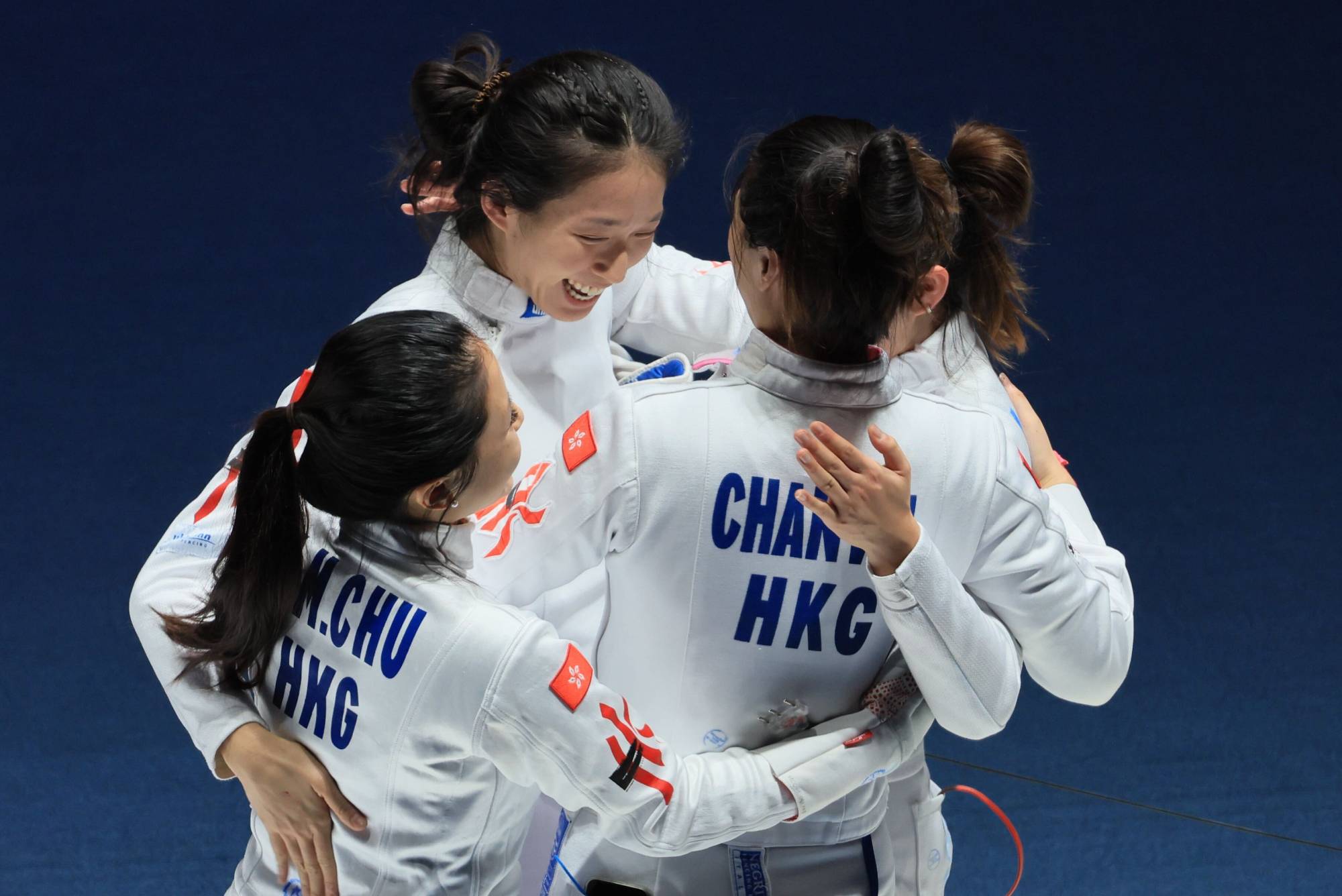 "It's a massive confidence boost for our team, and those behind us after taking five straight bronzes since the Busan Games in 2002," she said.
The University of Notre Dame student added that the team decided to dance onto the piste after their introduction to signal they were there to "enjoy their first-ever Games final and to have fun".
Hong Kong's men, however, had a disappointing early finish in the team foil, bowing out in the last four.
Three days after taking top spot in the men's individual foil, Cheung Ka-long was in action again, but the fencing hero could not lead his team past South Korea.
In a rematch of the 2018 foil team final, Hong Kong – who took silver in Jakarta – trailed their familiar foes from the start at the Hangzhou Dianzi University Gymnasium before going down 45-37, and had to settle for the bronze.
"It's a pity because we targeted the gold," Cheung said. "We felt disappointed for sure but we believe we can win next time when it matters during the Olympic qualification period."
Ryan Choi Chun-yin, who was outscored in two of his three relays, admitted Hong Kong need to think about how to respond when playing against the top Asian countries.
"Technically, we could be overpowered by China, Japan and Korea at times," he added. "We didn't have such feelings a few years back but perhaps because we had beaten them, they had been studying us.
"This is something we have to figure out and we also need to address our slow start."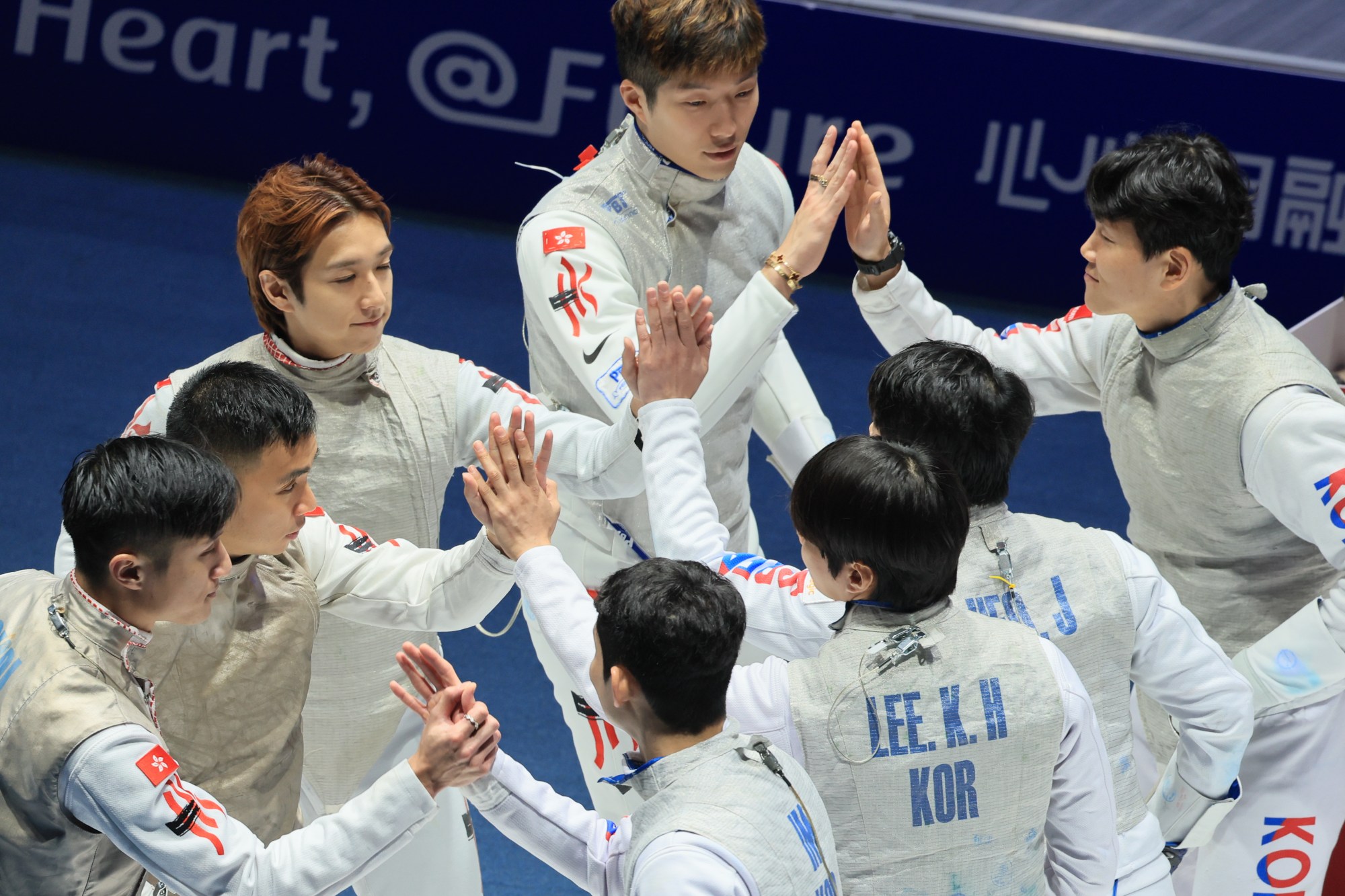 After getting off on the wrong foot, the city's quartet were constrained on the chasing end for the rest of the match and trailed by as many as 10 points.
In nine relays, Hong Kong – who defeated Singapore 45-34 in the quarterfinals – managed to win only three while losing five others.
Head coach Gregory Koenig said he was "disappointed" with the results and admitted his team was "a bit off" on the piste.
"We could do better but we didn't," the 45-year-old Frenchman said. "This is sport, but we will come back stronger.
"We knew what we had to do against them. They were able to change sometimes the way of doing it, and sometimes we were not able to.
"But we will be open-minded to understand that we can do exactly the same, we will discuss and find solutions."