UFC Shenzhen: who is Zhang Weili, the Chinese fighter facing Jessica Andrade for the strawweight title?
From schoolyard bully-basher to MMA warrior, Zhang wants to inspire Chinese women
August title date in Shenzhen crowns meteoric rise for China's 'Magnum' force 
Zhang "Magnum" Weili will become the first Chinese fighter to be given a shot at a
UFC
world title on August 31 when she walks into the Octagon in Shenzhen to face the strawweight incumbent Jessica "Bate Estaca" Andrade of Brazil.
It's been a stunning rise to the top of the sport for Zhang, unknown to the world outside her homeland as recently as two years ago but now on the verge of history.
Questions are being asked throughout the global MMA community. Just who is Zhang, and where has she come from? And how has she seemingly leapt from obscurity to the number six ranking, and now to a world title fight?
The Post has been charting Zhang's rise, and here we try to fill in all the blanks.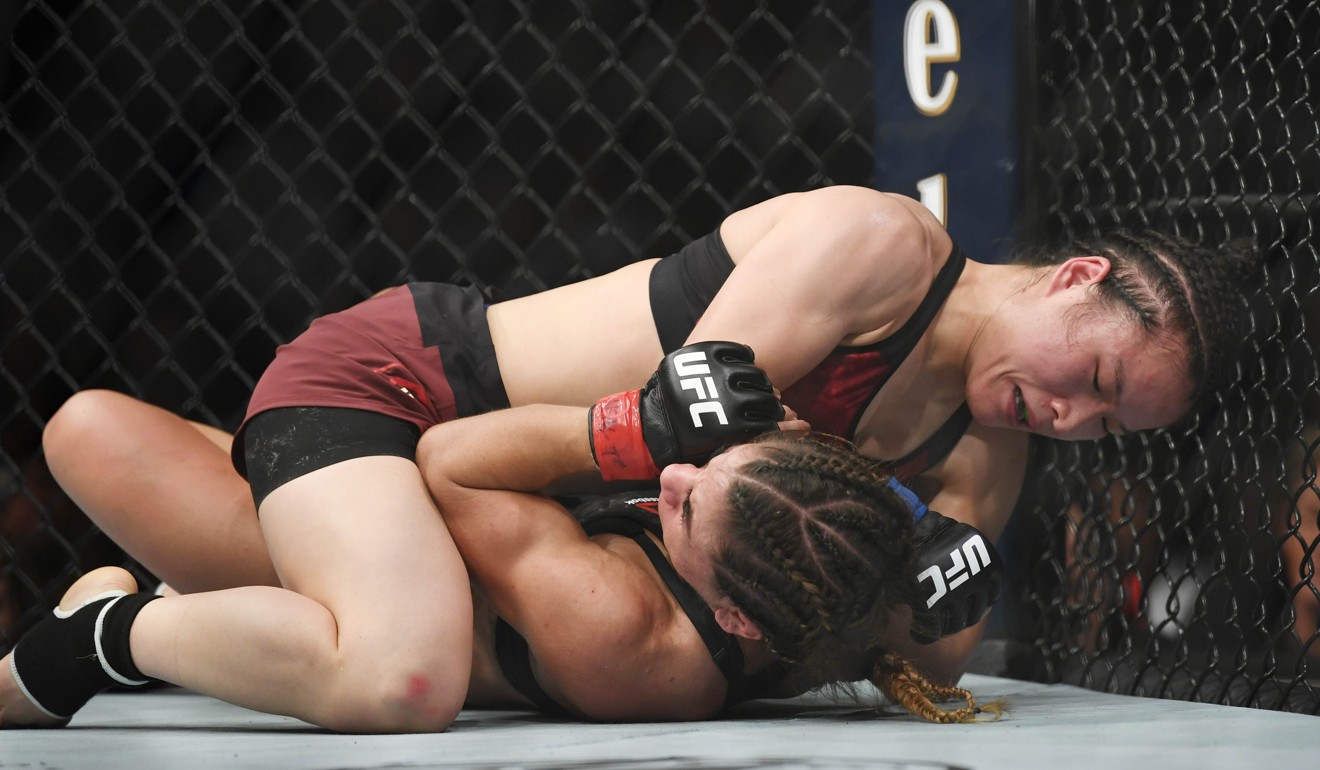 Who is she?
Zhang "Magnum" Weili
Where was she born?
Hebei province
How old is she?
29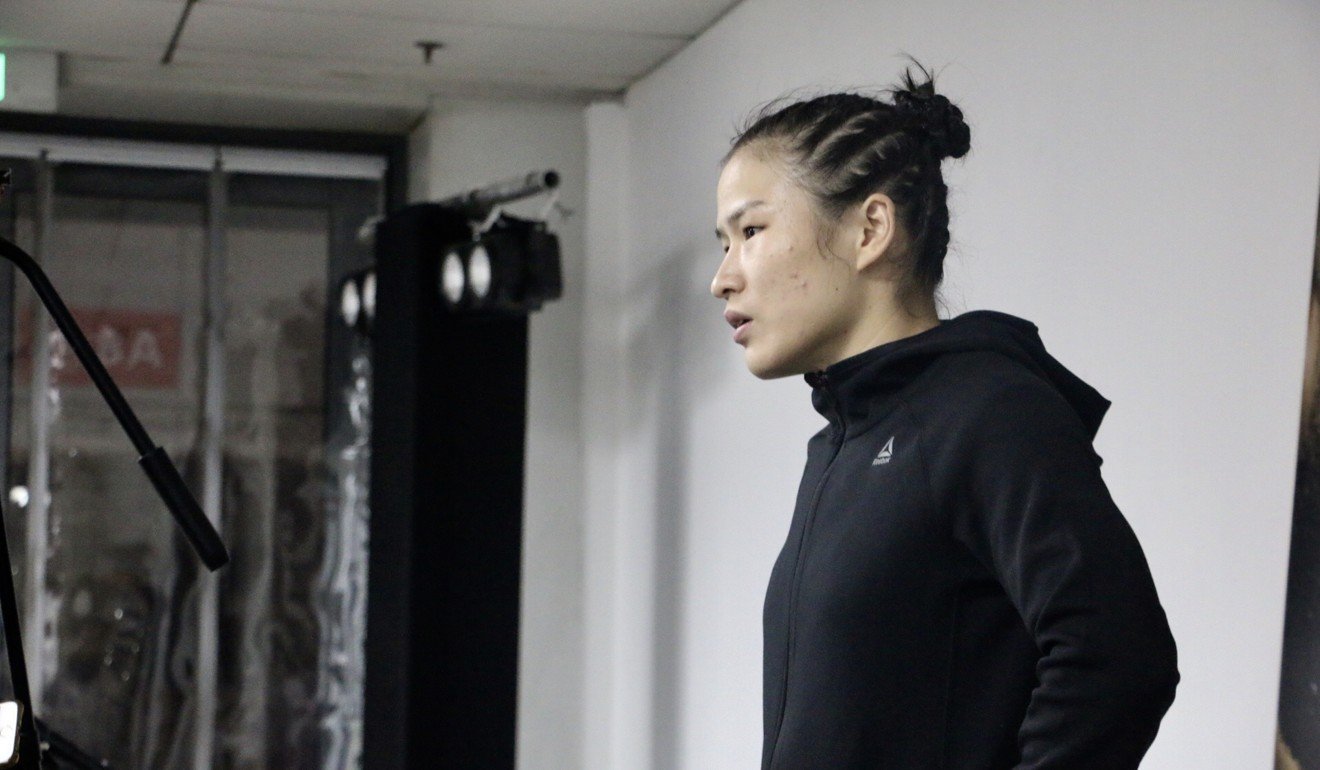 What do we know about her childhood?
Zhang grew up in a province known for producing martial artists and was encouraged from an early age to learn how to protect herself.
Sounds like it might have been tough
You've got no idea. As a schoolgirl Zhang was the one her friends turned too when the boy turned nasty. More often than not those boys would leave the playground with their ears clipped – and a lesson learned. "I would make them run. I loved to do that, to protect my friends. I wasn't afraid of the bullies, or of a fight," Zhang said.
It also sounds like she likes a challenge
Yes, there's more. Zhang's mother wanted her daughter to be strong and so came up with a rather unique way of improve the young girl's strength. "My mother would dig a hole in the yard and get me to jump in and jump out," Zhang said. "If I could jump out, she would just dig a deeper hole and make me try again. She always had a mind to make me stronger."
How did Zhang get started?
Originally it was with Chinese kick-boxing – or sanda – that caught Zhang's eye and she was standout talent as she grew up. As recently as 2017, Zhang was still dabbling in the standup arts, too, making it all the way to the final of the Legend of Mulan kick-boxing tournament staged by China's Kunlun Fight promotion.
What about MMA?
This is where things get really interesting. Zhang says she was attracted by the challenge of mixing up all martial arts skills – but she lost her first official MMA fight – back in 2013. She's never lost since and she ploughed her way through China's domestic leagues, before the UFC came calling in May 2018. Since then it's been 3-0 and on to a lifetime record of 19-1.
So who has she fought and how did she fare?
Zhang's UFC run started with a winning debut, grinding out a decision over American Danielle "Dynamite" Taylor (10-5) in August last year at UFC 227 in Los Angeles in August. She wasn't happy with her effort then – her coach had been denied a visa and Zhang said she didn't adjust to not having him cageside. So next up she had a point to prove – and she did against a former number one challenger in Mexican-American Jessica "Jag" Aguilar (20-8) in Beijing last November. It was over in less than a round and Zhang pounded her opponent to the canvas before laying on an arm bar. It was as brutal as it was brilliant. Zhang was back in action in March in Las Vegas as the UFC threw her on to the biggest stage in the sport. She walked away with a decision over the gritty American Tecia "The Tiny Tornado" Torres (10-4).
But this title fight ... isn't it a bit of a surprise?
Zhang's run – with nod also, no doubt, to her overall record – took her to number six in the official UFC strawweight rankings and the first thought among cage-watchers was that she might be then bound for a bout with someone in the top five. After the 27-year-old Andrade (20-6) pulverised American Rose "Thug" Namajunas (8-4) at UFC 237 in May to take the strawweight belt there were instant calls for a rematch, or for a title bout against other rising stars such as the surging and unbeaten American Tatiana Suarez (8-0). But think of this in terms of timing. The UFC is making huge inroads into China, with an ever-improving stable of fighters, what now appear to be annual fight cards in the country, and next week's opening of the UFC Performance Institute in Shanghai. That Zhang and Andrade both love to put on a show quite obviously made the temptation too great to resist.
How does Zhang feel about it all?
So far, outside of social media postings to confirm rumours about the fight, Zhang has kept to herself. But she revealed back in November that there are higher purposes at play here. "I always try to learn, but what I am also trying to do is use my behaviour to encourage more young women to devote time or even life itself to this sport," Zhang said. "Not always to be a professional fighter but just to be healthier through combat sports."