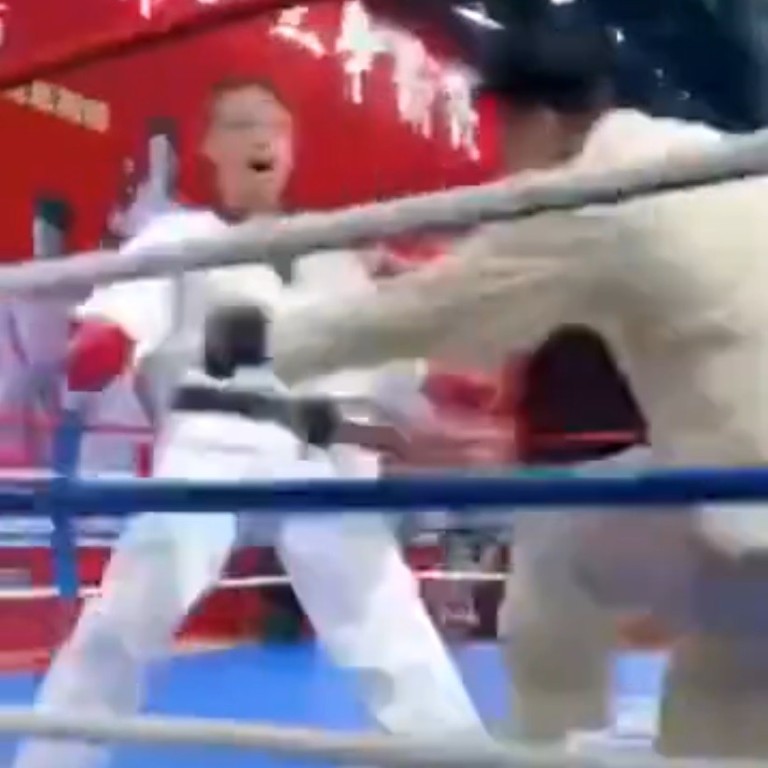 Kung fu 'master' gets comeuppance from taekwondo fighter after sucker eye-poking Chinese kick-boxer
Xingyi practitioner Wu Liang is smashed with kicks in one-sided bout
He notoriously raked Zhang Wensheng's eyes when going to shake hands after being obliterated by the Glory kick-boxer
Remember the kung fu "master" who sucker
eye-poked a Chinese kick-boxer
a little while ago? Well, he's back, and he received a delicious dose of comeuppance.
Xingyi practitioner Wu Liang was soundly beaten by Glory fighter Zhang Wensheng after challenging him at his gym earlier this year, getting planted on his backside a few times before the referee mercifully stepped in.
When they went to shake hands, Wu raked Zhang's eyes and was luckily protected from receiving further punishment with others stepping in to stop the MMA fighter punching him.
He probably should have stopped there, but it turns out Wu had another fight, this time against a taekwondo fighter at an event in June (which also featured a fake "pressure point master" getting a
clearly staged win
against a supposed Sanda fighter).
In a one-sided affair, Wu shows he has no idea how to check kicks, eating a few to his legs before the taekwondo fighter goes up high.
It doesn't last long, with Wu crumpling down to the canvas in the corner. The referee checks to see if he is fit to continue, but quickly waives it off.
Hilariously, Wu had even tried a few eye-pokes on his opponent.
"TKD [taekwondo] guy was lucky that chi-blasts are banned in that fight," one commenter replied on the video, which was posted by YouTube channel Fight Commentary Breakdowns.
"Kung fu guy did special death touch. TKD guy will die in 40 years after paying lots of taxes," said another.