Judge somehow rules Xu Xiaodong's annihilation of wing chun 'master' Ding Hao a draw
'I'm not an expert,' says the judge, who looked at 'different layers' of the fight, where the Chinese MMA fighter knocked Ding Hao down four times
'People can get mad at me and think I'm wrong. But I think Chinese kung fu took a first step in this ring'
Remember when Xu Xiaodong obliterated wing chun "master" Ding Hao last year? Well it turns out the judge somehow ruled the match a draw.
Ding bills himself as "one of the four great wing chun masters in China", but outspoken Chinese MMA fighter Xu
knocked him down four times
before the referee mercifully waived off the fight.
It was a clear victory for the 41-year-old "Mad Dog", who has made it his mission to expose kung fu frauds by beating up fake traditional martial arts masters.
But the judge saw things differently, explaining the bizarre reasoning behind his decision in an interview with Chinese media, which has been dug up by Fight Commentary Breakdowns.
"I didn't just look at it from a professional angle, I looked at many layers. It felt like a draw," the judge said. Pressed by his interviewer on what he meant by layers, he added: "Having the courage to go into the ring."
He then pointed out that Ding "didn't get beaten as badly as Lei Lei" – referencing the tai chi master that
Xu pulverised in 10 seconds
. "Yes, Lei Lei probably slipped," the judge said. "Either way it felt like a draw."
The judge said it took him only "a few seconds" to reach his decision, and that he did not discuss it with anyone because he was onstage the whole time. "It was really chaotic after the match, I didn't have any extra thoughts," he said.
But the interviewer then points out that everyone watching the fight live or online felt that Xu won without a doubt.
"People can get mad at me and think I'm wrong, I'm the host, I can take it," the judge says. "But I think traditional Chinese kung fu took a first step in this ring."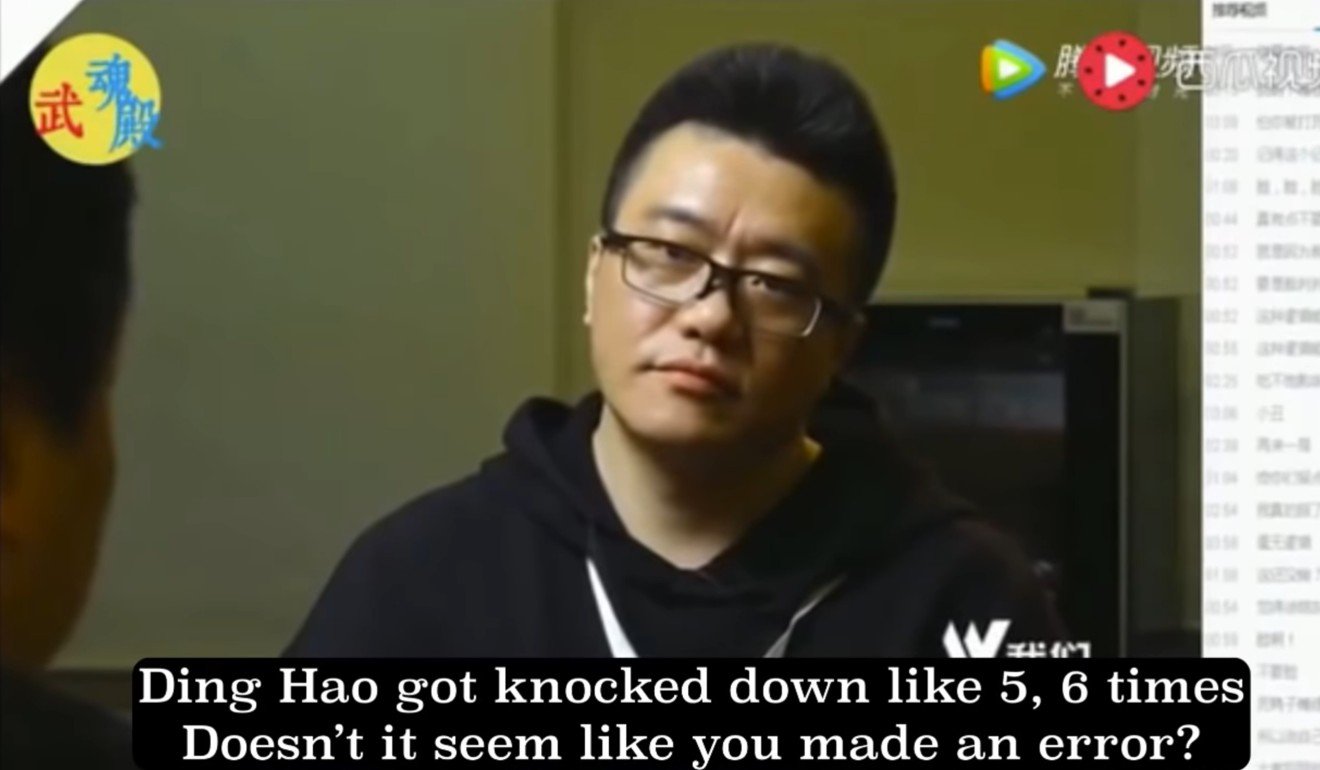 The judge then says "I'm not an expert" – which perhaps begs the question, why was he judging the fight? – before adding: "Let people online decide for themselves. I personally think it was a tie."
"They both won," he says. "I'm looking at this from different layers. Viewers might just look at hits. I'm not looking at these."
The interviewer points out that it's not really a draw if one fighter continually knocks the other fighter down.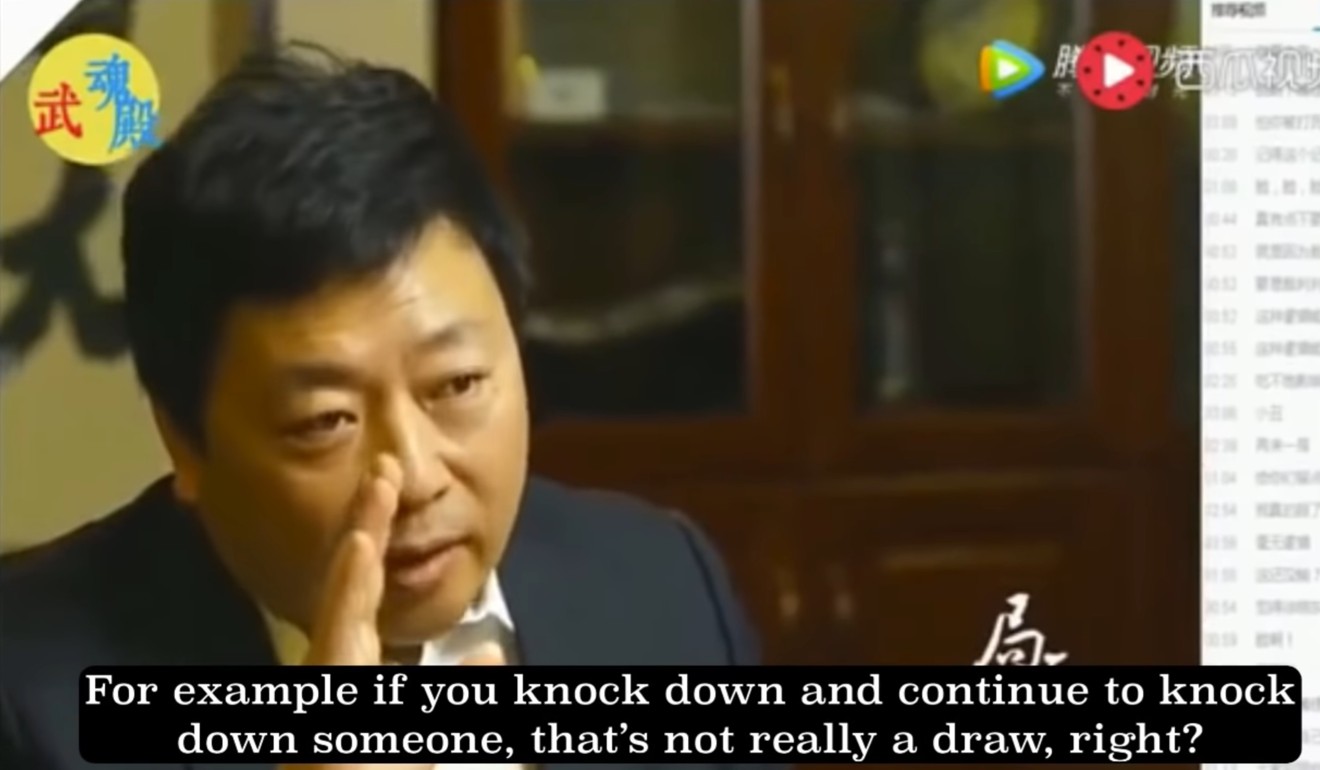 "I think this is a process," the judge responds. "What if one day in China we set different rules? For example, you can get up. People set rules. We can modify.
"We can go to traditional kung fu people and ask, for example, how many times getting knocked down is a loss, how many times is a deduction."
"I'm not a professional," he adds, again.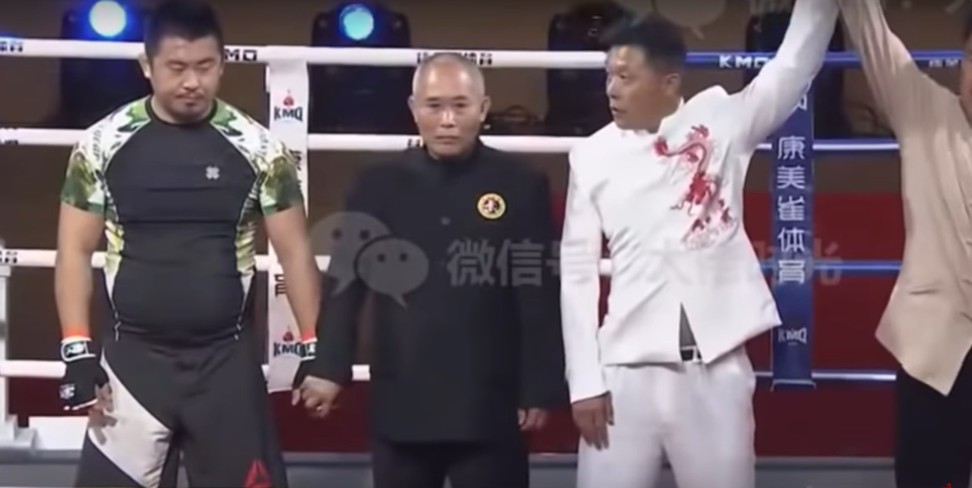 The footage also shows Xu and Ding's arms both being raised by officials after the decision is announced, as Xu smirks.
Hilariously, Ding recently called for a rematch with Xu, saying "you're lucky I didn't KO you last time" and that Xu is "afraid of my punches".
His shifu, or master, also blamed Ding's loss on organisers not providing him with enough rice before the fight.