MMA
Get more with myNEWS
A personalised news feed of stories that matter to you
Learn more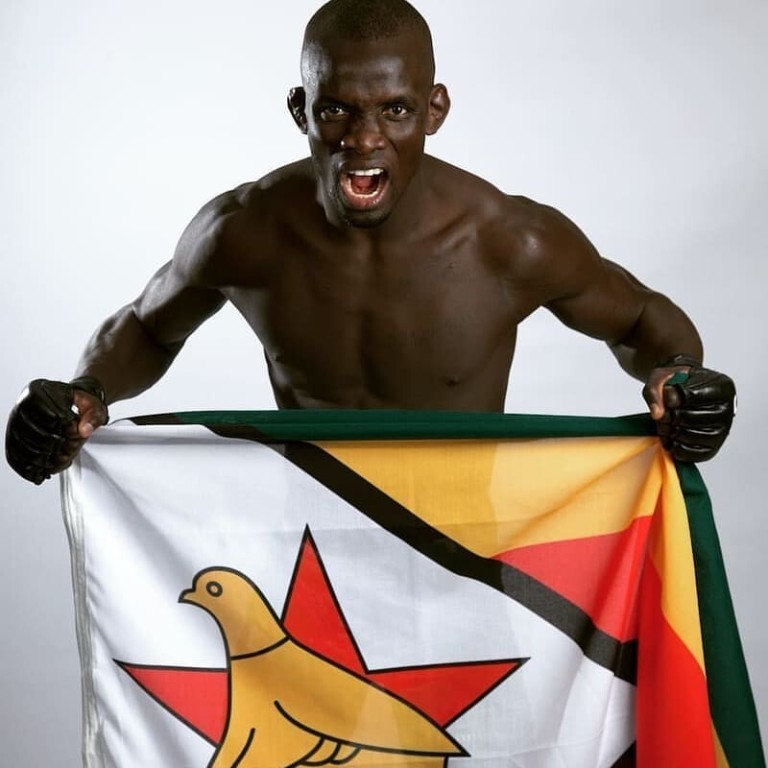 From blood diamonds to MMA champ: how Themba Gorimbo fled Zimbabwe where he was almost killed by police dogs
EFC welterweight champion has become one of the biggest MMA prospects out of Africa
Orphaned by the age of 13, Gorimbo fled in 2008 from a 'difficult' life mining diamonds
Themba Gorimbo is one of the biggest MMA prospects out of Africa and is reportedly on the verge of being signed by the UFC. But his journey towards the top of the sport has been incredible, to say the least.
"The Answer" has racked up a 9-2 professional record, with 10 fights in South Africa's Extreme Fighting Championship, where he is the promotion's welterweight champion.
It's a far cry from his childhood growing up in Zimbabwe, where life was "difficult, difficult, difficult". He was an orphan after his mother died when he was nine, and his father died when he was 13. "My cousin was looking after us but it was not the life many people wish to have," Gorimbo said in an interview with John Hyon-ko of Kumite TV.
At the age of 16 he started illegally mining diamonds in the fields and smuggling them.
"The money was nice but I almost got killed there," he said. "If you look at my body, I've got scars everywhere because once I was confronted by the police and the dogs bit me so much. I had five dogs, German Shepherds, biting me. I almost died. I passed out there."
That year in Zimbabwe there was a major drought with no food – almost a famine – which helped him make his mind up to try to cross the border into South Africa.
"It was just like a decision, either you want to be here, or you want to be there," Gorimbo said. "I didn't have a passport. I came through the river. It was just one of those times you take the sacrifice, which is dangerous to do that. A lot of people died. For a young guy – I was about to turn 18 – it was very difficult. It just showed me what kind of person I was."
Gorimbo was deported back to Zimbabwe the same day he arrived.
"I got caught because I didn't have a passport, they put me in a cell," he told Ko. "When I got to the border, that's where this thing of me never giving up in life, and everything, started. I decided when they deported me and put me on the bus."
Gorimbo got off the bus at the first city it stopped in, instead of going back to his village, and crossed the border again straight away.
"They deported us around 4 to 5pm in the evening. By 7pm I was back in South Africa illegally," he said. "The second time was way harder because I almost got killed.
"Obviously in the diamond field I used to see lots of nasty things, it was like [2006 film] Blood Diamond basically. People used to get killed in front of me, while running from the police. But this was the first time someone actually held a knife on me. When you cross illegally into South Africa it's not just the police you are running from, you are also running from criminals – they rob people crossing because they know you have money.
"The criminals saw us and trapped us. I remember seeing this big knife and I passed out. It's like a movie. I fell on the ground and the rest of the guys ran away. The guys who were robbing us ran after them and left me there.
"When I came back to normal, I realised there was a fence. I decided I have to go. I ran towards the police to get arrested, not killed. But midway I saw one of the guys I was with. He said, 'No, don't go to the police, let's go'. I made my way into South Africa."
For days Gorimbo was living on the streets in Johannesburg, giving out fliers for 20 rand (HK$9) a day so he could buy a drink and bread to eat. He eventually raised enough money to call back home and get in contact with his cousins in Cape Town, where he headed next.
"Even then it was not easy," he said. "I didn't have any skills or qualifications. I was working as a gardener. Then painting, then as a security guard. I used to work 17 hours a day, clock in at 6am then clock out half 11 at night."
That's when he started MMA training, now aged 19, after watching the 2008 film Never Back Down.
"I'm like, 'This a sport, fighting? OK, cool, I think I can do that'," he said. "I come from a fighting family – all my cousins, even my father, used to always fight. It's in our nature. I got my first fight three months after training. I won it with a seven-second knockout."