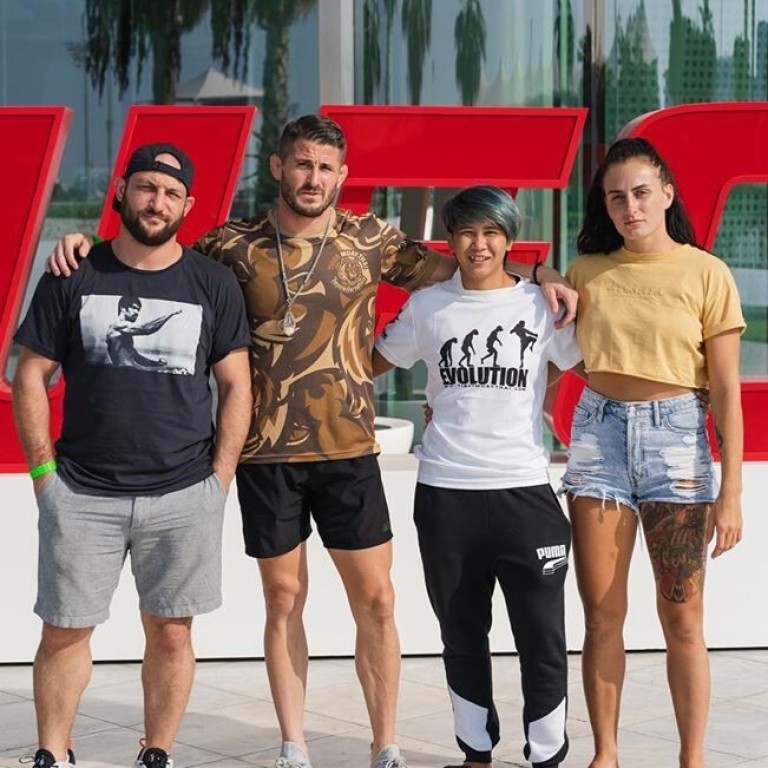 UFC: Loma Lookboonmee brings eye of the 'Tiger' to Fight Island
UFC's first Thai fighter represents in-form Tiger Muay Thai gym against veteran Jinh Yu Frey
'I've always felt I've been kind of chubby. But I have made tons of gains strength wise,' says Loma
The UFC matchmakers have not been afraid to throw Loma Lookboonmee into the deep end of their strawweight division's talent pool.
Last time out the Thai prospect (4-2) faced a veteran warrior in the 13th-ranked Angela Hill (12-9), and was duly given a three-round working over. This weekend at UFC on ESPN: Holm vs Aldana, they've pitched Loma in against another American veteran in Jinh Yu Frey (9-5), a one-time Invicta atomweight champion who also brings with her a wealth of experience.
But Loma says she knew coming in to her UFC career that life with the world's leading MMA promotion would be challenge after challenge, and the only way forward was to face them as they fall her way.
"My knee-jerk reaction was, 'Man, I'm getting screwed over!'" laughs the 24-year-old, speaking to SCMP MMA from Abu Dhabi's "Fight Island".
"All these tough opponents with tons of experience. But as I thought about it, these are good opponents for me, they bring a lot of technical things I have to figure out. If I want to be good in MMA, I have to figure these things out anyway and there is no better time to do it than now."
What Loma has brought with her to the UFC is a stand-out Muay Thai career, over 15 years, that saw her pretty much run out of opponents.
Under the guidance of the team at Phuket's Tiger Muay Thai gym, Loma then set her sights on a career in MMA. She progressed through two fights with the Invicta promotion – at 2-0 – and two more with regional outfits Pancrase (Japan) and Full Metal Dojo (Thailand) – for 1-1 – before the UFC last year made her the first Thai fighter on their books.
She beat Russian Aleksandra Albu (3-2) last October in Singapore on debut, then the bell seemed to come all too fast against the 35-year-old Hill on her second appearance inside the Octagon, in Auckland in February.
Loma had been behind in the first round, rallied in the second, and seemed to work Hill out in the third – but lost 30-27, 29-28, 29-28 on the judges' cards.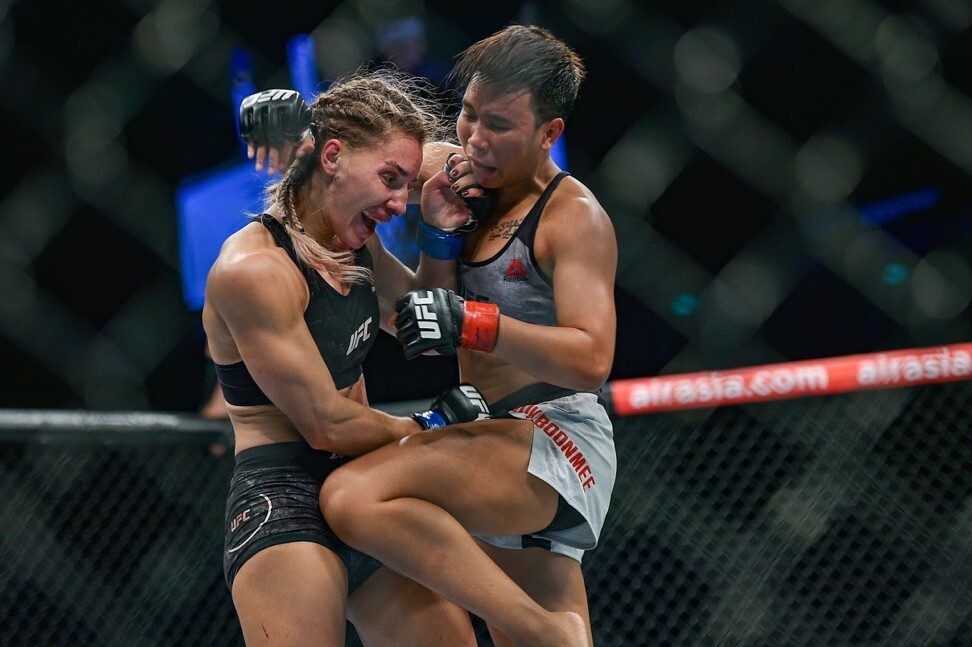 "Even before I knew I was going to fight Angela Hill I had been watching her fights," she says. "It was a good experience. She has a lot of MMA experience. One thing I was doing in the fight was I was backing up a little bit too much and once I was backed into the cage I couldn't get myself off it. That was a by-product of her experience. But I have learned from that."
Hill took that win and went on to face the No 7-ranked Brazilian Claudia Gadelha (18-4), and then headlined a card of her own against No 8-ranked American Michelle Waterson (18-8), losing both bouts via razor-thin split decisions.
Loma went back to the gym, first at home in the back blocks of Buriram in northeastern Thailand – because of Covid-19 enforced travel restrictions – where she came once again under the eye of her father and former prize fighter Boonmee Suphisara, and helped out with the local kids he trains in the "art of eight limbs".
When conditions allowed, it was back to Phuket and to coach George Hickman and the crew at Tiger, and the buzz that emanates from the place and its fighters. July saw Russian Petr Yan (15-1) win the vacant bantamweight title after honing his craft at Tiger, while the gym's kick-boxing guru – and MMA lightweight – Kyrgyzstani Rafael Fiziev (8-1) picked up a Fight of the Night bonus as, despite all the global turmoil, the UFC has found a way to isolate and to keep its cards coming.
"When I went back to my dad's gym I got to train with the young guys, mostly clinch work which is where I am good," says Loma. "The team at Tiger also gave me a programme to follow and then I was back with them as soon as I could. I'm pretty excited. I've been training hard. I want to get this fight under way.
"At Tiger we've got such great fighters, with tons of experience. I'm just trying to pick up from them for myself."
The 35-year-old Frey is – like Loma – more of a natural atomweight, a non-existent division in the UFC. The 35-year-old claimed the Invicta title in 2018, via unanimous decision over Finland's Minna Grusander (6-3), and has in the past also faced two of the best non-UFC fighters there are in multi-promotion champions Ayaka Hamasak (20-3), of Japan, (for a win) and Ham Seo-Hee (23-8), of South Korea, (a loss).
Part of the focus for Loma over the past 12 months has been on building herself up in size to match it up a division.
"I have always felt I have been kind of chubby," says Loma. "I don't have a six pack. I don't have that much muscle to begin with. But I have made tons of gains strength wise and I feel a lot more athletic.
"This fight is a really exciting opportunity. We've definitely been putting the hours in training. The big question mark through these times has always been, 'When do I get to fight next?' So the fact that I get to come to somewhere really cool to fight is pretty awesome."