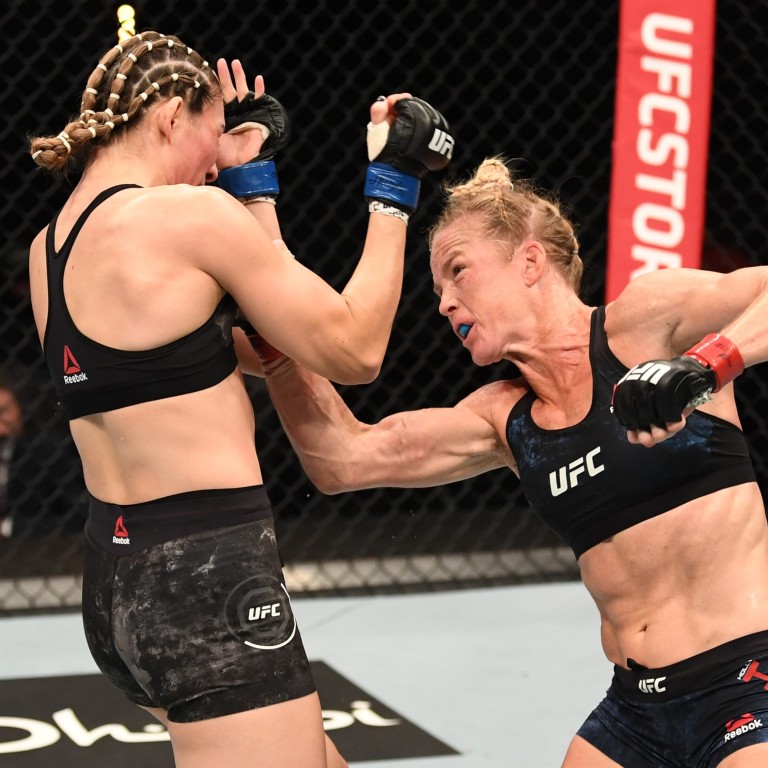 UFC: Holly Holm schools Irene Aldana to set up No 1 contender showdown with Germaine De Randamie
'The Preacher's Daughter' shows she's far from finished with dominant shutout of Irene Aldana, after 'The Iron Lady' submits Julianna Pena
Rematch with De Randamie to decide next challenger for Amanda Nunes' next bantamweight challenger 'definitely an option'
Holly Holm isn't ready to be written off just yet.
Former bantamweight champ Holm proved the doubters wrong with a dominant unanimous decision win over Irene Aldana at UFC Fight Island 4, shutting down any notion of a changing of the guard at the top of the ranks.
"The Preacher's Daughter" (14-5) completely shut out 32-year-old Aldana (12-6) of Mexico with two judges scoring Sunday's main event 50-45, and another giving her a 10-8 final round for a 50-44. Not bad for someone turning 39 in 13 days after 60 professional fights, including her boxing and kick-boxing careers.
"That's definitely option, we'll see what happens," said Holm, who landed 154 significant strikes – double her previous record in a single fight, at the post-event press conference.
"The Iron Lady" (10-4) had herself earlier put another young gun in her place, getting the first submission win of her career against Julianna Pena (9-4) to cement her position at the top of the list of challengers to double champ Amanda Nunes (20-4).
But with "The Lioness" next set to defend her featherweight title against Megan Anderson at UFC 256 later this year, there is plenty of time for Holm and De Randamie to settle the score. The Dutchwoman got a contentious decision win at UFC 208 in 2017, catching Holm with two very late shots that brought Dana White's ire en route to becoming the inaugural UFC featherweight champ.
"I like to let the future fold out," Holm said in her Octagon interview. "I have a great team around me. Just keep working hard. When I first came into MMA, it was like, 'watch out for her boxing'. When I started throwing kicks in people's faces, 'watch out for her kicks'. Then watch out her clinch. I didn't come to be a boxer in the Octagon, I came to be a mixed martial artist. It's taken time. I didn't start grappling for a while, I'm still very green.
"There's some things I need to work on but I always say I like to learn from my wins and my losses, I learn each time."
Holm was coming over the top with her left hand in the first two rounds, mixing things up with takedowns and doing some good work from top position.
Aldana's coach told her on the stool she had both rounds and needed to start fighting smart. But Holm had Aldana in a world of trouble in the third round, getting on top and landing blows with more than two minutes still on the clock.
"Robles" avoided getting TKO'd and got back up to her feet, but Holm was straight back on her with pressure, keeping her at bay with sidekicks as she circled the Octagon and banked another dominant round heading into the fourth.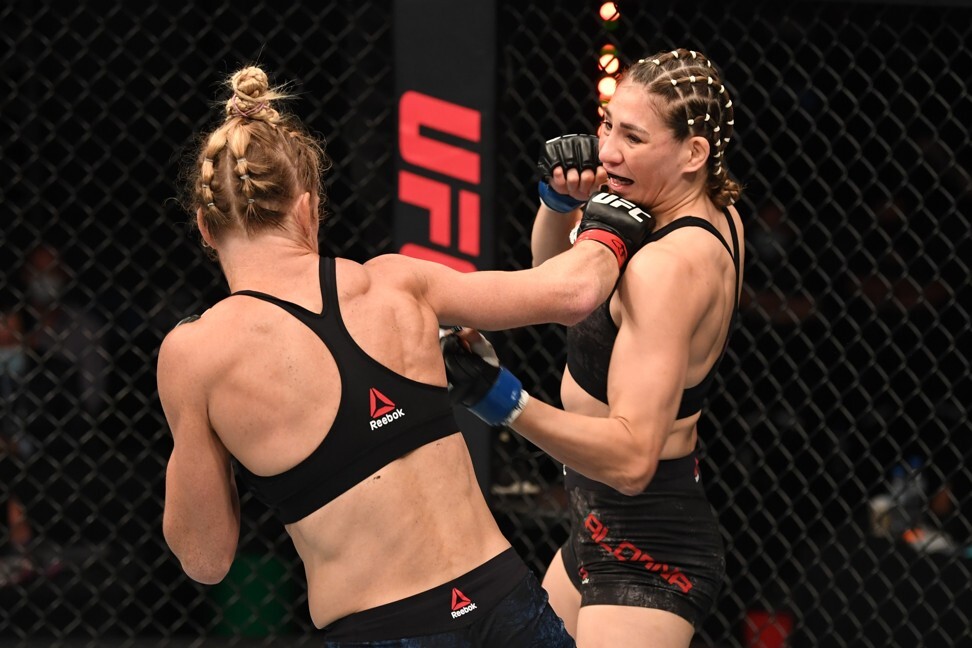 Aldana had to do something drastic but Holm was landing body kicks and sidekicks at will as she led Pena on a merry dance around in an endless circle.
Holm kept up her aggression in the fifth to hammer home her claims for another title shot, showing her experience with five-round fights, having prepared for seven of them.
Late in the round, she landed a fifth takedown – one per round – against an opponent who had only been taken down twice before in her UFC career.
She then landed a flush head kick as Aldana scrambled to her feet, looking for the finish and putting an exclamation point on the victory, changing levels again and swinging until the bell.
"She's a mover just like me, so I just had to think, 'what have I got to do if I'm fighting myself a little bit?'," Holm said.
"My coaches told me what to do, I had nothing to do with it. Every fight I've ever lost is not because of them, it's my performance. Tonight we put the game plan together."
Like De Randamie, Holm has also tasted defeat to Nunes – via first-round head kick and punches at UFC 239 in July 2019. But she looked resurgent on this outing, which should make for an interesting rematch with multiple-time Muay Thai world champ De Randamie, who had caught Pena with a guillotine choke at 3:25 of the third round to earn a Performance of the Night bonus.
"I said before this fight to my coaches, either I'll get this guillotine – because if you give me your neck, I'm going to put you to sleep – or I'm going to knock her out," former challenger De Randamie said after the fight.
"I felt really sloppy. I didn't feel loosened up, but she gave me her neck and I put her to sleep. That's how it goes. When my arms sank in, I told the referee she was out. I felt her go out. I surprised myself, I got the victory and did it by submission."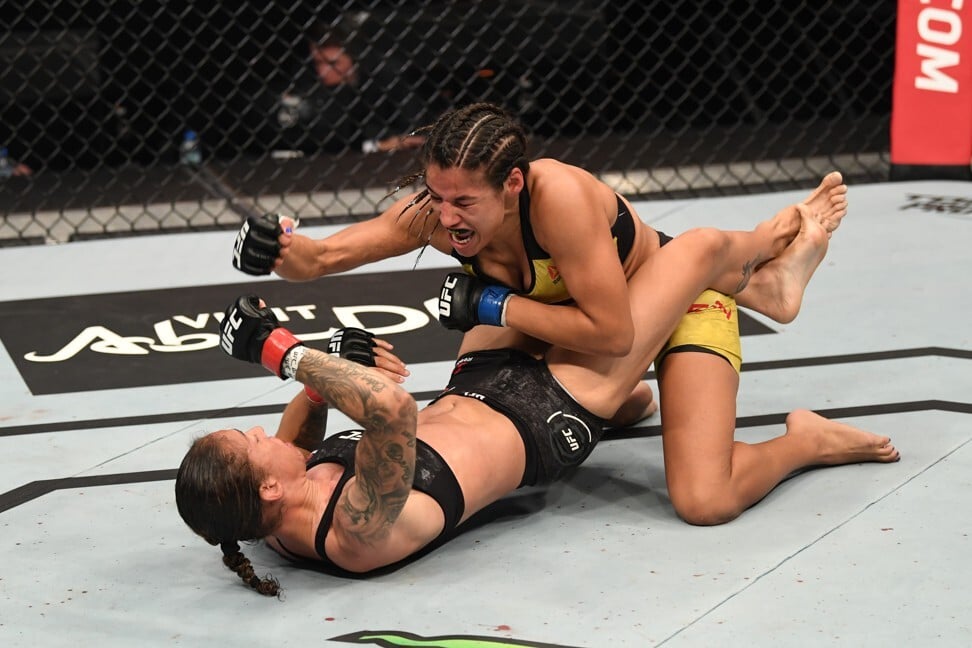 Nunes beat De Randamie by unanimous decision at UFC 245 last December in Las Vegas, after the challenger had done well to nullify her striking her game.
"It's funny because my in last fight my opponent [Nunes] took me down and made it boring. Now, I did what I had to do and finished it," De Randamie said.
"I'm a kick-boxer and they all want to take me down. If you take me down, I choke you out. I'll fight whoever. I just want to fight entertaining fights against people who come to fight. That's all I want."
This article appeared in the South China Morning Post print edition as: Holm sets up potential De Randamie showdown