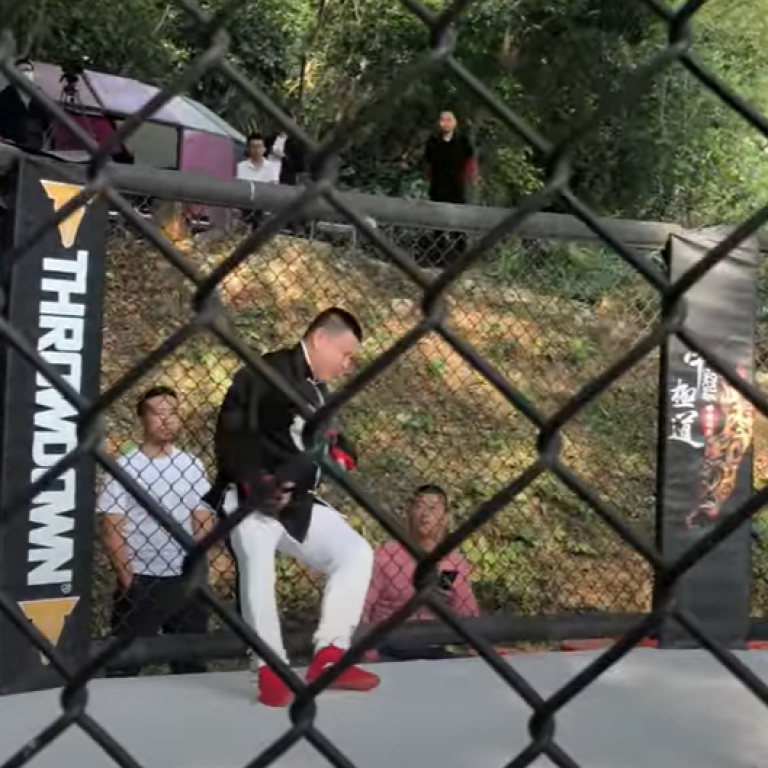 Chinese MMA fighter Xu Xiaodong follows 10-second win vs tai chi master by calling out online impostor
Controversial figure returns to the cage with brief fight against tai chi master Chen Yong
'Mad Dog' later points out to followers that someone is pretending to be him online, despite his ban from Chinese social media
Fresh from his winning return to the cage last week, controversial Chinese MMA star Xu Xiaodong has taken to exposing another kind of fraud: someone posing as him online.
Xu, who has taken it upon himself to expose fraudulent kung fu masters by fighting them, posted on Twitter that a user claiming to be him on Douyin – the Chinese-language version of TikTok – was in fact an impostor.
Writing in Chinese on Twitter on Saturday morning, "Mad Dog" Xu showed a picture of the account along with the message: "I'm sorry to tell everyone that this is not me."
Xu is censored on Chinese social media, with searches for him on Weibo bringing up the error message, " According to relevant laws, regulations and policies, search results for 'Xu Xiaodong' were not displayed."
The fighter returned to action with a long-delayed fight against tai chi master Chen Yong in the mountains of Guangdong province last weekend. He uploaded footage to his YouTube channel afterwards.
"At the end of 2018, Chen Yong challenged me on Shenzhen Satellite TV. I accepted the challenge," Xu wrote on YouTube.
"Because of Chen Yong's reason, I didn't succeed, and then stopped because of the epidemic. Today I can finally fight, in order to respect martial arts, I dare not make any effort!"
The "fight" lasts all of 12 seconds, with Xu connecting with two kicks and then a jab to the face that sends Chen into the ring wall.
"The rule is the MMA rule. When Chen Yong was hit by a light jab and covered his face in the cage, the referee and I were both stunned. I didn't dare to go up and fight … I could only wait for Chen Yong and the referee to discuss whether they could not fight.
"Finally, I apologise to everyone, there is no live broadcast, because there is no signal in the mountains. I can only go back to the hotel in the city to upload, and it is very slow!
"Sorry. On the 29th, I went to Guangzhou to open a talk show with the theme of 'Ma Baoguo'. Mine, free. Say it again! I didn't beat the old man! Chen Yong took the initiative to challenge me!"
Xu later posted another video of Chen being interviewed as proof that he did not injure the older man.
His reputation began in 2017 when he began to call out Chinese kung fu masters as "frauds" on Weibo, which resulted in him knocking out "thunder style" master Wei Li in 10 seconds when they fought.
Footage of Xu's fights went viral but the attention also saw him censored by the government.