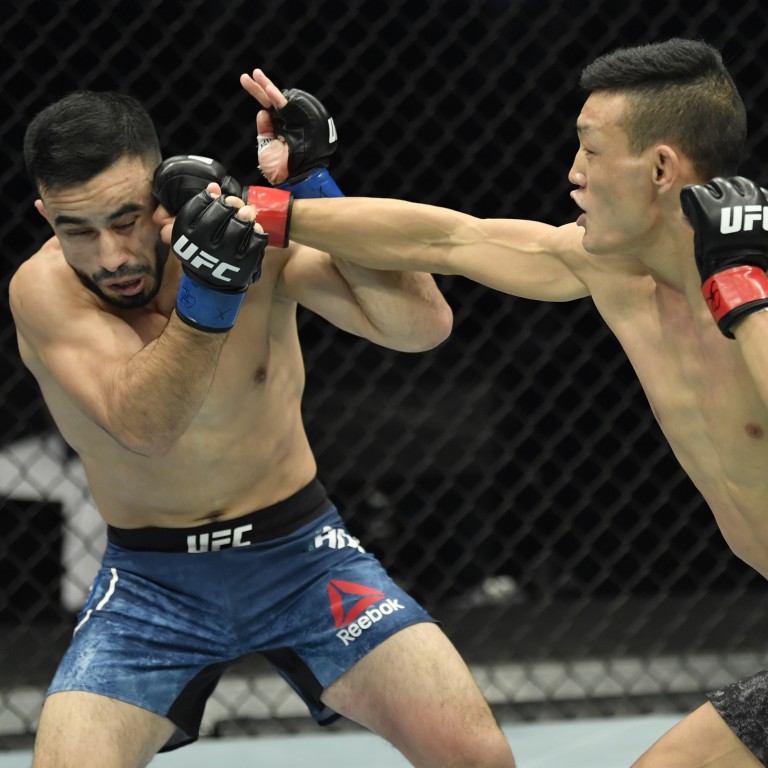 UFC: 'The Tibetan Eagle' Su Mudaerji flies high on Fight Island with third straight win
Rising Chinese flyweight star ducks and weaves and lands enough for decision over Zarrukh Adashev
'My lead hand is my weapon and I try to learn from the best UFC fighters, including Max Holloway,' says Su
Chinese flyweight Su Mudaerji celebrated his 25th birthday in style on Wednesday, using his impressive reach to keep Zarrukh Adashev at bay, and landing shots at will as he claimed a unanimous decision on the UFC Fight Island 8 card.
It was a third straight win for "The Tibetan Eagle" (14-4) as he looks to climb into the flyweight rankings, and on show once again was the skill-set that has the buzz building around him.
Su dodged and wove and damaged Adashev from all angles but he said afterwards things hadn't gone completely to plan.
"I'm not really satisfied with my performance," Su told Daniel Cormier inside the cage. "I was planning to do a lot more.
"My lead hand is my weapon and I am trying to learn from the best UFC fighters, including Max Holloway from last week."
As a former stand-out kick-boxer, the 28-year-old Adashev (3-3) had plenty of wiles about him in the stand-up game, and fired off some early shots as he looked to drag Su into a scrap.
But Su used some clever inside legs kicks to keep a safe distance between the pair, and then he scored early with the cleaner blows.
The second started with an Adashev left landing flush and Su dancing backwards. There was a quick takedown attempt that gave the Uzbekistani a chance to throw some heat but again Su was again able to back away and start picking his shots. One came, then another, from the right then the left, and Adashev started to wobble, and he almost came crashing down.
The fight was there for Su's taking as they came out for the last, and he controlled the distance throughout – in to fire a shot, then out to safety – and maybe even dodged a little bullet right at the end as he swayed and brushed off a right that could have given Adashev a shock win, had it landed and not simply found empty air.
But the young fighter carries an impressive confidence with him, andin his fledgling UFC career has seemed one step ahead of his opponents. The judges saw it 29-28, 29-28, 30-27.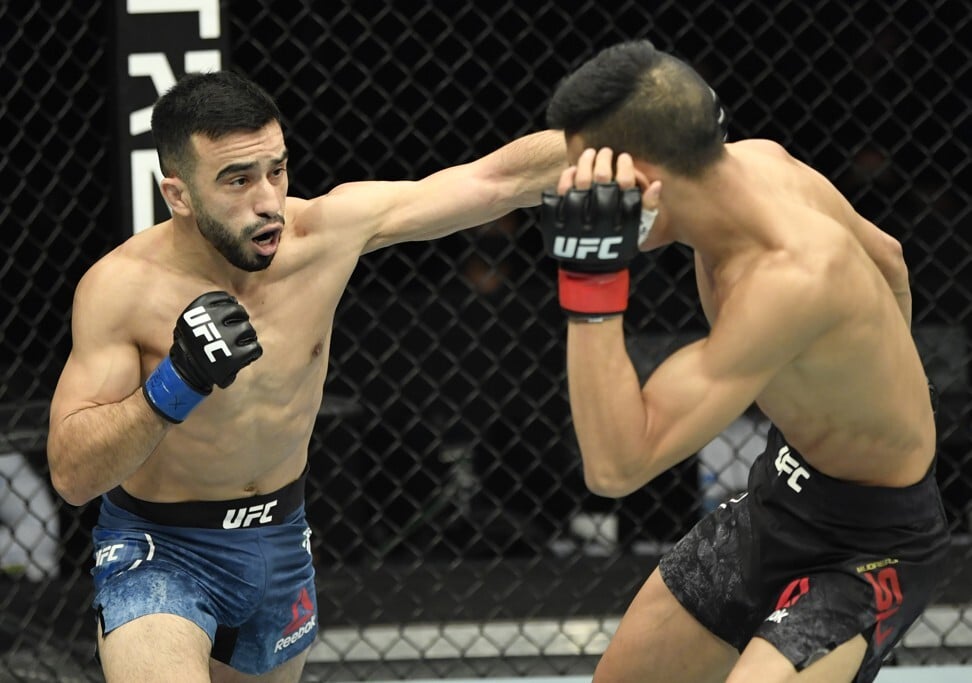 "I'm really happy to be here in Abu Dhabi," Su later added. "Everything has been first class. I'm enjoying my experience. I will have an opportunity to meet my idol, Conor [McGregor]. It's awesome.
"It's not what I expected or planned because it wasn't my game plan for the fight to go that way. I didn't really show my talent or ability. If I showed it, I would have knocked him out in the first or second round.
"My plan is to enter the top five and maybe even become a title challenger."
It was a 44-second knockout of Malcolm Gordon (12-5) at UFC Vegas 15 in November that started the Su bandwagon rolling. His trademark left – straight down the channel – started the Canadian's crash towards the canvas and Su said this week he had been working on it ever since.
It will get tougher from here on – and Su's ground game remains somewhat of a mystery – but the weapons are there for all to see.
Su had set his sights on the UFC's flyweight division after going 1-1 at bantamweight and it has paid quick dividends, given his US$50,000 bonus for that stunning knockout of Gordon and Wednesday's win over Adashev.
The Chinese fighter has unusual height (at 1.72 metres, or 5 feet and 7 inches) and reach (at 72 inches) for a flyweight. He is the same height height as the man who won before him on Wednesday, Congolese powerhouse Dalcha Lungiambula (11-2), who fights fully five divisions higher as a middleweight.
Now we wait to see how far Su can take his talent.