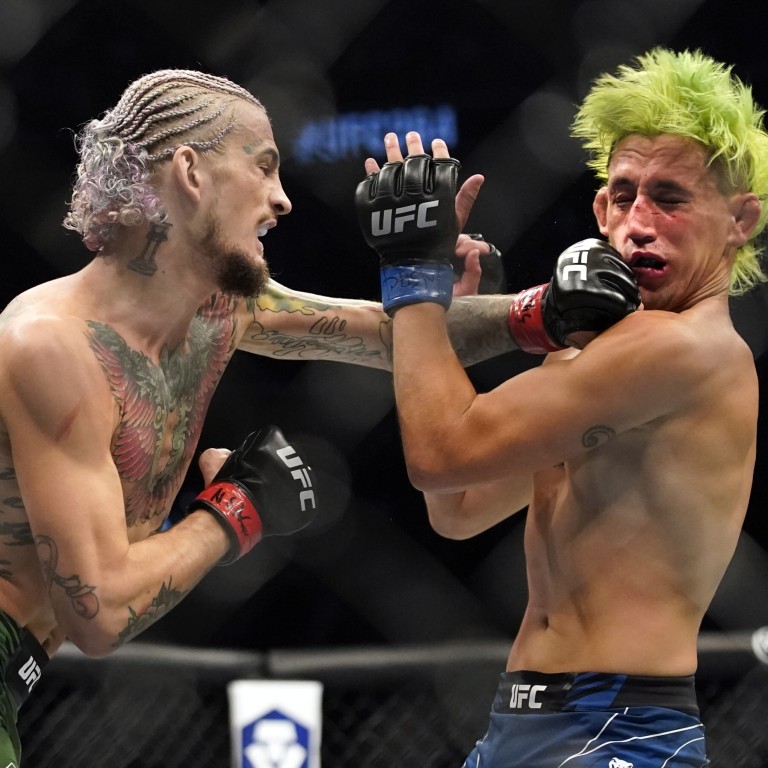 UFC 264: Sean O'Malley thinks referee Herb Dean saved Kris Moutinho 'a couple of years on his life' after late TKO
'Sugar' lands 249 strikes – the most ever in a UFC bantamweight fight – before Herb Dean finally calls it off late in the third round
O'Malley calls out No 3-ranked bantamweight Rob Font after putting the division on notice with impressive display
Sean O'Malley got a late stoppage over Kris Moutinho but boy, did he have to work for it.
A late replacement bantamweight opponent who was making his debut, the neon-green haired Moutinho had nothing to lose on Saturday night in Las Vegas.
The 28-year-old American (9-5) kept marching forward with reckless abandon for almost three rounds, absorbing a historic amount of strikes until referee Herb Dean decided he had seen enough, stopping it on the feet with 27 seconds left at the T-Mobile Arena.
"Kris is a tough [expletive]," O'Malley (14-1) told Joe Rogan in his post-fight interview in the Octagon. "He took this fight on 11 days' notice when a lot of people in the UFC wouldn't take it. Kris is a bad [expletive].
"Shout out to the Phoenix Suns, I was going for a little dribble-dribble, trying to finish him."
O'Malley said "I was and I wasn't" surprised that Dean waived it off with Moutinho still on his feet. "That's a lot of head damage. He might not think that's a good stoppage, but it might have saved him a couple of years on his life," he added.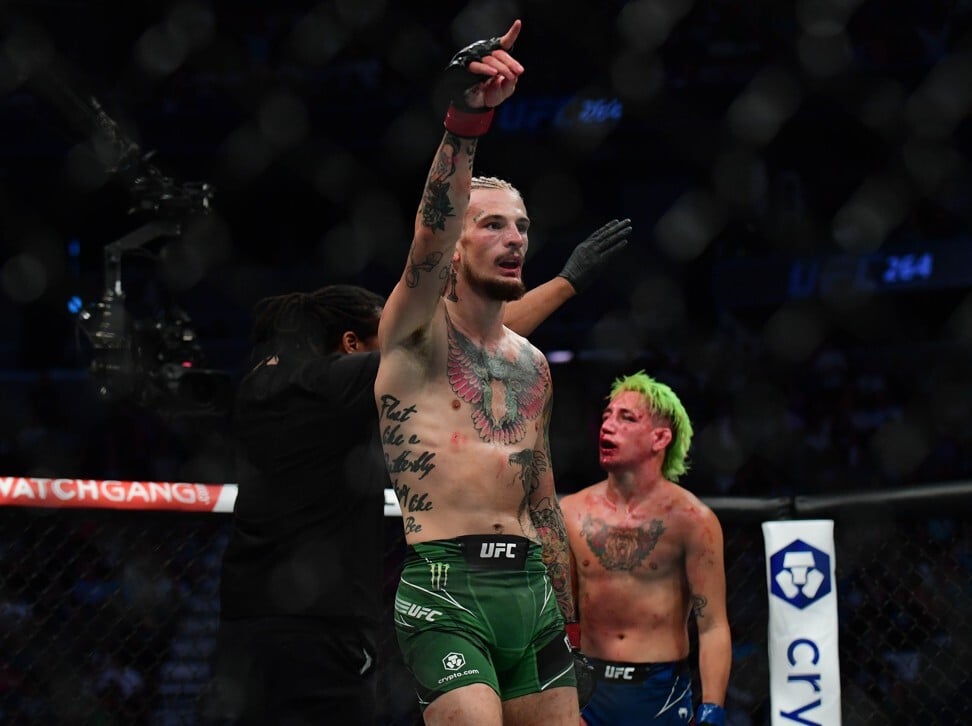 The 26-year-old Arizona native then called out No 3-ranked Rob Font (19-4), as he looks to take the fast track to the 135-pound title.
"Cody Garbrandt hasn't won a fight since 2012. Petr Yan is petrified, Dominick Cruz is ducking me," he said.
It was, in the end, another hugely impressive performance for O'Malley, who landed 249 of 313 significant strikes. It was the most amount of strikes ever landed in a UFC bantamweight fight, and third-most landed in any three-round UFC fight.
Moutinho charged forward from the off and tried to be the aggressor throughout the first round, walking through some huge shots.
But "Sugar" seemingly came close to putting him away at the end of the round, dropping Moutinho and then looking for the choke, only to be frustrated by the buzzer.
The newcomer kept up the constant pressure in the second round, with O'Malley having to work. O'Malley kept using his front leg kicks and his jab, and some smart head movement to circle away against the fence as Moutinho kept coming and absorbing punishment.
Moutinho's face was battered and bloodied but still he walked forward like a zombie, and Dean eventually had enough and called an end to proceedings after one final barrage in the third round from O'Malley.