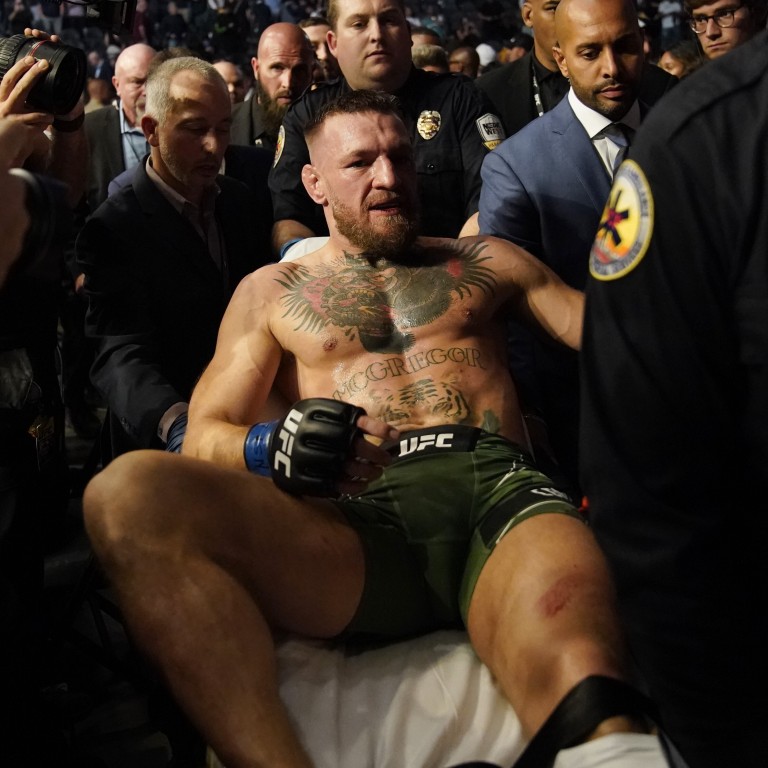 UFC 264: Khabib Nurmagomedov mocks Conor McGregor after leg break – 'good always defeats evil'
Former UFC lightweight champ appears to revel in McGregor's defeat to Dustin Poirier by doctor stoppage
'Very happy for Dustin, I hope you will get the belt end of the year,' Khabib adds 
Khabib Nurmagomedov was quick to revel in Conor McGregor's defeat to Dustin Poirier by doctor stoppage in Saturday night's UFC 264 main event.
Former two weight champ McGregor (22-6)
suffered a broken leg
in the final seconds of the first round, with referee Herb Dean waiving it off after the buzzer at the T-Mobile Arena.
"Good always defeats evil," tweeted former lightweight champ Nurmagomedov (29-0), who submitted McGregor in October 2018 and Poirier a year later.
"Very happy for @DustinPoirier I hope you will get the belt end of the year," added the Dagestan native, who retired last September, spurning a chance for a potential money-spinning rematch with his former heated rival McGregor.
Nurmagomedov also retweeted his former American Kickboxing Academy teammate Daniel Cormier, after the former UFC heavyweight and light heavyweight champ wrote: "Crazy to think that at the end of the weigh in Conor said he would be taken out on a stretcher. And now Conor gets taken out on a stretcher. Man this game we play is so crazy!!!! Hats off to the Diamond of Lafayette!!"
Former champ and No 7-ranked lightweight Rafael Dos Anjos also appeared to revel in McGregor's misery.
The 36-year-old Brazilian (30-13) weighed as a back-up for the main event, and had a heated backstage altercation with "The Notorious" during fight week.
"When I BROKE my foot before our fight this guy made fun of my injury … and continued to do so for years. Taste your own medicine and humble up," wrote Dos Anjos, who was scheduled to fight McGregor in March 2016. He went on to lose the belt to Eddie Alvarez, whom McGregor took the title from.
Other UFC stars also weighed in on the dramatic conclusion to McGregor and Poirier's trilogy.
"Congrats on your win @DustinPoirier and respect for classy behaviour after the fight," tweeted UFC light heavyweight champion Jan Blachowicz.
"TUF Luck, S*** Happens," tweeted former interim lightweight champ Tony Ferguson. "Heal Up."
"Man, I wonder if he will ever fight again after this," said former light heavyweight champ Jon Jones. "Heal up champ, this is terrible."