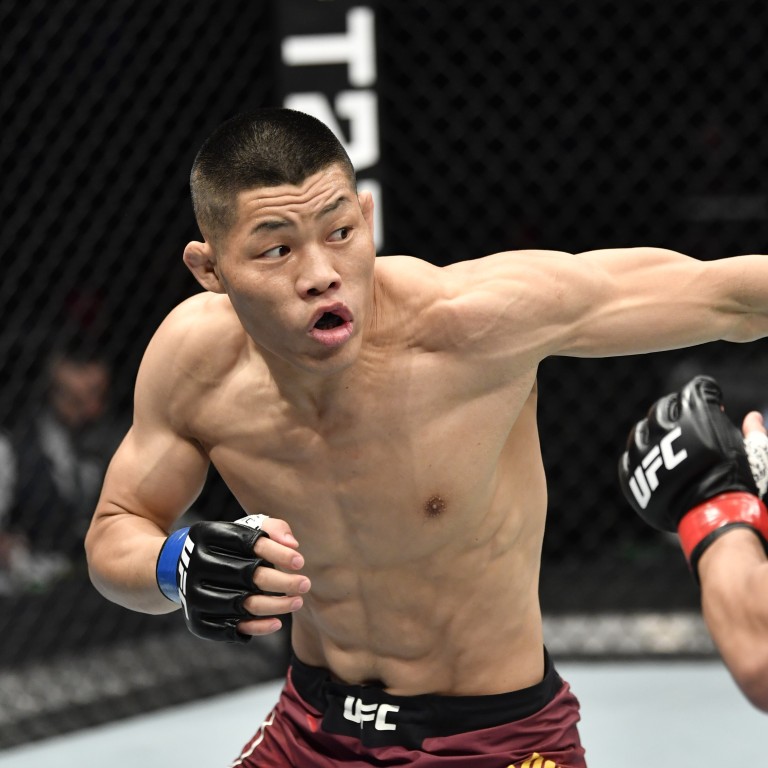 UFC 267: 'The Leech' Li Jingliang vows to silence the noise around Khamzat Chimaev
Veteran Chinese welterweight faces Russian-born Swedish sensation with an eye on top-10 ranking
'Khamzat is the new star of the UFC. Everyone loves him. But I know exactly what I have to do,' Jingliang says 
Li Jingliang cocks an eyebrow when asked how he'll deal with the phenom that is Khamzat Chimaev, when the two square off inside the Octagon at UFC 267 in Abu Dhabi on October 30.
"Khamzat is the new star of the UFC and we've all watched his past three fights. Everyone loves him," begins the veteran Chinese welterweight. "But I know exactly what I have to do and I will stop him."
"The Leech" (18-6) has spent the past 15 years plying his trade inside the cage, at venues all over the Earth, so maybe by now we shouldn't be surprised that the 33-year-old seems to take every challenge the UFC throws at him in his stride.
"Khamzat is very impressive and everyone loves him," Li continues. "But I have 100 per cent confidence in myself. After I defeat him I can sit down with Dana White, and have a cup of Chinese tea and then we can talk about the future."
Chechen-born Swedish sensation Chimaev (9-0) comes into the fight off a 3-0 run in the UFC that put the MMA world on notice last year, setting a record for the quickest three-fight win streak in collecting three finishes (two TKOs, one submission) in just 66 days. The 27-year-old has struggled with the after-effects of Covid-19 since contracting the virus in December, but is now fit and healthy again.
The thing is, Chimaev will be meeting Li at the absolute peak of his own considerable powers. Last time out – in Abu Dhabi in January – the Chinese fighter was at his irrepressible best, a blur of constant movement with feints and weaves as he looked for an opening against the Argentine warhorse Santiago Ponzinibbio (28-4).
It came at 4:25 of the first round, a short, sharp shock from the left that laid Ponzinibbio out on his back – arguably the biggest name Li has yet beat, and arguably the best single moment he's ever had inside the cage, against an opponent who's been ranked as high as eighth.
"That left hand was all part of the plan," says Li. "We watched him and we could see how he throws everything into his right. We knew that would give us an opportunity to land that lucky shot."
What made that effort even more impressive – and actually vital, in terms of Li's career – was it came off undeniably the worst performance of career.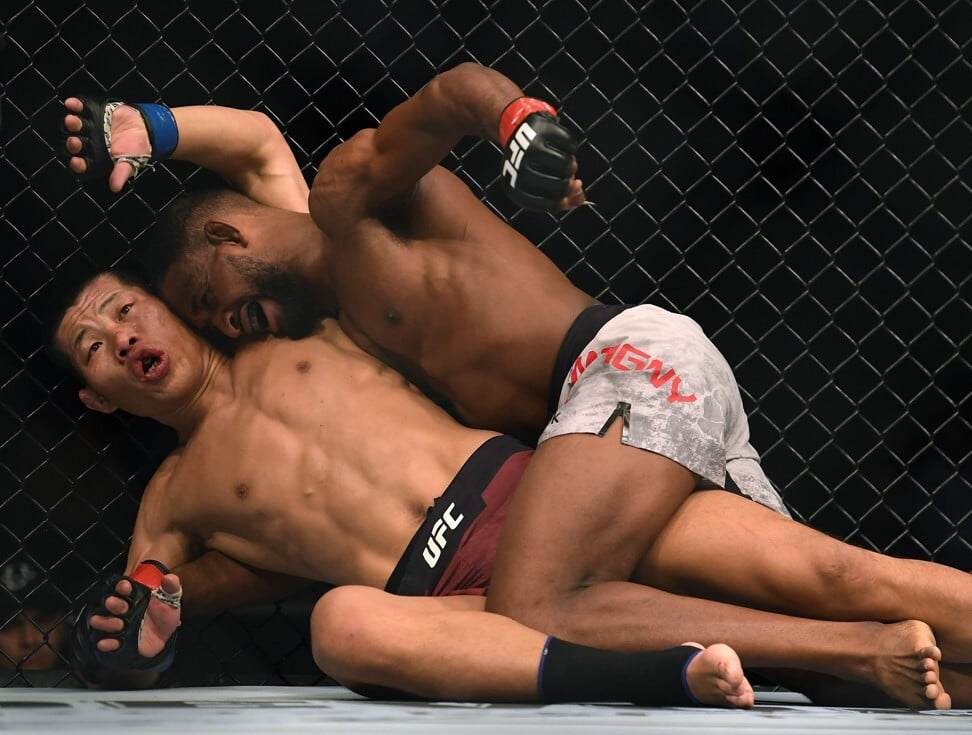 Against American Neil Magny (25-8) at UFC 248 last March, everything that could have gone wrong for Li did go wrong. The trip to Las Vegas required multiple stopovers because of pandemic-enforced restrictions, he only gave himself a few days to recover, and he looked completely out of sorts against an enigmatic fighter who has worried some of the best the division has to offer.
"I learned from my mistakes," Li says. "Before that card there were many issues and my body was not in the best condition. I took more time before my last fight, I was more prepared and it paid off."
The same preparation is going into this bout. Li will be tucked away at the UFC Performance Institute in Shanghai until the middle of October and then make sure he is in Abu Dhabi well ahead of the fight.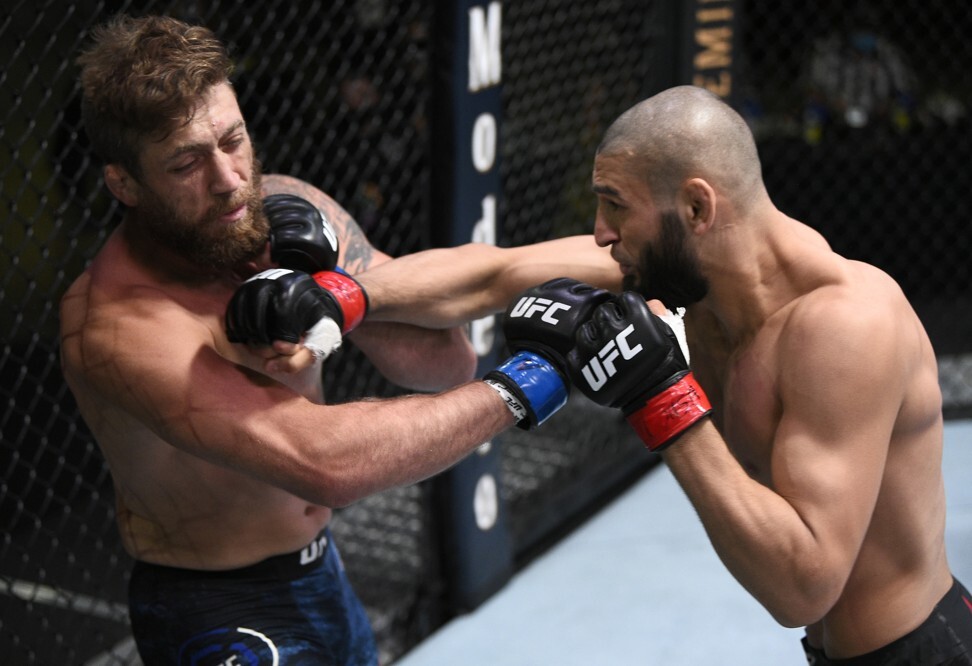 One of the fascinating aspects of Li's career trajectory – putting that Magny fight aside – is how he continues to evolve from the clinging "Leech" of his early days, when it was mostly based on grappling, to a thrashing machine and, now, to a fighter who looks to keep moving and waiting and pouncing. The veteran puts a lot of the credit down to the hours he's logged at the PI over the past two years.
"The PI has everything an athlete needs – the best training facilities and physical therapists – they can help you recover from hard training sessions. They have helped me reach another level. I feel stronger.
"Plus they let me bring my coaches and training partners so we can have a very good team atmosphere and that all really helps me prepare and improve. I'll stay there and then I will get to Abu Dhabi early – it's where I fought before and it's a place I love to go and fight."
Win again, and No 11 Li looks likely to break through to a top-10 ranking. Then the hope is this pandemic will finally ease, and a semblance of normal life will return – and Li will once again be able to fight in front of his fans back home.
"Of course this is the dream," he says. "To bring the UFC back to China. Everyone wants that, not just the UFC. The Chinese fans have been waiting a long time now for a Chinese card and I want to be there fighting for them, for all my fans."