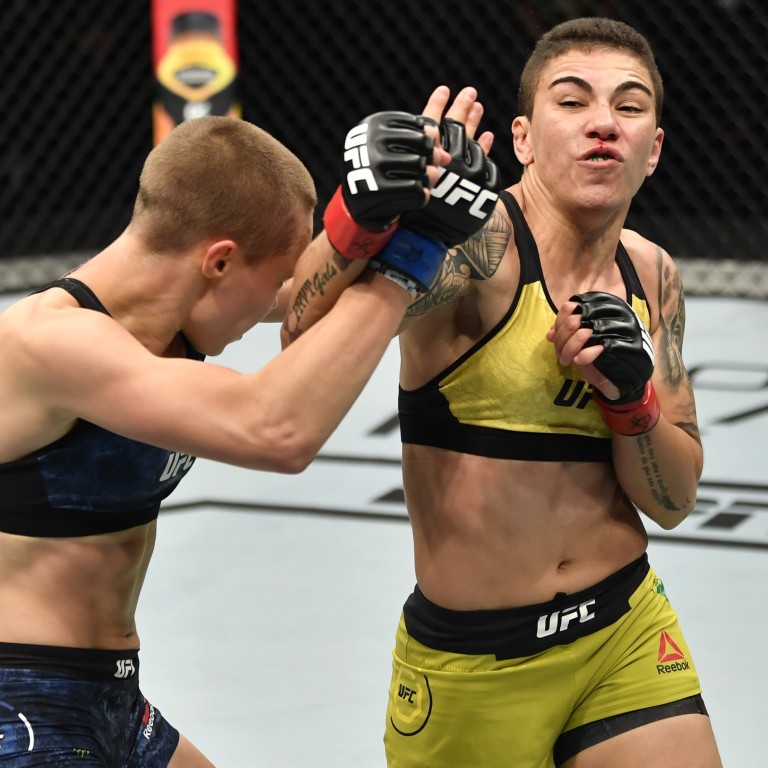 UFC 266: Jessica Andrade wants a crack at winner of Rose Namajunas vs Zhang Weili rematch
Brazilian has flyweight bout against Cynthia Calvillo on Saturday but eyes drop back to former division
'My goal is to win against Cynthia and then ask if I can fight whoever wins between Rose and Weili – either or,' says Andrade
Former strawweight champion Jessica Andrade has a bout against Cynthia Calvillo up among the flyweights at UFC 266 in Las Vegas on Saturday, but admits her heart is set on a return to her old stamping ground – and another shot at the crown she once held.
"My goal is to win against Cynthia and then ask if I can fight whoever wins between Rose and Weili – either or," said the Brazilian, pointing towards the Namajunas-Zhang strawweight title fight looming at UFC 268 on November 6.
"I know there's [third-ranked] Carla Esparza down there and I know she's been waiting for her shot, so maybe that would also work out for me. But after a win over Cynthia I'm definitely going to ask for either Weili or Rose."
Andrade (21-9) claimed the strawweight title with a second-round knockout (slam) over American Namajunas (10-4) at UFC 251 in July 2020 before relinquishing it, via first-round TKO, to China's first UFC champ in Weili (21-2) in Shenzhen just three months later.
The 29-year-old Andrade then decided to move up to flyweight after a razor-thin split decision loss to Namajunas in July last year – so there's plenty of personal shared history between her and the two fighters set to be engaged in a strawweight title rematch in New York this coming November.
"When I fought Rose it was a very close fight and I only started fighting the way I should have in the third round," said Andrade. "I was feeling much better, so what I would do is start fighting like that from the first round."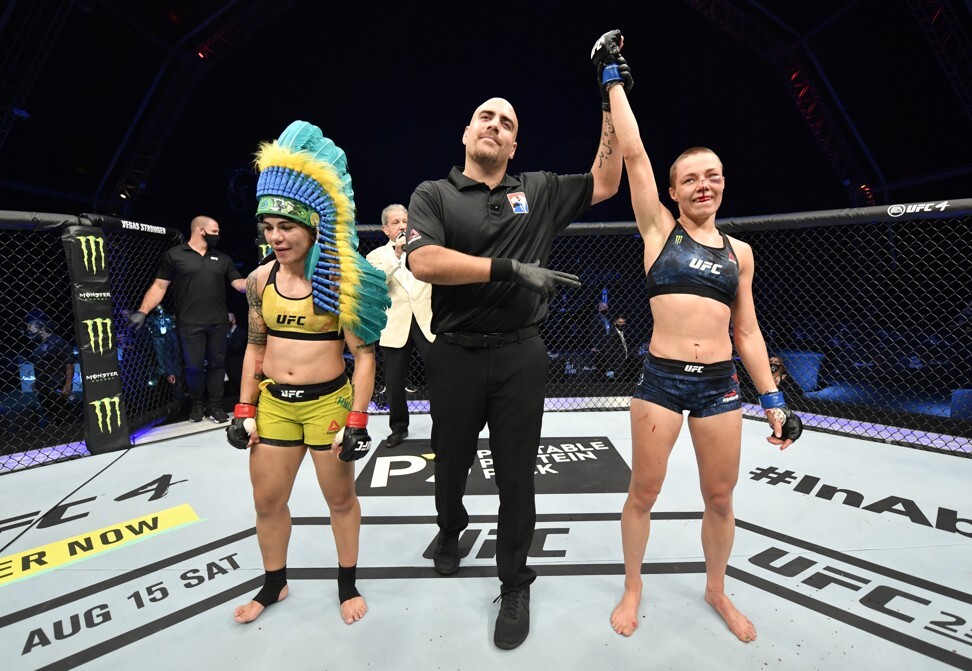 Against Zhang, the fight was over by the time the clock had hit just 42 seconds of the first round – but Andrade still took away some positives.
"Against Weili, I was tired," Andrade said. "China is very far from Brazil and there was the whole time change and everything. I was also too pumped to get in there. I punched her and she felt my hand and I got excited. I just wanted to finish the fight and get the win but that's when I met her in the middle and I got knocked out.
"So I think maybe I would be a little bit more cautious next time and move a little bit more."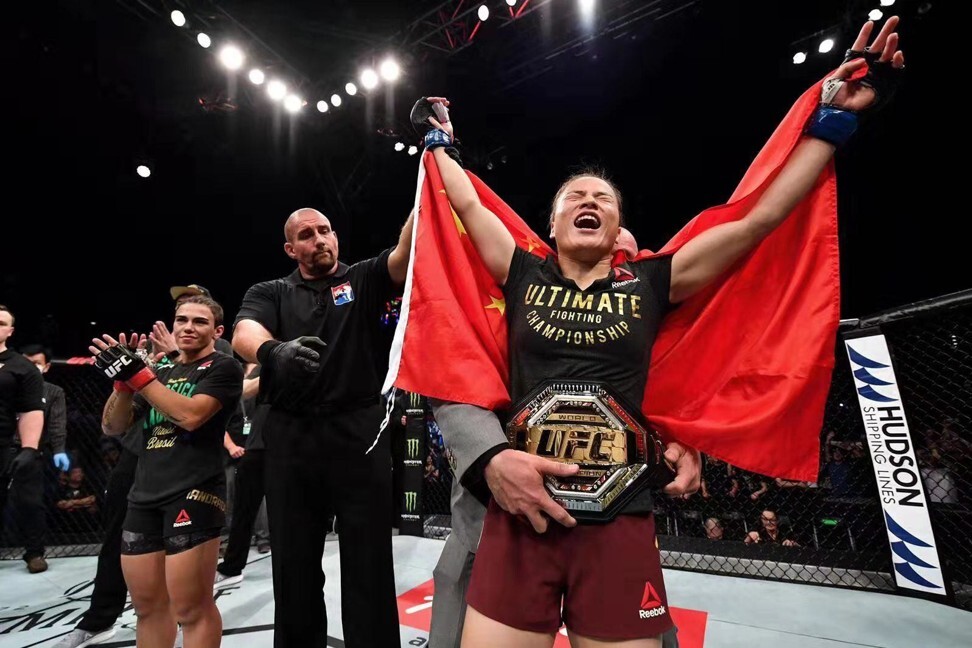 First up, though, comes the fight against the 34-year-old Calvillo (9-2-1) at the T-Mobile Arena, and an opportunity for Andrade to assign memories of her last outing to history.
Up against the reigning flyweight queen, Valentina Shevchenko (21-3), at UFC 261 in April, the Brazilian found herself outthought as much as she was outfought as she lost via TKO (elbows) after being taken down – brutally, and twice – by the champ. Andrade now freely admits the Kyrgyzstani-Peruvian champ's fight plan took her completely by surprise.
"Valentina is a left hander and it is always difficult to fight someone who has a different base than you," said Andrade. "But I have been improving my Muay Thai a lot since then and I also wasn't expecting Valentina to take me down and do what she did. She surprised me. So you can't take anyone for granted and I keep going to the gym every day. I've been training hard and I know I'm getting better."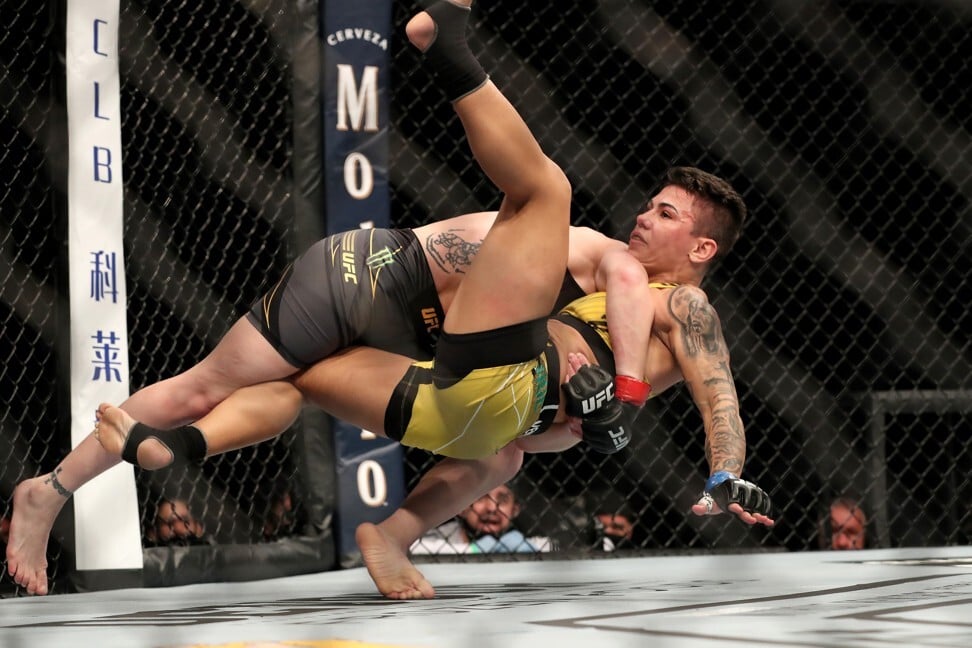 Andrade said she would also fancy a rematch with Shevchenko, somewhere down the line. But it's a case of first things first and she wants Saturday's bout against Calvillo – a noted wrestler – to help remind the world of MMA of the skill set she brings to the cage. Then she can sit back, like fans everywhere, and see how Namajunas-Zhang plays out at Madison Square Garden.
"Cynthia is a great grappler, she has a great wrestling background, she likes the ground and pound," Andrade said. "She likes the takedowns and I think that's what she's going to try to do. She's been training boxing as far as I know. I've been training boxing and takedown defence so I think we're going to try with the striking and exchange a little bit.
"If she gets in trouble she's going to try to take me down – but she's only going to try. But I think I'm going to knock her out in the first or second round and that's what I'm going for. I have a feeling this week is going to be great so here we go."