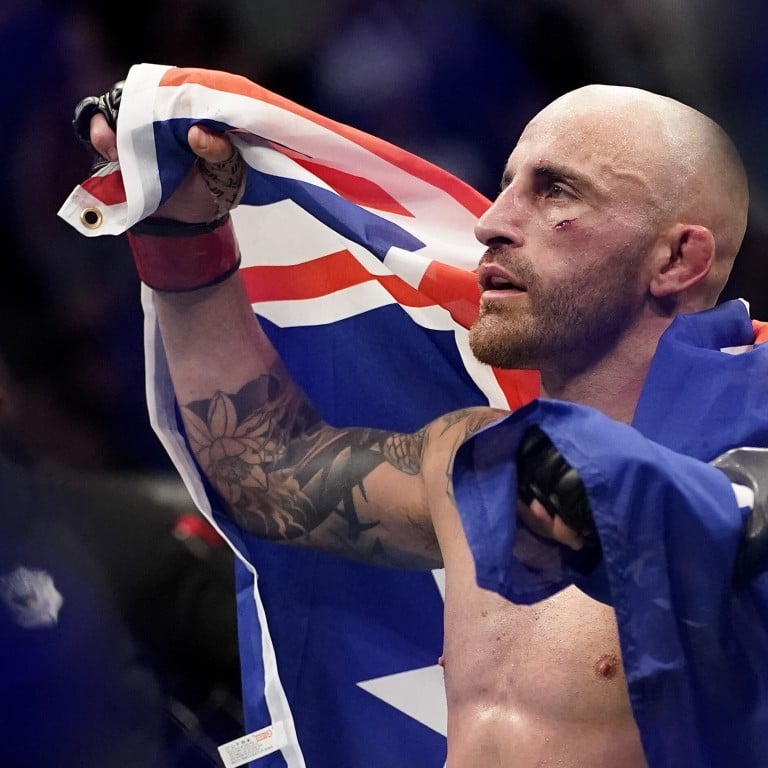 UFC 266: Alex Volkanovski beats up Brian Ortega for unanimous decision in featherweight title thriller
Australian retains belt in an instant classic after American challenger comes close to submitting him twice in third round
'I feel like an idiot saying some of the things I said because he proved himself,' says Volkanovski, following heated build-up
Alex Volkanovski and Brian Ortega put on a classic in Saturday night's UFC 266 main event, the Australian retaining his featherweight title with a unanimous decision in Las Vegas.
The judges' scorecards had it 49-46, 50-45, and 50-44 for the 32-year-old Volkanovski at the T-Mobile Arena, but that did not tell the whole story. Not by a long way.
The 30-year-old American "T-City" (15-2, one no contest) ultimately came up way short again in his second attempt at taking the 145-pound title, his badly-bruised face telling the story, but he came very close to finishing the fight with two submission attempts in the third round.
"Obviously some of the submissions are pretty tight," Volkanovski (23-1) told Daniel Cormier in a post-fight interview in the Octagon. "For some reason I stayed on the ground with him.
"Man, he's good. Obviously I was gonna talk and say he's not on my level. I thought I was in his head, but he came back stronger. I feel like an idiot saying some of the things I said because he proved himself."
The two men had butted heads this summer as rival coaches on season 29 of the returning reality television show The Ultimate Fighter, and their eventual showdown did not disappoint.
After being outclassed by the technical wizardry of the City Kickboxing star on the feet for two rounds, Ortega knocked Volkanovski down out of nowhere in the third round, and didn't need a second invitation to jump in for his signature mounted guillotine.
Volkanovski somehow managed to wriggle out and turned the tables by raining down some ground and pound, but the challenger then wrapped him up again in a triangle choke.
Once again the champion showed his mettle, surviving and finishing the round strong, with Herb Dean looking seconds away from stepping in to call a stop to it when the buzzer sounded.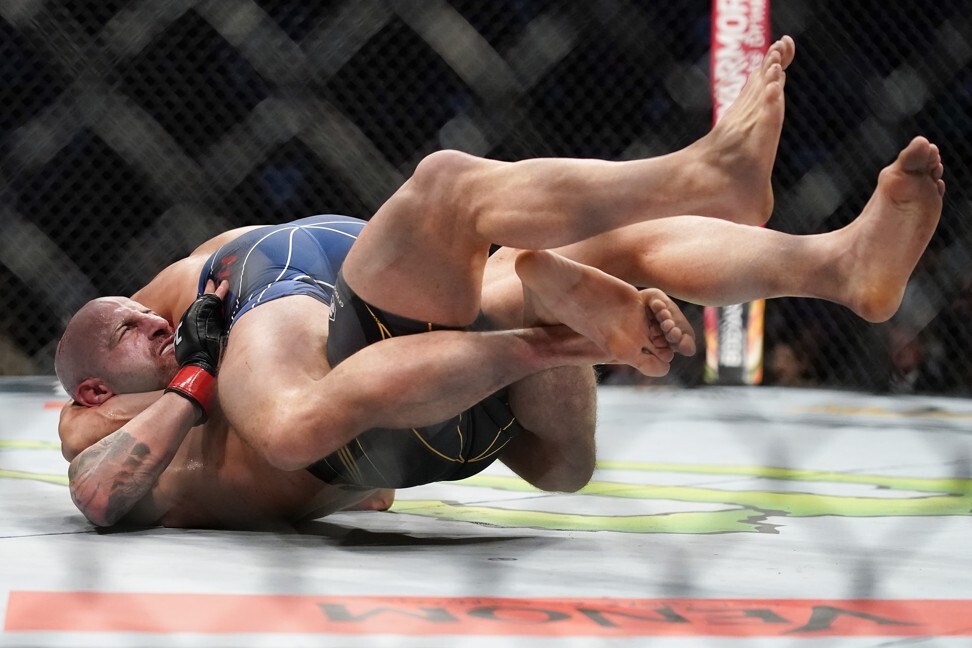 Ortega lay flat on his back as his corner brought in the stool, and the doctor took a good look at his right eye, which was swollen almost entirely shut following that third-round barrage.
It took an intervention from the medical officials to stop Ortega walking out for the final round against Max Holloway three years ago, but this time he was allowed to continue and see out the championship rounds of an instant classic.
It was a 20th win in a row, and a second successful title defence for Volkanovski, who took the belt from Max Holloway in 2019 and held onto it in controversial fashion after a razor-thin split decision in their July 2020 rematch.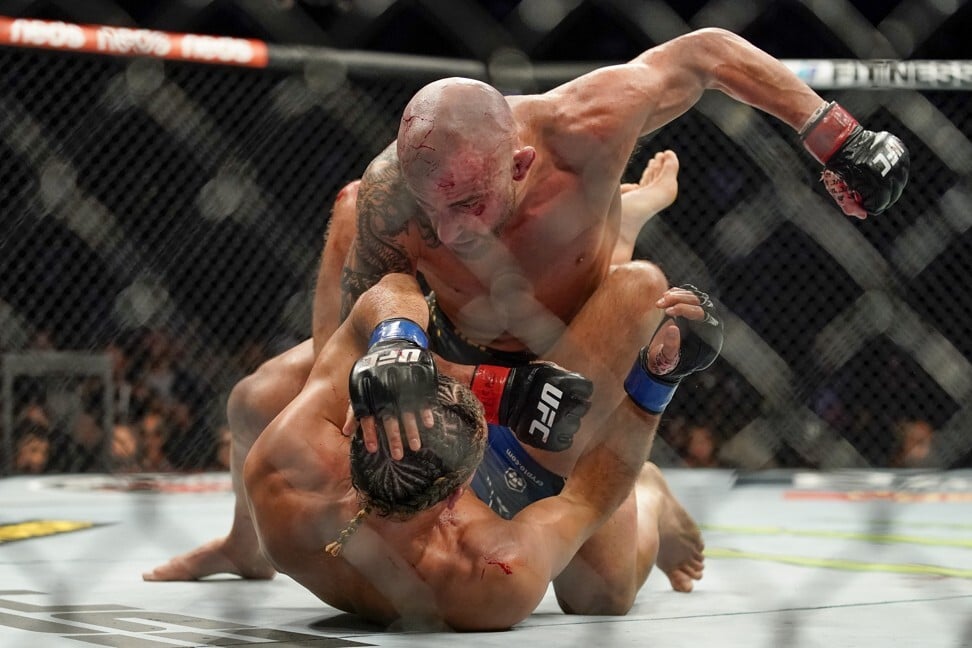 "It's about f****** time [fans respected me], 100 per cent," Volkanovski said. "Hey, keep doubting me. I love it. I'll be the underdog, it just makes me work harder.
"I'm a normal human being, anyone can do what I've done," he added. "The sky's the limit for you. Everyone back home in Australia, I did this for you. I know you're going through a rough time.
"All the doubters, I'm gonna keep proving you wrong time and time again."
For Ortega, he admitted it would be back to the drawing board.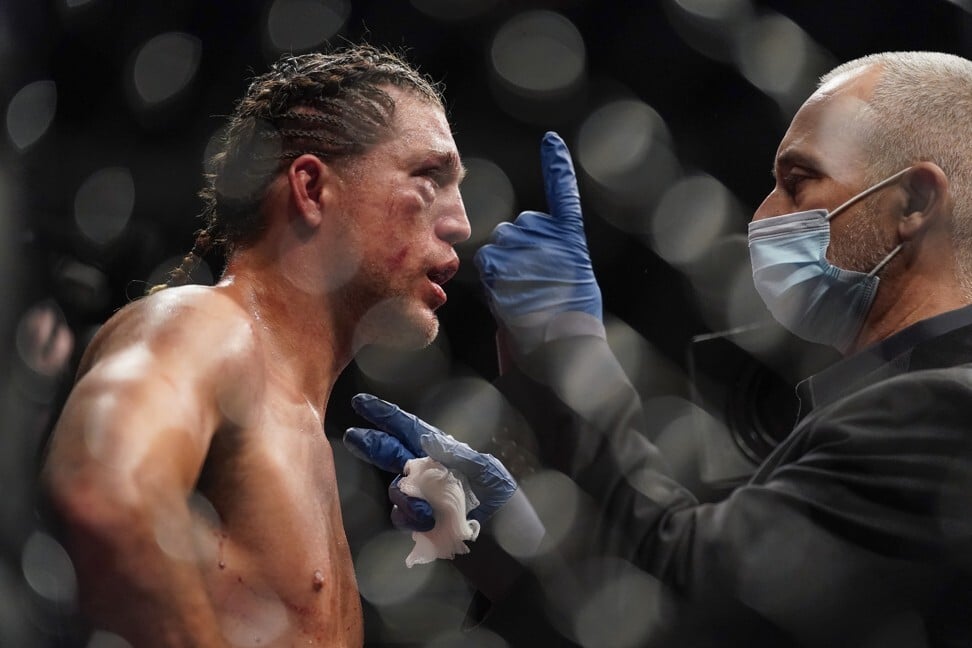 "I thought it was done," he told Cormier. "That's what we trained for the whole camp. I was trying to come for his head, but that little b****** is tough as hell.
"I wrapped onto that neck and squeezed it as hard as I could but he slipped out. I was like, 'f***'. I know we talk our s*** – it was like, whatever."
"It's time to get back in there and climb this ladder," Ortega added. "It's not about if we win or we lose, it's about how we get up and try to overcome that s***."
This article appeared in the South China Morning Post print edition as: Volkanovski retains title after Ortega falls short