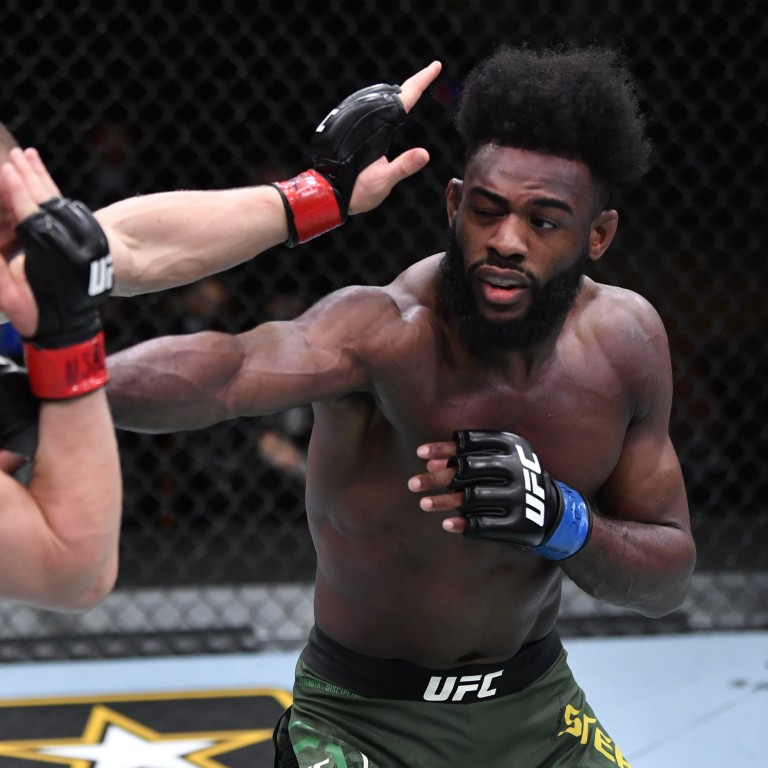 UFC: Aljamain Sterling sizes up Jose Aldo, insists 'I have the tools' to beat him
Former featherweight champ Aldo defeated Rob Font in bantamweight main event of UFC Vegas 44 on Saturday
'I know how to escape,' says bantamweight king Sterling, addressing Aldo's grappling – "he's not going to hold me there for the entire round'
UFC bantamweight champ Aljamain Sterling was impressed by Jose Aldo's win over Rob Font, but sees the Brazilian legend as a surmountable challenge.
Aldo, 35, took on Font in the main event of the UFC Vegas 44 card on Saturday. The Brazilian, who previously held the UFC featherweight title, put forth a fantastic performance, and ultimately left the Octagon with a unanimous decision win.
In his post-fight interview with commentator Daniel Cormier, Aldo (31-7) called for a fight with fellow contender TJ Dillashaw, but noted that his ultimate goal is winning the bantamweight title. At the moment, that means beating the 32-year-old Sterling (20-3), who happened to be in the building for the Brazilian's fight.
"I thought it was a phenomenal performance," Sterling said on the UFC Vegas 44 post-fight show, breaking down Aldo's win. "I think he's still getting better, still proving that he's one of the top dogs in this division. I'm super excited because this division is super hot right now. There's guys for everyone to fight and I think even outside the top 15, this division is just way too deep."
Aldo had a great game plan against Font (19-5), battering his foe with leg kicks and punches to the head and body, and stealing rounds with deftly-timed takedowns. The Brazilian isn't known for his grappling, but proved he is certainly no slouch in that department against his 34-year-old American foe.
Sterling, however, isn't worried. The champ expressed his confidence that he has the skills to beat anyone in the bantamweight division – Aldo included.
"I know how to escape," he said, addressing Aldo's grappling. "He's not going to hold me there for the entire round and again, he's a black belt, he's a legend, he's done what he's done in the history books for a reason, but I do believe I have the tools to beat any one of these guys in the bantamweight division."
The win over Font marked Aldo's third-straight success in the Octagon after decision wins over ranked contenders Pedro Munhoz and Marlon "Chito" Vera.
Before that, Aldo suffered a TKO loss in a fight for the vacant bantamweight title opposite Russia's Petr Yan (16-2) – a man Sterling knows well.
Yan took on Sterling in his first title defence, and lost the belt by disqualification after he hit his American rival with an illegal knee.
Yan has somewhat restored his station in the time since, capturing the interim bantamweight title with a thrilling decision win over Cory Sandhagen at UFC 267 in late October.
Sterling has not fought since his title-winning DQ over the Russian, but the pair are expected to meet again early in the new year.