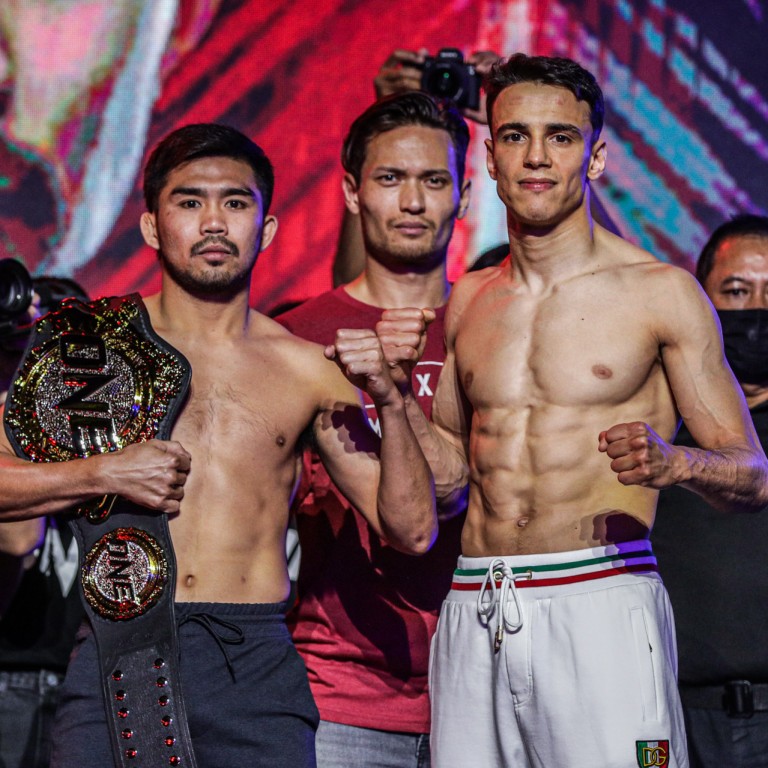 ONE Championship 157 weigh-in results: Prajanchai misses mark for title fight; Buchecha vs Hugo Cunha postponed
Strawweight Muay Thai champion comes in one pound over weight for Friday title defence against challenger Joseph Lasiri
Indian MMA star Asha Roka also misses weight, while heavyweight contender Marcus Almeida sees another fight called off
ONE Championship strawweight Muay Thai champion Prajanchai PK. Saenchai missed weight for his title defence against Joseph Lasiri, but will have one more opportunity to hit his mark before the fight.
The Thai champion took to the scale on Thursday evening, roughly 24 hours ahead of his fight with Lasiri, which co-headlines Friday's ONE 157 event in Singapore.
He came in one pound over the contracted limit for the bout, tipping the scale at 126 pounds. He also failed his pre-fight hydration test, which monitors athletes' hydration levels to curb dangerous weight-cutting practices.
Prajanchai will have one final opportunity to make weight at noon local time on Friday. If he fails again, his fight with Lasiri will be renegotiated as a catchweight fight or cancelled. He will also need to pass a final hydration test.
Prajanchai was not the only fighter to come in heavy at Thursday's ONE 157 weigh-ins. India's Asha Roka was also one pound over for her atomweight MMA bout with American Alyse Anderson. She will also have another opportunity to make weight and pass a final hydration test at noon tomorrow.
The UK's Jonathan Haggerty and Brazil's Walter Goncalves, who are slated to meet in the opening round of ONE's flyweight Muay Thai Grand Prix, did not weigh in on Thursday. The reason for their absence was not explained but ONE officials confirmed to the Post that both men will have the opportunity to weigh in on Friday morning.
While the remaining fighters on the 14-bout ONE 157 bill made weight and passed their hydration tests, there has been one other last-minute change to the line-up for the event, as a heavyweight fight between Marcus "Buchecha" Almeida and Hugo Cunha has been postponed.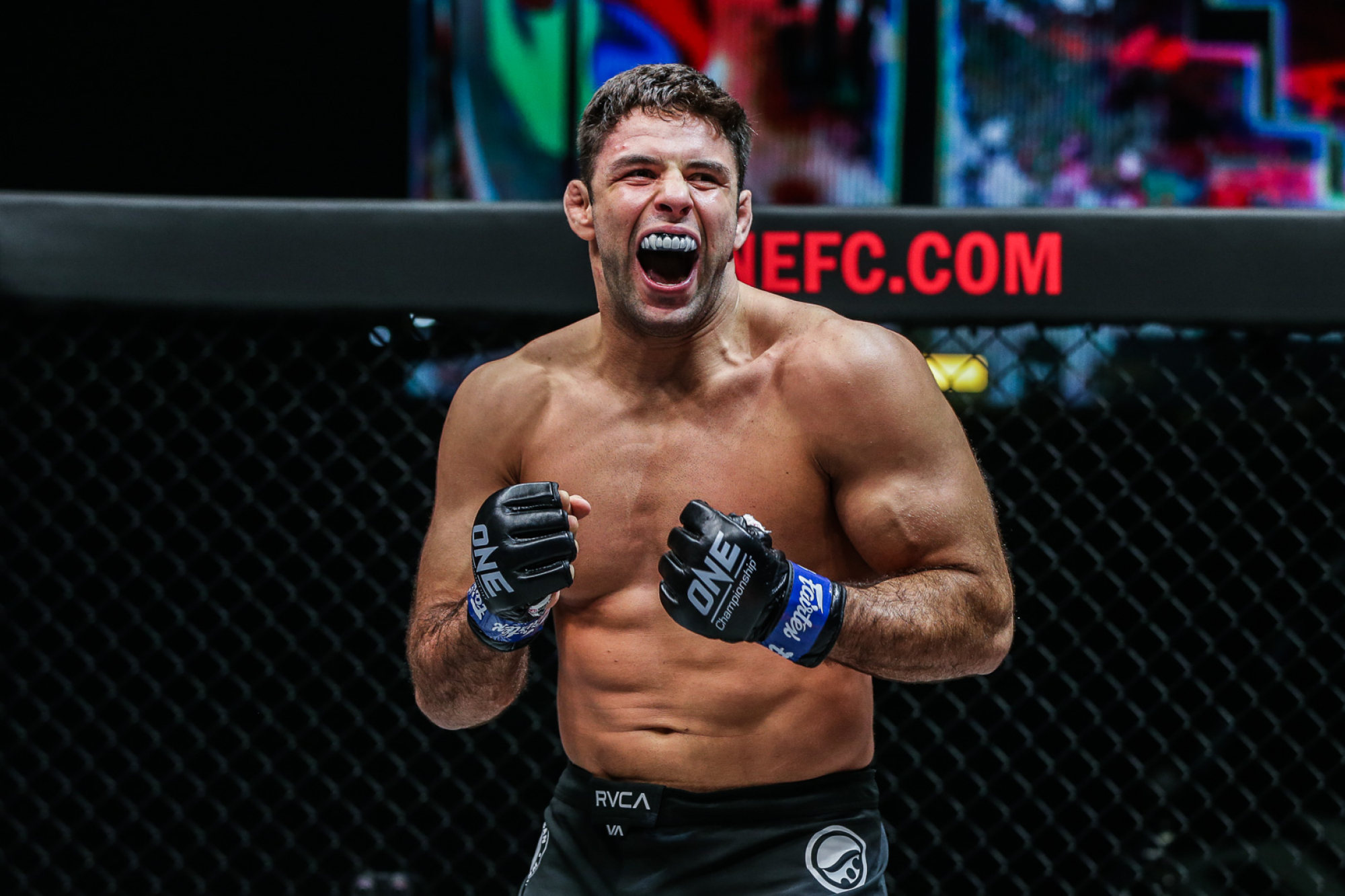 Buchecha, one of the promotion's top heavyweight contenders, has had a dizzying few weeks. The Brazilian was originally slated to fight Oumar "Reug Reug" Kane in Singapore on April 22, but the bout was ultimately pushed back to Friday's event.
Reug Reug was then forced out of the match-up and replaced by Cunha. Unfortunately, that match has now been delayed because of Covid-19 health and safety protocols, per ONE's official Instagram account.
See the complete weigh-in results for the card below: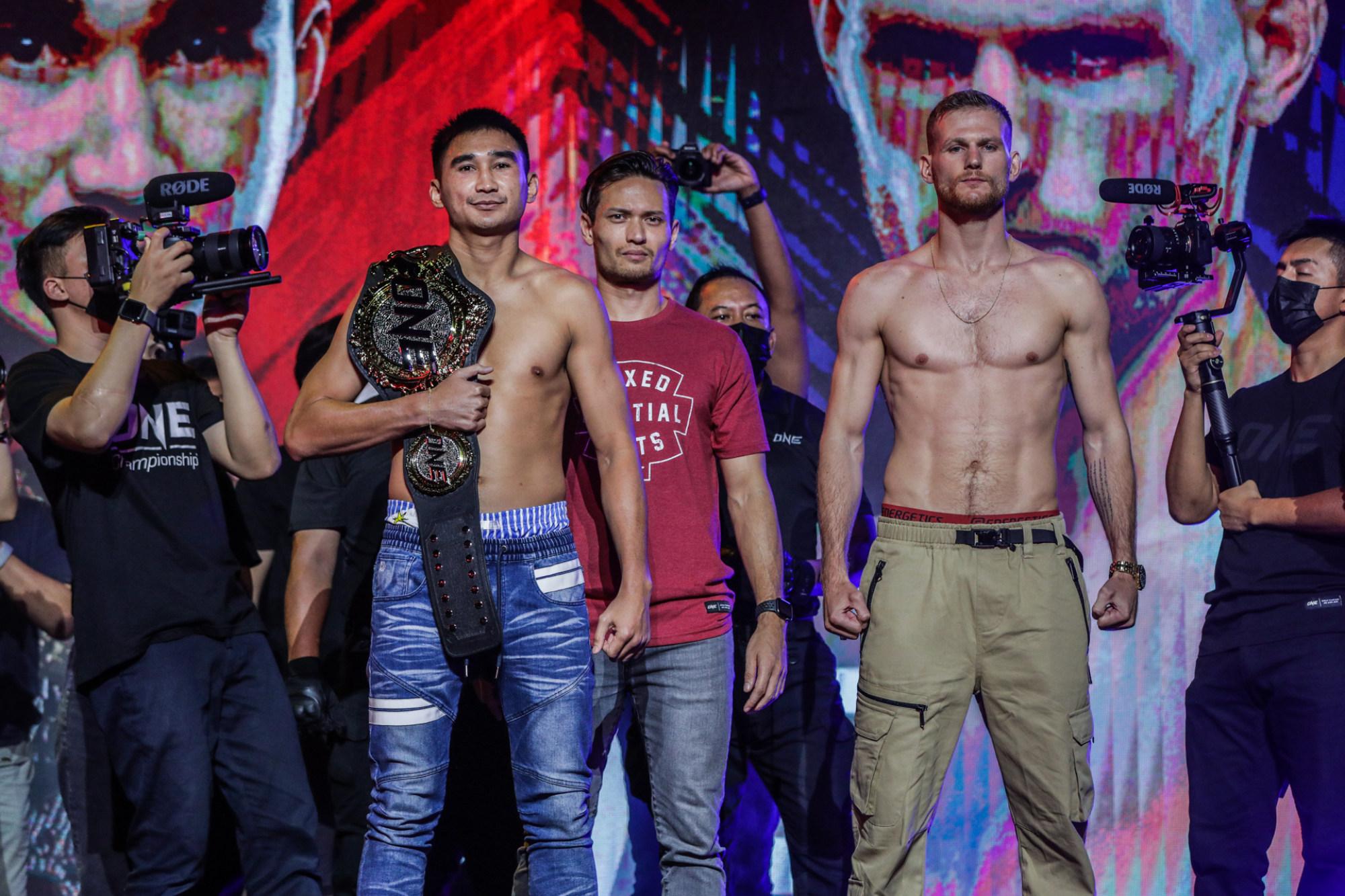 Featherweight Muay Thai title bout: Petchmorakot Petchyindee (154lbs) vs Jimmy Vienot (154lbs)
Strawweight Muay Thai title bout: Prajanchai PK. Saenchai (126lbs) vs Joseph Lasiri (125lbs)
Flyweight Muay Thai Grand Prix quarter-final bout: Rodtang Jitmuangnon (135lbs) vs Jacob Smith (134lbs)
Flyweight Muay Thai Grand Prix quarter-final bout: Jonathan Haggerty (did not weigh in) vs Walter Goncalves (did not weigh in)
Lightweight submission grappling bout: Garry Tonon (169lbs) vs Tye Ruotolo (170lbs)
Lightweight submission grappling bout: Shinya Aoki (167lbs) vs Kade Ruotolo (168lbs)
Flyweight Muay Thai Grand Prix quarter-final bout: Superlek Kiatmoo9 (135lbs) vs Taiki Naito (134lbs)
Flyweight Muay Thai Grand Prix quarter-final bout: Savvas Michael (135lbs) vs Amir Naseri (133lbs)
Atomweight MMA bout: Asha Roka (116lbs) vs Alyse Anderson (115lbs)
Featherweight kick-boxing: Davit Kiria (155lbs) vs Mohammed Boutasaa (155lbs)
Strawweight MMA: Wondergirl Jaroonsak (124lbs) vs Zeba Bano (120lbs)
Flyweight Muay Thai Grand Prix alternate bout: Denis Puric (134lbs) vs Sherzod Kabutov (134lbs)
Flyweight Muay Thai Grand Prix alternate bout: Panpayak Jitmuangnon (134lbs) vs Josue Cruz (134lbs)
Strawweight MMA: Elipitua Siregar (125lbs) vs Robin Catalan (125lbs)