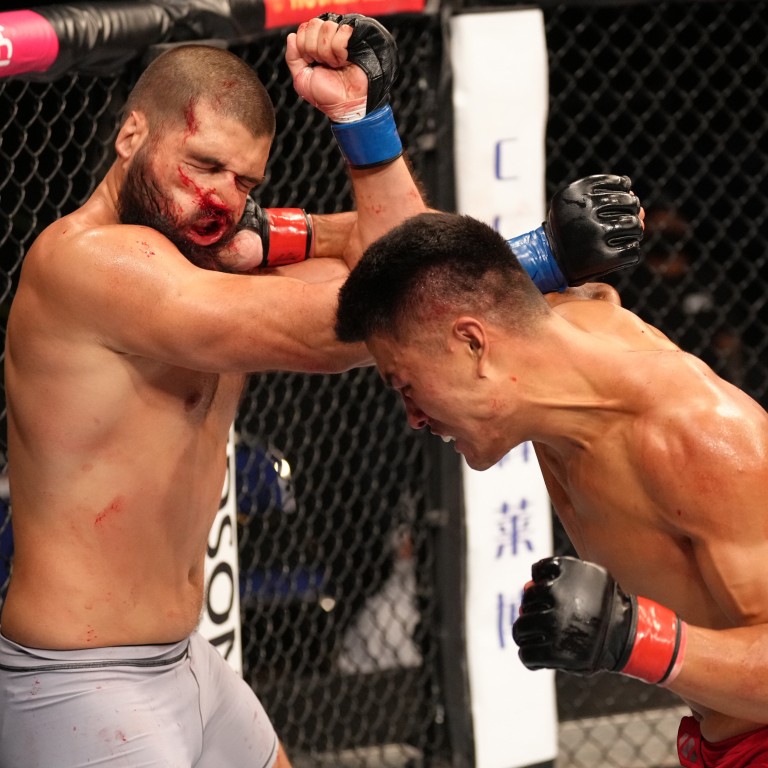 Road to UFC: China's Zhang Mingyang scores scary KO to kick off Singapore fight week in style
'Mountain Tiger' makes a statement as tournaments for Asian MMA prospects get under way
The 23-year-old flattens Tuco Tokkos in first round at Singapore Indoor Stadium ahead of Sunday's UFC 275 pay-per-view
The Road to UFC kicked off with a bang in Singapore on Thursday afternoon, as Chinese light heavyweight Zhang Mingyang scored a brutal knockout win in the opening fight on the first of two cards.
With tournaments in four men's weight divisions for 32 Asian MMA prospects, the opening rounds are taking place on June 9 and June 10 over four events at Singapore Indoor Stadium.
The 23-year-old Zhang (16-6) flattened Tuco Tokkos in a non-tournament bout to start the first event of the series, which is being held in the Lion City ahead of Sunday morning's UFC 275 card – the promotion's first pay-per-view in Asia.
Bellator veteran Tokkos (7-3), training out of Sanford MMA in Florida, charged at the "Mountain Tiger" from the off, but got caught with a brutal right hand that sent him crashing to the canvas.
If he was not already out cold, Zhang's five follow up strikes will have done the trick, and the referee quickly stepped in at 3:57 in the opening round.
A huge betting favourite at -675, Britain's Tokkos was down for quite some time, with medical professionals tending to him in the Octagon.
"I definitely knew that," Zhang said of the bookmakers' odds coming in. "But it didn't matter. I want to let the UFC know, in China we have [fighters in] bigger weight classes, like me."
The win extended Xinjiang Fight Gym product Zhang's streak to nine fights, following a series of victories on China's domestic circuit in the WLF and Huya FC promotions.
"I don't feel very great for my performance because I didn't warm up fully," he added. "So I'm a little bit rushed trying to get into the engagement."
Choi Seung-guk (5-1) – a protege of "The Korean Zombie" Jung Chan-sung, who was present on cornering duties – then scored a unanimous decision against Indonesia's Rama Supandhi (7-4) to move on in the flyweight bracket.
In the third fight of the afternoon card, Toshiomi Kazama (10-2) secured a unanimous decision against China's Maimaitituoheti Keremuaili (26-11) in the opening round of the bantamweight tournament.
South Korea's Ki Won-bin (16-7) got the second stoppage of Road to UFC 1, securing a TKO over Jinnosuke Kashimura (4-2) with just 16 seconds remaining in the first round, delivering a barrage of unanswered ground and pound against the fence to progress in the lightweight tournament.
China's Yi Zha (20-3), fighting out of Enbo MMA in Sichuan, then impressed with a quick submission of Japan's Keisuke Sasu (9-2-1) to move on in the featherweight bracket.
"Everybody thinks I'm the underdog for the fight, but I got the win," Yi said, via a translator.
"I'm a well-rounded fighter, no matter if it's on the ground – grappling, standing, jiu jitsu, I'm all good. I'm going to be the champion, so everybody just watch me."
Japanese 19-year-old Takeru Uchida (6-1) opened Thursday evening's Road to UFC 2 card with a slick first-round rear-naked choke of Australia's Shaun Etchell (7-3) at lightweight, extending his win streak to five, and earning his sixth career win – all via submission.
"It was my first fight outside Japan," Uchida said. "I was very nervous. A lot of things to think about, but I'm just so happy I got a win. It's the first time fighting in this big arena, and I just feel so good. I understand this wasn't a tournament bout, but I'll be ready any time in September."
Indonesia's Jeka Saragih (11-2), a late call-up to the lightweight tournament, then brought the audience to their feet with a spinning back -fist KO in the third round against India's Pawan Maan (7-3-1).
"Thank you for giving me a chance on the Road to UFC," One Pride MMA champion Saragih, 27, said. "It was my game plan to do the spinning back fist, and next time I'm gonna do even better. I want to prove to the world, to the UFC, that I can make it to a UFC contract."
China's "Tibetan Knight" Qiu Lun (15-8), another product of the UFC Shanghai Performance Institute, progressed at flyweight with a unanimous decision over Filipino Wallen del Rosario (8-2).
In the final fight of the Road to UFC 2 card, former ONE Championship title challenger Koyomi Matsushima (13-5) beat Hong Jun-young (11-7-1) – another protege of two-time UFC title challenger Jung – by split decision in the featherweight bracket.
"I did think it was close," the Japanese fighter said. "Hong was very strong. It was a great match. He's definitely from 'Korean Zombie'. I'll keep fighting, and keep training."