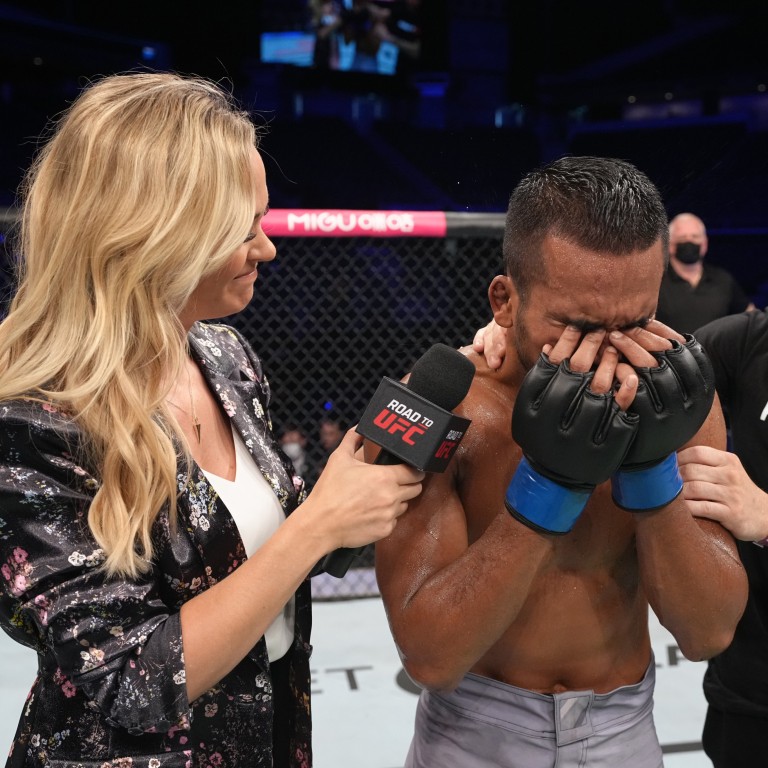 Road to UFC: Topnoi Kiwram moves step closer to making history for Thailand with win in Singapore
The 29-year-old Thai breaks down in tears after decision on Episode 3 of Road to UFC series, moving into semi-finals of flyweight tournament
With tournament winners to receive UFC contracts, Topnoi is hoping to become first male Thai fighter in UFC history
Topnoi Kiwram moved a step closer to becoming the first male Thai fighter in the UFC after an emotional unanimous decision victory on Friday afternoon in Singapore.
The gritty win over Japan's Yuma Horiuchi on Episode 3 of the Road to UFC series moved the 29-year-old into the semi-finals of the flyweight tournament.
With brackets in four men's weight divisions for 32 Asian MMA prospects, the opening rounds are taking place on June 9 and June 10 over four events at Singapore Indoor Stadium, ahead of Sunday's blockbuster UFC 275 card – the promotion's first pay-per-view in Asia.
In an emotional post-fight speech, Topnoi thanked his Bangtao Muay Thai & MMA coaches George Hickman and Alex Schild, before breaking down in tears and kneeling on the canvas.
"With everyone in Bangtao, I thank you," he said, speaking to UFC commentator Laura Sanko.
After dancing his way to the Octagon, Muay Thai specialist Topnoi took the first round comfortably, knocking Horiuchi down and wisely opting against following him to the ground, as he mixed in some entertaining showboating with his proficient striking.
The showmanship was soon shut down in the second round, with Horiuchi almost immediately taking the Thai down, and quickly taking his back.
Topnoi was forced to fend off the rear-naked choke for almost five full minutes, but showed the defensive grappling proficiency that has been honed by his work with BJJ black belt Schild, who along with Hickman was screaming encouragement – and more importantly, instructions – from cageside.
He started shouting in celebration as the final 10 seconds of the round ticked down, and then sealed the victory in the third round with some more crisp striking, throwing in some of his trademark sharp elbows as well as using the clinch.
Horiuchi got another late takedown, but was unable to do anything with the position and was gently warned by the referee over inactivity. There was no late drama, and Topnoi took two 29-27 scorecards, with one 29-28, from the judges.
Arm bar agony
In the final fight of the afternoon, Lee Jeong-yeong secured the third arm bar victory of his professional career, racing to a 36-second victory over China's Xie Bin to move into the featherweight semi-finals.
"The Korean Tiger" Lee (8-1) – who is the featherweight champion in South Korea's top MMA promotion, Road FC – slapped on the arm bar and then doubled down on it, flipping Xie (8-4) down onto his belly for the quickest finish so far at Road to UFC.
"I expected that one, and now I am in the UFC," Lee said. "I'm a jiu-jitsu black belt, I have confidence in grappling, but also in striking. I will definitely win every match."
Another submission
Earlier, Rinya Nakamura (5-0) got an impressive first-round submission via Americana over Indonesia's Gugun Gusman (8-4) to move on to the bantamweight semi-finals.
The 27-year-old wrestling standout, who was cornered by Japanese legend Yushin Okami, was docked a point for a illegal elbow to the back of the head early on. But he did not let it affect him, and quickly wrapped up the fight at the 3:24 mark.
Clean sweep for Bangtao
Park Hyun-sung (6-0) got another win for Phuket's Bangtao Muay Thai & MMA gym in the first tournament bout of Friday evening's Episode 4.
The South Korean flyweight stayed composed in the early going against Indonesia's Jeremia Siregar (6-3), before flattening him out on his belly and getting it done with ground and pound from the top.
"Coming into the fight I was able to maintain a high level thanks to my coaches at Bangtao, George Hickman and Frank Hickman," Park said, via a translator.
"This was my first fight abroad, so I had to stay calm. I'm happy but I'm still two wins away from the contract. So I will definitely celebrate after those two fights."
Raining right hands
There was another big finish on the evening's Road to UFC 4 card, with Lu Kai getting a second-round TKO of Indonesia's Angga to progress to the featherweight semi-finals.
Lu (8-3, 1 no contest) – fighting out of Prague in the Czech Republic, by way of Anhui, China looked close to getting the submission in the first round, locking his opponent in a scarf choke, before moving onto an arm lock.
Angga was able to survive, but Lu knocked him down before jumping into his guard and ending it with a few thunderous right hands at the 4:33 mark of the second round.
"I'm so happy," Lu told Sanko in a passionate post-fight interview. "I spent a lot of time training, and waiting for the opportunity to fight in the UFC, this is my chance.
"I get [the scarf choke] many times in training, with many partners in sparring, but this guy is [expletive] tough. I get him with the arm lock. I did it again. I wanted him to lose his energy. I got him in the guard. I gave him a big punch. I knock him out."
Quick work for Kim
Kim Pyeong-ko (11-3) added to the evening's highlight reel with a 30-second TKO of Xinjiang, China's Asikeerbai Jinensibieke (36-11).
Kim caught his experienced opponent with a check left hook in almost the very first exchange, and then laid on some hammer fists before referee Jason Herzog had seen enough.
"I can't really express my emotion – I feel this is a dream," said Kim, who retired from professional competition before the pandemic. "I asked myself right now, 'is this a dream?' Coming into the fight I tried to technically prepare myself. I didn't expect myself to cry.
"There aren't a lot of Korean lightweights at the moment, so I want to be the No 1, to go in and represent South Korea."
Blow out
In the featured bout of Road to UFC 4, Shohei Nose advanced in the bantamweight tournament in unfortunate circumstances.
During a clinch against the fence, China's Wulijiburen (20-9) attempted to stop his opponent turning him around, and blew his right knee out after just 73 seconds, with the referee quickly waiving it off.
Not that Japan's Nose (9-2-2) was too bothered about how he got it done.
"I'm happy I won," he said. "I wasn't fully sure if it was the curve that might have made the injury, but I won, so this is a win for me. I'm ready for the seis. I'm probably an underdog but I'm gonna win it."