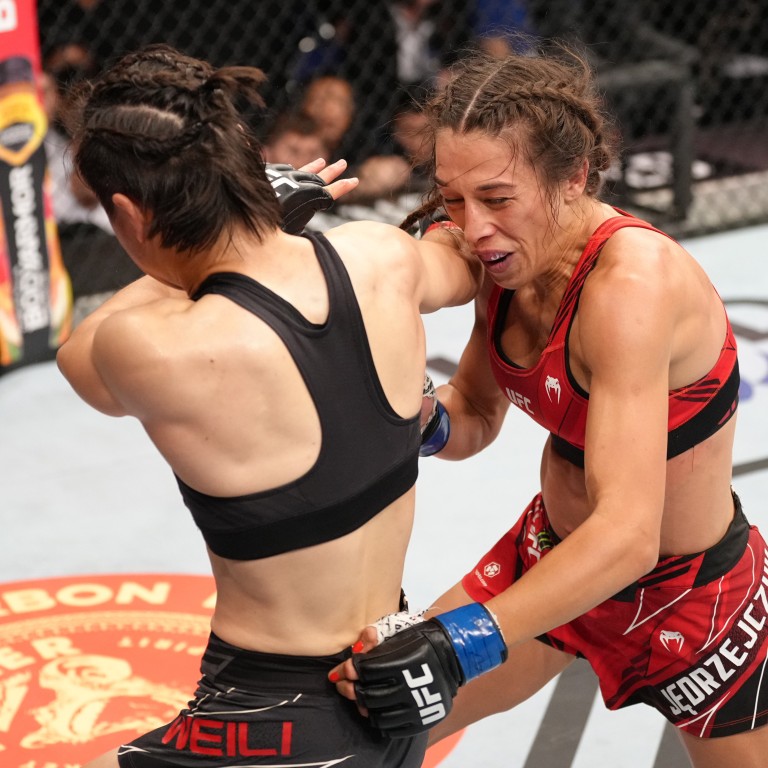 UFC 275: Zhang Weili secures stunning spinning-back fist KO of Joanna Jedrzejczyk, who announces shock retirement in Singapore
Zhang finishes fellow former champ in style at Singapore Indoor Stadium, with wild rematch living up to the hype
Polish veteran Jedrzejczyk then places her gloves on the Octagon canvas and calls it a day on a storied career
Zhang Weili secured a stunning walk-off, spinning-back fist KO of Joanna Jedrzejczyk in the second round of a wild UFC 275 rematch that lived up to the hype at Singapore Indoor Stadium.
There was even more drama immediately after the bout finished on Sunday morning, when Polish former strawweight champion Jedrzejczyk then placing her gloves on the Octagon canvas and announcing a shock retirement.
The spectacular finish came at 2:28 of the second round after the two had gone hell for leather in the opening stanza.
"She surprised me with the back fist … Good one," the Pole told UFC commentator Jon Anik in a post-fight interview. "I was preparing for a really tough fight. I didn't expect Weili to be that tough. Strong, strong, strong."
"I love life so much. I'm retired guys," the American Top Team star added.
"It's been 20 years. I'm turning 35 this year. I want to be a mum. I want to be a business woman. I've been training two decades, more than half my life. I love you guys."
Chinese superstar Zhang has now earned herself another crack at the strawweight belt, currently held by Carla Esparza.
"I want to invite you to fight in Abu Dhabi," Zhang told American Esparza, during her own post-fight interview. "It's not your territory, it's not my territory – let's fight together in a very balanced place."
Zhang also paid tribute to Jedrzejczyk, whom she beat by split decision in her first title defence, a March 2020 Fight of the Year which is widely regarded as the greatest female MMA bout of all time.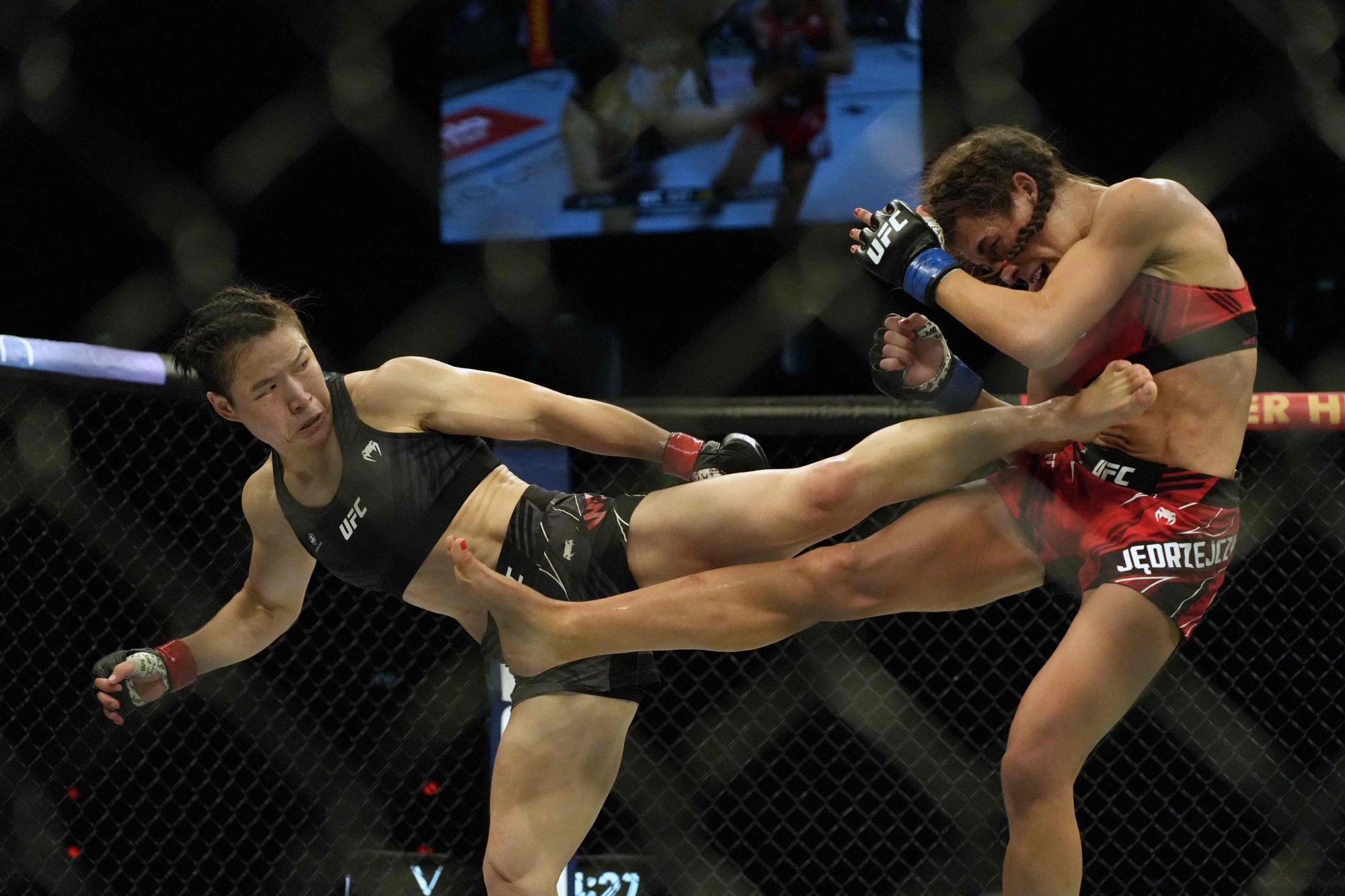 "She is a fighter, she is a warrior," Zhang said. "She was the champion before and she passed the legacy to me. Someday there will be a fighter who's better than me and I'll pass the legacy to them."
Any doubts the rematch would not live up to the hype were quickly put to rest, with the two trading big shots almost from the off.
Zhang showed off her improved wrestling and grappling, honed first by Henry Cejudo during her last camp for a split decision loss to Rose Namajunas, and then with Frank and George Hickman, Josh Hinger and Alex Schild during her stay at Bangtao Muay Thai & MMA in Phuket, Thailand.
"Magnum" took Jedrzejczyk down and rag-dolled her on the ground, delivering some brutal elbows that had the referee taking a close look.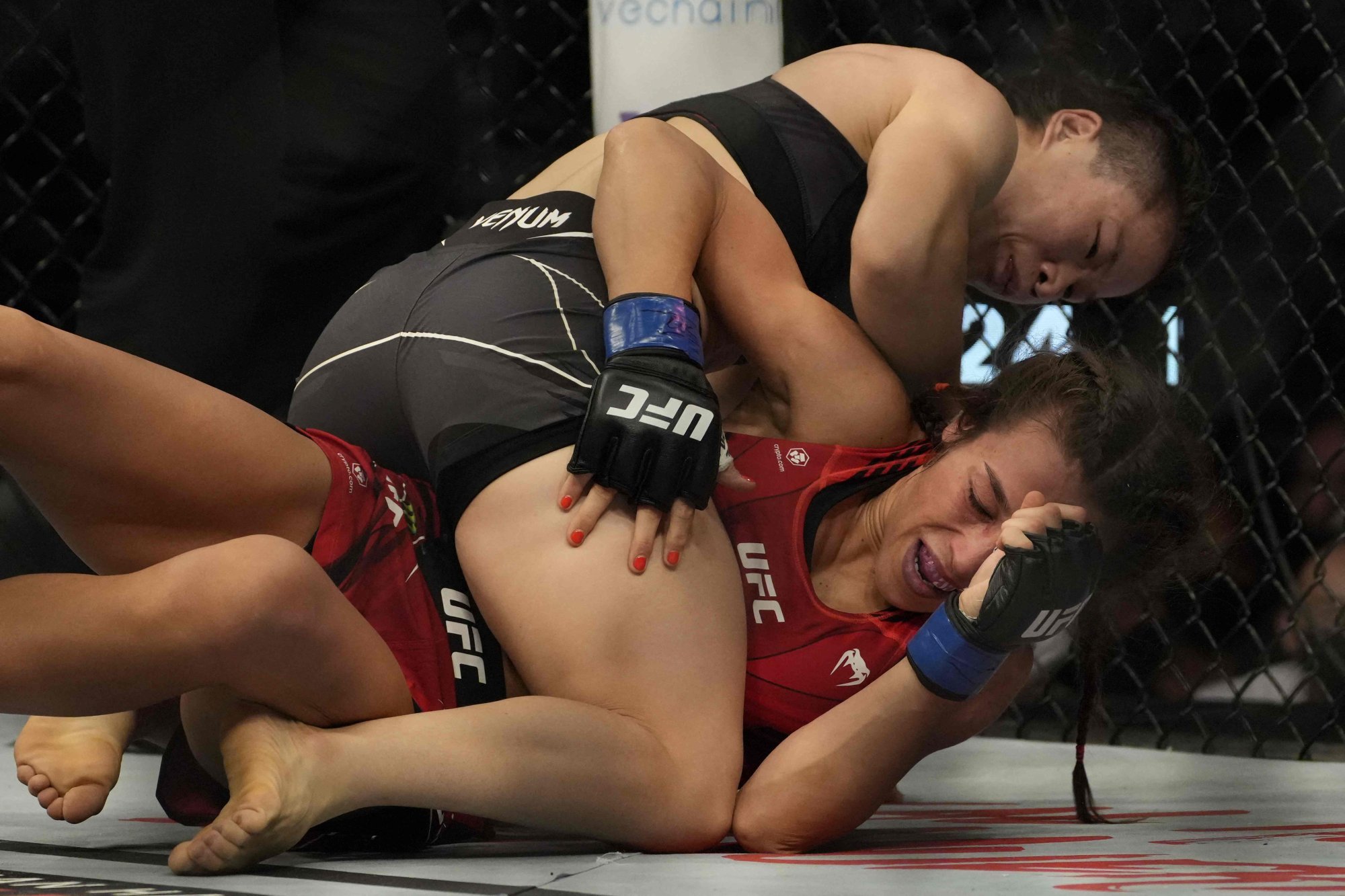 Jedrzejczyk managed to get back up, and the two then began throwing with reckless abandon to finish out the round. "It's like round six of the first fight," Daniel Cormier said on commentary.
They continued in the same fashion after the restart, before Zhang pulled out the greatest finish of her career.
"I'm very very happy for this fight. I told myself I will use all my experience to beat my opponent, and I did. I'm coming back," Zhang added.
"I'm very, very calm and relaxed for this fight. I told myself I'm not fighting Joanna, I'm fighting myself. As soon as I beat myself I can conquer anything."