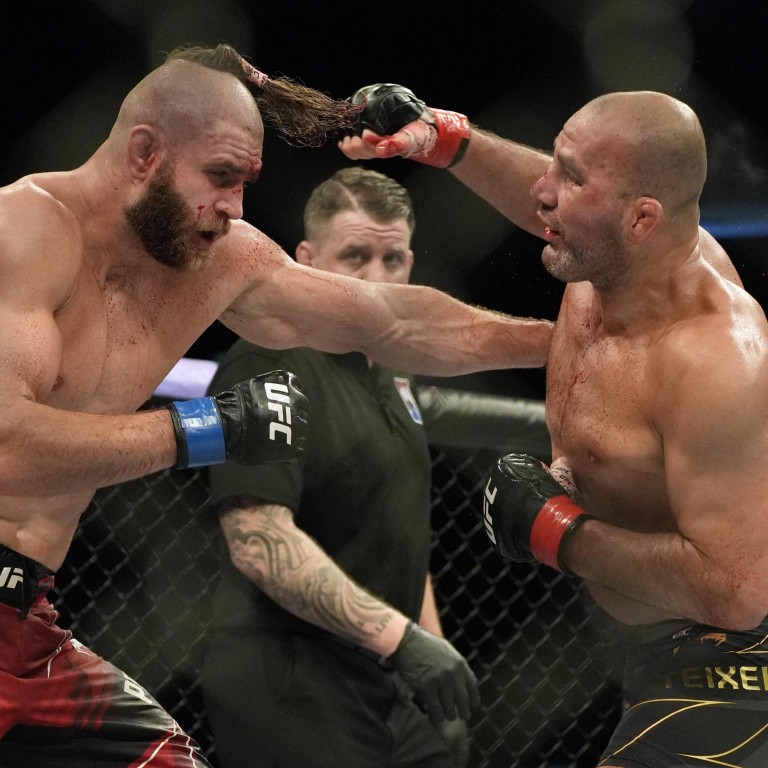 UFC 275 in Singapore one for the ages, as dramatic card caps incredible return to Asia – and Australia could be next
Jiri Prochazka and Glover Teixeira's future Hall of Fame fight tops memorable maiden pay-per-view in Asia – after two and a half years away
'We're on mission to get back on track in key regions that pre-Covid were instrumental to our international strategy,' UFC executive Dave Shaw says
Upsets. Stunning knockouts. Title changes. Controversy. A legend retiring.
UFC 275 truly had it all, and it will go down as one for the ages, in front of a sold-out crowd of 10,787 on Sunday morning, producing a Singapore Indoor Stadium record gate of US$1,546,732.
The event was capped by a sure-fire future Hall of Fame main event between Glover Teixeira and Jiri Prochazka, who won the light heavyweight title via a dramatic fifth-round rear naked choke with just 28 seconds remaining.
Oh, and you can call off the contest for 2022 Fight of the Year – it's already over. To no one's surprise, both men picked up US$50,000 bonuses for Fight of the Night, with Prochazka more than a little unlucky not to get a performance bonus as well.
"I can't remember being more emotionally drained after a championship main event," UFC commentator Jon Anik said at the close of the broadcast.
It was the perfectly dramatic ending to a wildly entertaining event, which also saw Zhang Weili remind everyone just how dangerous – and improved – she is.
"Magnum" also pocketed an extra US$50,000, landing a beautiful spinning back fist KO of fellow former strawweight champion Joanna Jedrzedjczyk.
The Pole gave props to the Chinese superstar, then promptly laid her gloves down on the Octagon canvas and announced a shock retirement.
"I'm going to be 35 this year. I want to be a mum, and a business woman," she told Daniel Cormier in a post-fight interview.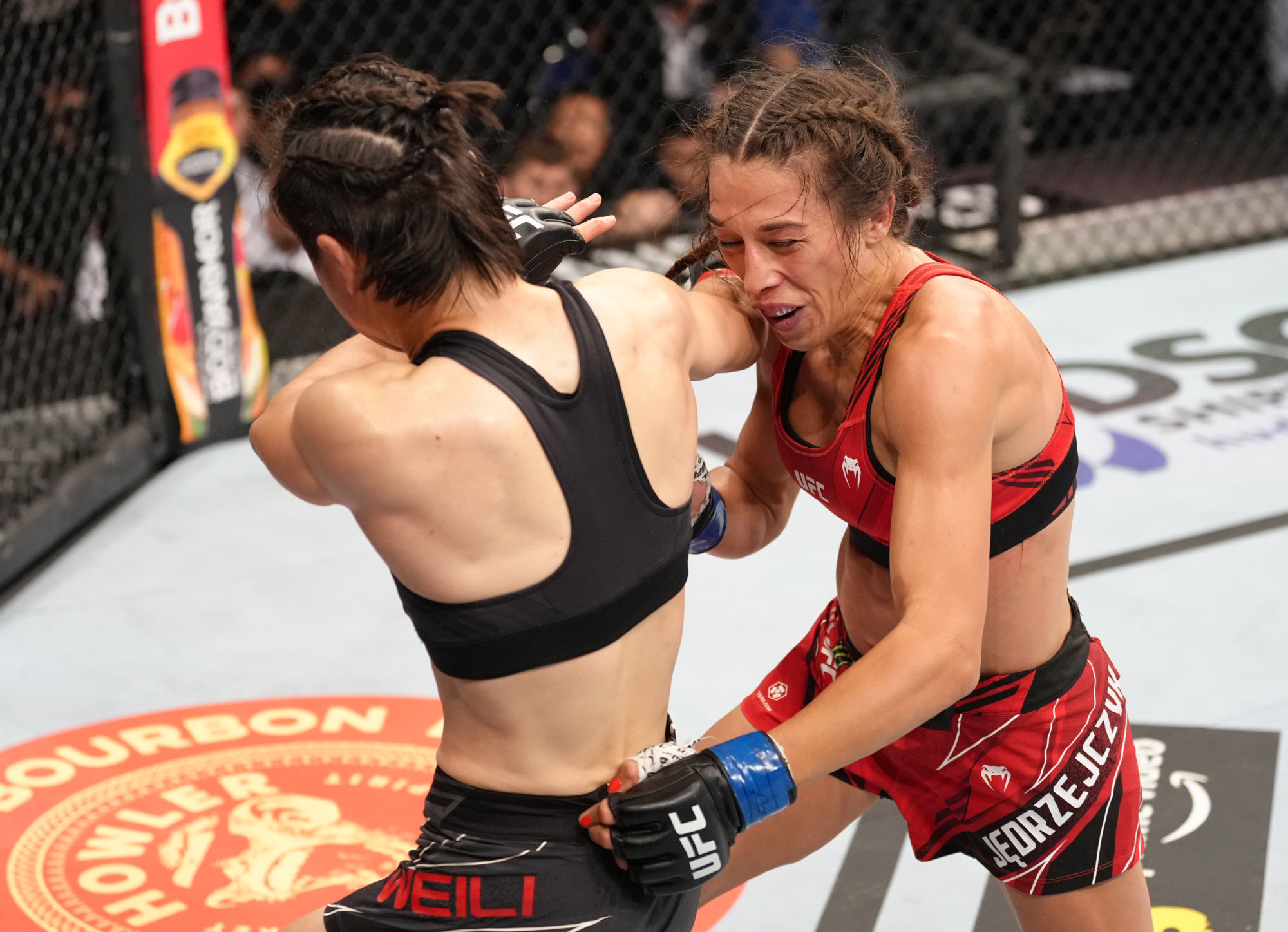 For Zhang – who in victory rebounded from disappointing back-to-back defeats by Rose Namajunas – another chance to regain the title beckons, and she will be hopeful of a different outcome now Carla Esparza holds the gold.
In the co-main event, seemingly invincible Valentina Shevchenko survived – barely – her toughest test to date as UFC flyweight champion.
The Purvian-Kyrgyzstani "Bullet" took a split decision over the game Taila Santos, though many were left questioning the judges' scoring of the bout.
With the Brazilian appearing to be cruising towards a decision, an accidental clash of heads – which left her with a badly swollen right eye – handed the momentum back to Shevchenko, who seemingly did just enough in the final two rounds.
"This is not the last time you guys are going to see me fight for the belt," the underdog challenger said, and who would doubt her after that performance? "I'm here, I'm still young and I'm ready for the next one."
The original main card line-up had taken two big hits – one a long way out from the event, when Robert Whittaker withdrew injured from his fight with Marvin Vettori, and another on the eve of the event when Rogerio Bontorin was hospitalised with issues owing to his weight cut ahead of his flyweight scrap with Manel Kape.
In the end, it was no issue, with two Australian welterweight stars originally lined up for the prelims taking their precious pay-per-view chance, and both earning bonuses.
First, roared on by a sizeable Aussie contingent who had travelled for the event, Jack Della Maddalena put away tough Dagestan native Ramazan Emeev, handing him his first loss via finish in the UFC.
The surging 25-year-old is attracting plenty of hype – all of it deserved – but Jake Matthews reminded everyone he is still on the rise with the best performance of his career.
"The Celtic Kid" put on a boxing clinic to confuse, confound and conquer Andre Fialho, finally putting the durable Portuguese away with a right cross at 2:24 of the second.
"I've had this sort of skill level my entire career," said Matthews, who rebounded from a third-round submission by Sean Brady. "Thank God we were able to bring it to the fight this time. Everything you've seen from me before this fight was 50 per cent of Jake Matthews. So get used to seeing that."
The undercard was just as entertaining, with Joshua Culibao taking a split decision over Choi "Sting" Seung-woo in what was a fight-of-the-night contender – until Prochazka and Teixeira came along – in the featured prelim.
Then there was an impressive debut for Chinese lightweight Maheshate (9-1), who delivered a vicious face-plant KO of Steve Garcia (12-5).
That knockout earned him an extra US$50,000, though there was disappointment for other Chinese hopes on the card, with strawweight Na Liang suffering a brutal, quick knockout by Silvana Gomez Juarez, who also got a bonus.
Hong Kong's Ramona Pascual had no answer for Joselyne Edwards in their featherweight opener, slipping to her second unanimous decision defeat since signing with the UFC. Mongolian bantamweight Danaa Batgerel later lost a unanimous decision to South Korea's "Mr Perfect" Kang Kyung-ho.
It was a fitting end to a fight week that saw the UFC relaunch its efforts in Asia, after a frustrating couple of years during the pandemic.
A two-day Road to UFC series had earlier pitted some of the best regional Asian talent against each other in the opening rounds of tournaments for four different weight classes, providing some terrific finishes and creating some future stars.
"First and foremost, massive week with Road to UFC, capped off by the fights this morning, which were absolutely thrilling," said UFC executive Dave Shaw, speaking at Sunday's post-event press conference.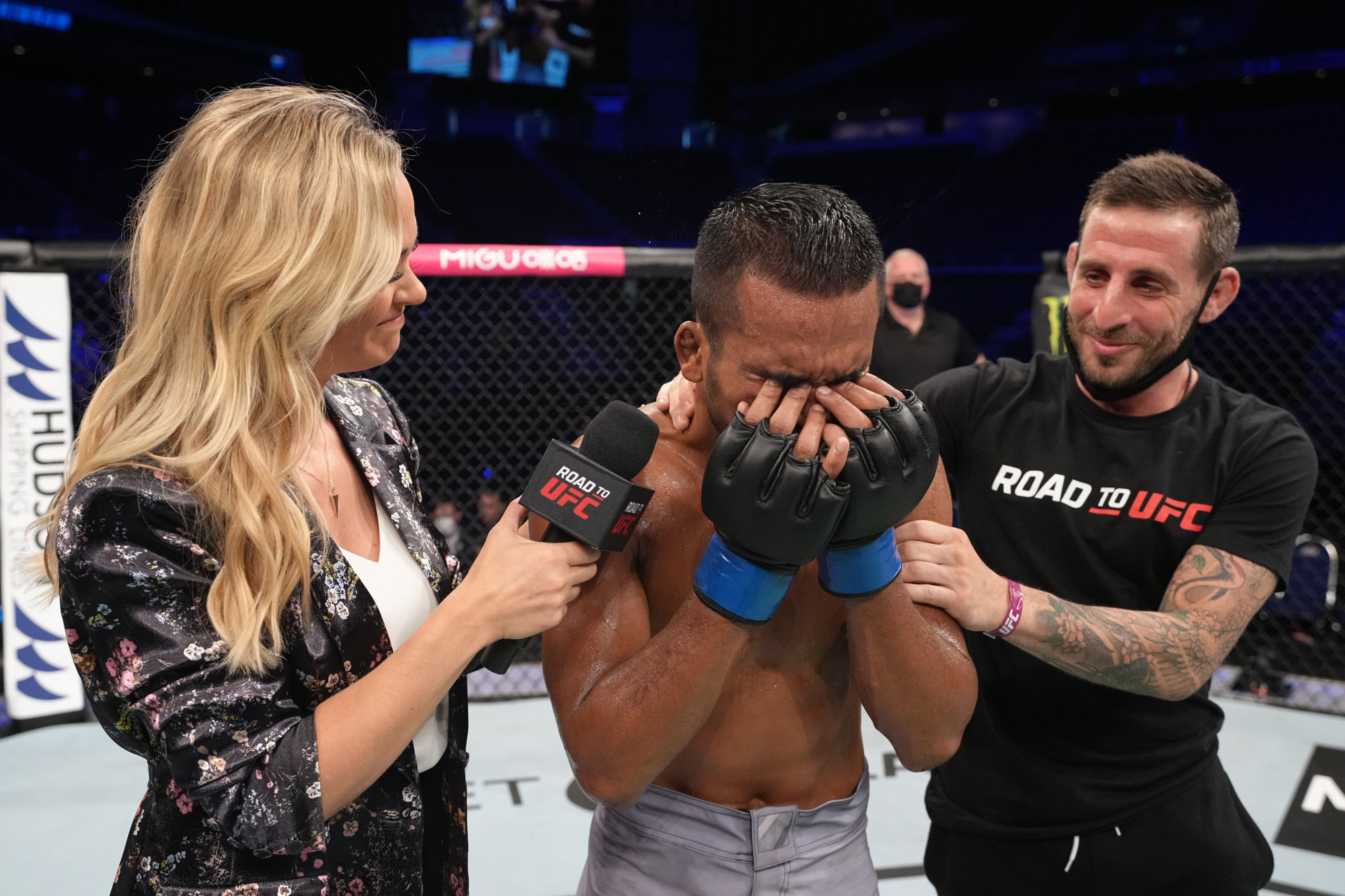 "Obviously we can't ever control what goes on inside the Octagon. It's a massive plus when you get a card like that, that delivered from the bottom all the way to the top.
"It was a great night from the perspective of how the event was embraced by fans. First fight, at sort of 7.15[am], we had close to 3,000 people already in the building, a lot of Australians in the building early."
With the UFC firmly re-established in Asia, it looks like Australia could be next.
"We want to get back to Australia very soon," Shaw said. "It's a very important market for us, not only from fan base perspective, but a number of champions and top-five ranked athletes we've got.
"We're really on a mission right now to get back on track internationally. We want to get back to all the key regions that pre-Covid were such an instrumental part of our international strategy."