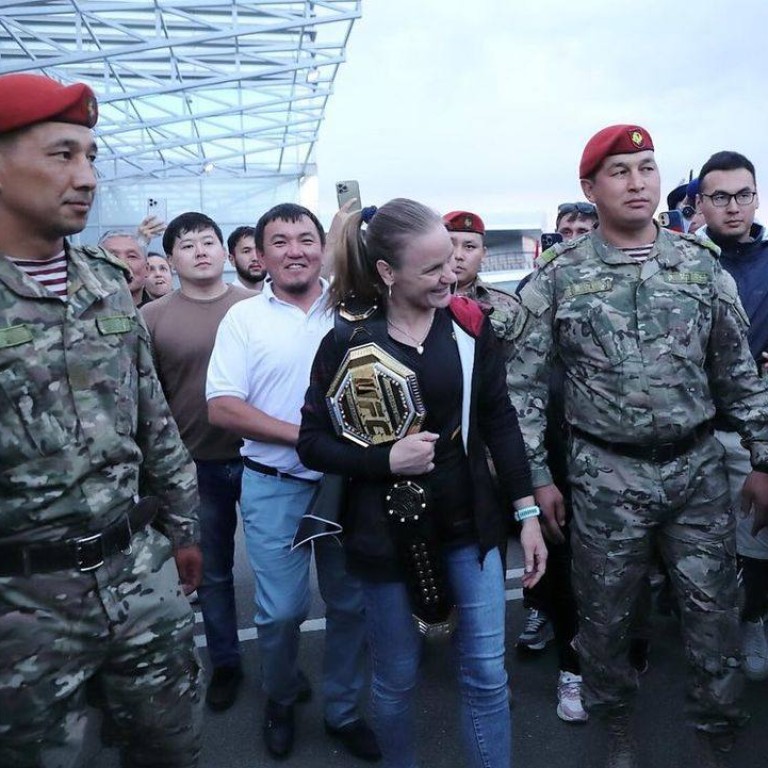 UFC 275: Valentina Shevchenko gets celebratory parade on return to Kyrgyzstan
'Bullet' defended flyweight title with split decision over Taila Santos in Singapore, and received a hero's welcome on her return home
Flyweight champ believes she has 'a lot of options' for next fight, including a meeting with former bantamweight queen Miesha Tate
UFC flyweight champion Valentina Shevchenko received a warm welcome upon her return home to Kyrgyzstan.
Shevchenko tallied a seventh consecutive defence of her title in the co-main event of Sunday's UFC 275 card in Singapore, weathering some adversity to defeat Taila Santos with an impressive – albeit somewhat controversial – split decision.
Days removed from that victory, she returned to the Kyrgyz capital of Bishkek, where she was greeted by throngs of loyal fans and escorted through the city in a celebratory parade. The champion documented her homecoming in a series of posts to her official Instagram account.
Shevchenko was born in Kyrgyzstan when the country was still part of the USSR, but has lived all over the world in the time since, which makes her returns home all the more special.
While the champion is evidently enjoying some downtime in her home country, she has already begun weighing the options for her return to the Octagon.
It remains to be seen who she will fight next, but she believes former bantamweight champ Miesha Tate, who will make her flyweight debut against Lauren Murphy at UFC 276 in July 2, is an interesting possibility.
"July we have, in flyweight, amazing fight between two very strong fighters," she said at the UFC 275 post-fight press conference. "It's Lauren Murphy and Miesha Tate. So it's going to be amazing fight.
"Miesha Tate wins the fight, and I think this is what fans are going to love to see. End of the year, pay-per-view, main event, I think it's going to be great."
Shevchenko admitted to feeling undersized against Santos at UFC 275, but remains interested in moving up to the bantamweight division to fight the winner of an upcoming title rematch between champion Julianna Pena and former queen Amanda Nunes.
She has history with both women, having defeated Pena by submission and lost a pair of razor-close decisions to Nunes, all at bantamweight.
"Another option is Julianna and Amanda in bantamweight," she said. "Once it's more close to being finalised I will start to work on building my body a little bit heavier – just a little bit, not to lose speed.
"[There are] a lot of options for me, it's just to choose which one."
Whomever Shevchenko fights next, the bout is sure to be the source of renewed intrigue, as her title defence against Santos was inarguably the toughest of her reign to date. Many onlookers even scored the fight in the Brazilian challenger's favour.
While Shevchenko may have looked more human than fans are used to, however, she cautioned her rivals against getting overconfident.
"Maybe they think they can beat me, but they cannot," she said. "Even in a hard position, my champion's mindset will be on top every time.
"Being in martial arts for 30 years, it makes me a hard opponent – very hard."