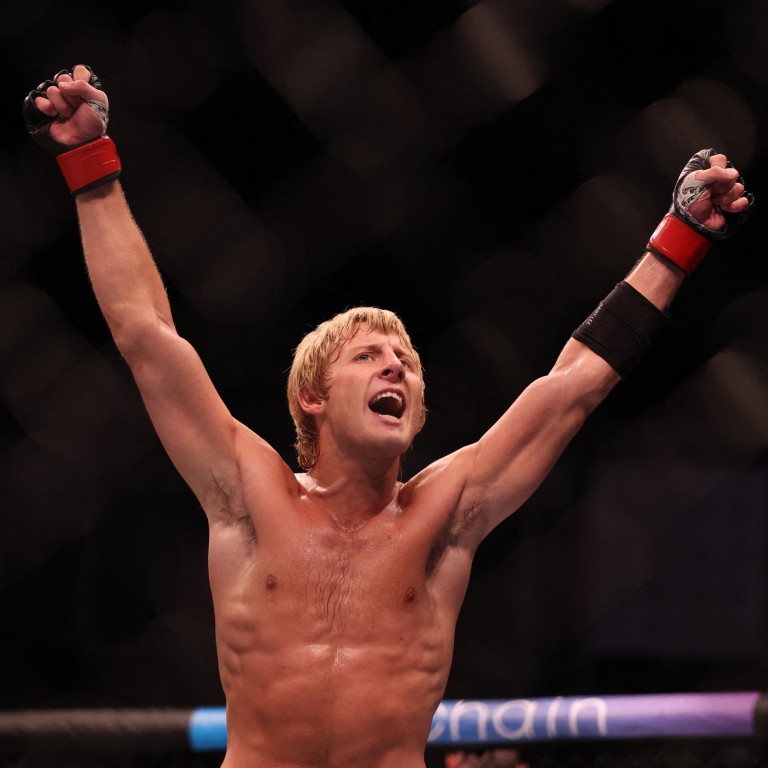 UFC London: Paddy Pimblett and Molly McCann steal the show again with finishes, bonuses
Pimblett submits Jordan Leavitt on Saturday's main card at O2 Arena, while McCann scores highlight reel TKO over Hannah Goldie
Liverpudlian training partners were the bright spots on disappointing night, with main event ending because of injury in 15 seconds
Paddy Pimblett and Molly McCann stole the show at Saturday's UFC London event – a night that otherwise failed to live up to expectations.
The two Britons, who train together at Next Generation MMA Liverpool, were in action on the main card. Pimblett, a rising star in the UFC lightweight division, picked up a second-round submission win over Jordan Leavitt, while McCann scored a dizzying first-round TKO over Hannah Goldie at flyweight.
Both victories sent the packed O2 Arena into a frenzy of excitement.
Pimblett's (19-3) submission win over Leavitt, which came after he was out-grappled in round one, was his third in the UFC, after first-round stoppages of Luigi Vendramini and Rodrigo Vargas. But the 27-year-old, who is one of the fastest-rising stars in MMA today, was not satisfied with his performance.
"That's not me," he told commentator Michael Bisping. "That was s***. Pardon my French, but I'm better than that."
Pimblett then dedicated his performance to a friend he lost to suicide recently.
McCann (13-4) beat Goldie two fights earlier on the main card. The 32-year-old sealed the deal with a highlight reel sequence of strikes. It was her second such finish in a row after a sizzling knockout of Luana Carolina in March, also in London.
"Have you ever seen lightning strike twice? Well, now you have," she said after the win.
The UFC's return to London was headlined by a heavyweight clash between Liverpool's Tom Aspinall and American wrestler Curtis Blaydes, the division's No 6 and 4-ranked contenders respectively.
Unfortunately, the fight ended in disaster, as Aspinall (12-3) collapsed onto the ground with an apparent knee injury just 15 seconds into the first round.
Even after several runs through the replay, it was still not clear what caused the injury, but its severity was unquestionable. The Briton, who is seen by many as the future of the heavyweight division, spent several minutes on the ground groaning in agony, and was ultimately taken out of the Octagon in a wheelchair, with his leg in a brace.
"I wish the injury hadn't have happened," Blaydes (17-3), who officially won by first-round TKO, said as Aspinall was helped off the canvas.
The card was co-headlined by a middleweight fight between Norwegian-Swede Jack Hermansson, the division's No 8-ranked fighter, and rising American Chris Curtis.
Hermansson (23-7) fought a beautiful fight, using footwork, push kicks and jabs to keep Curtis (29-9) completely out of range en route to a unanimous decision win. The American was frustrated to the point to the point that he stormed out of the cage swearing and throwing middle fingers at his foil.
Former light heavyweight title challenger Alexander Gustafsson (18-8), Sweden's most accomplished fighter, was also in action on the card, but suffered a brutal first-round knockout at the hands of Ukraine's Nikita Krylov (28-9).
The undercard was unfortunately quite slow, with seven of eight fights ending by decision, and none delivering much in the way of memorable action.