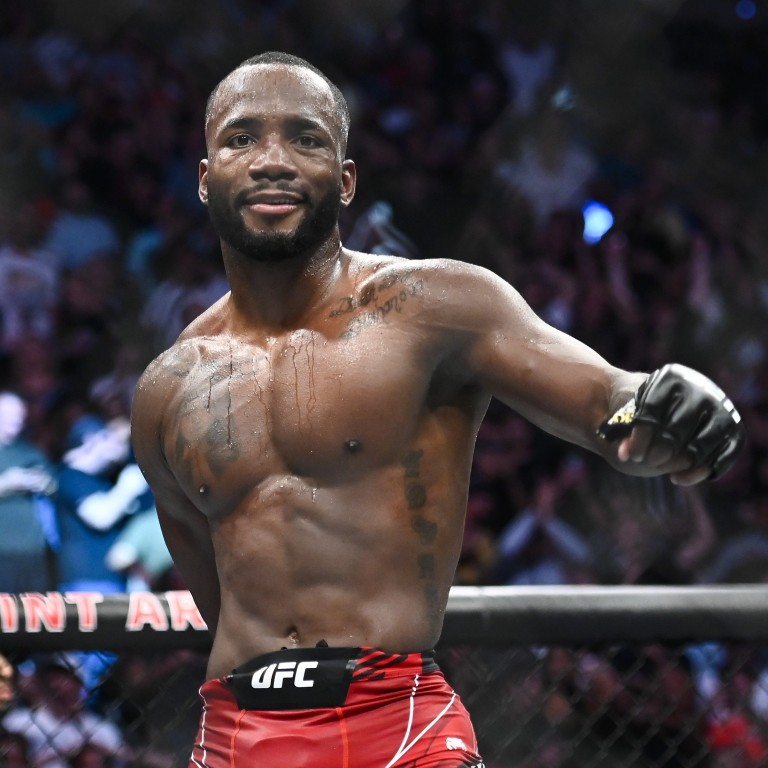 UFC 278: Leon Edwards head kick KOs Kamaru Usman in final minute to snatch welterweight title in seismic shock
England's 'Rocky' lives up to his moniker with a fairy tale finish against the previously dominant pound-for-pound No 1
'Look at me now. I've from the trenches. I've been doubted my whole life. I told you I could do it,' Edwards says
Leon "Rocky" Edwards lived up to his famous moniker by shocking the MMA world with a stunning head kick knockout of Kamaru Usman in the final minute of Saturday night's UFC 278 main event in Salt Lake City.
With the fight heading to a dominant unanimous decision for Usman, who bounced back from losing the first round to almost complete nullify Edwards for the next 19 minutes, the Englishman sent Utah's Vivint Arena into meltdown mode with an incredible right-hand feint and a swing of his left leg.
Usman folded to the mat, and Edwards threw his arms up straight away. Referee Herb Dean need not have even rushed in.
"Look at me now," Edwards (20-3) repeatedly screamed into the camera lens after UFC president Dana White wrapped the welterweight title around his waist.
The 30-year-old later broke into tears backstage as spoke on a video call to his parents. "I told you, mum," he said, in moving scenes that were shown on the pay-per-view broadcast.
"His casket was halfway into the ground," former UFC champion Daniel Cormier said on commentary as he watched the emotional moment.
Indeed, Edwards will deny it, but he looked a beaten and broken man going into the fifth round, avoiding eye contact with his coaching team, seemingly possessing no answer to the relentless Usman.
But clearly he knew something we did not.
There have been many crazier knockouts, but you would be hard pressed to find a more dramatic finish to a fight, given the circumstances.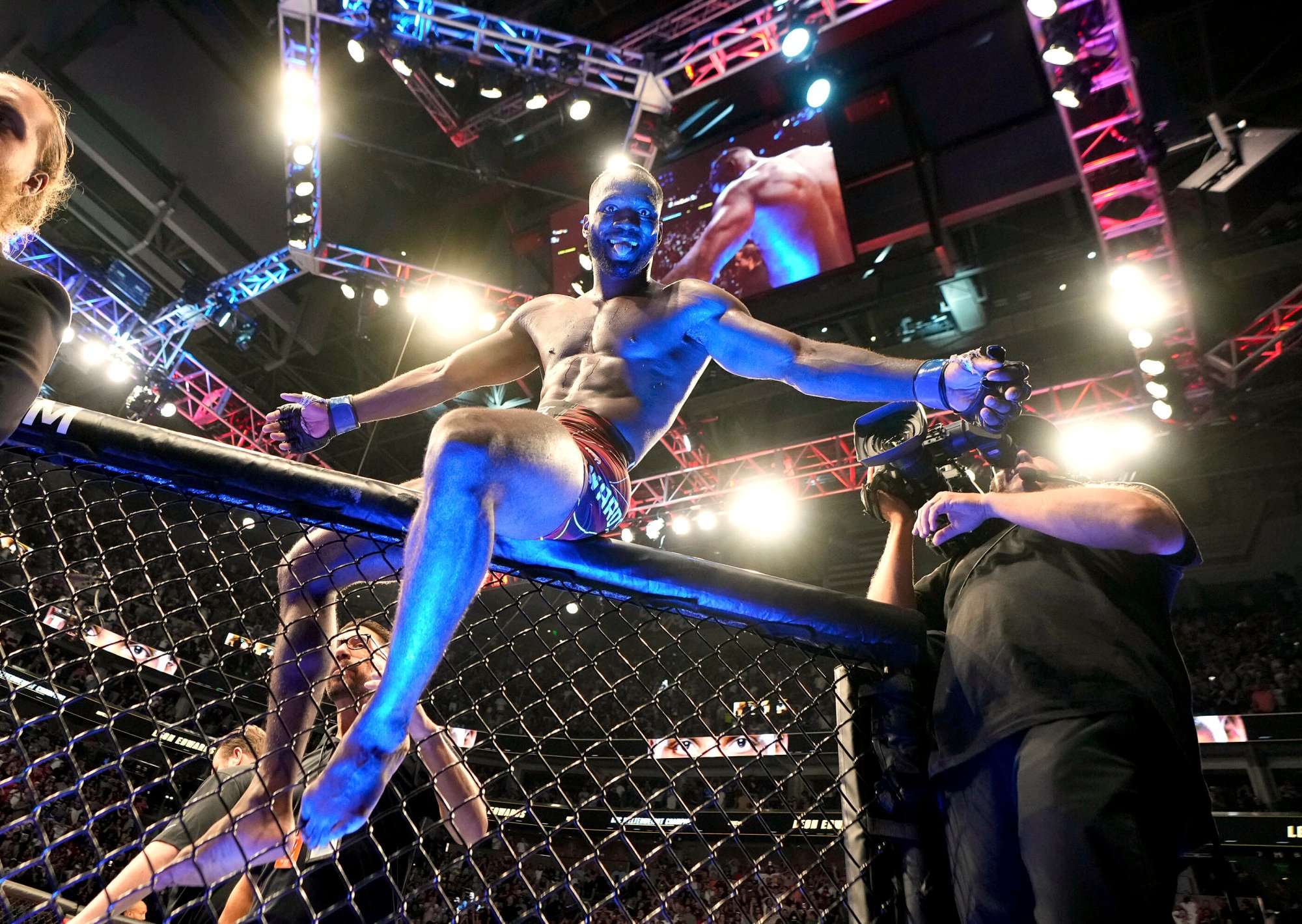 The 35-year-old Nigeria-born American Usman (20-2) was the most dominant champion in the sport, the No 1 pound-for-pound fighter in the UFC who had started lapping the contenders in his division as he amassed a 14-fight promotional win streak – beginning with a unanimous decision victory over Edwards in December 2015.
But that all came to the most abrupt and expected halt.
"Head shot. Done," Edwards screamed during his post-fight interview with Rogan, who fittingly had warned viewers that this man was a "sniper" who possessed fight ending power, even when it looked unfathomable.
In victory, the boy who grew up on a Birmingham council estate also became the first Jamaican-born champion in the UFC's history.
"I've from the trenches. I've been doubted my whole life," he added. "I told you I could do it. Pound for pound what? You all said I couldn't do it. Look at me now."
The win was not only huge for Edwards but for the landscape of a stacked welterweight division which had become increasingly closed off.
Usman will no doubt want a rematch – and he deserves it – in a trilogy, which the UFC would surely be tempted to take to a stadium in the UK.
"How do you not do it? Wembley. Yeah," White said at the post-event press conference backstage.
But twice-beaten title contenders Colby Covington and Jorge Masvidal's eyes will have lit up, with the chance of getting another crack at the belt while Usman held it looking remote. Both men have history with Edwards, particularly Masvidal, who famously handed him the "three piece and a soda" in a backstage altercation at UFC London in March 2019.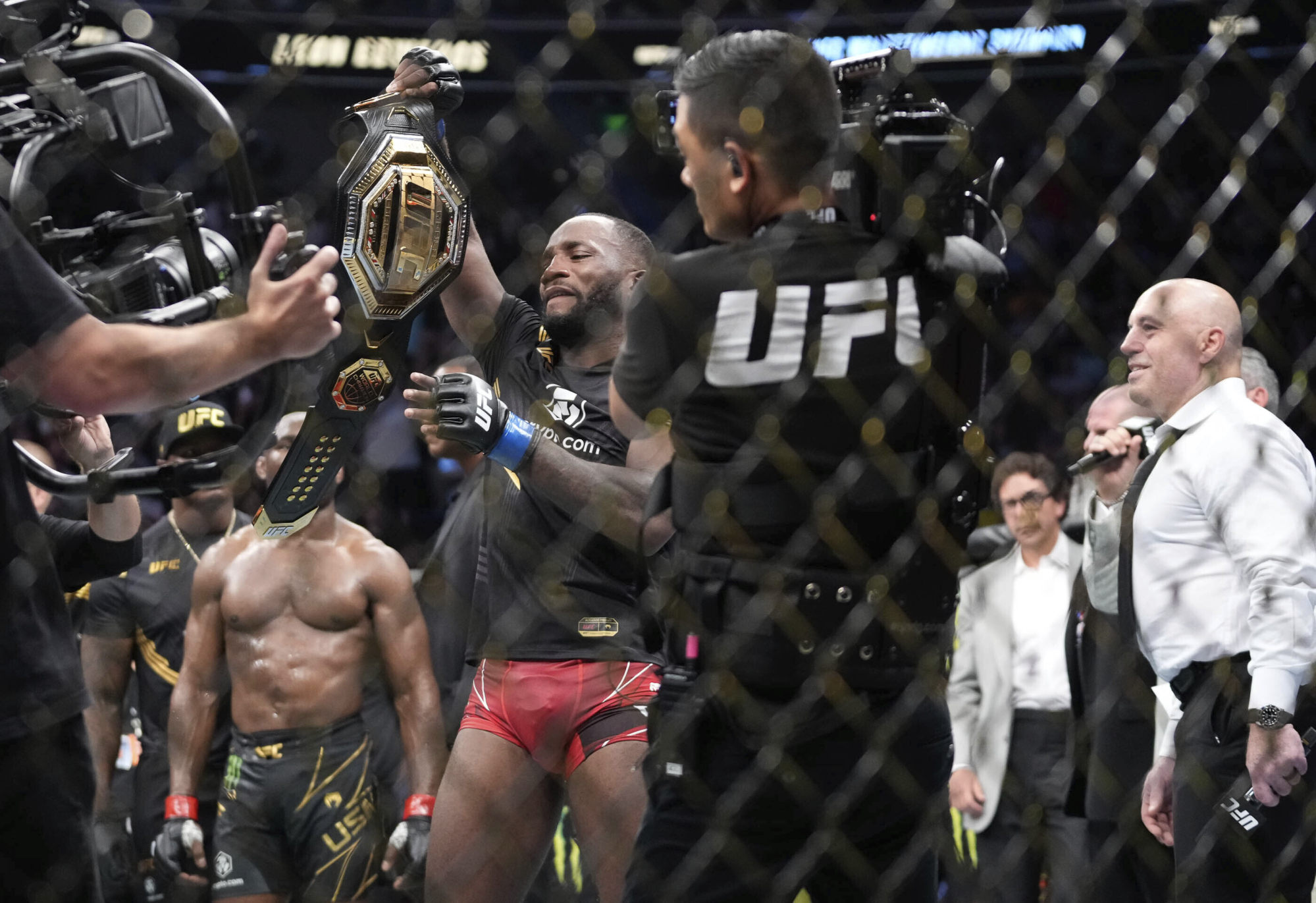 For "The Nigerian Nightmare", who was cruising towards becoming the undisputed greatest UFC welterweight of all time, and maybe even the greatest fighter of all time, his legacy is now suddenly going to have a question mark or two surrounding it. But he will get the chance to prove this was a fluke.
If he had not ducked into that head kick, 56 seconds out from another comfortable win, he would have been renewing his calls for a boxing match with Mexican icon Canelo Alvarez, and fielding questions about a looming showdown with Khamzat Chimaev, who faces Nate Diaz next month in what had been seen as a No 1 contender fight.
Indeed, Chimaev may now be waiting a bit longer.
Perhaps ironically, it was Edwards who put his hand up to fight the fearsome Chechen-born Swede Chimaev over a year and a half ago, when no one else wanted to, and when no one else thought he had a hope of winning.
That match-up was scratched three times, and Edwards' prolonged journey to a rematch with Usman, and a crack at the title, continued to meander. When he finally got the chance, he did not waste it.
"Ten fights in a row, then the pandemic hit. Had to sit out for two years. Everyone doubted me. Too long a layoff to come back and fight the pound-for-pound best. I truly believe I'm the best – nobody believed me apart me and my family and I went out there and proved it," Edwards said at the post-fight press conference.
"We stayed clam throughout the fight. Even when you're down, always believe in yourself."