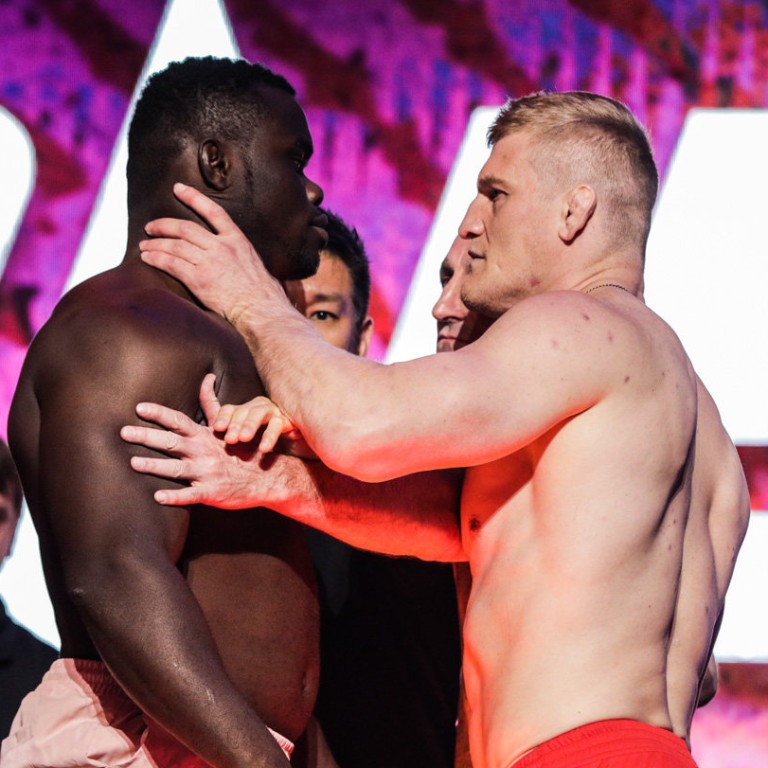 ONE Championship 161 weigh-in results: 'Reug Reug' dwarfs opponent, three Chinese fighters miss marks
ONE 161 goes down on Thursday night in Singapore, and is topped by a featherweight Muay Thai title fight
Headliners hit marks at Wednesday weigh-ins, but three Chinese fighters came in heavy, and Oumar Kane added drama to the proceedings
Wednesday's ONE Championship 161 weigh-ins were a tense and dramatic affair – thanks in part to heavyweight prospect "Reug Reug" Oumar Kane and a trio of Chinese fighters.
Senegal's Kane did not miss weight for his undercard MMA contest with debuting Russian Batradz Gazzaev, but stepped onto the scale a whopping 35 pounds heavier than his foe, and towered over him when they came face-to-face moments later.
The pair then had to be separated after exchanging shoves.
Three fighters did miss weight, however, and all three happened to hail from China. First, ONE veteran Han Zihao missed weight for his bantamweight Muay Thai fight with Thailand's Ferrari Fairtex by a significant margin, coming in 7.5 pounds over the division's 146-pound limit.
Debuting flyweight Wang Shuo then missed weight for his main card MMA clash with former title challenger Yuya Wakamatsu, coming in 1.5 pounds over the division's 136-pound limit.
He was followed by Chinese MMA veteran Zhang Lipeng, who was a quarter of a pound heavy for his 156-pound lightweight bout with Khabib Nurmagomedov protégé Zhang Lipeng.
The trio of Chinese fighters also failed their pre-fight hydration tests, which ONE implements to curb extreme weight cutting. All three will have between 9am and noon local time tomorrow to make weight and pass their hydration tests. Otherwise, their fights will be renegotiated as catchweight contests or cancelled outright.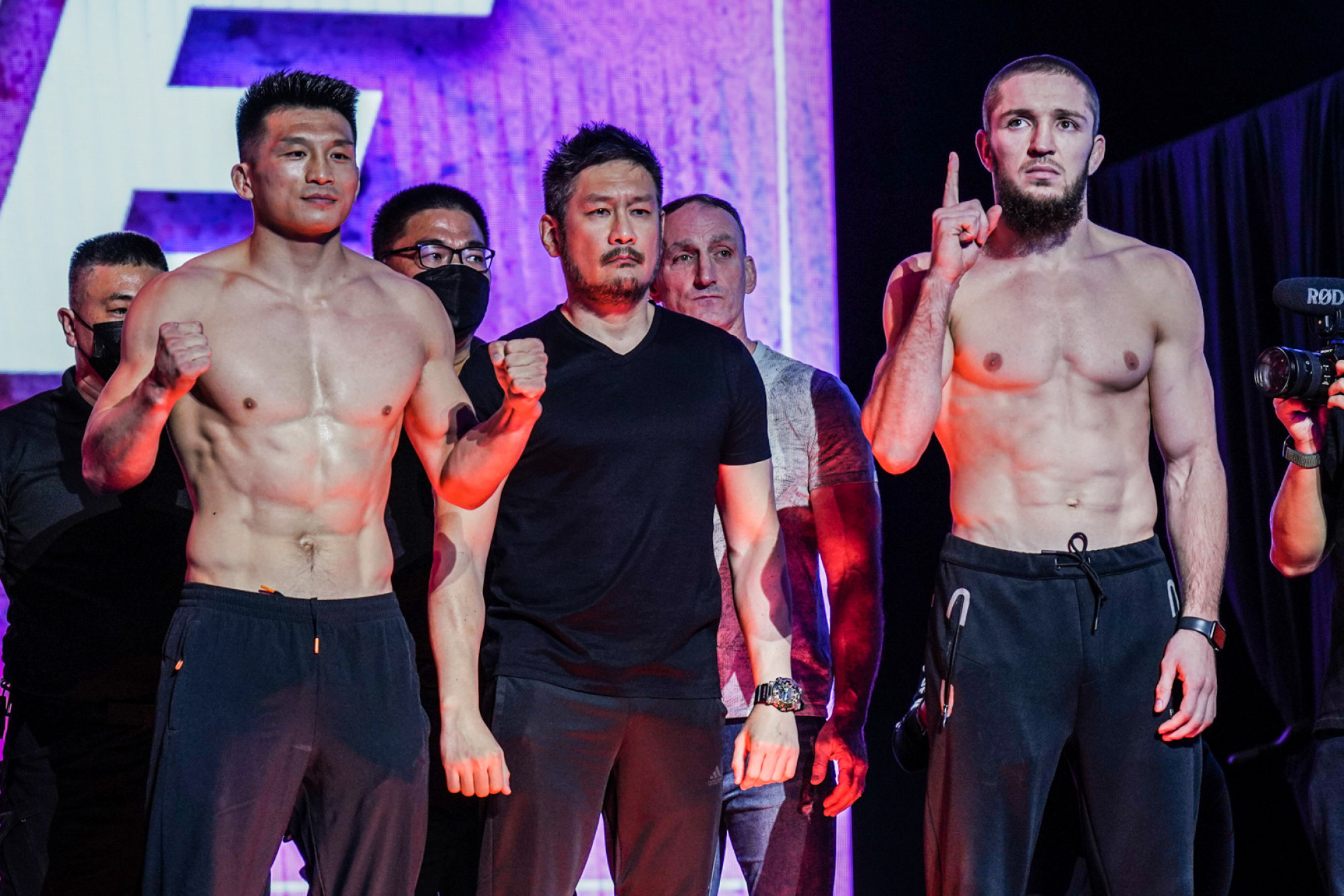 While the ONE 161 weigh-ins came with a dose of drama, all the other fighters on the card made weight.
That includes the card's headliners: featherweight Muay Thai champion Petchmorakot Petchyindee and his challenger Tawanchai, both from Thailand.
Petchmorakot, a three-time defending champion, weighed in at 155 pounds – the limit for featherweight title fights in ONE. Tawanchai, considered one of the top pound-for-pound fighters in Muay Thai, came in half a pound under the limit.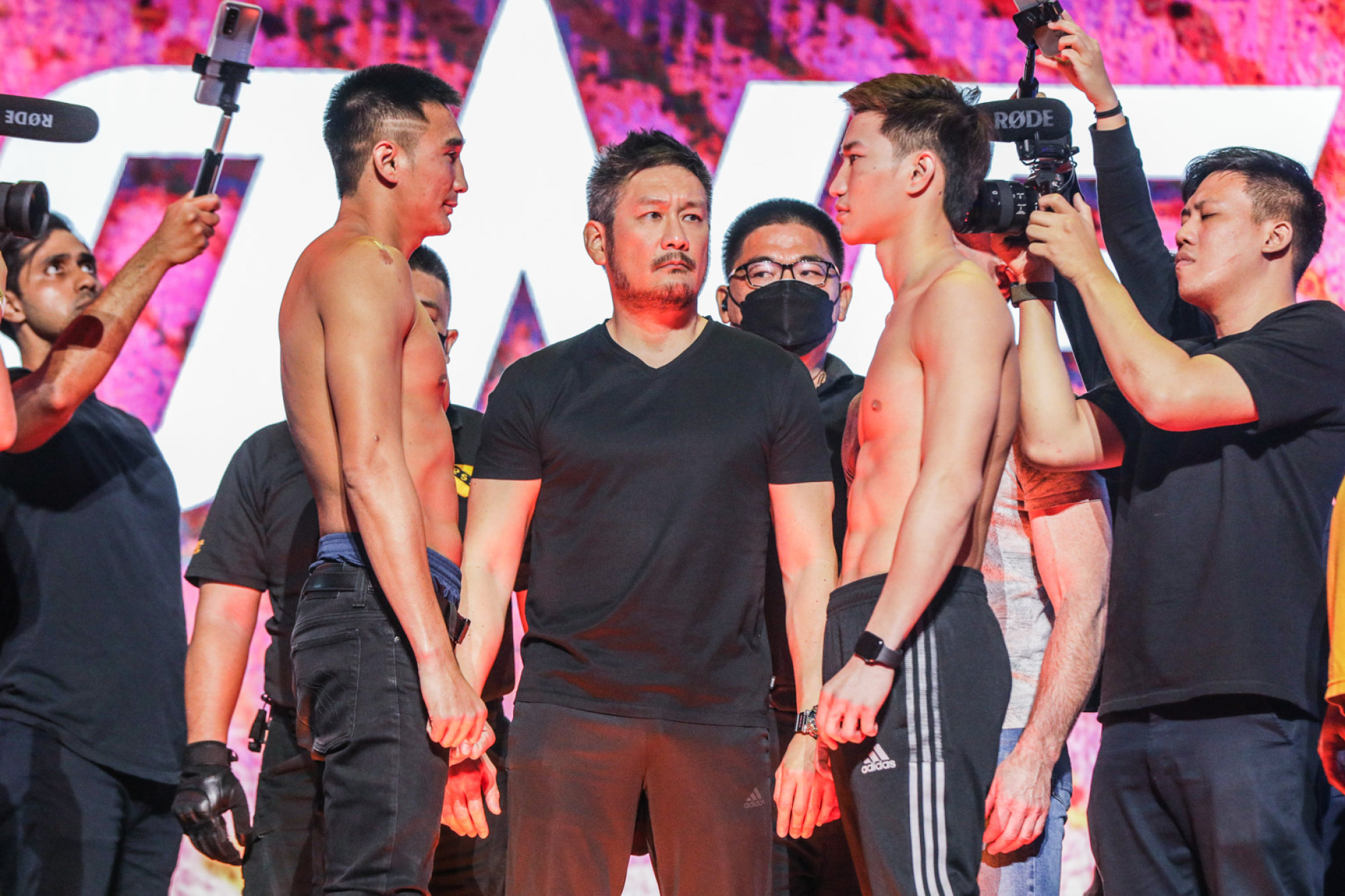 "I'm going to prove I'm not the underdog," Petchmorakot told commentator Mitch Chilson after facing off with Tawanchai. "I've been training so hard for this and I'm going to defend my belt tomorrow."
"That belt is my dream," Tawanchai said moments later, staring the champion down. "I want everyone to watch when I win that belt tomorrow."
See the complete weigh-in results for the card below:
Featherweight Muay Thai championship: Petchmorakot Petchyindee (155) vs Tawanchai PK. Saenchai (154.5)
Heavyweight kickboxing: Guto Inocente (262lbs) vs Roman Kryklia (231.75lbs)
Heavyweight kickboxing Grand Prix semi-final: Bruno Chavez (261lbs) vs Iraj Azizpour (260.5lbs)
Lightweight MMA: Saygid Izagakhmaev (170lbs) vs Zhang Lipeng (171.25) – Han missed weight and failed hydration, has between 9am and midday time to pass both
Atomweight MMA: Tiffany Teo (114.25lbs) vs Ritu Phogat (115lbs)
Flyweight MMA: Yuya Wakamatsu (134.5lbs) vs Wang Shuo (137.5lbs) – Wang missed weight and failed hydration, has between 9am and midday time to pass both
Bantamweight Muay Thai: Alaverdi Ramazanov (144.5lbs) vs Capitan Petchyindee (144.75lbs)
Bantamweight Muay Thai: Sangmanee PK. Saenchai (144.75lbs) vs Zhang Chenglong (144.5)
Heavyweight MMA: Batradz Gazzaev (229.5lbs) vs Oumar Kane (264.5lbs)
Bantamweight Muay Thai: Ferrari Fairtex (144.75lbs) vs Han Zihao (153.75lbs) – Han missed weight and failed hydration, has between 9am and midday time to pass both
Bantamweight submission grappling: Ruslan Bagdasarian (143.5lbs) vs Rodrigo Marello (144.75lbs)
Middleweight MMA: Ali Foladi (200lbs) vs Matheus Felipe (204lbs)