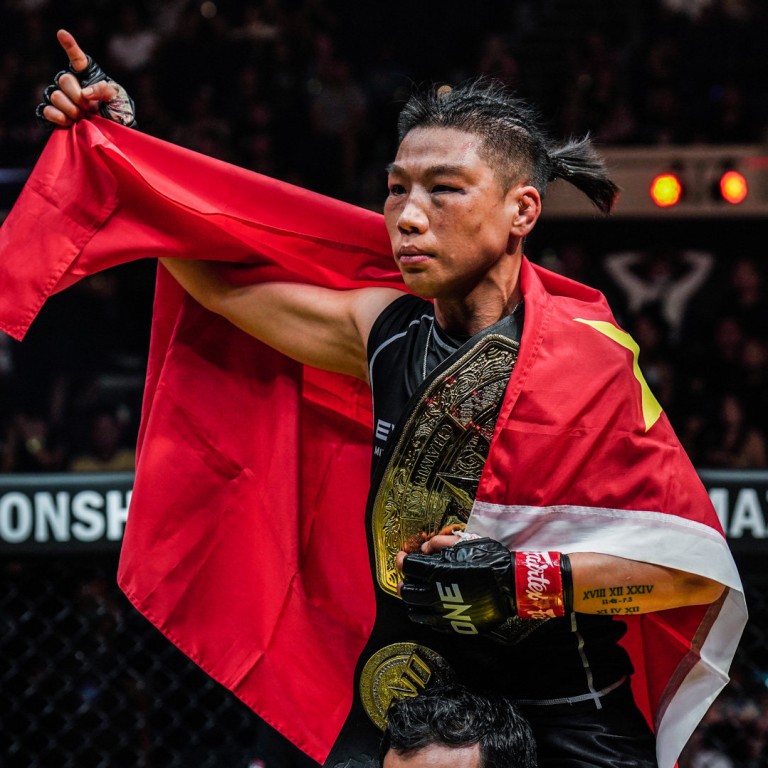 ONE Championship Prime Video 2 results: Xiong Jingnan beats Angela Lee to retain title in trilogy
Lee and Xiong met for a third time in the main event of ONE's second event on Amazon's Prime Video streaming service
Stamp drops Radzuan en route to a unanimous decision, and then vows to take down Anissa Meksen in special rules fight
ONE Championship on Prime Video 2 went down on Saturday morning in Singapore, with Xiong Jingnan retaining her strawweight title in a thrilling trilogy fight with Angela Lee.
The card was topped by the highly anticipated bout between the Canadian-American atomweight champ and the Chinese "Panda", which did not disappoint.
Lee, ONE's atomweight champ, hiked up to strawweight to challenge Xiong in a bid for a second title, for the second time. She would have become to first female fighter in ONE history to win titles in two weight classes, but it was not to be.
Lee disputed the result in a post-fight interview, saying she believed she had won and was the more aggressive fighter.
See the full results for ONE on Prime Video 2 below:
Lee comes up short at strawweight again
Xiong Jingnan beat Angela Lee in the main event after getting the nod from all three judges at Singapore Indoor Stadium following five entertaining rounds – where she came close to finishing Lee in the first.
The crowd did not like the decision when it was read out, erupting into boos.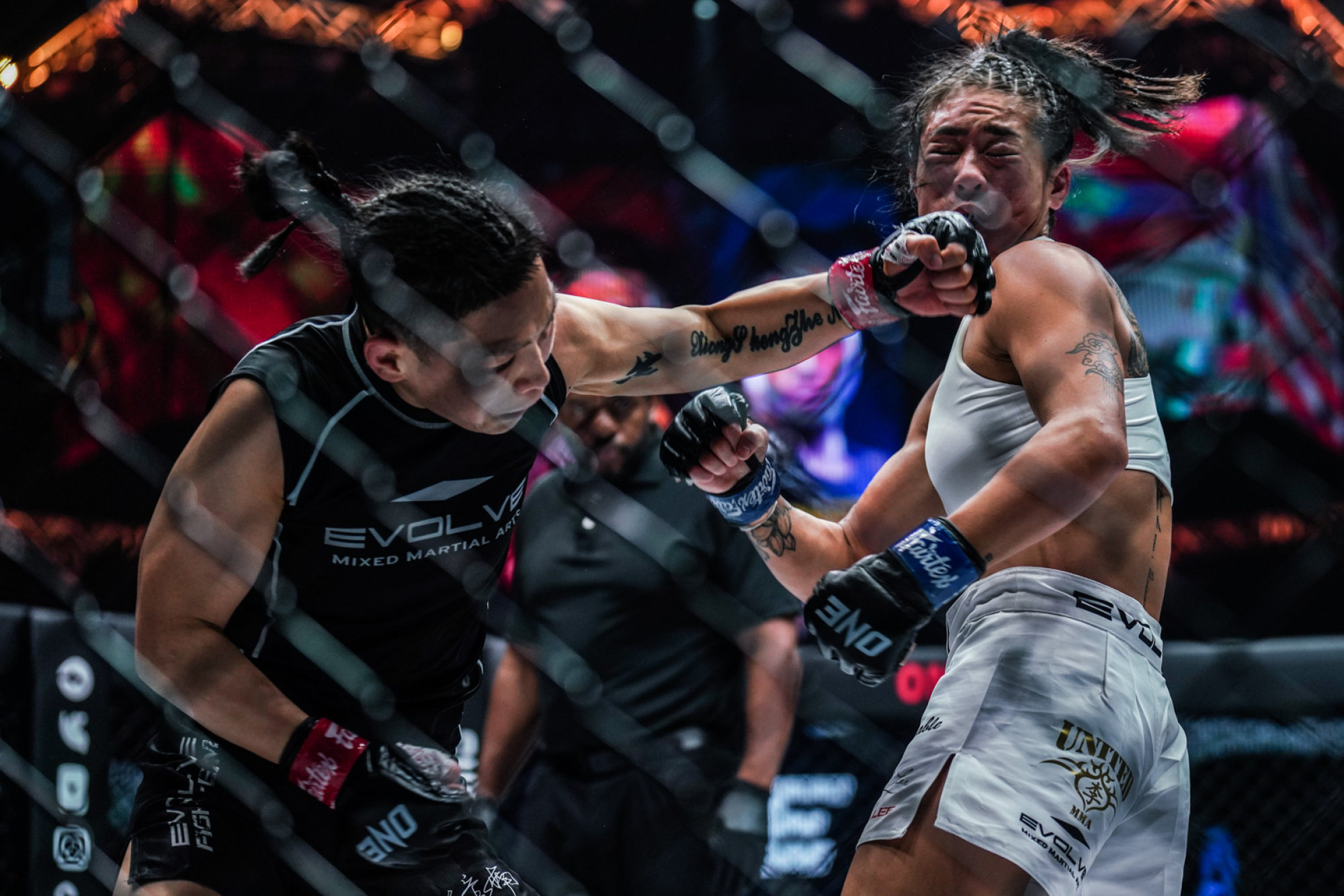 "No one knows what I went through in the past couple of months," Xiong said through a translator in the Circle.
"You might have a different opinion but I want to dedicate this performance to the people who truly understand me. I want to thank my team and my fans for standing by me.
"Today is the 73rd National Day celebration in China, this is for my country. I want to wish my home country happy birthday. I also want to thank Angela Lee for putting on this spectacular match, I really enjoyed fighting this evolved, better version of you."
Xiong began tagging Lee at will almost from the off, wobbling the atomweight champion who quickly went to her grappling with little success. Xiong nearly finished her, with ref Herb Dean having a close look.
Lee's legs still looked weak in the closing moments of the first round, as she tried to walk Xiong down only to keep eating shots.
The 25-year-old Lee got a second wind in the second round, utilising knees in the clinch against the fence as the crowd erupted in cheers for her. She went for the guillotine and an arm bar but Xiong defended well.
Things were a bit more even in the third round, with both fighters landing and staying on the feet.
Xiong continued to look for the body, where she hurt Lee and ultimately finished her late on the first time they met at strawweight in March 2019.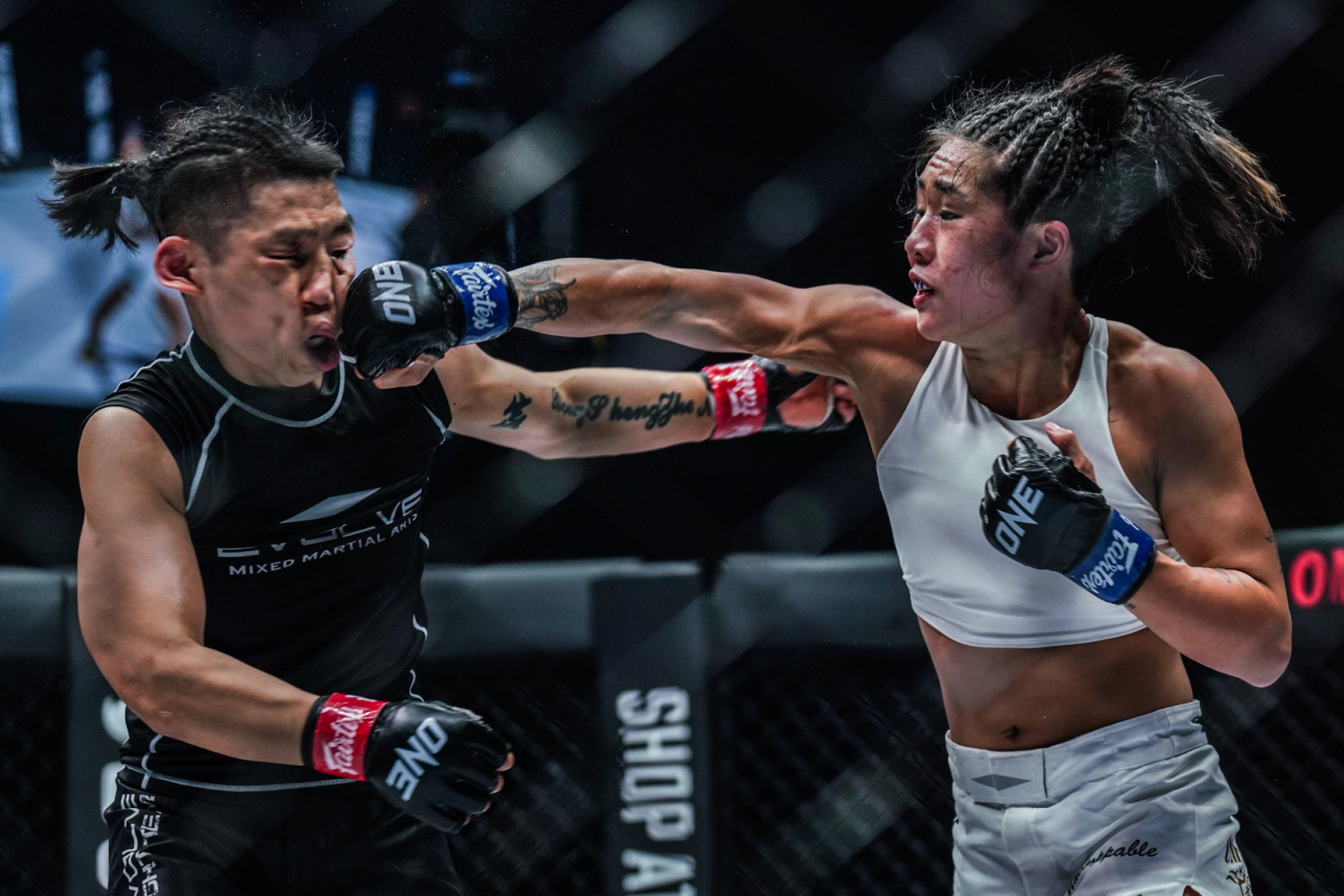 Lee looked for the takedown again in the fourth, but could not get through Xiong's defence. She did find her back in the fifth, but could not drag Xiong to the ground, and it went to the judges.
"I hope you guys enjoyed the fight," Lee said to the crowd. "Xiong had a really strong first round but i feel I was the one for was consistently pushing forward. I don't understand the decision, I don't understand how you can score points on the card with your defence. I was totally fine standing on the feet with Xiong trading hands and knees, credit to her she's a strong fighter. I appreciate all the love guys, thank you."
"Even though it was a great back and forth fight I really believe I won the fight, it's upsetting. I fought really hard to get here, I know in my heart I did what I needed to do."
Musumeci claims grappling title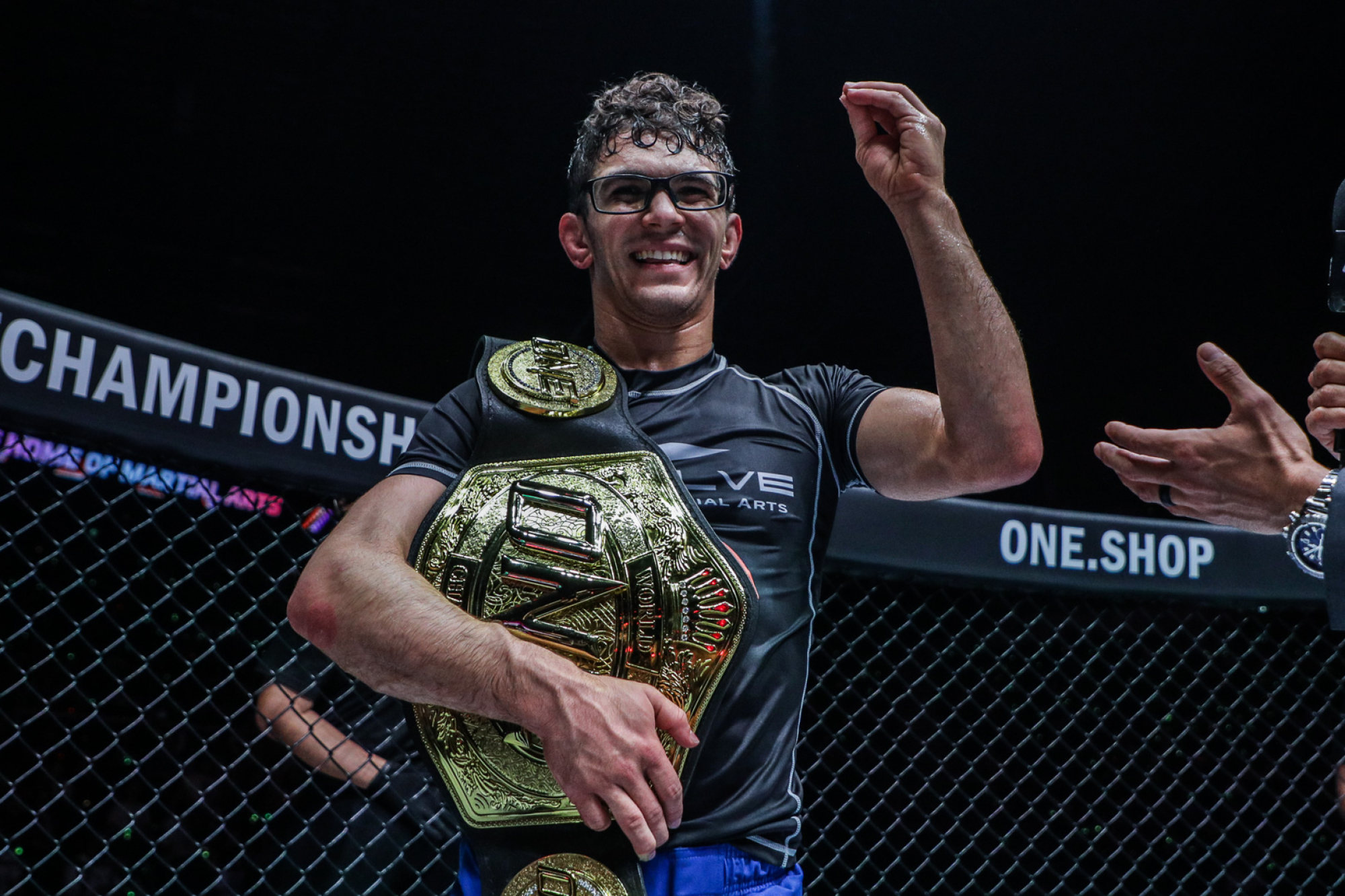 Mikey Musumeci became the inaugural ONE flyweight submission grappling champion after a unanimous decision against Cleber Sousa in the co-main event.
The crowd did not seem to be too thrilled with the 10-minute match, erupting into a Mexican wave halfway through the contest despite 26-year-old American Musumeci's constant attempts to get the finish against the Brazilian.
"I was pretty confident because I was attacking submissions the whole time," he said in a post-fight interview in the cage.
"I just kept trying to attack his arms and legs. But it was tough to finish. Every second I'm trying to attack, never stopping. I apologise guys, I couldn't get the finish. I worked really hard, I hope you enjoyed it."
Musumeci then called for a grappling match with legendary ONE flyweight MMA champion Demetrious Johnson.
"I just want to share the mat with him, we can make history and bring MMA and jiu jitsu fans together," he said. "It would be a historic and incredible event, it's not a call out it's just a respectful request."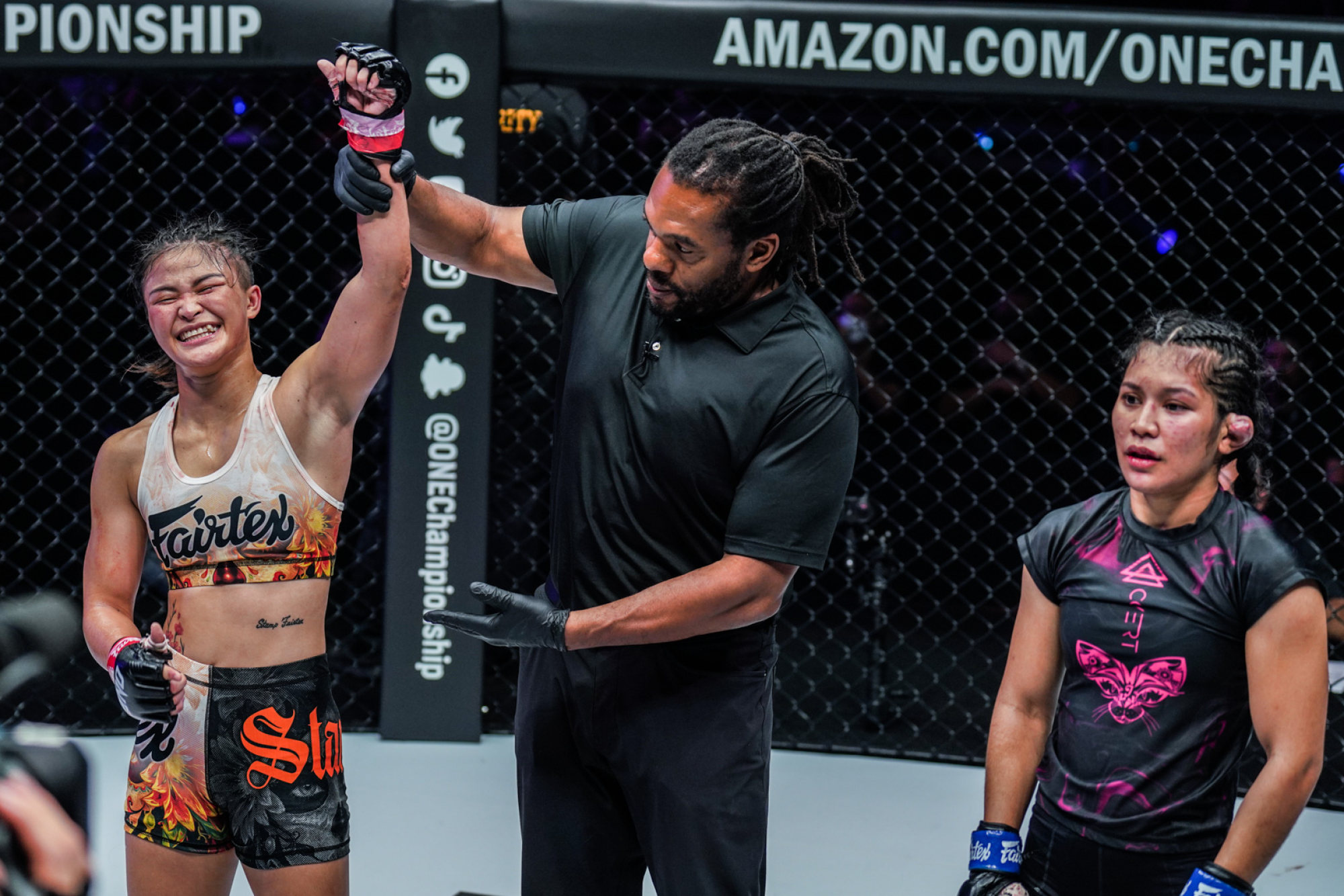 Stamp sees off game Radzuan
Stamp Fairtex showed off her continued grappling improvements in a unanimous decision win against Jihin Radzuan in their catchweight MMA bout.
Radzuan – who missed the initial atomweight limit for the fight – nullified Stamp's striking with her wrestling in the first round, pushing her against the fence. But the former atomweight Muay Thai and kickboxing champ turned it on in the second round, peppering Radzuan's face with some big shots.
Radzuan went back to her takedowns, and the second time Stamp caught her in a guillotine before taking her back and looking for a rear-naked choke. Radzuan fought the hands well, with Stamp unable to sink her arm under the Malaysian's chin.
Stamp then suddenly dropped Radzuan with a short left elbow early in the third round, and jumped on top to deliver ground and pound. But Radzuan tied her up, and retreated to the fence, where a mad scramble ensued in the final minute with both going for heel hooks and arm bars.
"I was looking to use Muay Thai to finish her, but Jihin is very good. I was aiming to use my elbows since the first round but in the third round Jihin seemed very exhausted so I had the chance to grapple. But she is very strong."
Earlier in the night Anissa Meksen – Stamp's next opponent in a special mixed rules fight – dominated en route to her unanimous decision in a Muay Thai bout.
"I'm gonna work more on my ground game and I'm gonna take her [Meksen] down for sure, you better watch it," Stamp added. "She said I'm only a dancer, and she's a fighter, but has she ever won anything at all in ONE Championship, a world title?"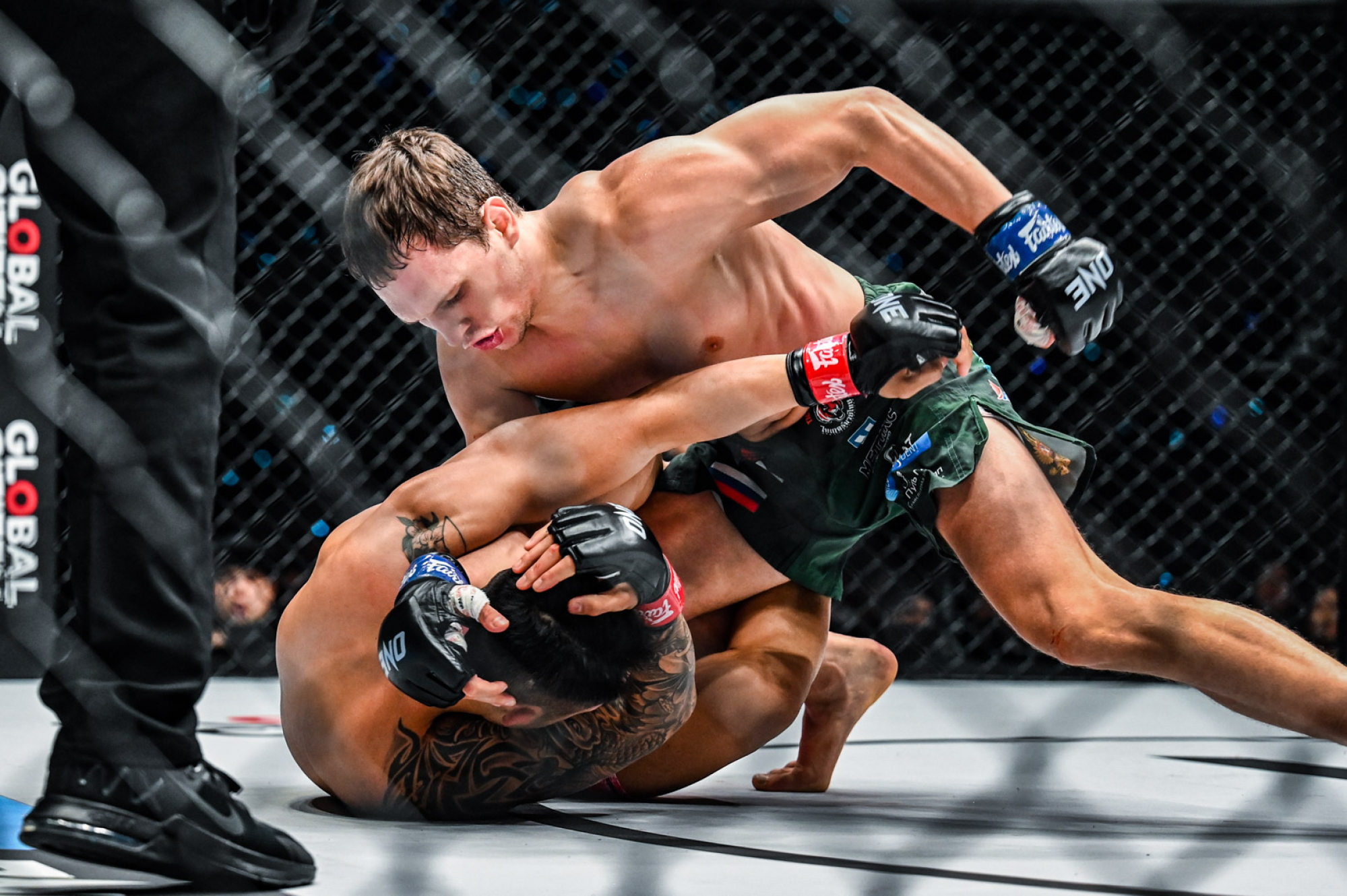 Freymanov TKOs Nguyen, earns bonus
Ilya Freymanov debuted in spectacular style with a first-round TKO against former featherweight MMA champ Martin Nguyen, bagging a US$50,000 performance bonus.
The Russian looked razor sharp from the off, and caught the Vietnamese-Australian with a straight left to drop him to the canvas.
Nguyen scrambled across the canvas to the fence, but Freymanov swarmed him with knees and punches to the head, and referee Olivier Coste called it off at 3:33.
"When they gave me this match I knew I was gonna be the winner because I am superior. Hello, I am here," he said.
"I figured his game plan pretty fast. I knew he was going to grapple, but I worked it out pretty quick and finished him.
"Thank you Chatri, I'm very happy with the bonus. I have a few debts because I spent everything on my fight preparation. That's what I'm gonna do, and rise to the top."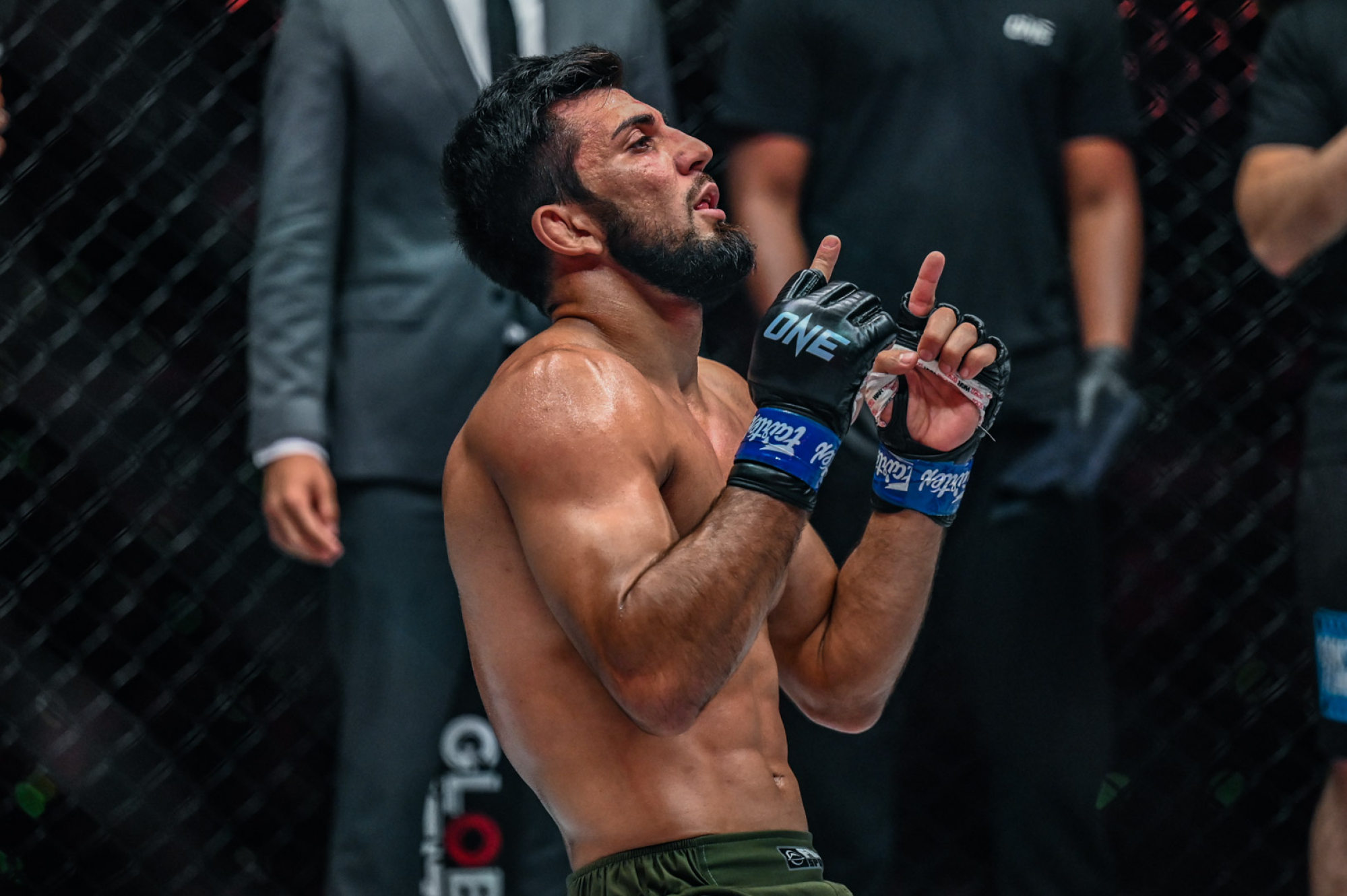 Amir knocks out Nastyukhin
Halil Amir also made a big splash on his ONE debut with a second-round knockout of Timofey Nastyukhin in the first fight of the lead card.
The Turkish lightweight took out the No 3-ranked contender and former title challenger with a barrage of punches against the fence, and earned the first US$50,000 performance bonus of the night.
In trademark style, the durable Russian hung in as long as he could, but eventually ref Herb Dean had seen enough and stepped in with Nastyukhin on his knees.
"It doesn't matter for me, I'll knock everybody out who is in front of me," Amir said. "I was seeing everything he was doing. As I said before the fight, I showed you, I backed up my words.
"It doesn't matter for me who I fight next, whoever the big boss is gonna give me I will beat all of them. I'm waiting for the new name."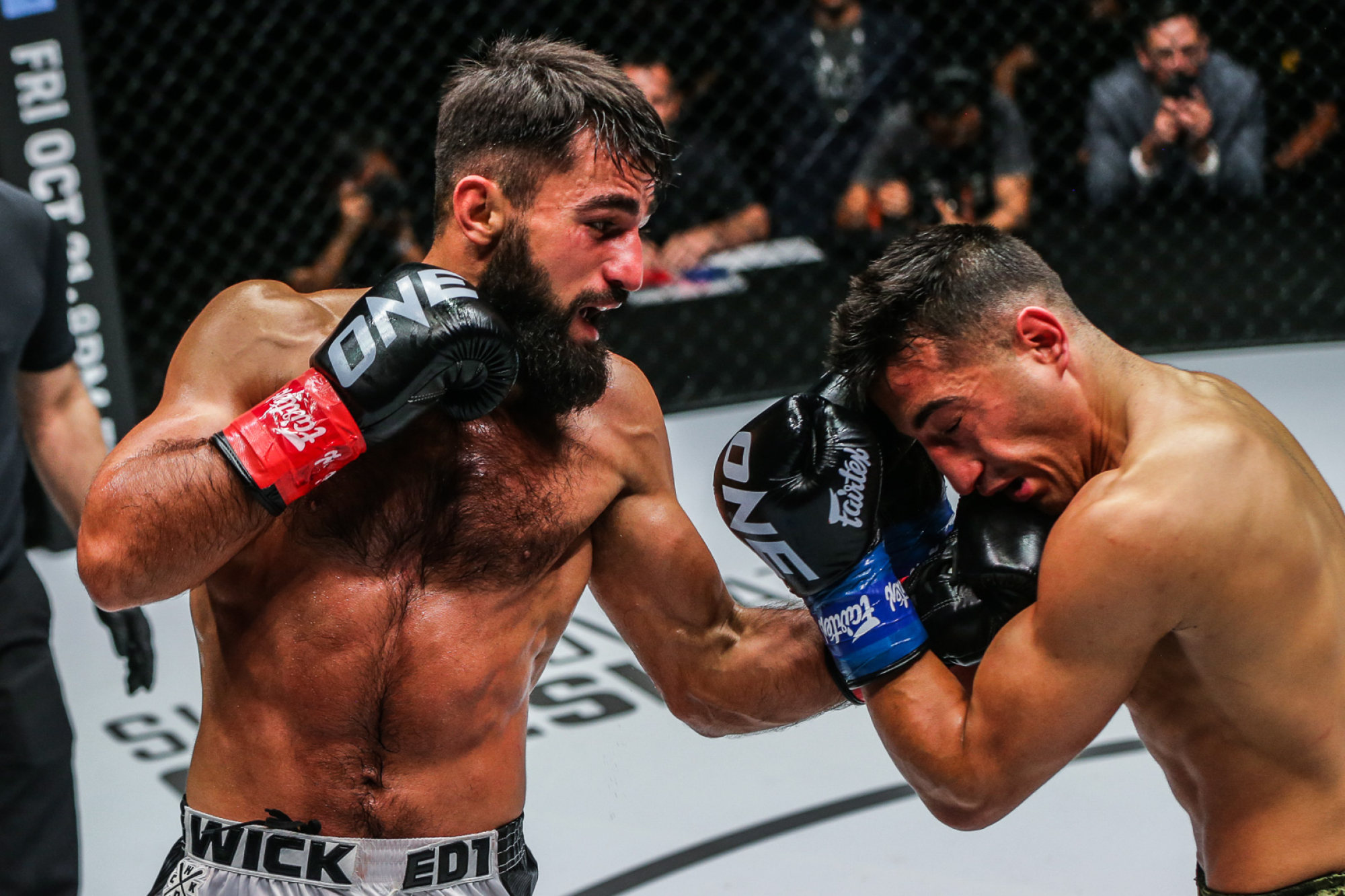 Grigorian calls out Superbon
Marat Grigorian put on an impressive display to outclass Tayfun Ozcan in their featherweight kickboxing bout, after a late change of opponent for both.
"Turbine" Ozcan was set to challenge champ Superbon for the title, but the Thai was not medically cleared to fight this week – and nor was Grigorian's original opponent, Jamal Yusupov.
"Yes, the important thing is I want to fight, that's it," From the first round really I knew i was going to win," the Armenian-Belgian said.
Grigorian suffered a unanimous decision defeat by Superbon at ONE X in March, but wants another crack him, having knocked him out in their first encounter.
"I don't care, anybody is good for me, but I want title shot," he said. "The last time was not my day but now I'm ready. we'll make a third fight – it's 1-1."
Oh edges Takahashi
South Korea's Oh Ho-taek (9-2-1) took a split decision against Ryogo Takahashi (14-7) in the first MMA fight of the night.
The Japanese fighter received two yellow cards in the featherweight bout for stalling, but still got the nod from one of the judges.
Oh was slightly despondent in his post-fight interview, admitting he perform to his best level.
"I wanted to impress everybody with my submissions but unfortunately it didn't go that way," he said.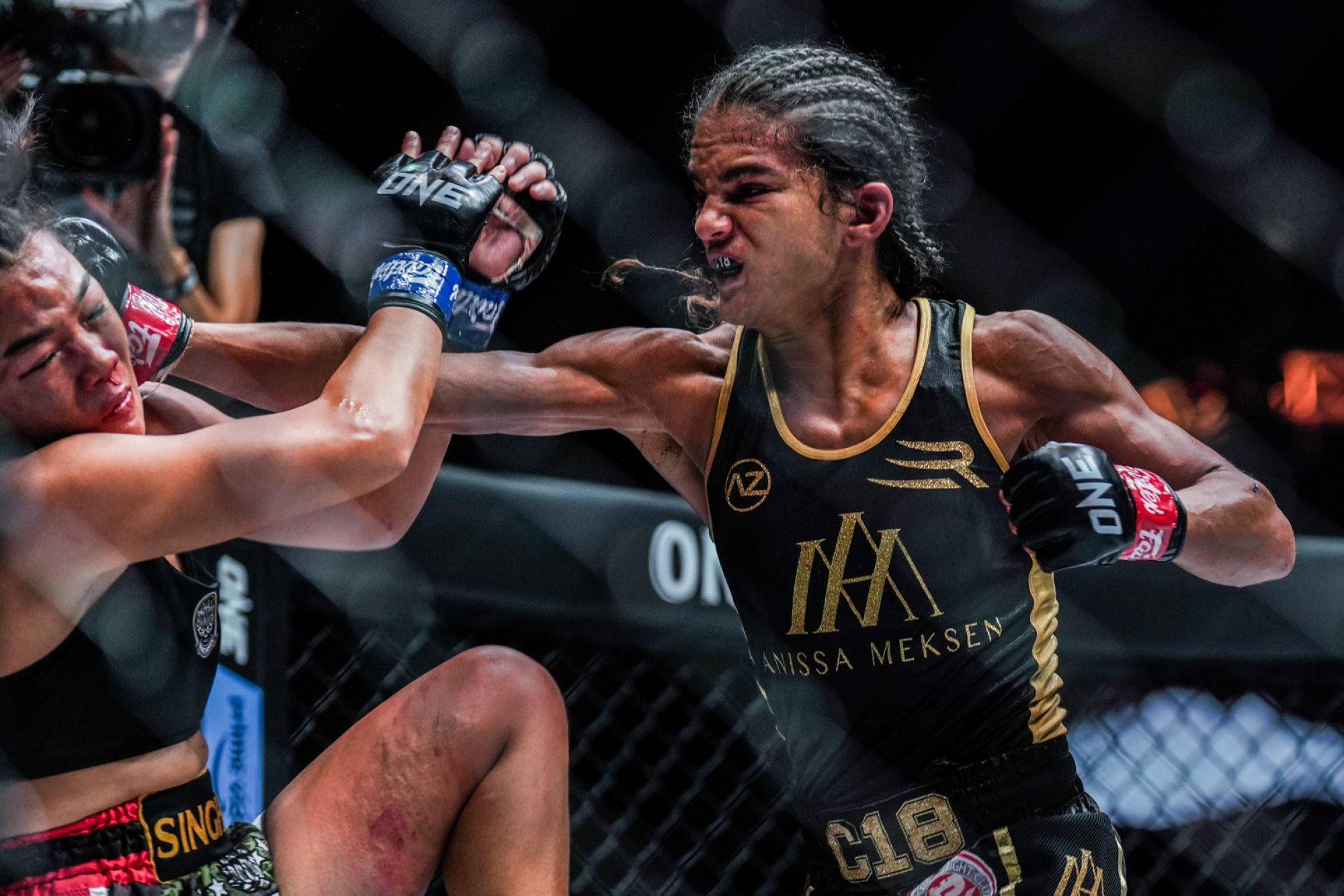 Meksen dismantles Dangkongfah
All three judges scored it for Anissa Meksen, as she poured it on against a hopelessly outmatched Dangkongfah Banchamek in their atomweight Muay Thai fight.
"I know she's good in the clinch so I tried to keep my distance for punches and kicks, and now my job is done. I adapt my skills for my opponent," Meksen said.
It was a slick and dominant performance for the French-Algerian striking star, who will now turn her attention to a special mixed rules fight against Stamp Fairtex in Bangkok in January.
"I'm so happy you know, it's the first event with girls in MMA and Muay Thai so I'm happy to make this," she added.
"I've trained MMA since a long time now, I expect a fight. It's a good opportunity for me, let's see what happens in January. She's a dancer, I'm real fighter."
Meksen then renewed her calls for a title shot against Janet Todd, who has yet to defend her atomweight belt since winning it from Stamp in February 2020.
"For two years I expect the title shot for kickboxing, now it's my time," Meksen added, before addressing cageside CEO Chatri Sityodtong. "Please Yodchatri, make this happen."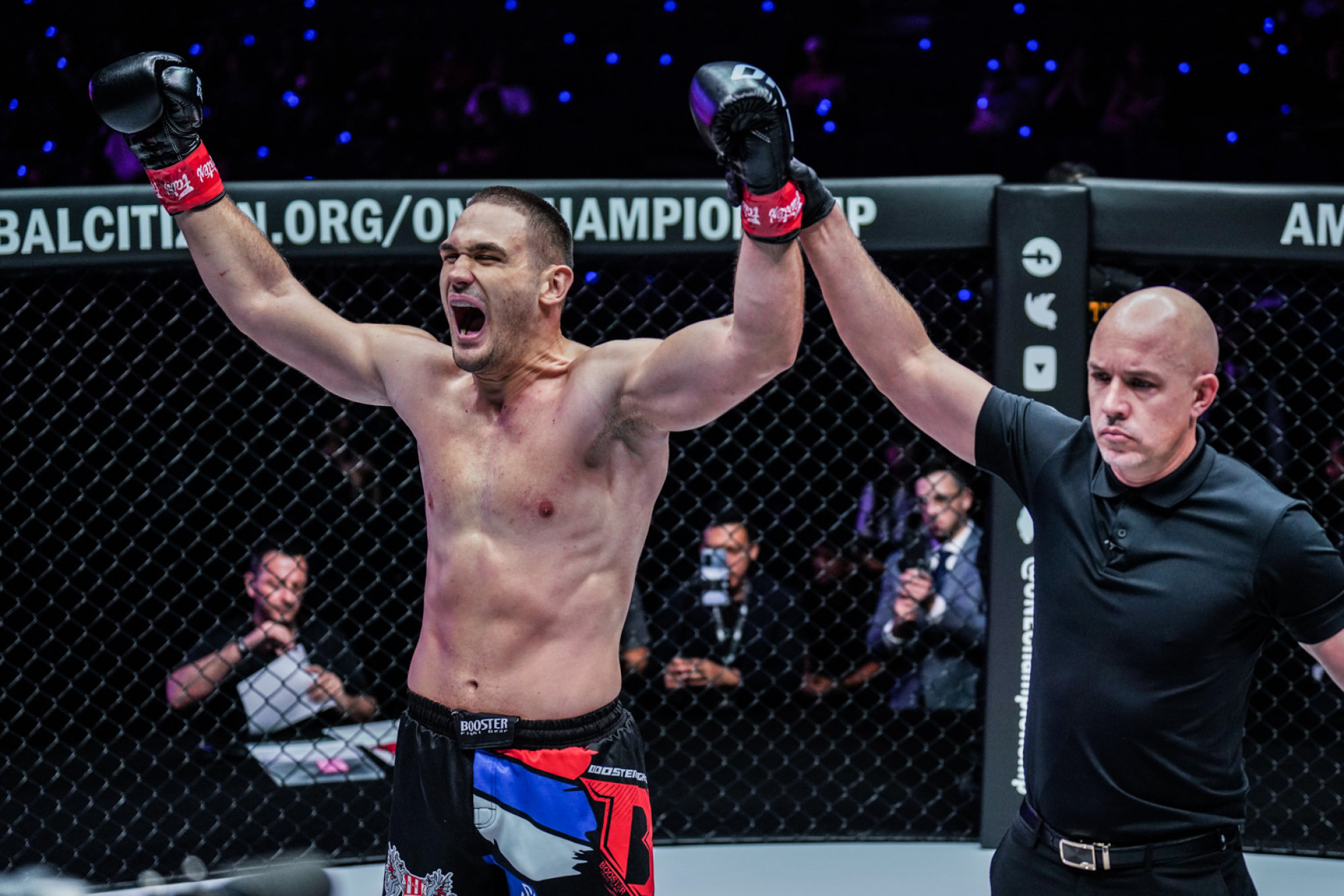 Opacic stops Stoforidis
Rade Opacic secured a second- knockout against Greece's Giannis Stoforidis in the first fight of the morning, in an alternate bout for the heavyweight grand prix.
"Second-round knockout, I feel amazing," the Serbian said in a post-fight interview. "I got him a little, saw his face. He was ripe for the kill, and I did it."
The final of the tournament will feature Roman Kryklia against Iraj Azizpour – but Opacic could now slide in if either cannot make it.
"That was my fifth knockout. I want all these guys. The winner of the grand prix, let's do it," he added.