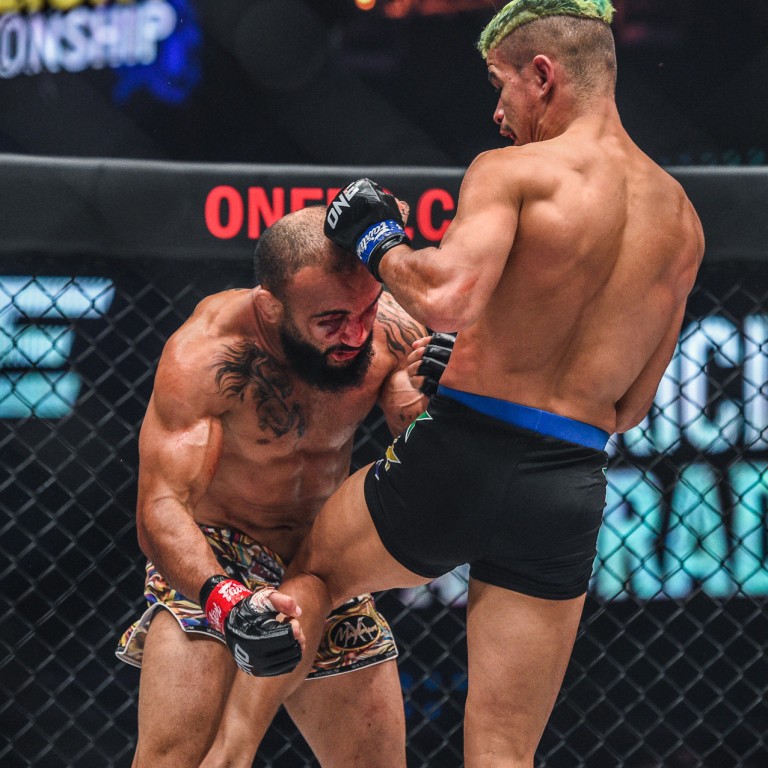 ONE Championship on Prime Video 3 results: Fabricio Andrade frustrated as main event ends in no contest after low blow
John Lineker unable to continue after knee to the groin in third round of Kuala Lumpur main event, which 'Wonder Boy' was comfortably winning
Regian Eersel and Kade Ruotolo are crowned inaugural lightweight Muay Thai and submission grappling champions, respectively
ONE Championship on Prime Video 3 ended with a whimper, with Saturday's main event in Kuala Lumpur called off.
John Lineker was unable to continue after being hit with an accidental low blow in the third round of a fight that Fabricio Andrade was comfortably winning.
Former bantamweight MMA champ Lineker would not have been able to win back the title after losing it on the scale, having missed weight on Thursday.
With Lineker's face badly bruised and his right eye almost swollen shut after some huge shots, Andrade was cruising towards taking the belt, before the dramatic conclusion to events at Axiata Arena.
The 25-year-old "Wonder Boy" could not hide his disappointment, storming out of when the result was read out.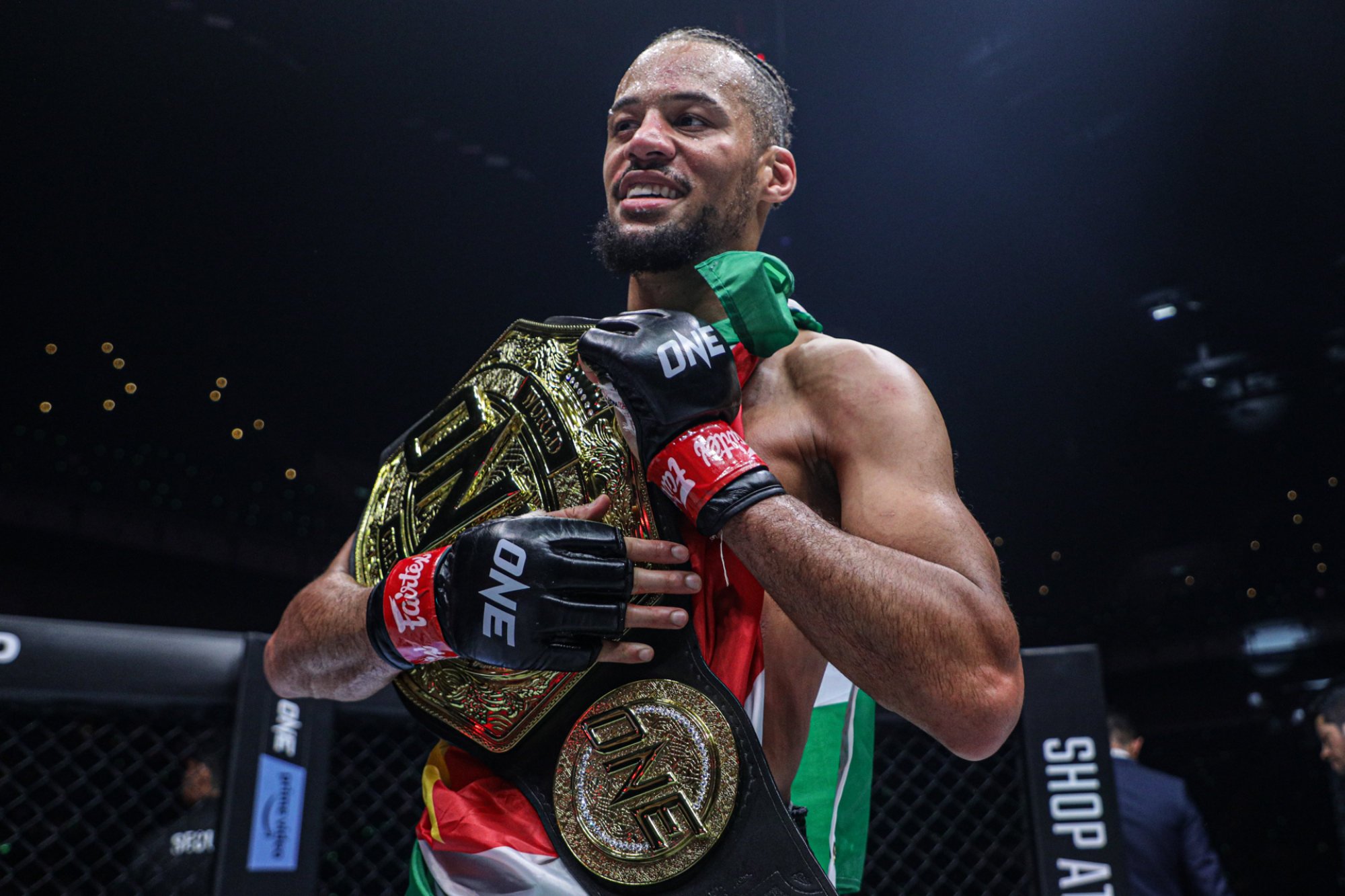 Eersel becomes two-sport champ
In the co-main event, Regian Eersel became a two-sport champion.
The reigning lightweight kickboxing champ returned to the Circle in the ONE 162 co-headliner, where he battled Thailand's Sinsamut Klinmee for the vacant lightweight Muay Thai title.
It was a close fight, but Eersel was in control for the bulk of the five-round affair, and won a split decision – and a second belt – for his efforts.
"I want to thank my team and ONE Championship and Kuala Lumpur, I love you guys," he said after the win.
The Dutchman has not been beaten if over six years.
Sinsamut, meanwhile, will have to return to the drawing board after scoring knockouts of Nieky Holzken and Liam Nolan in his first two ONE bouts.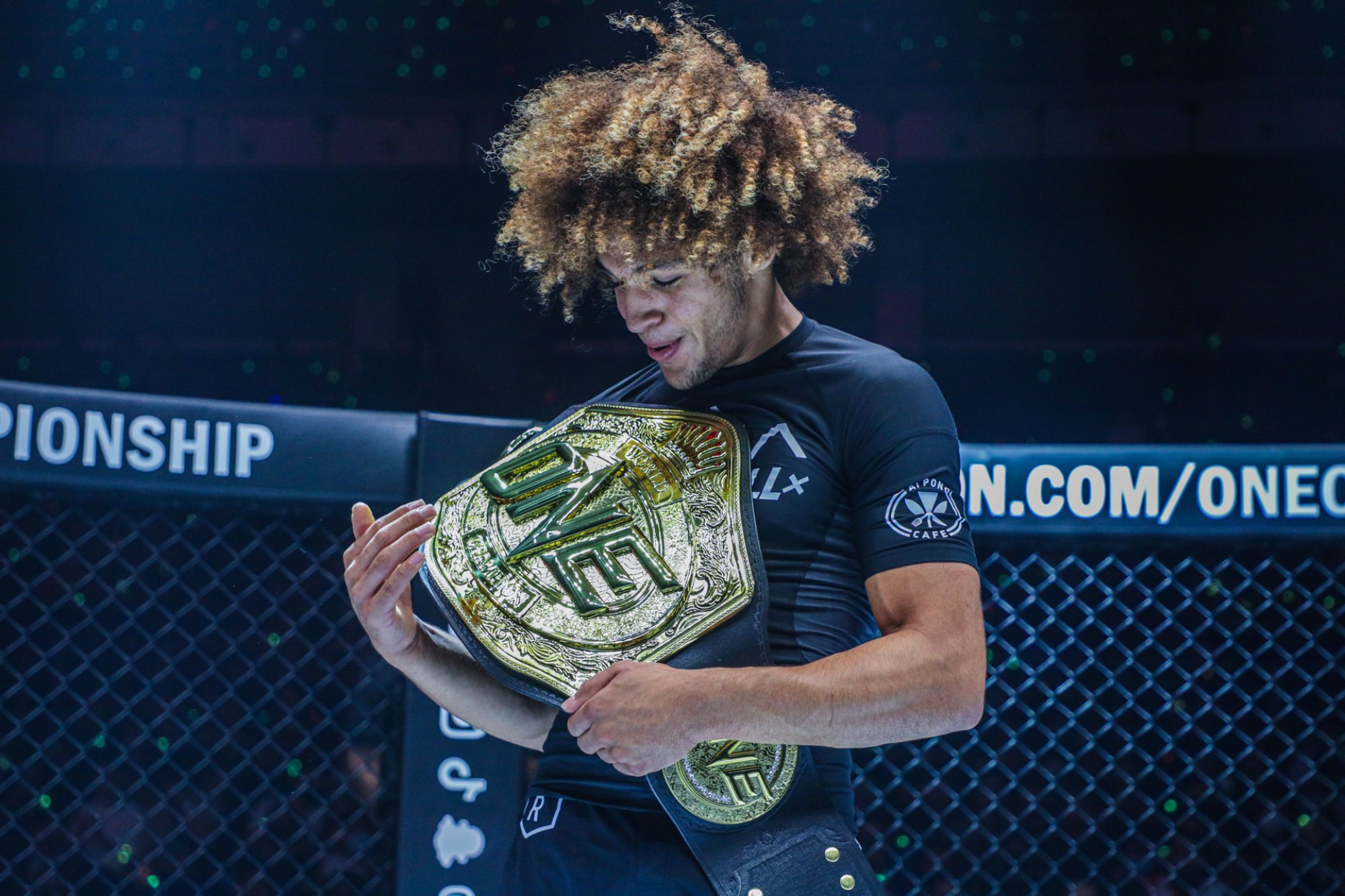 Ruotolo wins grappling belt with slick sub
Kade Ruotolo is now ONE's lightweight submission grappling champion.
The 19-year-old American, who recently become the youngest champion in ADCC history, won the division's belt with a submission of Russian Sambo specialist in the first of three title fights on the ONE on Prime Video 3 main card.
He's now 2-0 in ONE, having debuted with a decision defeat of Japanese MMA legend Shinya Aoki earlier this year.
Uali, who missed weight for the fight and was ineligible to win the belt as a result, was making his debut with the promotion.
Sitthichai out-duels Boutasaa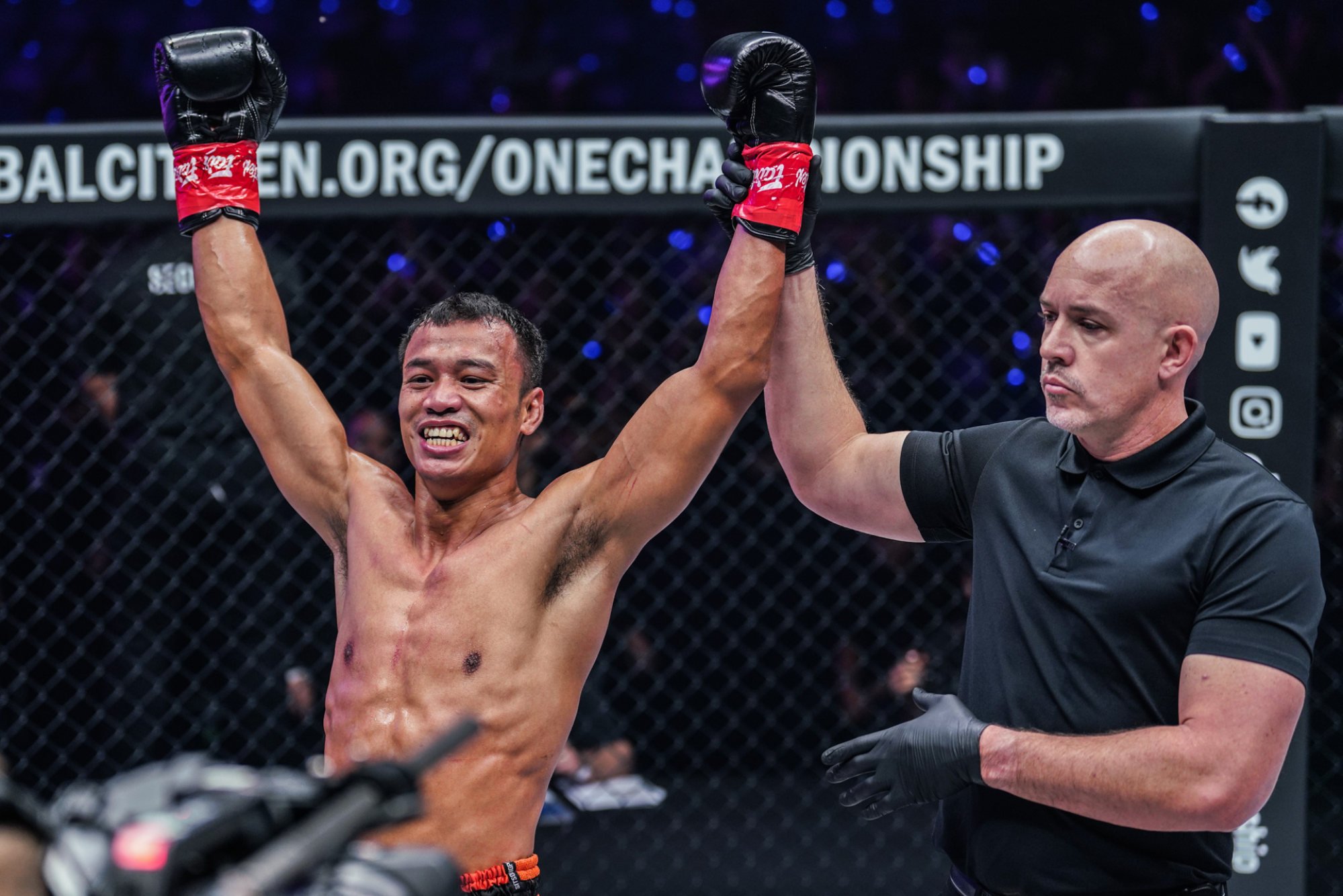 Thailand's Sitthichai Sitsongpeenong showed plenty of veteran experience in his fight with rising prospect Mohammed Boutasaa, out-fighting the Moroccan over three rounds of featherweight kickboxing.
"I was very confident for the fight, but this guy was good," he said post-fight.
The win separated the 31-year-old Thai from a decision loss Chingiz Allazov in the final of ONE's featherweight kickboxing Grand Prix. In victory, he's hoping for a do-over with the same man.
"I wanna fight with Allazov again because I want to get it back and beat him," he said. "I'm looking forward to seeing him again."
Boutasaa is back in the loss column after four straight wins, including a win over Davit Kiria in his ONE debut.
Gasanov chokes Kim, scores bonus
Shamil Gasanov got a very tough test for his ONE Championship debut in No 2-ranked featherweight contender Kim Jae-woong. He passed it with flying colours.
Early in the first round, the debuting Russian grappler scored a takedown, and promptly climbed into back mount and locked up a tight rear-naked choke, leaving his South Korean foe with no choice but to tap.
"My brother is here, he said 'you have two minutes, if you don't sub him in two minutes you will walk back home,'" he said in his post fight interview with commentator Mitch Chilson.
After the quick win, which earned him a US $50,000 bonus, he called for fights with featherweight contender Garry Tonon and the division's reigning champion, Tang Kai.
"Tang Kai, Garry Tonon – everybody. Just give me five minutes, and I'll smash everyone."
Miado bludgeons Williams to stoppage
Jeremy Miado picked up one of the best wins of his career in the final bout of the ONE on Prime Video 3 lead card, bludgeoning No 5-ranked strawweight MMA contender Danial Williams to a third-round TKO victory.
Australia's Williams, who entered the Circle on a five-fight streak, showed remarkable toughness in the fight, surviving multiple knockdowns, but eventually, referee Herb Dean could watch no longer and waved off the fight.
"In the first round I felt I can take his power," he said. "I hit him with a right hand, I saw in his face he felt it, so I just found the timing [for the] right hand and left hook.
"That's our game plan."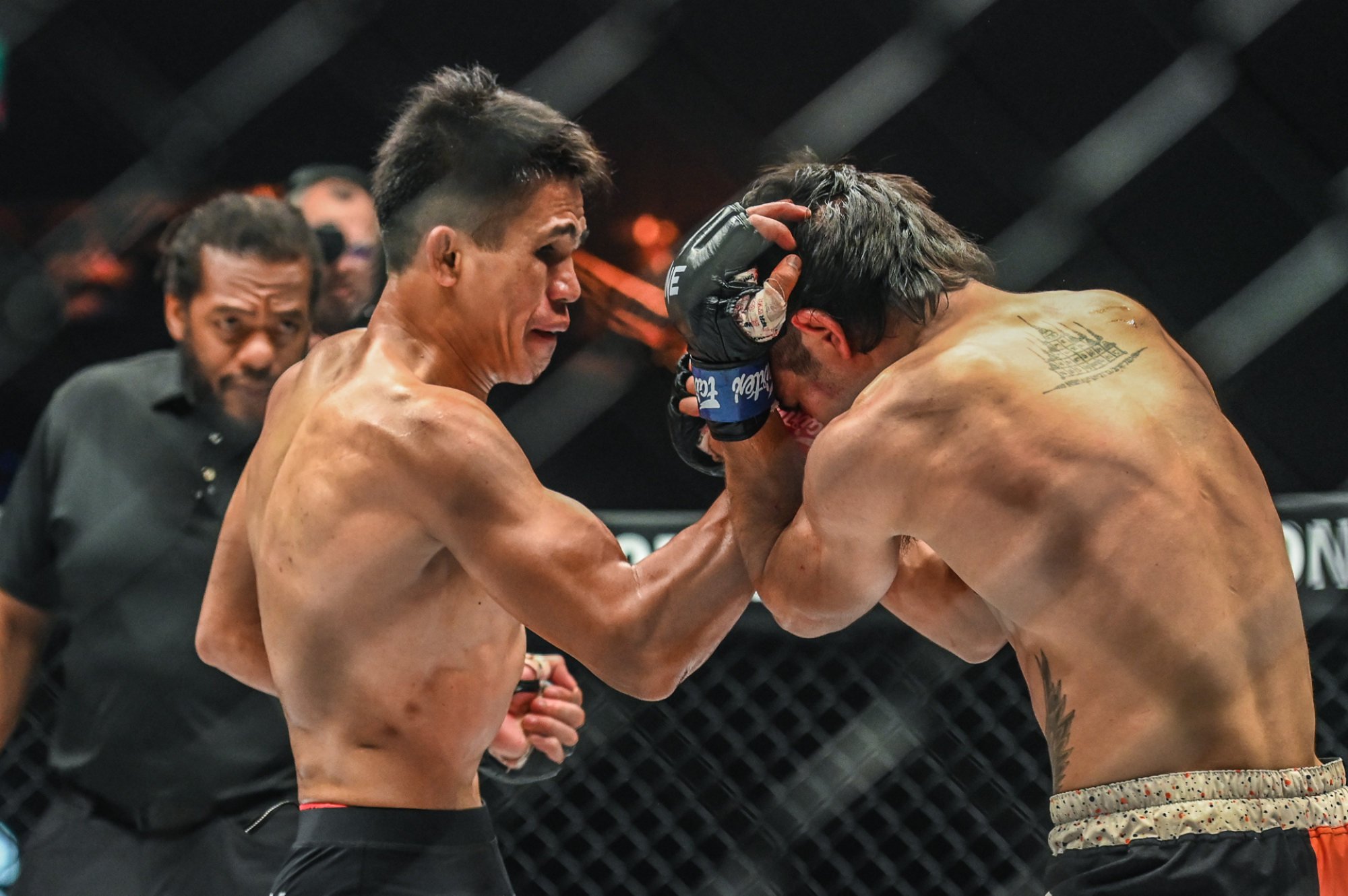 The win pushed the Filipino onto a four-fight streak, and will most likely catapult him into the division's Top 5, from which point a fight for the belt will not be far away.
For his next fight, he's hoping for a spot on one of ONE's two December events in the Philippines.
"Top 5, you know who's the real deal in this division," he said. "I'm coming for you. I'm coming for the belt. Give me fight in Manila in December, I can put on another show for you guys."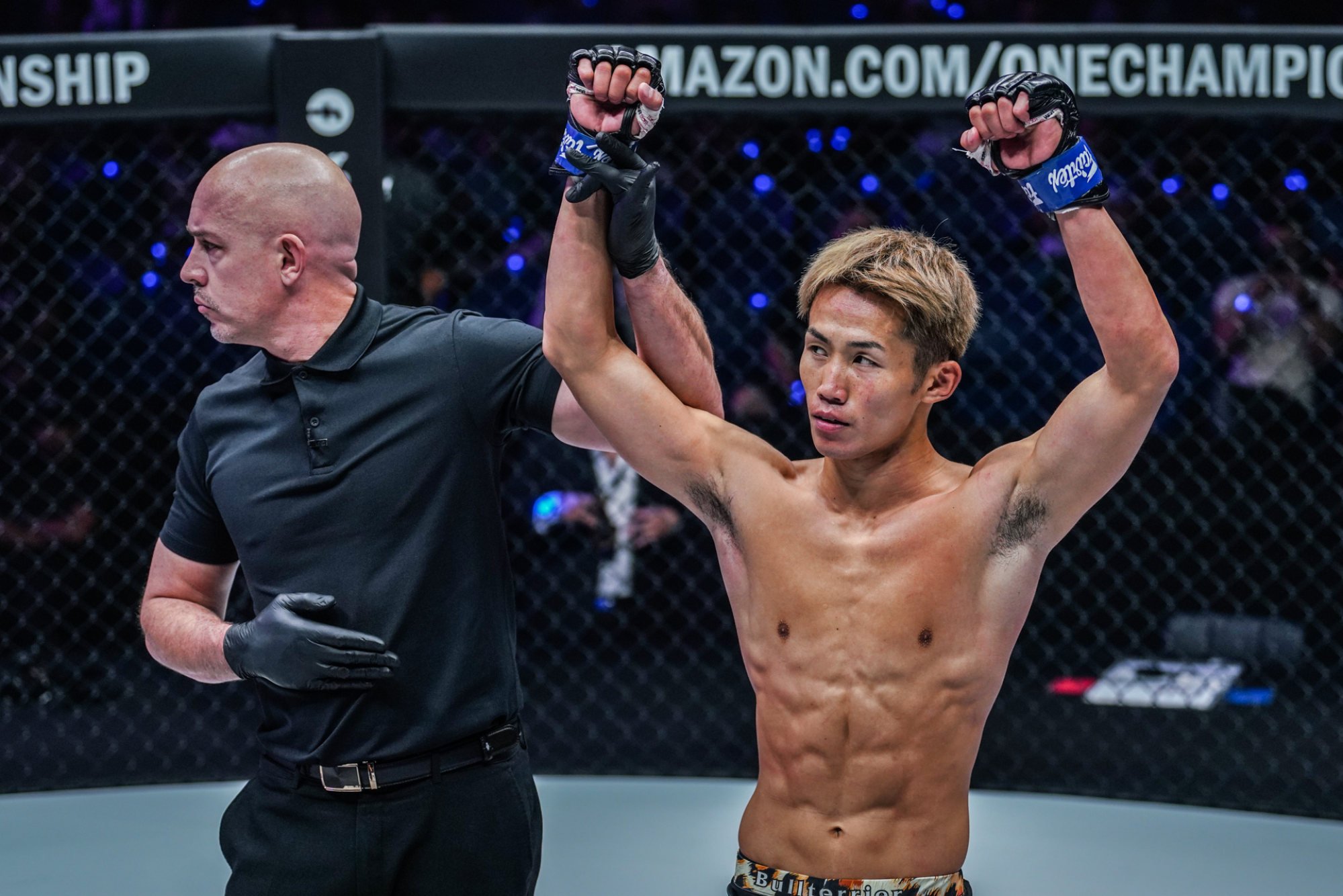 Naito downs home hero
"The Silent Sniper" Taiko Naito disappointed the hometown hero Amir Naseri with a unanimous decision win in their flyweight Muay Thai fight.
"I wanted to strike with Amir more aggressively however it did not turn out like this so I would like to do that in the next fight," the Japanese star said.
"Mr Naseri was applying more pressure than I had expected so I had to change my plan to manage.
"Whatever coes to me i will just win my fights one by one. I am ranked in kickboxing as well so I would like to work on both.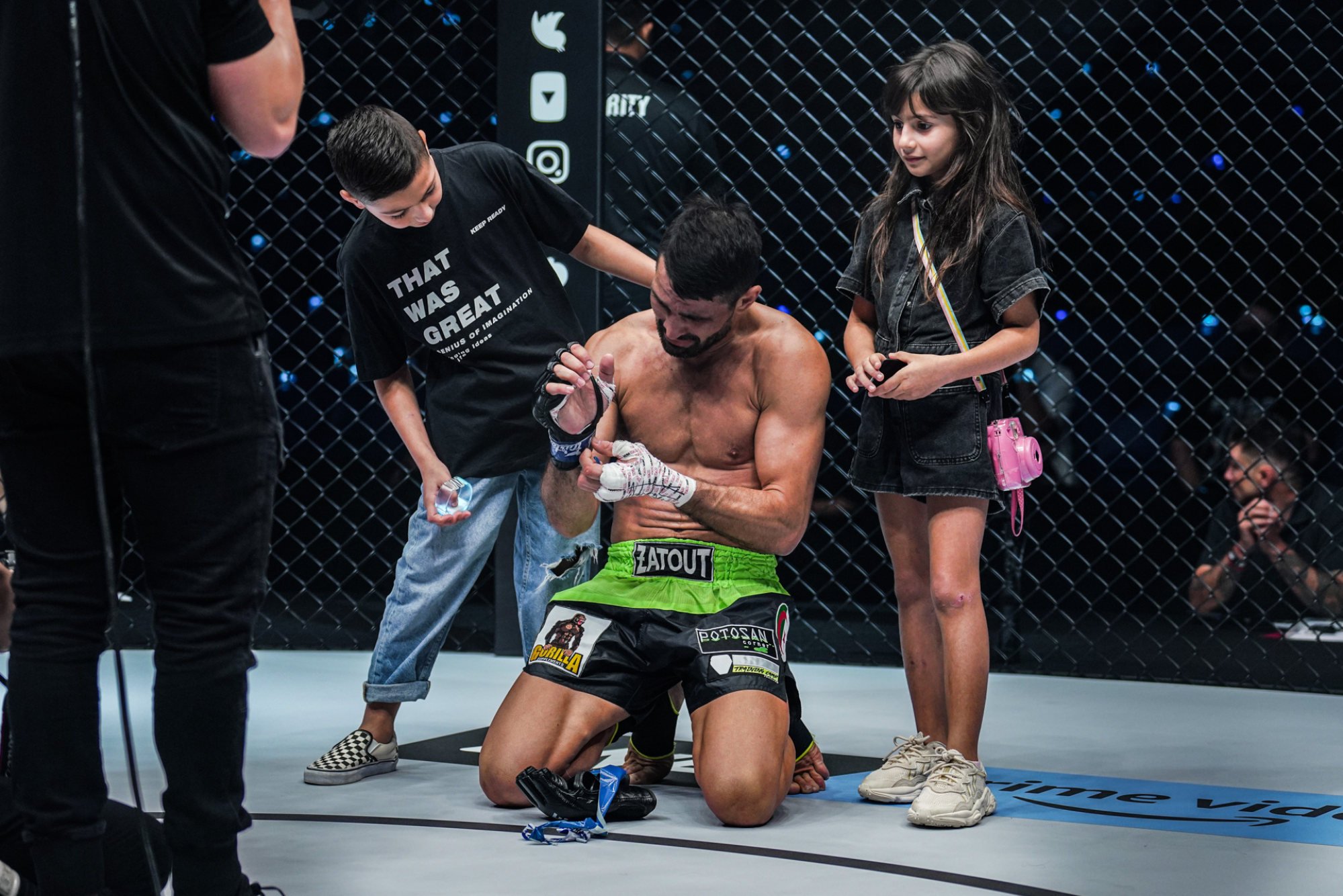 Zatout gets bonus, retires
There was another first-round finish in the second bout, with Asa Ten Pow unable to get off his stool after seemingly getting his orbital cracked by Mehdi Zatout.
The Algerian celebrated with his two young children in the Circle after the TKO against the American, having landed left hands, right hands and elbows in the bantamweight Muay Thai bout.
"It's so amazing – martial arts gave me 27 years of hard work, discipline, and I learn a lot," Zatout said. "I want to thank martial arts, it gives me everything for my life. All of you guys, I work a lot, it's a lot of sacrifice for me to make this fight camp."
The 39-year-old Zatout was then told he had earned a US$50,000 performance bonus, before he broke down in tears and announced his retirement, placing his gloves down in the Circle.
"Thank you Chatri," he said. "I just want to say from the bottom of my heart thanks ONE Championship, thanks everybody. You are an amazing team. I never see for 27 years in martial arts, I never work with people like you guys. I know sometimes I'm a headache. Nobody can compete with ONE inside your hearts, inside your work.
"I follow my heart to say yes, I want to compete, my mind works. But I need to stop to focus on my team, my family, and this today was an amazing finish. I want to stop, I'm so sorry for ONE Championship if I don't fight again."
Grandjean stops Bivins
Noelle Grandjean scored a first-round TKO in the opening fight of the night, hurting Lea Bivins with a punch to the body before the American seemingly waived it off herself.
The 26-year-old Phuket-based Grandjean, representing France and Thailand, sensed blood and delivered a few more shots for good measure before Herb Dean stepped in to end the catchweight MMA fight.
"I wanted to finish it in the first round," Grandjean said. "All respect to her, she's a very good opponent, very strong BJJ. but I felt very good on the ground. I should have trusted myself there more, but I still got the first one done.
"I felt I had good power. We worked on this with my team at Tiger Muay Thai, thanks everyone. I'm always waiting for my next shot, I'm ready to fight any time."
She also picked up a US$50,000 performance bonus for her efforts.
"Thanks from the bottom of my heart," Grandjean added. "I live in Thailand and this will change my life forever. I will never disappoint you. I will make a show every time in the Circle. I'm always happy, I'm always smiling, but I can put on a show too."