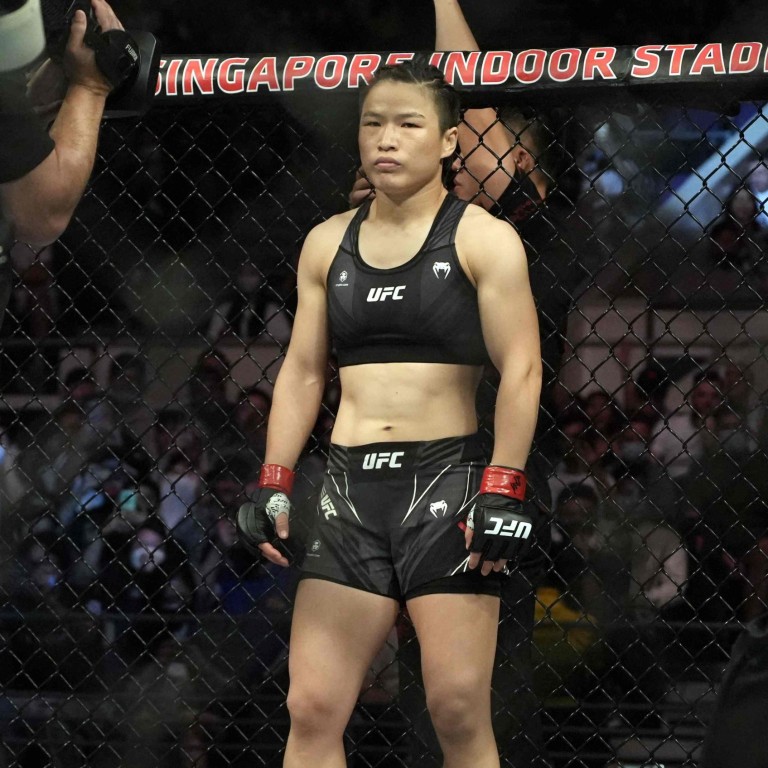 UFC 281: Zhang Weili says 'nervous' Carla Esparza is 'afraid of losing' as New York title bout looms
China's former champion seeks redemption – and the strawweight belt – against American champion Carla Esparza
'She'll want to bring me to the ground, but I don't think it will do her any good,' says Zhang ahead of New York city clash
Joanna Jedrzejczyk did not see the right fist of Zhang Weili coming and it's a fair bet no one else in the UFC's strawweight ranks did either.
China's former world champion had played a nifty bait and switch in her rematch with Jedrzejczyk back in June, after often shifting attention in her interviews and press conferences to the work she had done on the mats at Thailand's Bangtao Muay Thai & MMA gym.
Zhang had made her Polish opponent – as much as the world – believe she might be going in heavy on the ground work.
There was some – and it was effective – in the first round but what we saw at 2:28 of the second was pure "Magnum" and her unique brand of explosive violence brought the fight to a stunning conclusion – and as Jedrzejczyk (16-5) hit the canvas, the Chinese star notched up the 11th knockout of her career.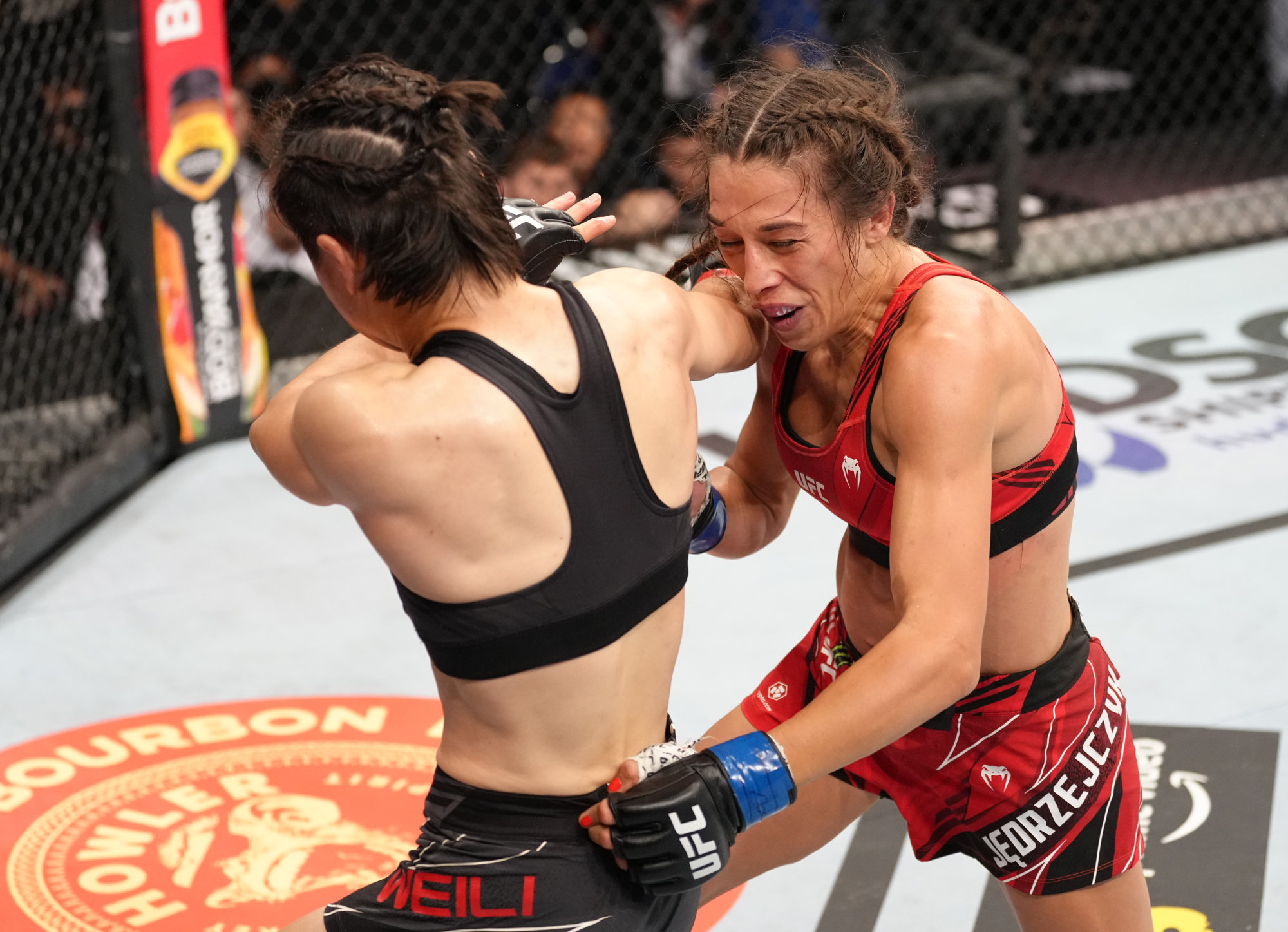 The million dollar question now is what version of the Chinese 33-year-old Zhang (22-3) will we see against Carla Esparza (19-6) at UFC 281 in New York City this weekend and – more's the point – what version of the Chinese fighter will America's reigning strawweight champion enter the cage expecting to see.
Speaking on a conference call this week with Chinese media, including the Post, Zhang fired a broadside at her opponent.
"Anyone can see that she is nervous, and she only likes to compete with less qualified opponents," Zhang said. "I think she must be a little afraid of losing."
But Zhang also turned attention back to what might once again prove a lesson in the dark arts of deception when she claimed – in fact she actually said she hoped – that this fight goes down to the floor, against an opponent with a stellar grappling pedigree.
"Yes, she'll want to bring me to the ground," Zhang said. "As a wrestler, she thinks being on the ground is her dominant position, but I want to bring her to the ground, too, because I've been practising that for a long time.
"To compete against a complete wrestler is a first for me so I want to take this opportunity as a test run. I don't think bringing me to the ground will do her any good."
Given the fact the 35-year-old Esparza was a wrestling and BJJ stand-out in her early fighting days while Zhang's career has been built on her stand-up game, perhaps we can take that as a supreme vote of confidence in what the Chinese fighter has been learning in Thailand.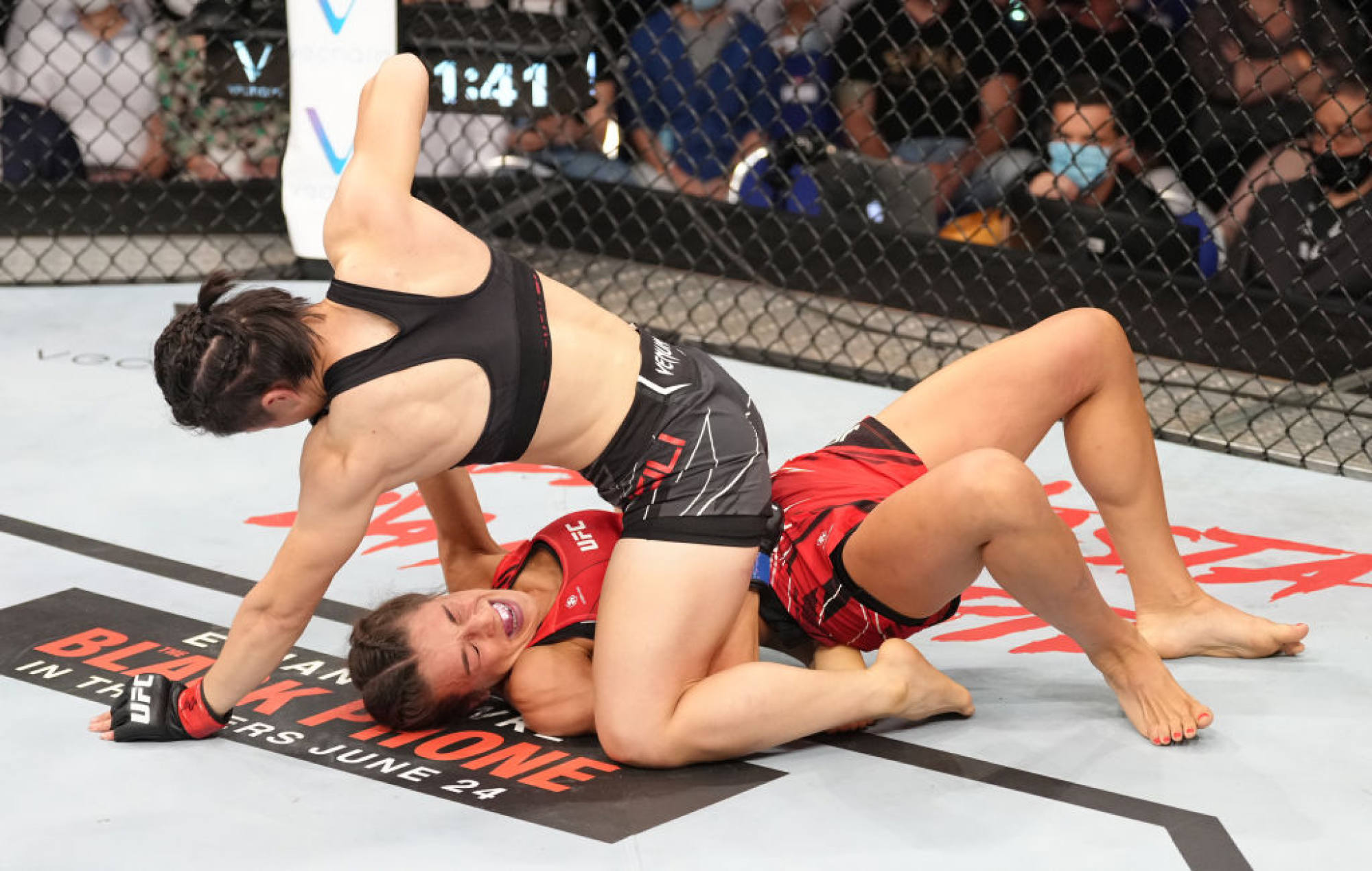 She has certainly looked intense in terms of purpose and of execution on the mats in the videos that have been shared online – and she said she has been relishing the chance to develop new skills as she closes in on a decade of MMA fighting.
Zhang first went to Bangtao before that bout with Jedrzejczyk and after a split decision loss to American Rose Namajunas (11-5) that had seen her fade late and have trouble with the American's wrestling.
"Before [Namajunas] I tried running to lose weight," she said. "I had a new team and they wanted me to try a new method, but the new method did not suit me.
"I lost a lot of weight in a short time and after that, I did not recover very well. During that fight I had arm cramps in the second round, and by the fourth round, I couldn't move my arm properly. For June, against Joanna Jedrzejczyk, we went back to the old methods of training, and this time we will stick with those again."
That has meant more of Zhang's relentless work addresses all manner of in-fight situations (along with brutal-looking pad sessions) but Zhang believes the mental aspect of her fight game – and her life – has improved with the move to Phuket, alongside the physical.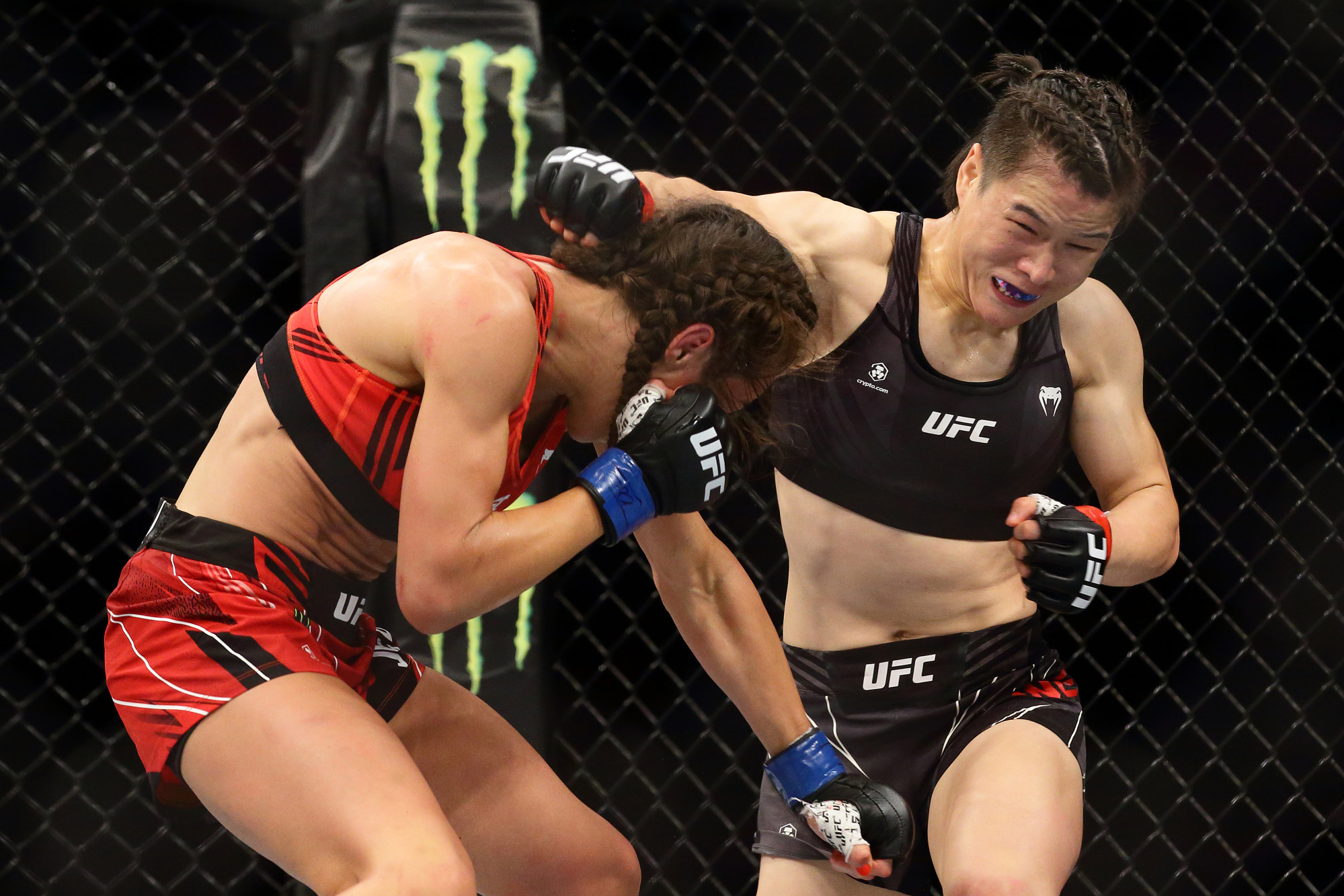 "The hardest thing has been conquering myself," she said. "The biggest opponent in life – and the hardest thing to overcome – is oneself. I fight with myself every day. This is the most important thing I've achieved. Now I take everything more easily, whether it's success or failure. I just see things with a different view."
It was hard to decide what, exactly, to make of Esparza's title win over Namajunas at UFC 274 in May, which was given a split decision by the judges but no one seemed to really know what was going on. There was very little action – but the cagey veteran in Esparza had done enough, thanks to one dominant round, and a few takedowns.
The feeling this time is that there's no way Zhang will stand off and wait – a policy that proved Namajunas' undoing. And while the mystery remains about how exactly this one will play out, Zhang seemed certain of its conclusion.
"This battle will be wonderful," Zhang said. "Carla has a distinctive style of her own. If it's up to the referee to decide, anything can happen so I'll try my best to finish this as quickly as possible."