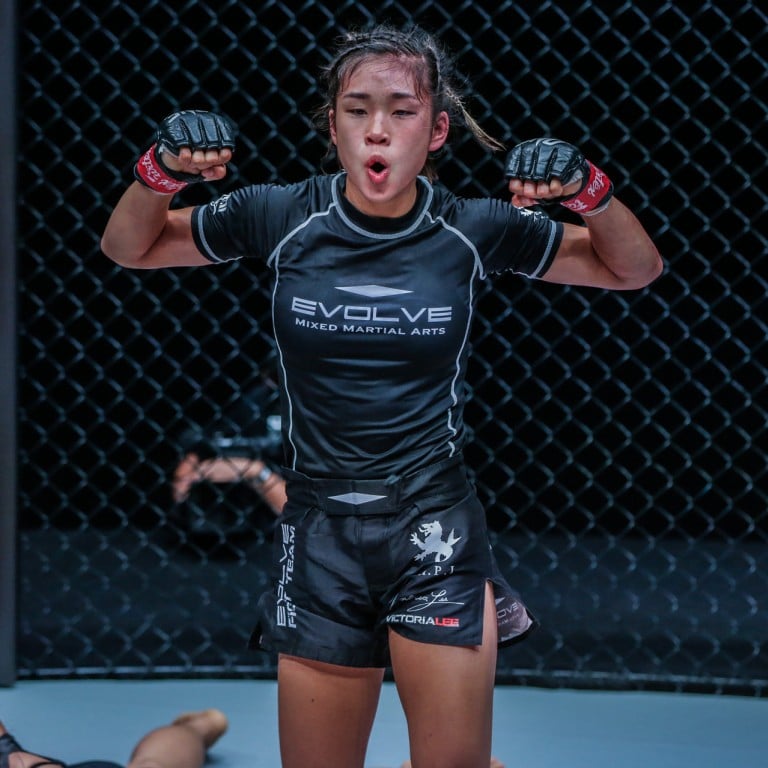 Obituary

|
Victoria Lee: the story of ONE Championship's Prodigy who died aged 18
Lee burned brightly in a brief career in ONE, and there is little doubt she would have gone on to win a world title
'Please, check on your loved ones. Keep checking on them. Give them hugs and tell them how much they mean to you,' elder sister Angela Lee says
I have met many of the famous fighting Lee family and their entourage, when watching Angela and Christian Lee compete several times at ONE Championship events in 2019 and 2022.
They are a personable bunch, who travel en masse and stick together. They packed out the media rooms before and after Christian won his second MMA title in November, watching on proudly and hanging on his every word as I interviewed him, while his and Angela's young daughters ran around causing harmless havoc.
But I was really looking forward to watching their younger sibling fight live in person for the first time this weekend, with Victoria Lee finally set to return – after more than 15 months out – against India's Zeba Bano at ONE on Prime Video 6 in Bangkok.
"Please, check on your loved ones. Keep checking on them. Give them hugs and tell them how much they mean to you," ONE's atomweight champion wrote.
There is something especially sad about generational young athletes not fulfilling their destinies, and winning the trophies and titles their immense talent demanded – even more so when their lives end too soon.
An atomweight in mixed martial arts, Victoria's rapid rise to prominence – three quick finishes in three fights for ONE – all came in 2021, amid the coronavirus pandemic, at a closed-door Singapore Indoor Stadium. I watched her from home in Hong Kong, in awe.
An understandable sadness has been cast over January 14's event now. Eighteen is just too young, and especially for someone so prodigiously gifted.
That was even her nickname – "The Prodigy" – and an apt moniker it was.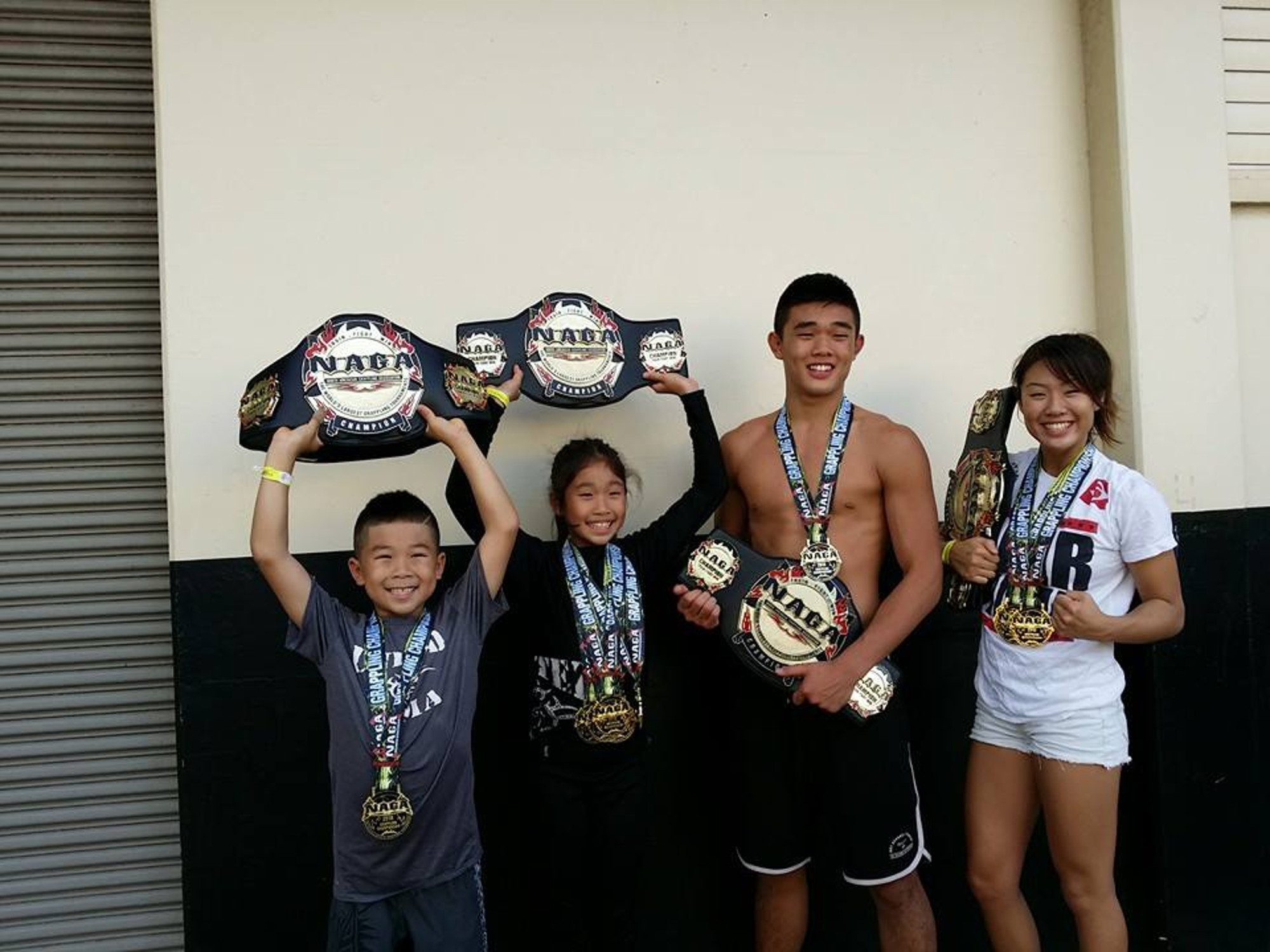 Victoria Sun-hei Lee was born on May 17, 2004 in Wahiawa, Hawaii, to Chinese-Singaporean father Ken Lee, who would later become her coach, and South-Korean-born Canadian mother Jewelz Lee.
They lived in Mililani, where it was a family affair to say the least, with her two world champion siblings Angela and Christian, and their respective spouses Bruno Pucci and Katie Lee.
A fourth Lee sibling is also coming off the production line – her 17-year-old brother Adrian Lee won an amateur MMA title in Hilo, Hawaii, on December 18. Victoria posed for a photo with him, in her final Instagram post, after his victory.
"Super proud of my little bro," she wrote.
She was also a proud aunt to one-year-old nieces, Ava Marie Pucci and Alia Mae Lee, who wore born within weeks of each other in April 2021.
I was lucky enough to give a 16-year-old Victoria her first interview, in September 2020 after she signed with ONE. I was asked by ONE's PR to send my questions ahead of time. She was understandably nervous, but still seemed remarkably composed for someone of her age.
"I have very big shoes to fill," she told me, with that big, trademark smile. She was always smiling.
Angela, who was pregnant with Ava Marie at the time, soon told me her younger sister was even better than she was at the same age. Quite something, given that the ONE atomweight queen became the youngest MMA world champion in history, aged 19, in May 2016.
"No way, no way," Victoria told me. "My sister, she's very … no. She's way better than me, I can't accept that."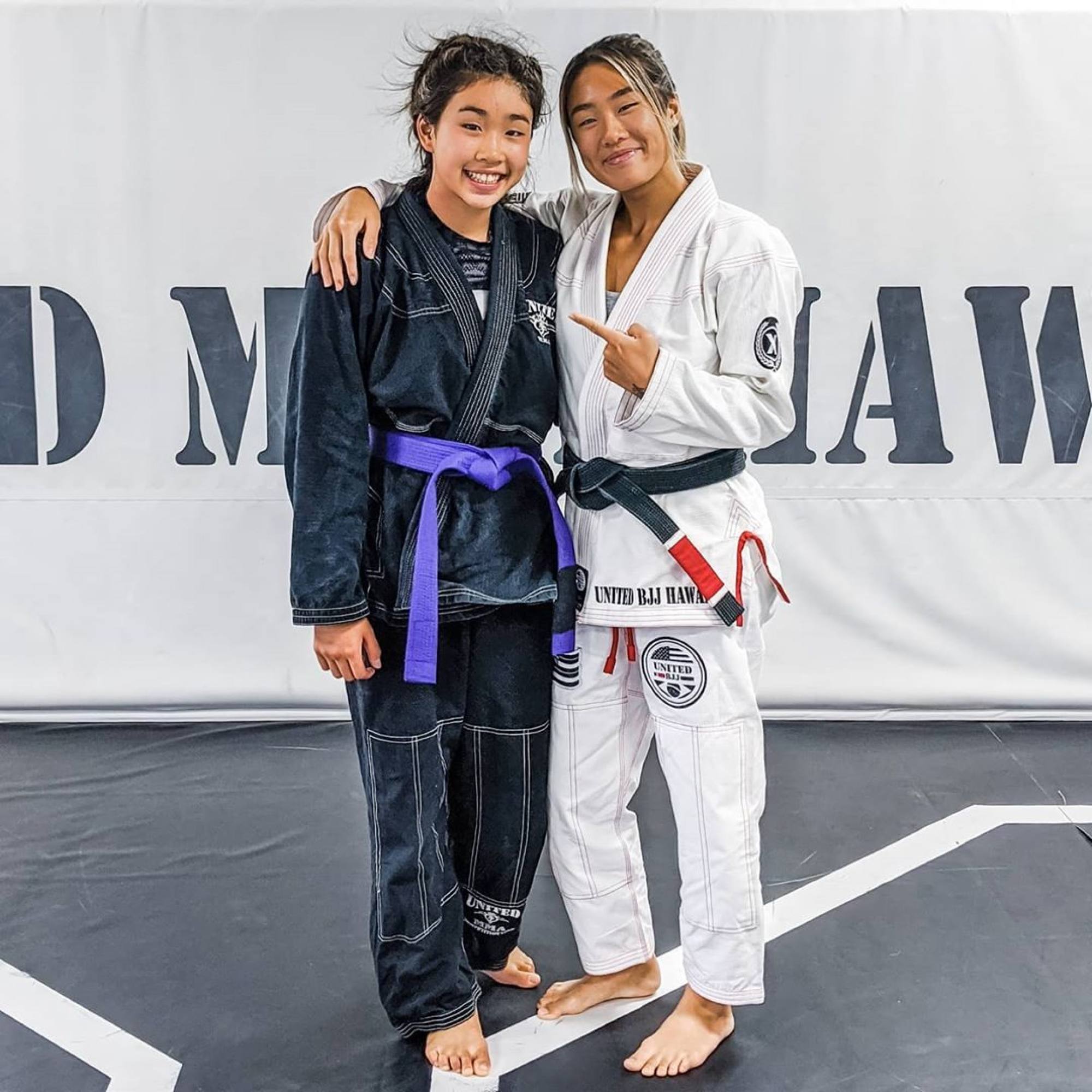 Victoria made her professional MMA debut with ONE in February 2021, defeating Thailand's Sunisa Srisen by submission with a rear-naked choke in just over a minute.
"I was very impressed with Victoria's incredible performance," ONE chairman and CEO Chatri Sityodtong said after the fight. "I still can't believe Victoria is only 16 years old. When I was 16 years old, I couldn't even tie my shoelaces.
"She definitely lived up to the hype. Without a doubt, Victoria Lee is the next big thing in martial arts."
Her second fight came in July the same year. She scored another quick submission with an armbar against China's Wang Luping in less than four minutes.
She made her third walk to the ONE Circle two months later, and it was a familiar tale – she defeated Victoria Souza of Brazil by first-round TKO.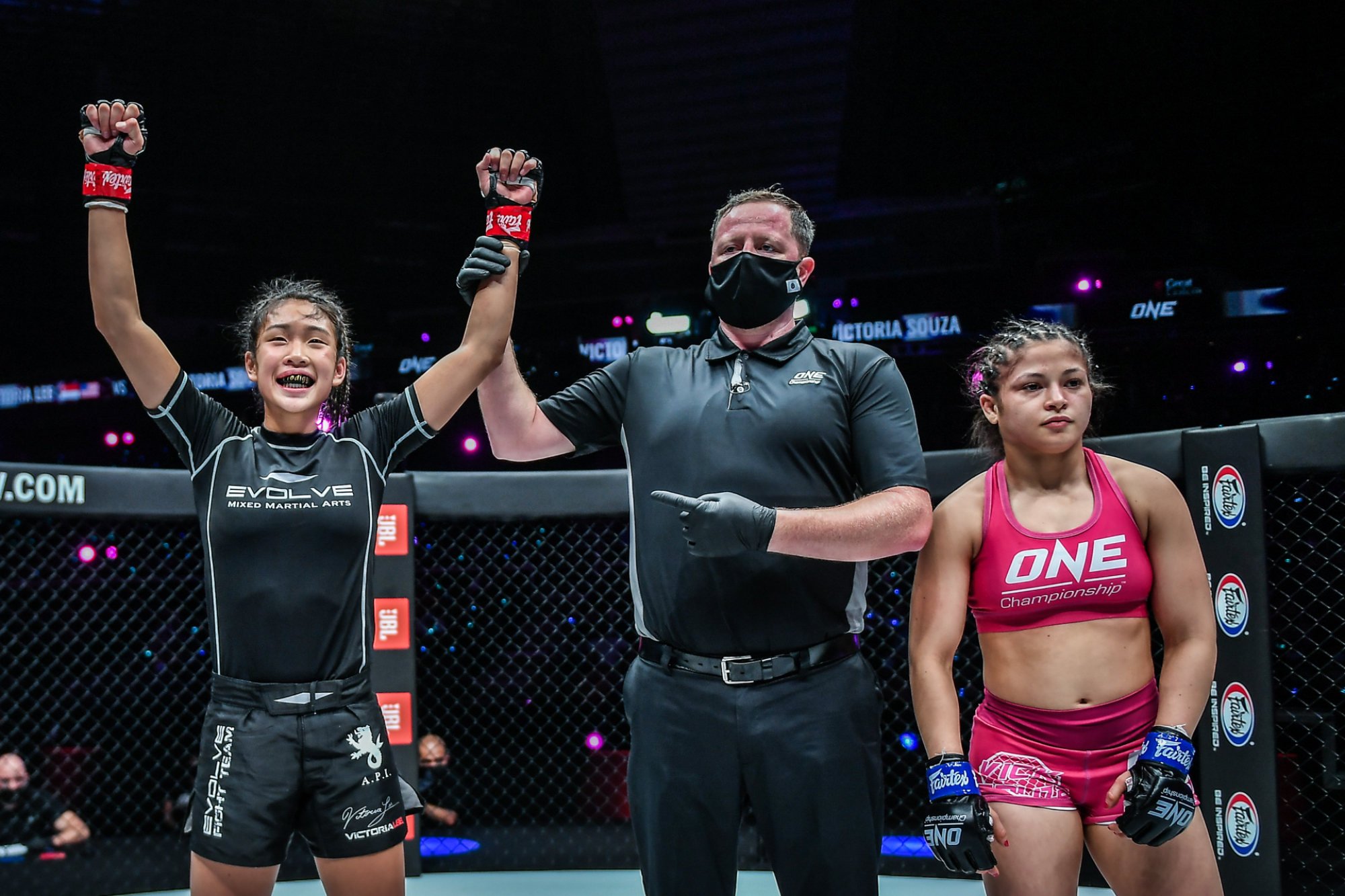 I interviewed Victoria Lee five times in all. She was always impossibly polite and disarmingly nice – at complete odds with the mean-mugging beast who blitzed through her opposition in the ONE Circle.
She put the brakes on her burgeoning fighting career after that third victory to focus on graduating from Mililani High School, where she was a popular student and got good grades, in June 2022.
"When I was fighting throughout the school year, it was definitely pretty difficult to juggle, like the timing of school and training, as well as the homework," she said at the time.
"So now, it's nice to have all that time in the day just to train. Now I get to focus on just training and it's just a way more enjoyable experience."
The break also seemed to have done her some good in other ways, according to her older brother, who felt she was rejuvenated ahead of her impending return to action.
"Fighting three times, being so active at such a young age. I think it's good to just take some time off, just relax, get away from the sport," Christian said of his younger sister in a recent interview.
"Then when it comes back to you, when you have the fire, when you wanna go back into the Circle and you take another fight. That's what happened with Victoria."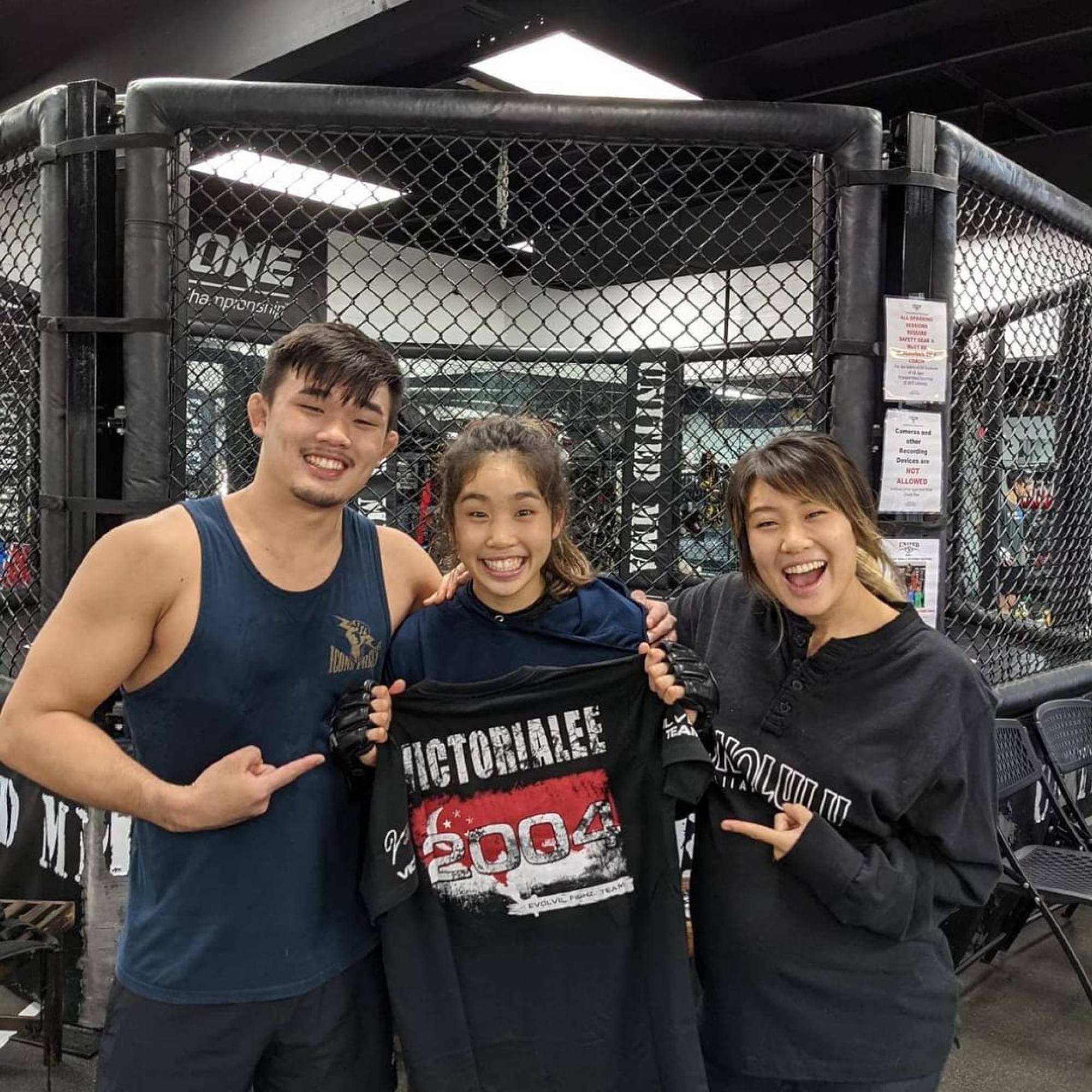 Even though she wasn't fighting, she was still training harder than anyone at her family's United MMA gym.
"I'm really proud of how hard she's working every day," Christian said last year. "She's really just putting her head down and just putting in the work.
"She's in the gym for like six hours a day. She's training more hours than any of us. Between me and my sister [Angela], [Victoria's] really just always in the gym, always working and I think it's really showing."
It really did look like we were going to see an upgraded "Victoria Lee 2.0" in Bangkok – a scary prospect for everyone in her division.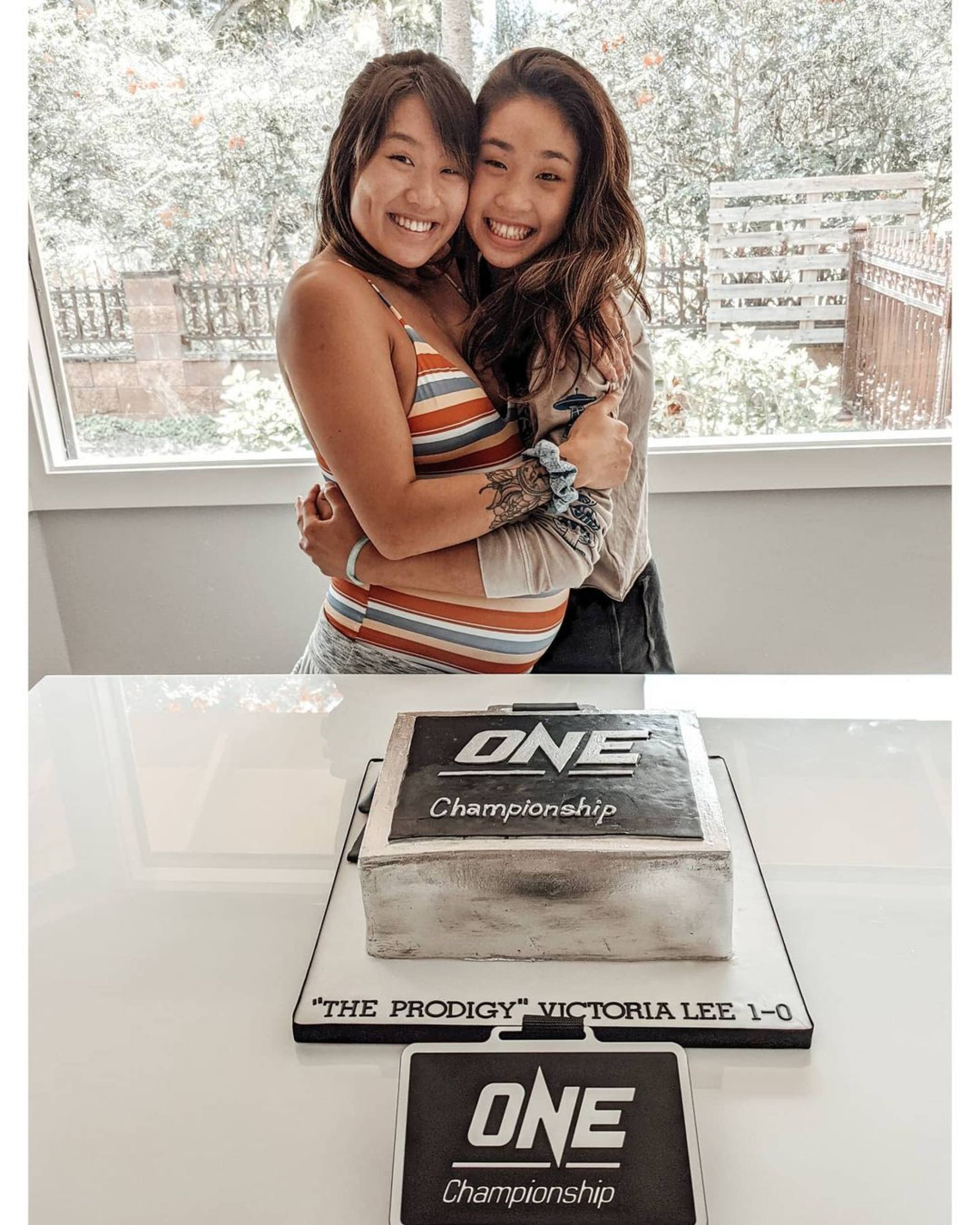 But now we will not see how good she would have been. We will not see her lift that world title in the air, or set those records she would have set.
Following in Angela and Christian's footsteps would certainly have been daunting, but few people in the know doubt that Victoria would have been a future champion in ONE.
A prodigy, indeed.
Everyone in the ONE Championship world will miss Victoria Lee. Her time in the Circle was brief, but beautiful. We are all lucky we got to watch her and get to know her as much as we did.