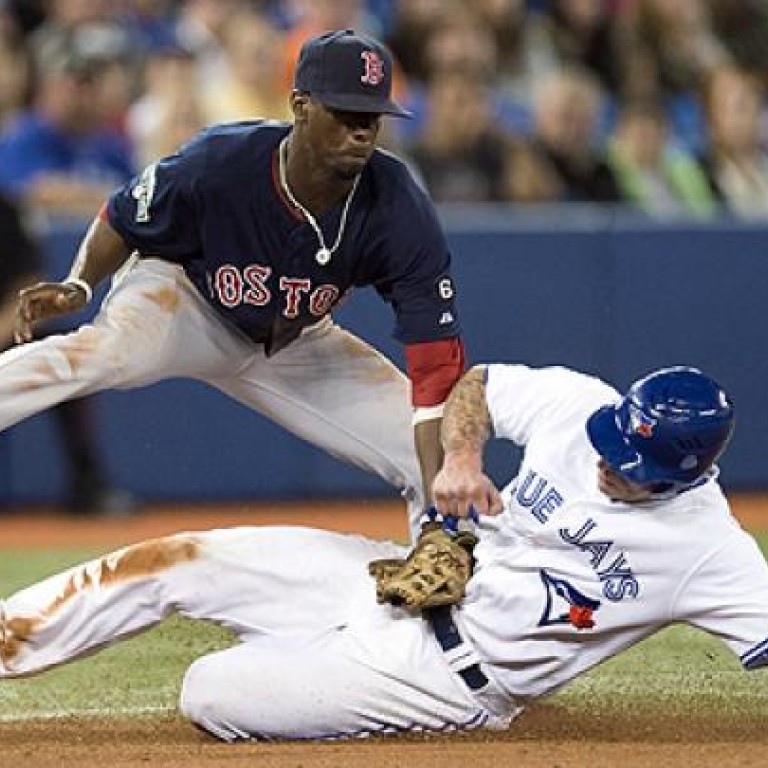 Red Sox win second straight, beat Blue Jays 3-2
As a tumultuous and disappointing season draws to a close, the Boston Red Sox are starting to see hopeful signs for the future.
Pedro Ciriaco drove in the tiebreaking run with a two-out double in the ninth inning on Saturday, Cody Ross hit a solo homer and the Red Sox won their second straight, beating the Toronto Blue Jays 3-2.
"It's a good sign we're not laying down and dying," said catcher Jarrod Saltalamacchia, who scored the go-ahead run. "We're continuing to fight even though we're as far out as we are. It shows a lot about this team. It's a good sign."
The victory moved Boston out of last place in the AL East, percentage points ahead of the Blue Jays, who have played two fewer games.
After stranding runners at third base three times in the previous five innings, the Red Sox finally broke through in the ninth. Saltalamacchia led off with a double against Steve Delabar (4-2), Ryan Lavarnway struck out and Saltalamacchia moved to third on Mike Aviles' flyball. Ciriaco followed with a double to left.
Manager Bobby Valentine praised Ciriaco, whose hit boosted his average to .300.
"His at-bats are as good as anyone on the team," Valentine said. "Everyone knows he can hit a fastball and he hits a 2-1 breaking ball. He's a good player."
Craig Breslow (1-0 AL, 3-0) worked one inning for the win and Andrew Bailey finished for his fourth save in five chances.
"I wish I had him all year," Valentine said of Bailey, who missed 116 games after right thumb surgery. "He's pitching with confidence. He's not afraid to challenge a hitter."
Bailey said the experience Boston's young players are getting this year could be beneficial next season.
"Those younger guys are definitely learning some great experiences and great things going into next year that will help us out in whatever role they play."
Boston's past three victories have seen the winning run scored in their last at-bat. Jacoby Ellsbury singled home Ciriaco in the ninth inning of Tuesday's 4-3 win over the Yankees, and Mauro Gomez hit a two-run triple in the ninth inning of Friday's 8-5 win at Toronto.
The Red Sox loaded the bases with two outs in the eighth but failed to score. Delabar fell behind 3-0 on Ross but came back to strike him out, then got James Loney to pop up to end the threat.
Boston also stranded runners at the corners in the fourth and left a runner at third in the seventh.
The Blue Jays took the lead with a two-out rally in the first. Edwin Encarnacion walked, went to third on Adam Lind's double and scored on Yunel Escobar's single. Third base coach Brian Butterfield waved Lind home as well, but Lind was thrown out at the plate to end the inning.
Ross tied it with a leadoff homer in the second, his 21st, and the Red Sox took a 2-1 lead in the fourth on Saltalamacchia's two-out RBI single to centre.
Toronto tied it again in the fifth. Anthony Gose led off with a single and stole second before Rajai Davis reached on a fielding error by Ciriaco. Both runners moved up on Brett Lawrie's sacrifice bunt and Encarnacion was walked to load the bases for Lind, who hit a sacrifice fly to shallow centre, with Gose streaking home ahead of Ellsbury's throw. Ellsbury was charged with an error when the ball bounced away from Saltalamacchia, allowing the runners to move up, but Red Sox starter Clay Buchholz escaped by getting Escobar to ground out.
Buchholz failed to extend his six-start winning streak at Rogers Centre, giving up two runs, one earned, and four hits in seven innings. He walked five, one intentional, and struck out five.
"He threw the ball exceptionally well," Valentine said. "Good fastball down, really good curveball today and split."
Buchholz, who had lost three of his previous four starts, was encouraged by the strong outing.
"It feels good," he said. "It's a shame it didn't happen at the beginning of the season when I wanted it to, or expected it to."
Toronto's Carlos Villanueva, who had won just once in his previous eight starts, didn't figure in the decision but was sharp in this one, matching his longest start of the season by allowing two runs and four hits in seven-plus innings. He walked two and struck out six.
"He's been very consistent," Blue Jays manager John Farrell said. "On the days he starts for us, he's dependable. We know what we're going to get from Carlos and that's typically four pitches for strikes and keeping the game in control and he did it again today."