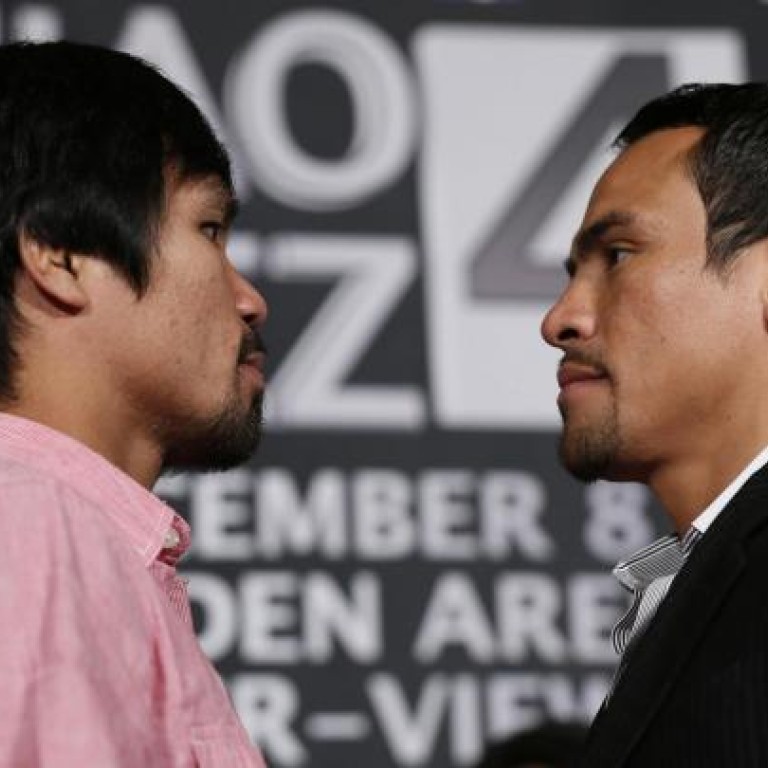 Manny Pacquiao prepares for Juan Manuel Marquez rematch in the US
Filipino superstar says jetlag will not be an issue as he sets up training base in California
Filipino superstar Manny Pacquiao won't have to worry about suffering from jetlag in the run up to his fourth fight against Mexican dynamo Juan Manuel Marquez.
Pacquiao says he is making major changes to his preparations this time for the December 8 non-title fight at the MGM Grand Hotel in Las Vegas.
Instead of starting training camp in his native Philippines then shifting to trainer Freddie Roach's Wild Card gym in Hollywood for the final weeks, Pacquiao plans to do all his sparring at the southern California facility.
"No days will be wasted travelling between training camps in the Philippines and California," Pacquiao said.
The two boxing warriors kicked off a three-city promotional tour on Monday by staging a news conference at the Beverly Hills Hotel. The tour continues with another news conference today in New York.
The contest at the MGM's Grand Garden Arena will be the fourth fight in the intense rivalry between the two boxing champions. Pacquiao says this time he won't make the mistake of underestimating Marquez.
"I underestimated him in our last fight," said Pacquiao. "I will make the most of every training day to prepare for Juan Manuel."
Between them, Pacquiao and Marquez have won world titles in 12 weight divisions. The Grand Garden was the scene of their first and third fights. Pacquiao beat Marquez in a majority decision in November - a third gut-wrenching result for Marquez against his Filipino foe.
In the build-up to that fight, Marquez had taunted Pacquiao with claims that he was the true winner of their first two clashes - a 2004 draw and a 2008 rematch.
"I am very excited to be fighting Manny again," Marquez said. "I beat him the first three fights but did not get the decision; this time I will beat him again and I also will get the victory officially."
Pacquiao's seven-year, 15-bout win streak, was snapped in June when he lost a controversial split decision to Tim Bradley.
Marquez is one of a handful of Mexicans to have won world titles at four different weights.
He lost his World Boxing Council title in the 2008 rematch with Pacquiao by a split decision that was decided by just one point on the judges' scorecards.
"This fight I truly believe will be the best of the four that these two great warriors have engaged in … both Pacquiao and Marquez want to win decisively to erase any doubts," promoter Bob Arum said
This article appeared in the South China Morning Post print edition as: Pacquiao resets his clock ahead Marquez bout