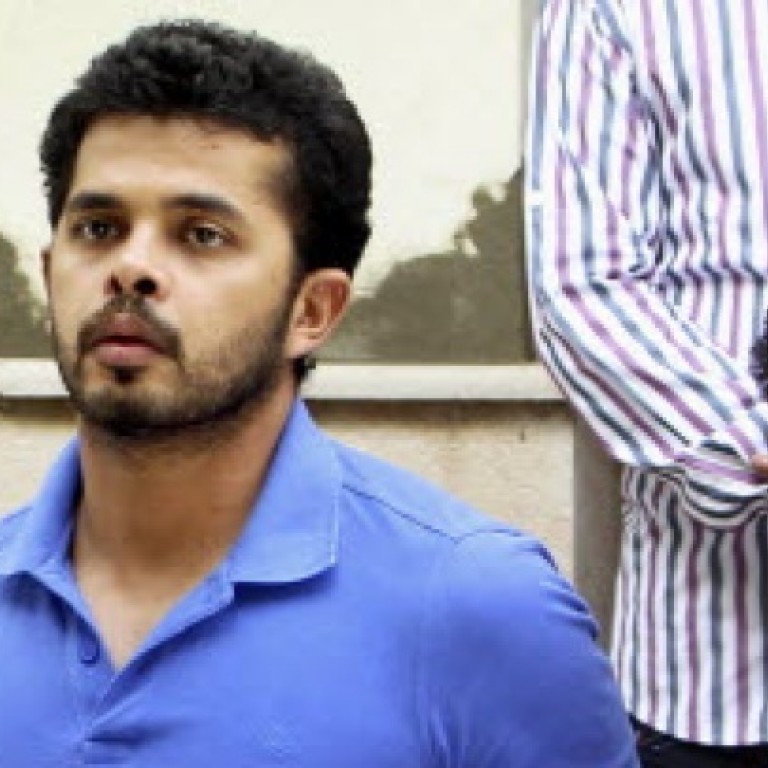 Sreesanth denies spot-fixing in Indian T20 case
India test cricketer Shantakumaran Sreesanth has denied spot-fixing after being arrested in a scandal in the cash-rich Indian Premier League, while he and two teammates from his Rajasthan-based team remain in police custody.
"I'm innocent and have done no wrong," Sreesanth said in a statement released through his lawyer. "I've never indulged in any spot-fixing."
Sreesanth said he was confident he would be proved innocent even though police claim to have enough evidence against the players.
"As a cricketer, I've learnt to take knocks along with accolades, in my stride," he said. "I recognise that I'm going through a tough period in my life. I have utmost faith in our judicial process and I'm confident that with time I'll be proved innocent, and my honour and dignity will be vindicated and restored."
Sreesanth was arrested last week along with fellow bowlers Ajit Chandila and Ankeet Chavan and provisionally suspended by the Board of Control for Cricket in India.
They are accused of conceding above a certain number of runs per over in exchange for up to US$110,000 each from gamblers.
Police claim they have evidence to prove the allegations, including recorded phone conversations with bookmakers and have also recovered two million rupees US$36,500 from a kit bag belonging to Chandila.
Over a dozen bookmakers and their associates have been arrested across the country over the past week, which include three domestic-level cricketers and Bollywood actor Vindoo Randhawa, who has been shown by television channels as watching an IPL game in the company of India captain Mahendra Singh Dhoni's wife Sakshi.
Meanwhile, two Public Interest Litigations have been filed in different courts asking for the government to take over private bodies BCCI and IPL arguing that they have failed to promote the game.
The Delhi High Court said Wednesday it will hear a petition filed by a non-government organisation on August 23 while the Madras High Court has asked the sports ministry, BCCI president Narainswamy Srinivasan and IPL commissioner Rajeev Shukla to respond by June 6 to a case filed by an advocate.
Earlier on Tuesday, the Supreme Court had asked the BCCI to complete its internal investigation within two weeks after a similar PIL filed in New Delhi asked for the IPL be banned.
Twenty20 cricket in India has been hit by reports of spot-fixing in the past too.
Last year, little-known allrounder T.P. Sudhindra was handed a life ban after he was shown in a sting operation by India TV as agreeing to bowl a no-ball at a predetermined time in a local T20 game in the central Indian city of Indore.