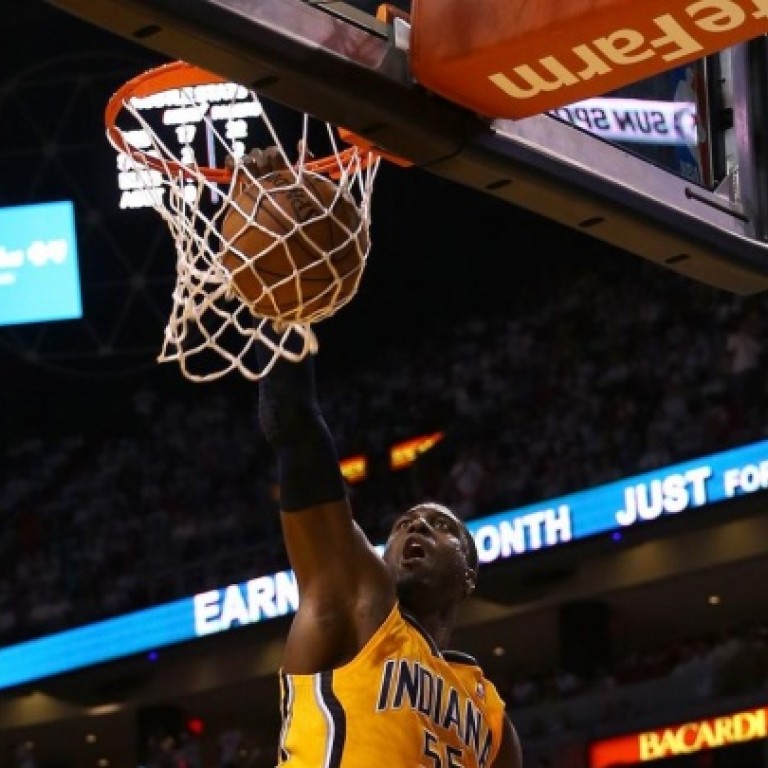 Pacers gain edge over Miami 97-93 in Eastern Conference final series
West's double-defensive plays for Indiana force LeBron turnovers in last minute, which sees Miami lose home-court advantage in game two
David West was more than a little disappointed when the Indiana Pacers failed to make a defensive play at the end to win game one of the Eastern Conference finals. So in game two, he made those plays himself. Twice, in fact.
And the game's best player was his victim as he made them happen.
LeBron James had two turnovers in the last minute - both when passes that he called "careless" were broken up by West - and the Miami Heat lost both a game and the home-court edge in the series.
Roy Hibbert scored a post-season career-high 29 points and grabbed 10 rebounds as the Pacers beat the Heat 97-93 in game two of the East finals.
"I made two mistakes tonight that hurt our team," James said. "And that hurt more than anything. I let my teammates down. They expect me to make plays down the stretch and I had the ball with an opportunity to make a couple plays, and I came up short.
"That burns, but the best thing about it is, this isn't college. It's not one loss and you're done. I have another opportunity to get better in game three."
James led all scorers with 36 points, but his night will be remembered by the two passes where he tried to find Ray Allen and was denied by West's hand both times.
With Indiana up 95-93, West intercepted a pass that James tried to swing toward Allen with 43 seconds left. Indiana didn't cash in on that mistake, instead turning the ball over with a shot-clock violation.
However, on the next Miami trip, West denied James again.
James drove to the right block, spun and tried passing out toward the perimeter. West got his right hand on that pass, knocking it off course and into the hands of George Hill, then extended his hand skyward.
The Pacers - just as they did in the second-round series last year - knew they were winning game two in Miami. Hill made two free throws with 8.3 seconds left to clinch it, and just like that, the series was tied.
In game one, Miami won it with James coming through at the end, but in game two, the Pacers simply took away the MVP's opportunity.
"We've been able to maintain our composure throughout the year," West said. "That's helped us throughout these playoffs and especially in environments like these."
Paul George scored 22 points, Hill added 18 and West finished with 13 for the Pacers, who handed the Heat just their fourth loss in their past 50 games, closed the game on a 13-5 run and denied one of the game's best play-makers twice in the final moments.
"There's only like one person that's more scarier than that," Hill said, speaking of James. "And that's, you know, God."
The series resumes with Game 3 tonight in Indianapolis.
"It's one of the best basketball games I've ever been a part of," Pacers coach Frank Vogel said. "It wasn't about LeBron making mistakes down the stretch. He played one of the best basketball games I've ever seen anybody play. We were just able to make a couple plays late in the game."
The Heat got 17 points from Chris Bosh and 14 from Dwyane Wade and led by four in the fourth quarter after trailing by as many as 13 in the early going. And afterward, they said there was no problem with James' passes.
"Nothing broke down," Wade said. "He's going to be hard on himself. He saw guys open, but West was able to get his arms out there at the last moment."
The Heat trailed for virtually all of the game's first 30 minutes, then tied it three times in the third quarter, but Indiana always had a response. "We had our chance tonight," Bosh said. "We just didn't finish the game like we're capable of," Heat coach Erik Spoelstra said.
"Heck of a basketball game, wasn't it?" Vogel asked afterward.
This article appeared in the South China Morning Post print edition as: James' errors allow Pacers to grab an edge