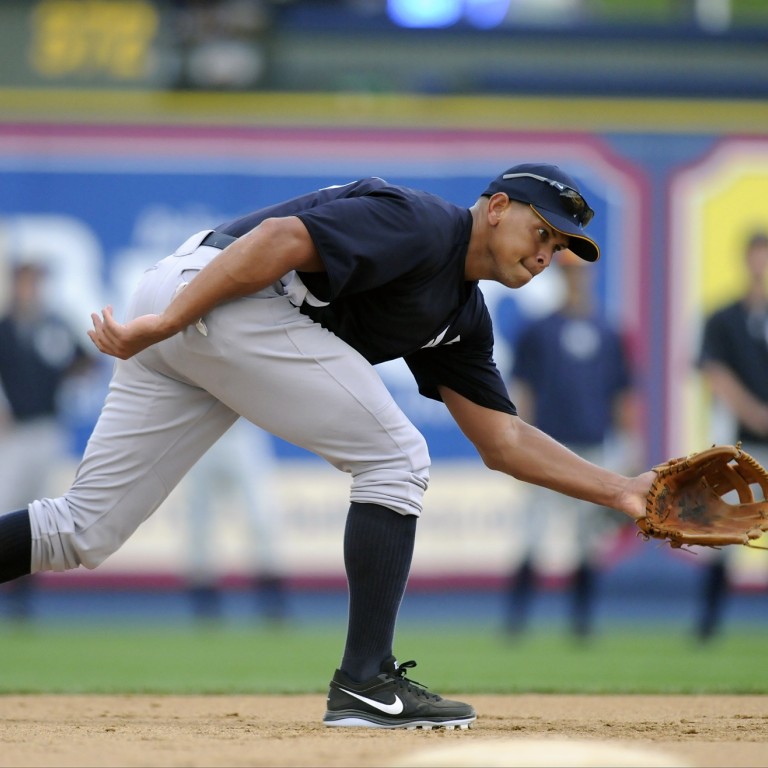 Rodriguez hits home run in first rehab appearance
Alex Rodriguez "checked a lot of boxes" on Monday during his first rehab appearance with the Double-A Trenton Thunder.
He ran the bases, was tested in the field several times and engaged in a lively 12-pitch at-bat with Reading left-hander Austin Wright.
And he also did something he hadn't done in a months - he homered.
"It's been a long time," said Rodriguez, who couldn't remember the last time he hit a home run.
He struggled in the American League playoffs last fall with the New York Yankees, and hadn't done much at the plate during his first eight rehab appearances over the last two weeks following offseason hip surgery.
On Monday he went 2 for 4 and played seven innings in the first of what could be three games with the Yankees' Double-A Eastern League affiliate. The Thunder beat the Reading Fightin Phils 6-5.
The 37-year-old, 14-time All-Star was happy with every aspect of his game Monday, but especially so with his 400-foot, two-run homer to left in the fifth inning, in his third at-bat against the 23-year-old Wright. It was his first home run since Sept. 14 last season against Tampa Bay.
"To take a mid-90s fastball and hit it that way, I certainly was not able to do that the last two or three months of the season last year," Rodriguez said. "That's definitely a good check in the box.
"Yeah, that one felt really good. It felt pretty awesome. I'm very happy with that. The ball is definitely coming off the bat different (than it was last week)."
Despite looking so good on that swing, Rodriguez said he'll need the entire 20-day rehab period that began July 2 before he's ready to return to the Yankees.
"[I'm] about six days away," he said. "I think I'm par for the course. It's a process, it's one step at a time. Tonight was by far the best I've felt."
Before the game, Rodriguez met with about 20 media members and for the first time admitted that he failed to show up for a scheduled rehab game last Friday in Tampa, but said there is no riff between him and the club.
"Whatever I do with the organisation, I will definitely keep private," he said. "But I will tell you I think over the last several weeks we have had very productive conversations and I think we're all aligned to come back on time and healthy."
Rodriguez met with investigators from Major League Baseball in Tampa on Friday to face questions about the Biogenesis probe. Team officials expected him to report for a game with Class-A Tampa but he was a no-show.
On Monday, he would not address the Biogenesis case or his meeting with MLB officials probing the closed anti-aging clinic.
"I can't touch that part," he said. "I appreciate you asking that question, but due to the process we're not allowed to talk about that, but will in due time I hope to."
Rodriguez has said he used PEDs while with Texas from 2001-03, but has denied using them since. He was linked to Biogenesis in a report in January by Miami New Times.
It is unknown whether Rodriguez refused to answer MLB's questions, but he struck an optimistic note when asked about the state of the game given the ongoing investigation.
"I think the game is in a great place," he said. "I love the game; I've been in love with the game since I was born. I've spent close to 20 years playing professionally. The game is doing well, and hopefully we can focus on all the great things that are going on and keep growing the game."