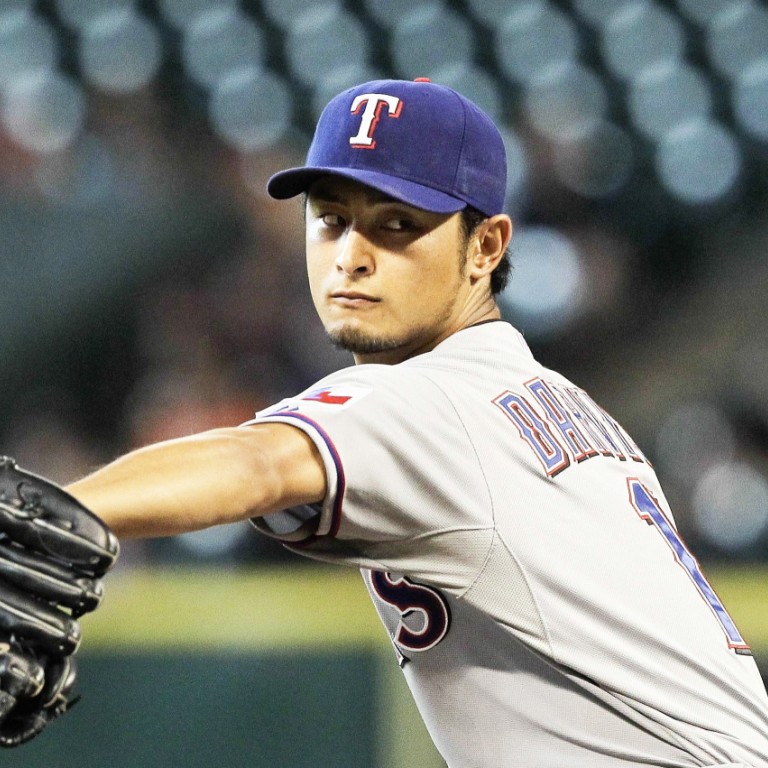 Darvish fans career-top 15 in no-hit try vs Astros
The Houston Astros and their rookie-laden lineup were once again no match for Yu Darvish.
Darvish was nearly perfect against the Astros for a second time, taking a no-hit bid into the eighth inning and striking out a career-high 15 to lead the Texas Rangers to a 2-1 victory on Monday for their eighth straight win.
The low-budget Astros have the worst record in the majors and are barreling toward a third 100-loss season. Their latest lineup featured five rookies and no player with more than two years of major league experience.
"He doesn't just have control. This guy has command," Houston manager Bo Porter said. "He can throw every pitch the way he wants to throw it, even out of the strike zone. Which, when you have that kind of repertoire, you're going to be up against it."
Darvish dominated the Astros until Carlos Corporan lined a home run into the right-field seats with one out in the eighth for Houston's only hit.
"It was nice. I got kind of excited because the guys' been unbelievable," Corporan said. "He's been changing speeds and working with his slider up, away, inside, under the dirt. I mean, I don't know. It's just, ha, he was pretty good today."
Outfielder Alex Rios chased Corporan's drive to the wall, but had to watch as it sailed about five rows into the stands. Darvish simply looked around, and then wiped his brow with his arm before preparing to throw his next pitch.
Corporan was glad he kept his team from being on the wrong end of a no-hitter, but didn't want to make too much of it.
"We lost the game," he said. "My home run doesn't mean anything because we lost the game."
The loss extends Houston's losing skid to a season high-tying six games.
Until the homer, Houston's lone runner came when rookie Jonathan Villar drew a two-out walk on a full count in the sixth. Texas catcher A.J. Pierzynski was ejected for arguing with plate umpire Ron Kulpa on a 2-2 breaking pitch he called low.
In early April, Darvish (12-5) was one out away from a perfect game at Minute Maid Park before Marwin Gonzalez singled between his legs.
This time, the two-time All-Star ace from Japan was equally sharp. Darvish retired the last two batters in eighth and exited, having increased his major league-leading strikeout total to 207.
Darvish struck out 14 in four prior games this year, including his earlier gem at Houston. The Astros haven't been able to do anything against Darvish at home this season where he is 3-0 with a 1.52 ERA and 37 strikeouts in three starts.
Joe Nathan pitched a perfect ninth for his 35th save.
The AL West-leading Rangers took a quick lead over the last-place Astros. With two outs in the first, Ian Kinsler and Adrian Beltre doubled and Pierzynski hit an RBI single off Brett Oberholtzer (2-1).
Oberholtzer yielded seven hits and two runs with six strikeouts in 6 2-3 innings for his first loss in three major league starts.
The Houston hitters had no such luck with Darvish.
"He just was tough today," Houston centre fielder Brandon Barnes said. "He had command of every pitch he had. When a guy has command of six or seven pitches, it's tough to try to just sit on one."
Darvish was strong from the start relying mostly on a four-seam fastball, sliders and a cutter against the Astros' inexperienced lineup. He struck out the side in the first inning before getting two fly outs and a ground out in the second.
The 26-year-old righty fanned two each in the third and fourth innings, struck out the side in the fifth and the first batter of the sixth inning. His strikeout of Chris Carter to start the fifth was his 200th of the season, giving him a team record for fewest games (23) needed to reach the mark.
In the sixth, Darvish started walking off the mound after his close pitch to Villar. Pierzynski also began heading to the dugout, but Kulpa said it missed.
After ball four, Pierzynski started yelling in Kulpa's face and was quickly tossed. Geovany Soto took over at catcher.
Darvish, a two-time MVP in Japan, flirted with perfection last Sept. 3, too, retiring the first 17 batters at Kansas City.