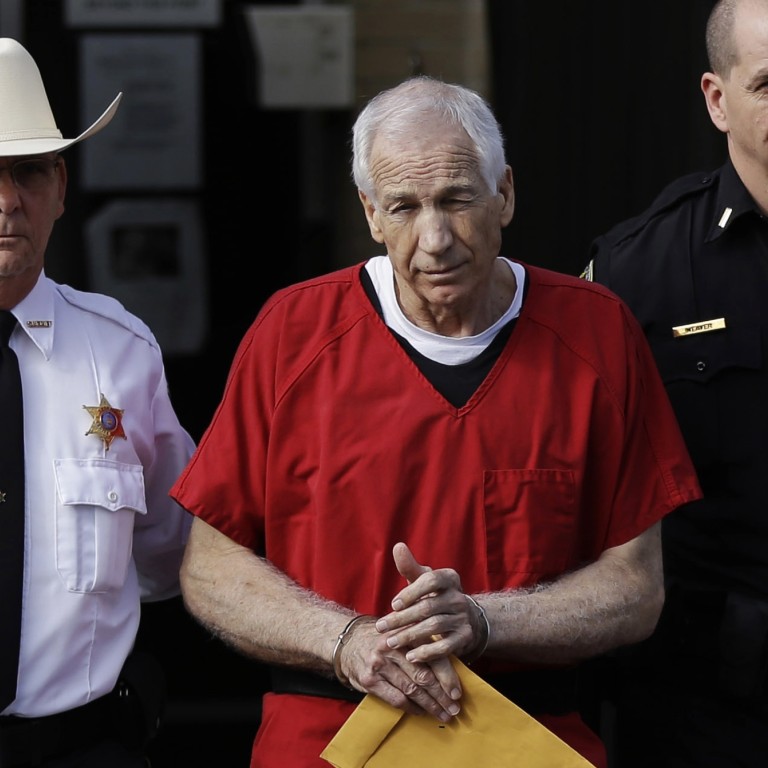 Former coach Sandusky seeks new trial in child sex abuse case
A lawyer for former Penn State football coach Jerry Sandusky, convicted of molesting young boys, argued on Tuesday that he deserved a new trial because the judge made several errors, including one that left the defence "flying blind" at the trial.
Philadelphia attorney Norris Gelman argued before a three-judge appeals panel in state Superior Court that Judge John Cleland, the trial judge, failed to instruct the jury that the boys did not make a "prompt report" of their sexual abuse, sometimes waiting more than a decade to speak with authorities.
"The time that elapsed between the molestation and initial report is striking," Gelman said.
The long delay could have drawn into question their credibility when the jury was deciding the case, Gelman said.
But one of the jurists on the appeals panel, Superior Court Judge William Platt, pointed out the "prompt report" legal argument did not apply to children or people without the capacity to make a prompt report.
Sandusky, 69, was convicted in June last year on 45 counts of child sex abuse for molesting 10 boys over 15 years, some in the football team's showers on campus. His victims accused him of fondling and oral and anal abuse.
He is serving 30 to 60 years in a state prison, much of it in solitary confinement. Gelman said Sandusky's wife, Dottie, who sat in the front row of the courtroom in Wilkes-Barre, visits her husband regularly.
Gelman argued that the judge waited until the last minute to order the prosecutors to turn over documents requested by the defence, which resulted in 12,000 pages of material landing on the defence team's desk six weeks before trial.
"We were flying blind," Gelman said.
Because there was so much material to digest, Gelman said, the defence did not have enough time to prepare and was hindered in its ability to question witnesses.
James Barker, chief deputy attorney general, noted the defence "never asked for a mistrial" during the trial, a textbook move by the defence when there are grounds to believe their client's rights have been violated.
As for the defence claims it needed more time to prepare, Barker said "they could have had all the time in the world and it wouldn't make a whit of difference."
"Our view is this is a solid conviction," Barker said outside the courtroom before a wall of television cameras.
The court may take months to hand down a decision.
Prosecutors at the trial in Centre County Court said the victims had reasons for not mentioning the abuse earlier, from shame to the fact they were young boys showered with gifts and that they feared Sandusky would be seen as more credible than his accusers.
Pennsylvania State University has reached settlements or tentative agreements with more than two dozen claimants.
The school, a powerhouse in the world of college football, has approved spending US$60 million for the payouts.
Late last month, Penn State reached a settlement with Sandusky's adopted son Matt, who is among the men who said they were sexually abused by him, a source said.
The scandal shined a light on child sexual abuse and raised pointed questions about the motivation of people who knew about Sandusky's behaviour but failed for years to report a top coach vital to Penn State's successful and lucrative football program.
Joe Paterno, the winningest coach in Division I college football history until he was stripped of more than 100 victories because of the scandal, lost his job at Penn State for failing to report Sandusky to authorities.
He died early last year at age of 85, about two months after he was fired.