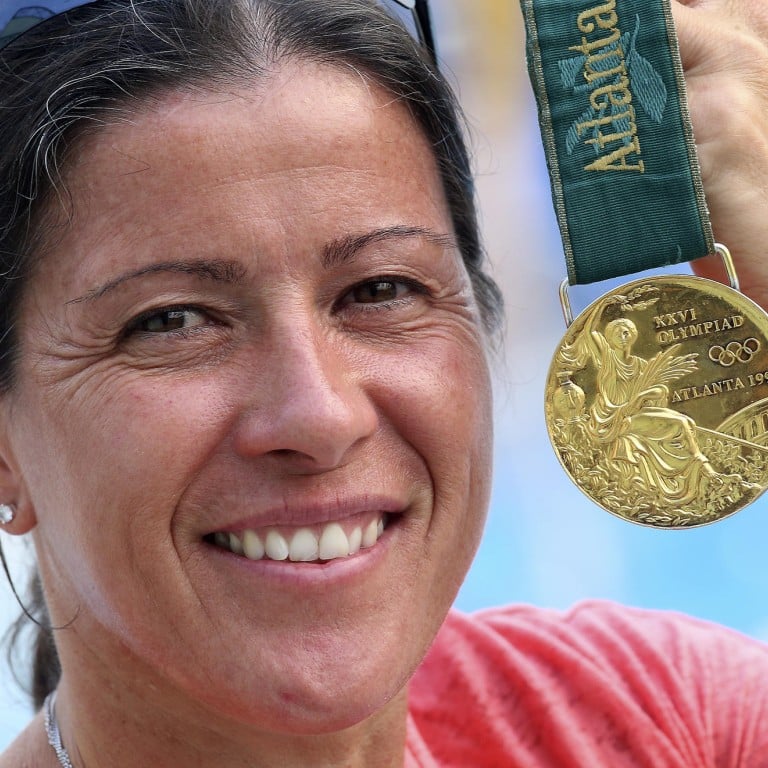 Four-time Olympian Sheila Taormina dives deep into the human soul
Sheila Taormina knows more about life than sport after defying convention in four Games
A four-time Olympian across three sports, gold medallist and world champion triathlete, Sheila Taormina ranks among the world's greatest athletes. When evaluating her own accomplishments, however, she prefers a different measure: her intimacy with defeat and insatiable curiosity for human potential.
"I have an Olympic gold medal, but I also know what it means to have come dead, dead last," said Taormina, 45, while visiting Hong Kong.
"We think it's about winning, but it's not. There is so much more to sport than a medal. It's about human potential, and never giving up," she says.
The American, now an author and a coach, was in Hong Kong to teach eager swimmers and triathletes the secrets of swimming fast, enshrined in her new book .
But her message for aspiring athletes was less about haste and more about being patient, methodical and committed.
"Some people are just natural talents … but for the average person, [being an Olympic athlete] is about giving that last 10 per cent."
Just shy of 1.61m tall, Taormina was the most unlikely Olympic swimmer. After two failed attempts to make the 1988 and 1992 US Olympic swim team, she began to believe she would never make it. Yet, curious to discover why a friend who, she joked, "was nothing special", had made the team, she began asking herself difficult questions.
"I wondered, what is it they have that I don't? I'd always been a hard worker, but when it came to the hard sessions, I always stopped short. I wondered, what would happen if I really gave 100 per cent?"
Answering that question spawned a 16-year Olympic career across three sports - swimming, triathlon and modern pentathlon - and twice as many disciplines. Swimming and cycling were required for triathlon, and fencing, equestrian showjumping, shooting, cycling and running for pentathlon. She excelled at all, posting a 10km personal best of just over 34 minutes in running, for example.
Taormina's tale is one of diversity, endurance and the will to never give up. And, although she won't admit it, one of an athlete with vast talent.
She was the master of intellectualising a sport. An MBA graduate with a background in the automotive industry, she applied production principles and Pareto's 80/20 rule to her many sporting endeavours.
"Only a few things in sport, around 20 per cent, will give you your greatest impact. I'd always ask, 'What are the vital elements? What can you not do without?'
"Understanding the production narrative - the elements that make something - is incredibly important. And if you understand that, you craft beautiful things."
And so goes Taormina's sporting career, a craft of art, chance and a lot of hard work. After retiring from swimming after the 1996 Olympics, Taormina signed up for a local triathlon to "lose a couple of pounds". A coach spotted her potential and mentored her through a successful triathlon career, including two Olympics and becoming the 2004 ITU world champion.
Then, just as she was ready to retire after her third Olympics, she was tempted by pentathlon and the prospect of making Olympic history by becoming the first woman to qualify in three sports. It meant learning three new skills (shooting, fencing and equestrian showjumping) in three years. A seemingly impossible feat.
But Taormina doesn't believe in impossible. "I don't think we always go down to our deepest parts. But you have to choose to. You can't do everything in life."
Taormina made her choice, throwing herself into yet another Olympic training routine. True to her talent, she transitioned into pentathlon effortlessly, winning the Pan Am Championship after just six months of training with a score that would have won the women's gold in the first two Olympics. Soon after, she placed third in her first modern pentathlon World Cup.
But her Olympic pentathlon debut at the 2008 Beijing Olympic Games was almost over before it began. In fencing, the first event, Taormina was defeated badly, finishing last, and a long way away from second last.
"I wasn't just last, I was dead, dead last," she said, recalling the tears and desire to quit. "My sister came down from the crowd and she looked at me and said - and I'll never forget it - 'It is not the spirit of an athlete to want. The spirit of an athlete is to fight. Just go. Fight. I've never seen you give up, and I'm not going to watch you today'."
For all her successes, Taormina's had to fight. Rejected by a resident Olympic training programme ahead of the 1996 Olympic Games, she trained before and after work with her small hometown swim team in Michigan with no corporate sponsors. Even then she only made the team by a margin of less than one-tenth of a second.
In triathlon, she repeatedly suffered from heat exhaustion and in her triathlon world cup debut she fell off her bike. She also had months off training with rhabdomyolysis - a breakdown of muscle fibres that causes kidney damage. But she persisted.
And when she decided to pursue pentathlon, none of her sponsors believed in her - a fair assumption given she'd never ridden a horse. So Taormina sold her house and backed herself in her attempt to achieve the impossible.
At times, she admits, her pursuits weren't entirely healthy. "Mentally, [competing] makes you tough, but it can go beyond healthy," she says.
"The last two [Olympics] were tough and sometimes I wished I hadn't gone that last four years, it took a toll.
"I was tired. But this was on a deep internal level. This was like I had worn down my body.
"I don't think our bodies can distinguish between physical stress and mental stress, and I was under a lot of mental stress."
Although she never planned to have such a long career, she believes it was the anticipation that she could still be better that drove her.
"It is wonderful to experience the process of inching closer to potential. But really, what sport has taught me is humility and gratitude.
"All I ever wanted, at the end of the day, was to be able to have a cup of coffee with my sister."
And that's what truly makes Taormina one of the greats.
This article appeared in the South China Morning Post print edition as: Olympic star dives deep into the human soul