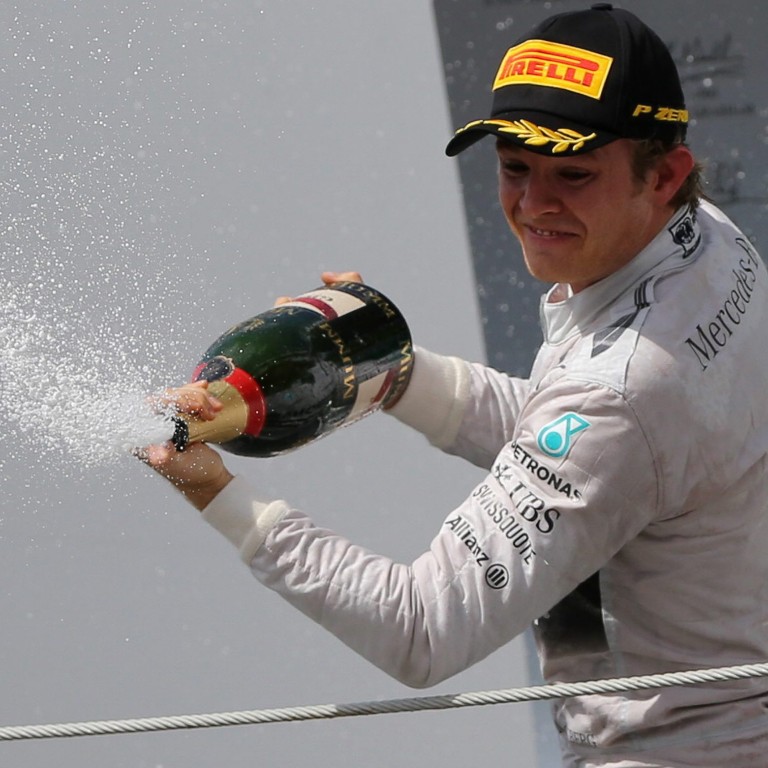 Nico Rosberg sets up last-day title showdown with Lewis Hamilton after Brazil win
Title race will go down to the wire in Abu Dhabi after German's thrilling victory over teammate in Sao Paulo
Germany's Nico Rosberg won the Brazilian Grand Prix on Sunday to end team mate Lewis Hamilton's run of five successive victories and cut the Briton's championship lead to 17 points with one race remaining.
Hamilton took the chequered flag 1.4 seconds behind after setting the fastest lap, with Mercedes breaking Formula One records with 11 one-two finishes and 30 podium placings in a season.
"It was a great weekend," said Rosberg, who started on pole position after lapping fastest in phase of qualifying at Interlagos.
"The whole weekend I've been feeling comfortable in the car, I was able to attack and control the gap to Lewis in the race so that worked out great.
"There's still all to play for. I just need to keep this going now," added the German, whose win made up for last weekend when he started on pole in Texas and lost out to Hamilton.
The final race at Abu Dhabi on November 23 will offer double points for the first time, and 50 for the winner, but Hamilton needs only a second-place finish to wrap up his second title.
Hamilton has 334 points to Rosberg's 317.
The team's victory equalled the record of 15 in a season held jointly by Ferrari and McLaren, with Rosberg now on five to his British rival's 10.
The two Mercedes drivers were in a race of their own on a sunny Sao Paulo afternoon
Hamilton's only scare came on lap 28 as he pushed to gain an advantage when Rosberg pitted, spinning and skidding off at turn four. That cost him seven seconds and a chance to win.
"I was much quicker up until that point and on that lap I'd gone a second quicker while Nico pitted," the Briton told reporters. "I thought I was going to pit at the end of that lap so I used everything of the tyres.
"The next lap I had nothing left."
After he pitted, the 2008 champion steadily narrowed the gap until the 'Silver Arrows' were just half a second apart. But Rosberg never allowed him to get close enough to make a move.
"It was an amazing race," said Hamilton, who had hoped to become the first British driver to win six races in a row.
Brazilian Felipe Massa returned to the podium in front of a cheering crowd with third place for Williams, 41 seconds behind despite a stop/go penalty for speeding in the pitlane.
TITLE PERMUTATIONS
Double points will be awarded for the first time at the season-ending Abu Dhabi Grand Prix on November 23 and the following are the permutations that could hand the title to either of the two contenders.
The points are normally awarded 25-18-15-12-10-8-6-4-2-1. In Abu Dhabi this will be 50-36-30-24-20-16-12-8-4-2.
Hamilton currently has 334 points, Rosberg 317.
HAMILTON WILL BE CHAMPION IF HE FINISHES...
First or second.
Third, fourth or fifth and Rosberg fails to win.
Sixth with Rosberg out of the top two.
Seventh or eighth with Rosberg not in the top three.
Ninth and Rosberg is not in the top four.
Tenth (or lower) and Rosberg is no higher than sixth.
ROSBERG WILL BE CHAMPION IF...
He wins and Hamilton is not second.
He finishes second and Hamilton is not in the top five.
He is third and Hamilton is out of the top six.
He is fourth and Hamilton is no higher than ninth
He is fifth and Hamilton is no higher than 10th.
Rosberg cannot win if he finishes sixth or lower.