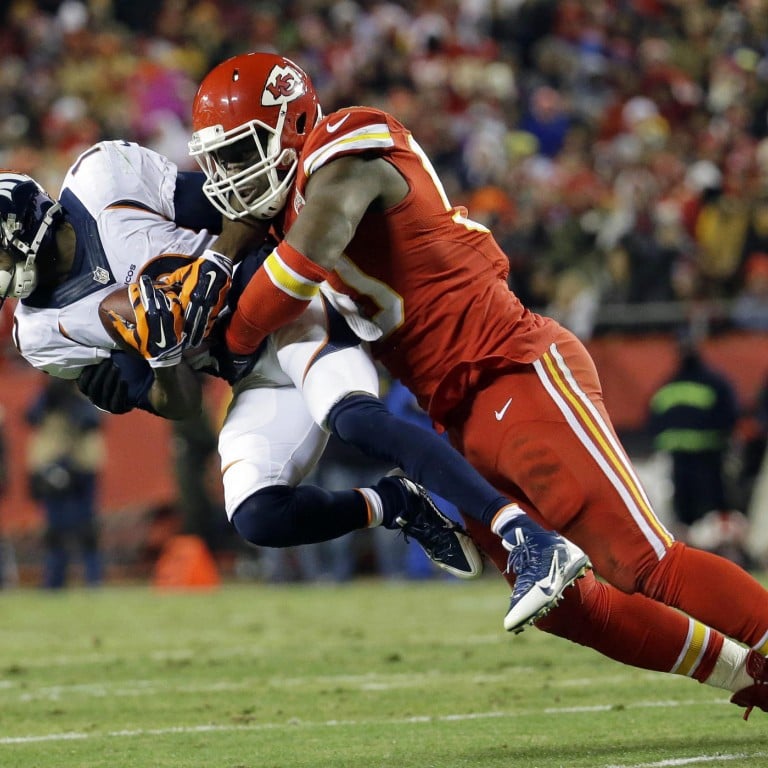 San Diego just have to win but Kansas City need others to lose to reach play-offs
But Kansas City need others to lose as regular season ends if they want to make the play-offs
The play-off situation could not be simpler for the San Diego Chargers: win and they're in.
It's a bit more complicated for the Kansas City Chiefs.
Not only do they need to beat their AFC West rivals for the second time this season when they meet at Arrowhead Stadium, they also need Baltimore to lose to Cleveland and Houston to fall to Jacksonville in a pair of games that will transpire at the exact same time.
It should make for a tense atmosphere and a lot of scoreboard watching, too.
"Certainly if it comes up, we'll be looking. But it's not going to change anything," Chiefs quarterback Alex Smith said. "We're all professionals. We're all playing, and we have a chance. We have to take care of our business, and in order to do that we have to have a good week, focus on our stuff and not be distracted by these other things."
The Chiefs (8-7) were play-off shoo-ins about a month ago, when they were 7-3 and eyeing the Denver Broncos atop the AFC West. A first-round bye was a better bet than missing the play-offs.
Since then, they've won just once in five games.
"I don't think you want to play that 'what-if' game," Chiefs defensive tackle Kevin Vickerson said with a shrug. "We're still fighting for a chance to get into the play-offs."
It's just that their fate lies in the hands of others. San Diego do not have that problem.
After the Chargers (9-6) snapped their own two-game slide with an overtime win over San Francisco last weekend, they know that a victory in the final week of the regular season - against the Chiefs, no less - will get them into the play-offs for the second straight year.
"That's what everybody works for all year long, to have an opportunity to advance," Chargers coach Mike McCoy said. "It's a big division game. We're very familiar with each other."
The Chiefs beat the Chargers on a last-minute field goal when they met earlier this season in San Diego. The Chargers beat the Chiefs in overtime last season, when they needed a victory in San Diego in week 17 to squeak into the play-offs.
"It's like last year all over again," the Chargers' Philip Rivers said. "The situation is different for them, but we had to beat them to get in and here we are again. We have to beat Kansas City to get in. It's a team we know well, they know us well.
"I don't know exactly what has to happen for them," Rivers added. "And regardless of whether they're alive or not we know we're going to get their best."
The play-off fates of both teams will be the predominant story line this weekend, but there are a handful of intriguing subplots that affect teams and individuals in the play-off chase.
Chiefs linebacker Justin Houston has a league-leading 18 sacks, two shy of the single-season franchise record set by Derrick Thomas in 1990. He brought down Rivers once when the teams met in October. "You have to account for him," Chargers coach Mike McCoy said.
Chargers tight end Antonio Gates is also hoping to reach a landmark. Gates needs one touchdown reception to become the ninth player in NFL history with 100. He has 93 catches for 1,167 yards and 15 scores in 19 career games against Kansas City, the most touchdowns he's scored against any opponent.
Chargers' cornerback Brandon Flowers, who was cut in a cost-saving move last off-season, will return to Arrowhead Stadium for the first time. Flowers spent the first six years of his career with the Chiefs, going to the Pro Bowl last year.
"I loved every second of Kansas City. That's where I thought I was going to spend the rest of my career," he said. "I'm in San Diego now and I love every second of being over here."
Rivers, meanwhile, will be looking to reach the three touchdown passes he needs to match his career high set in 2008. He also needs five yards passing for his sixth career 4,000-yard season. "He's really good," Chiefs defensive tackle Dontari Poe said. "Gets the ball out of his hands really well."
Despite losing safety Eric Berry, linebacker Derrick Johnson and defensive tackle Mike DeVito, the Chiefs are still seventh in the league in defence and second against the run. "I think everybody just picked their game up," Chiefs coach Andy Reid said. "They've responded."
This article appeared in the South China Morning Post print edition as: Chargers face simple win formula