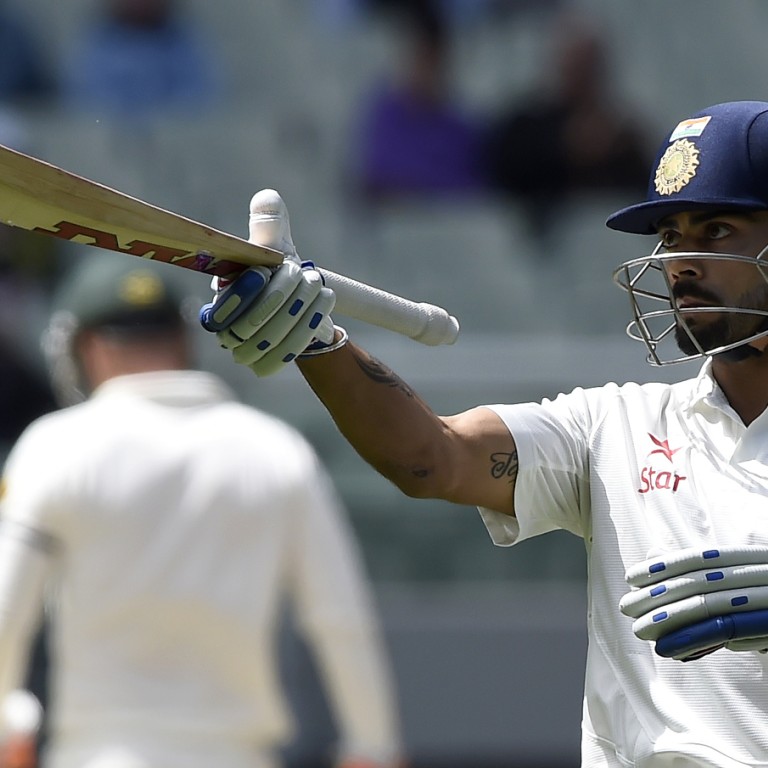 Aggression key for new India skipper Virat Kohli
Mahendra Singh Dhoni's successor is bringing with him a reputation for an attacking style that may help his side's poor touring record
Firebrand batsman Virat Kohli is likely to instil a new aggression in the Indian team as he assumes the captaincy of a test side badly needing to start packing a punch on their travels.
Dubbed by some opponents as a "spoilt brat", the 26-year-old has been tasked with leading a team that last won a test series away from home back in 2011 against the West Indies.
Kohli, who is taking over from Mahendra Singh Dhoni for the fourth and final test in Sydney, has been one of the few batsmen to emerge with credit from the tour in Australia which again saw India suffer a resounding series defeat.
The loss of the Border-Gavaskar trophy follows series defeats in England and New Zealand earlier this year for a team that were ranked the best in the world little more than three years ago.
The team's shortcomings were first exposed in England in the summer of 2011 when they suffered the first of two back-to-back whitewashes. Australia dished out the second hiding.
But while other batsman such as swashbuckling opener Shikhar Dhawan and the usually solid Cheteshwar Pujara have struggled Down Under in recent weeks, Kohli has scored three centuries - and got under the Australians' skin in the process.
"They were calling me a spoilt brat, and I said maybe that's the way I am," Kohli said in Melbourne on Sunday after a spat with express bowler Mitchell Johnson. "You guys hate me and I like that. I don't mind having a chat on the field."
Kohli's immediate task will be to lift the sagging morale of the team who have just one more game to salvage a modicum of pride before starting their defence of the ODI World Cup under Dhoni's stewardship.
For the moment, his appointment is as interim skipper but he has long been widely seen as the natural successor of Dhoni who was the most successful test match skipper in India's history.
The timing of Dhoni's announcement took many by surprise although, at 33, he had been tipped by many to stand down once the series was over.
The right-hander Kohli has emerged as India's leading batsman following the recent retirements of a string of greats including Sachin Tendulkar, Rahul Dravid and VVS Laxman.
From 32 tests so far, Kohli has aggregated 2,354 runs at an average of 44.41 with nine hundreds and 10 half-centuries.
He has been the vice-captain and led India in the first test against Australia with Dhoni nursing an injury.
Kohli, who has been romantically linked with raven-haired Bollywood actress Anushka Sharma, is popular with many fans despite his somewhat brash reputation.
Even Indian batting great Sunil Gavaskar has been moved to voice his disapproval of Kohli's aggressive approach in Australia, saying he was "not sure it was the wisest thing to do".
But Sourav Ganguly, another former skipper who managed to famously rile the Aussies, is a fan of Kohli's no-holds barred approach. "I like his [Kohli's] passion. You've got to have passion," said Ganguly. "It should mean something to you, any job you do. I like him, I like what I see."
This article appeared in the South China Morning Post print edition as: Aggression key for new India skipper