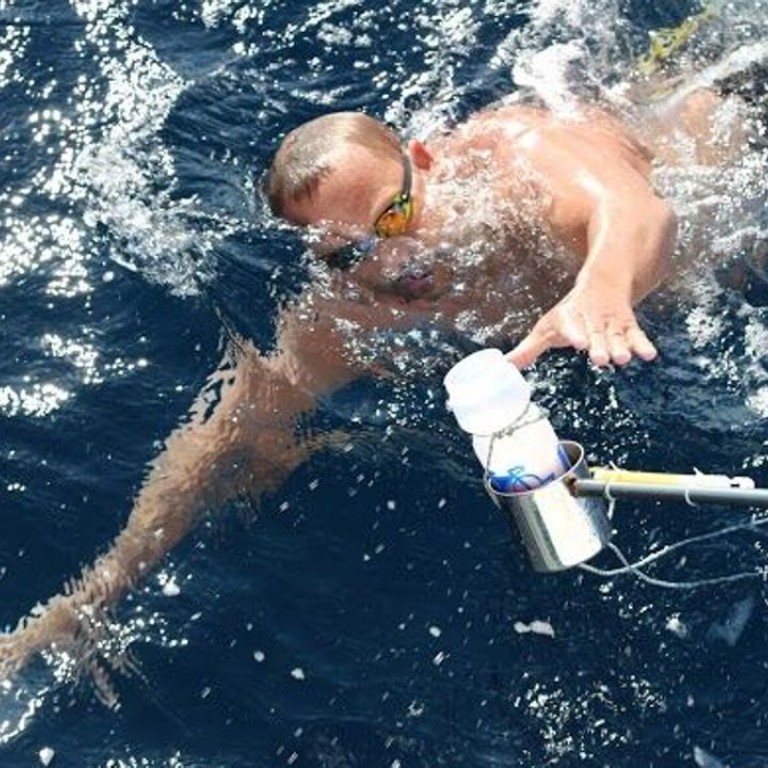 Cold comfort – Hungary's Attila Manyoki using Hong Kong Cold Half race to prepare for Europe channel swim
Open Water star says 'lukewarm dash' is good practice for taking on distance between Scotland and Northern Ireland
The 15-kilometre Cold Half in Hong Kong may be the coldest and most challenging ocean swim in Asia, but for Attila Manyoki it's more like the "lukewarm dash". The Hungarian marathon swimmer will take part on Saturday in just swimming trunks, claiming the race is "not long" and the water is "comfortable".
It's all about context of course: The 42-year-old Hungarian is preparing to swim the channel between North Ireland and Scotland in summer – roughly 38 kilometres in waters dropping to a spine-chilling 10 to 12 degrees.
"Yes I can swim in very cold temperatures for long, long hours, but I feel better if the sea is warmer like 18 Celsius – it's more comfortable," he explained. "[The Cold Half] is a perfect event for me to use for preparation."
He's already swum four of the world's toughest ocean crossings in pursuit of claiming the "Ocean's Seven": swimming seven channels from the seven continents, and is to open water swimming what the seven summits is to mountaineering. Only six people have completed it.
Last year he was nominated as the Open Water Swimming Man of the Year.
Around 30 swimmers from Hong Kong and around Asia will take part on Saturday as teams of two or solo. Some are looking forward to testing their mettle against the open water swimming celebrity, like 16-year-old up-and-comer Singha Chau.
"I am really looking forward racing against a top athlete – it will be great experience for me," said Chau, who is aiming for a top three finish ahead of the HKASA 10km swim in April, where he hopes to be selected to represent in Hong Kong in the 10km event in Rio and the World Junior Open Water Championships in Mexico this summer.
"I hope I can keep as close to him as possible but my general aim is to finish the race because 15km isn't a simple task, so I will try my best to complete it first," he added.
The race will be tracked live via GPS for each team or solo swimmer and will be visible in real time on the Open Water Asia website
(www.openwaterasia.com)
and Facebook Page.
"This is our fourth Cold Half race, and it is becoming known as one of "the races" to swim, like the large channel crossings," said race director Doug Woodring. "The distance and scenery is amazing, and it is a great training venue for some of the bigger channel swims. We expect this event to grow amongst the elite, long distance swimmers from around the world."
The event starts at 10am from Stanley Main Beach, and will finish at Middle Island within Deep Water Bay.