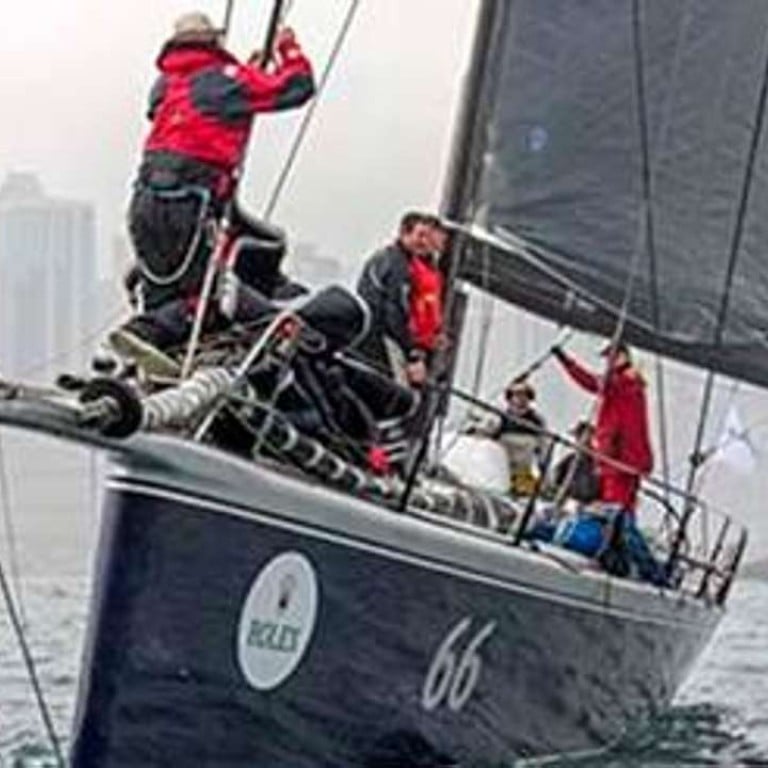 Alive and kicking – China Sea Race line honours go to Phillip Turner's crew
They finished nearly 12 minutes ahead of the previous record set by Beau Geste
Having faced the gamut of sailing conditions and provided one of the most exciting finishes since race tracking was introduced, Phillip Turner's RP66, Alive, has claimed line honours in the 2016 Rolex China Sea Race and written herself in to the record books, setting a new record for the race of 47 hours, 31 minutes and eight seconds – 11 minutes and 59 seconds inside Beau Geste's record, set back in the millennium edition.
After an inauspicious harbour start for the fleet, Alive made slow progress out of a foggy, damp Hong Kong and, had it not taken four hours for the northeast monsoon to kick in, she could have been looking at taking a much larger chunk out of the record.
Once in open water, the breeze picked up and the RP66 had stiff competition for line honours nearly all of the way, with Banuls 60 Catamaran MACH2 making impressive gains through the middle stretch of the race.
Both vessels raced close to the rhumb line, however just over 200nm from the start, Alive chose to peel off south to stay off the coast and set up a more westerly approach to Subic Bay, leaving MACH2 to take an inside line. The tactics paid off for Turner and while MACH2 sat in the dreaded Luzon hole for five hours, making slow progress, Alive benefitted first from the mid-morning sea breeze kicking in.
The crew members on Alive were delighted although admitting they had the wrong time in mind for the record.
Duncan Hines said: "We were amazed – we had the wrong time in our head and we're over the moon." Stacey Jackson added: "The race was fairly good for us. We managed to stay ahead of the bad weather which I gather some of the smaller boats are having. It's a good way to go sailing. Several times last night we commented how great it was - we were doing 17 to 18kts under a full moon. They say 'start well, finish well' … well, we finished well!"
Whether or not Alive can prevail in the IRC overall stakes remains to be seen, with a mix of boats from the IRC Racer divisions vying for the coveted China Sea Race trophy. Nearly every boat has climbed to the top of the leaderboard at some point, only for predictions to change 30 minutes later with the positional update on the Yellowbrick trackers.
Much will depend on what advantage the smaller boats can take from the strong monsoon filling in from behind, also on what time competitors reach the Luzon coast, with dawn and dusk to be avoided. MACH2 is expected mid-afternoon, while the next IRC boats should be TP52s FreeFire and Standard Insurance Centennial, around midnight, followed by KLC Bengal7, Zanzibar and Shahtoosh around two hours later.