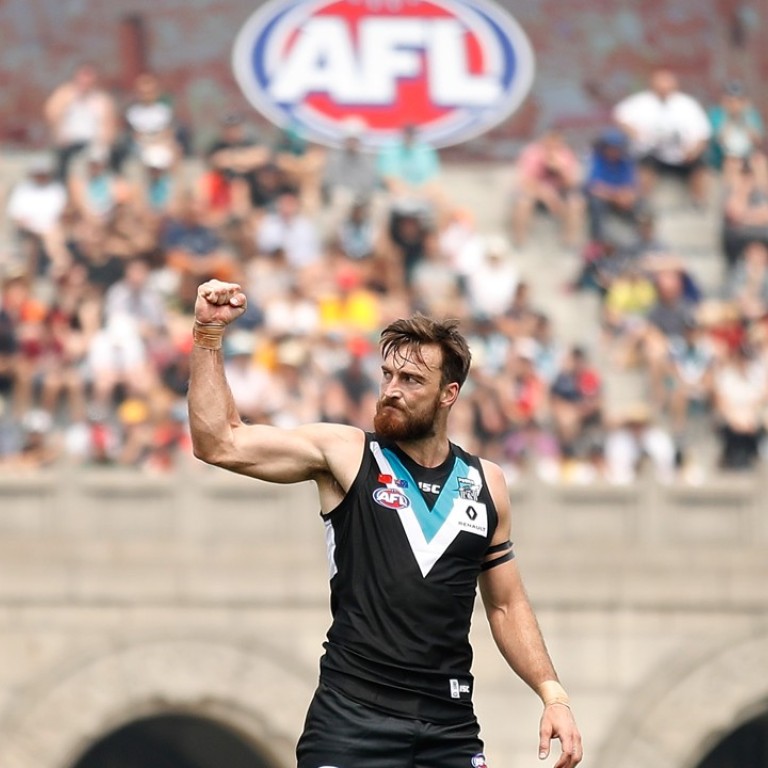 Business ties ensure Aussie Rules is in China to stay, but how do Port Adelaide make it about more than money?
Game against the Gold Coast provides a superb spectacle, but immense challenges remain as club attempts to make Aussie Rules a sought-after sport
Knock it all you want, but Australian Rules football is in China to stay. For the meantime anyhow.
The business ties created by Port Adelaide and the Australian Football League will see to that.
Sports diplomacy between China and Australia is riding high, with the AFL leading the way as others try to get in on the act.
Australia's National Basketball League (NBL) was also in China this week, with Melbourne United playing an exhibition game against the Jiangsu Dragons in Nanjing on Wednesday in a bid to strengthen trading ties between China and Victoria.
Port, in partnership with the AFL, expects to break even on its maiden venture to the mainland, having generated A$4 million (HK$23.1 million) through sponsorship, ticket sales and hospitality.
While pleased with the initial return, the club is confident sponsorship income will continue to grow, with Shanghai Cred founder Gui Guojie one business leader particularly supportive of the first regular season game in China by a foreign domestic league.
While the game itself – played in Shanghai on Sunday between Port and the Gold Coast – received plenty of criticism, Port and the AFL could not have done a better job from a spectator's point of view.
Call me biased as a footy-starved Aussie living in Hong Kong, but the game had as good a feel and atmosphere as any I've been to, with traditional drop Victoria Bitter flowing despite pre-game suggestions the stands would be a dry zone.
The traditional Australian footy vibe was palpable, but the Chinese touch made it truly unique. No doubt there was some significant hurdles and hiccups in making it a reality, but I'm pretty sure no one thought playing a game in China would be easy.
Many in the Australian media took a negative and narrow view in the lead-up, focusing on fears over air quality, player's diets and arduous travel arrangements.
It didn't end there, with plenty of talk around poor crowd numbers following the game. Truth is if you ask Port, the attendance of 10,118 – 3,000 of whom were Chinese – met expectations.
While there may have been some empty seats – a lot of people did migrate to the hospitality tents in the second half – it did little to dampen the atmosphere.
When you consider it was likely the most watched game in AFL history – CCTV, Shanghai Television and Guangzhou Broadcasting Network ratings are pending – a few empty seats seems trivial and the other issues seem minor in the grand scheme of taking the Australian game to China.
There is much more at play than just the game itself and it seems only a matter of just how large this fixture will become, rather than whether it will continue.
The business side of the concept will ensure its short-term existence, but it is the idea of actually taking the game to the Chinese people – both from a player and spectator point of view – that could see it thrive.
Port Adelaide chief executive Keith Thomas maintains that increasing participation at the grassroots level "is a key pillar to our China strategy".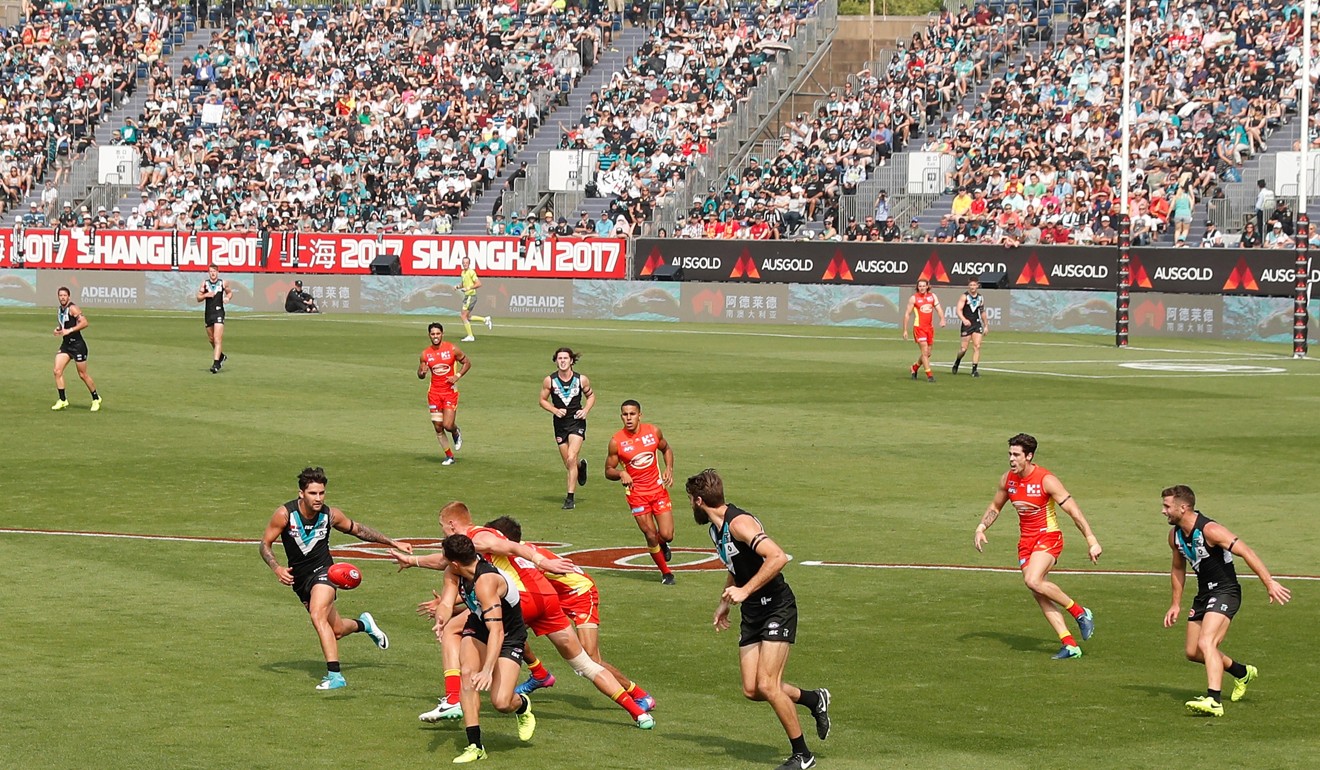 Whether Port will be able to achieve this goal remains to be seen, considering the challenges faced in introducing an unknown sport into such a vast country.
The club has already made strides, taking the game to 14 schools, while other schools and universities are showing interest.
The game is also played in south China through the South China AFL (SCAFL), which has been running since 2011 and sees teams from Guangzhou and Guangdong compete against teams from Hong Kong.
Watching a SCAFL game alone is proof of how much the Chinese playing Australian Rules love the game, but genuinely making it a sought-after sport could take decades.
While the AFL is ahead of the pack in the fact it is the first domestic league to officially play on the mainland, those already involved are only a tiny, tiny sample of a country that traditionally is not known for being overly active.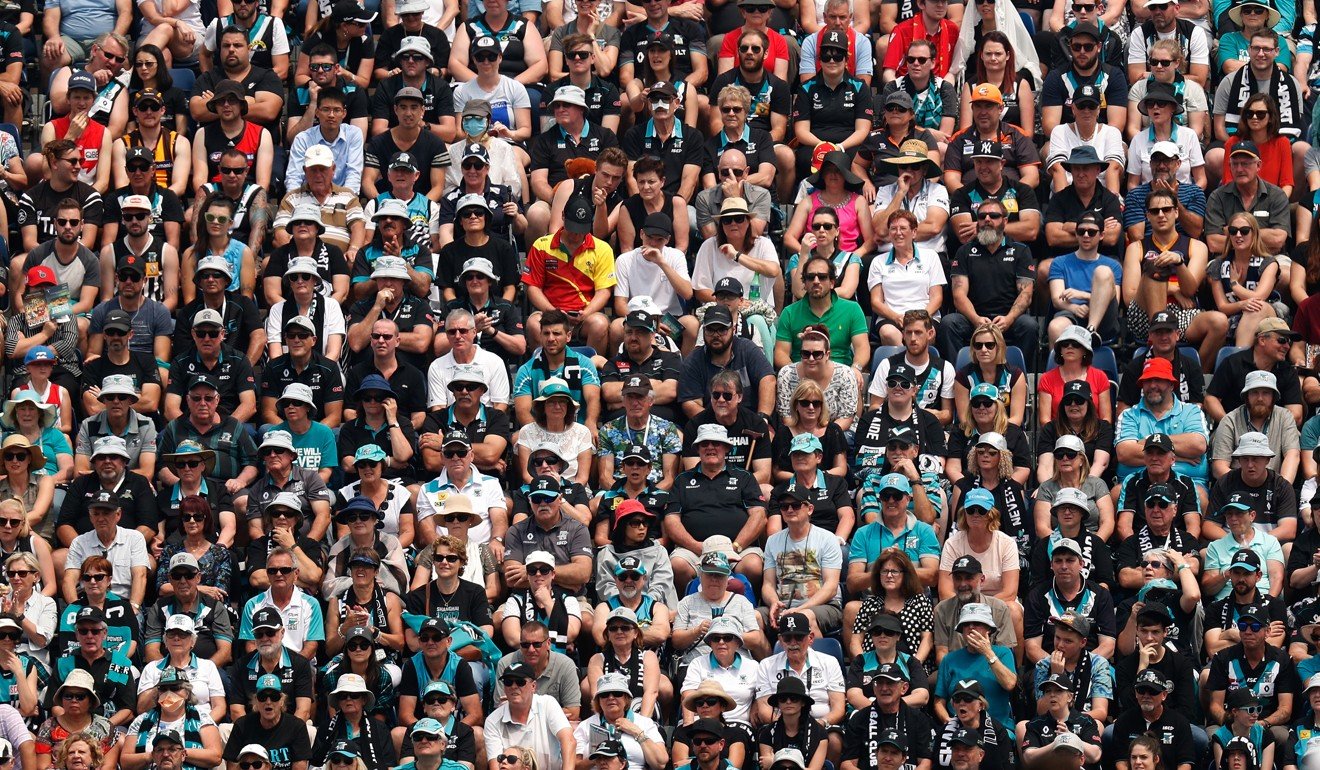 Often peddled is the idea that it would take only the tiniest of slices of China's 1.37 billion people to take up the game for a sporting league to be successful.
However, the mighty NFL haven't been able to manage it and it will be no mean feat for an unknown sport that many confuse with rugby.
Port is confident that the success of the match will see it get AFL support to go around again next year. The club is looking to further engage with Chinese audiences through television and social media, but whether it can get them to buy into Aussie Rules remains to be seen.
The idea of growing the game in China is an admirable one, but the jury is still out on whether Port and the AFL are able to meaningfully extend their impact beyond one day a year.
Thankfully the business side of the concept came together so quickly, because the grander plan could take multiple lifetimes.
This article appeared in the South China Morning Post print edition as: can AFL make an impact?