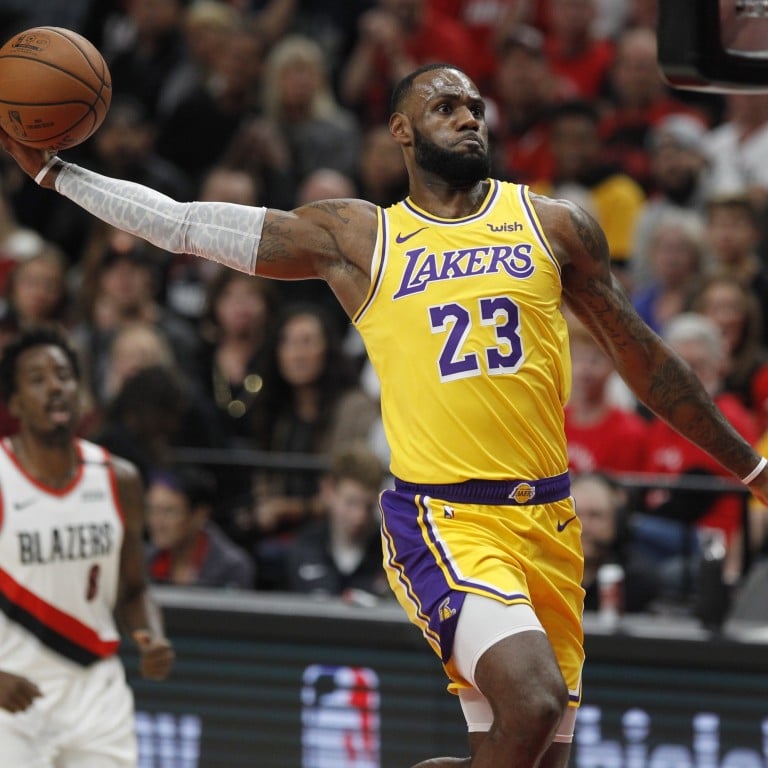 Los Angeles Lakers forward LeBron James had a fine debut, but it wasn't enough to lift his team to victory in their season curtain-raiser. Photo: EPA
LeBron James loses first game with LA Lakers as they fall to Portland Trail Blazers in tense season-opener
A good night for the Lakers marquee signing isn't enough to lift them to an opening win of the new season
Topic |  
NBA (National Basketball Association)
Los Angeles Lakers forward LeBron James had a fine debut, but it wasn't enough to lift his team to victory in their season curtain-raiser. Photo: EPA
Damian Lillard and CJ McCollum combined for 49 points, and Nik Stauskas matched his career high with 24 points in his first appearance in a Portland uniform, leading the Trail Blazers past the visiting Los Angeles Lakers 128-119 on Thursday night in the season-opener for both teams.
LeBron James collected 26 points, 12 rebounds and six assists in his first game as a Laker. Los Angeles shot 48.4 per cent from the field but was only seven of 30 on 3-point attempts. Josh Hart had 20 points for the Lakers, who got 13 points and 11 assists from Rajon Rondo in his team debut.
Lillard scored 28 points, McCollum chipped in 21 points, and Jusuf Nuric added 16 points and nine rebounds in just 17 minutes for the Trail Blazers. Portland won their home opener for an
Staukas bombed in 16 points, Lillard added 13 points and Nurkic contributed 12 points and six rebounds as Portland took a 65-63 advantage into half-time. James had 18 points and seven boards at the break for the Lakers, who shot 53.1 per cent from the field despite going 0-for-12 from 3-point range.
Portland stoked their lead to 79-72 mid-way through the third quarter. The Lakers scored six in a row to draw within 79-78. Portland's advantage was 93-91 heading into the final period.
The Lakers were still within 109-104 with six minutes left, but McCollum sank an 18-footer and followed with a 3-pointer to make it 114-104. The Lakers got to within 124-119 in the final minute, but Stauskas sealed the outcome with two late free throws.
With James scoring 13 points on 5-for-6 shooting – including back-to-back dunks – the Lakers mounted a 25-15 lead early. The Blazers went on a 9-0 run to take a 31-29 advantage and carried a 34-31 edge into the second quarter.
Stauskas came off the bench to knock down six consecutive shots – four from 3-point range – and score 16 points in six minutes, staking Portland to a 50-40 lead.
The Lakers, with James on the sideline due to three fouls, battled back to tie the game at 61-61 late in the second quarter.