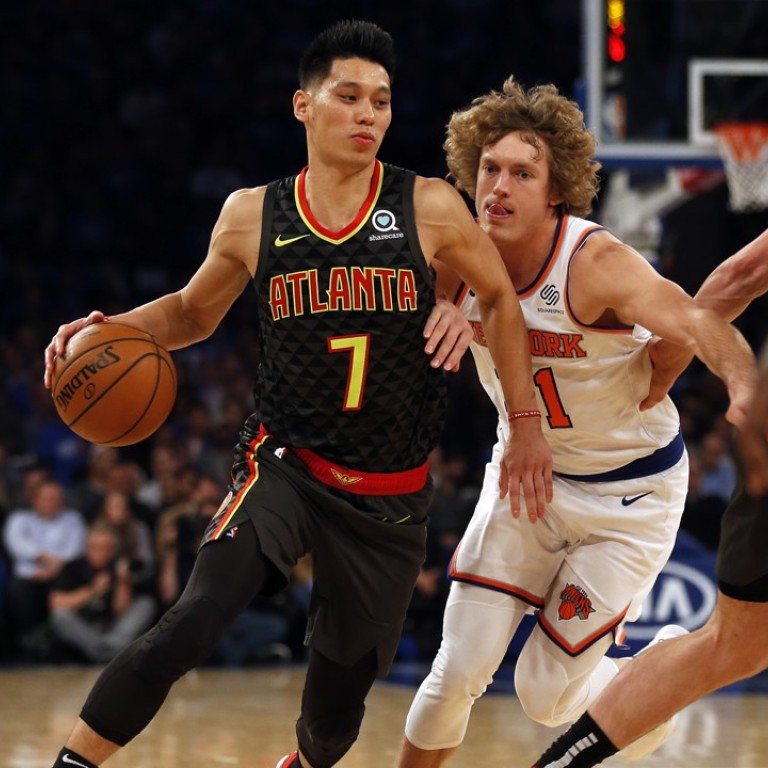 NBA star Jeremy Lin tells Stephen J Dubner of Freakonomics Radio about fans, injury frustrations and the future
Atlanta Hawks guard has just made return to court 364 days after injuring knee
Harvard economics graduate explains diverse investments and future plans
It is now six years and nearly as many basketball teams since "Linsanity" struck for
Jeremy Lin
.
Now at the Atlanta Hawks, where he was traded from the Brooklyn Nets in July as part of a salary dump, the 30-year-old is back in
NBA
action.
In their season-opener last week the Hawks were at Madison Square Garden, the venue where he came to the public consciousness with his superstar stats with the Knicks during 2012.
That game marked Lin's first for 364 days since injuring his knee with the Nets.
Lin got his first minutes for over a year scoring eight points, five rebounds, a steal and an assist in 14 minutes. He has since played 17 minutes against the Memphis Grizzlies and then another 10 minutes on Sunday night when the Hawks beat the Cleveland Cavaliers for their first win of the season as he looks to put the last year behind him.
The Harvard graduate told the Freakonomics Radio podcast of one of the most frustrating sides of injury – the reaction of fans.
"I can't tell you how many fans have come up to me and they're like, "Man, you're on my fantasy team and you got hurt. You hurt my fantasy team!", he told host Stephen J Dubner, one half of the authors behind the Freaknomics books and series of spin-offs.
"I'm like, 'Are you comparing what I do and what I love and what keeps me up at night and the thing that I've put tens of thousands of hours into, to your little fantasy thing that you just showed up for one day and did a 60-minute draft for?'
"It's just funny because the fans are actually invested, right? They're invested but they could never compare to what an actual athlete has invested into their own life."
Investment is something the economics major is expert on and Lin explains to Dubner what drives his and what they are.
"I'll never be the person who just wants to make top dollar. I think for me I would rather have top impact over top dollar," he says, pointing to his charitable foundation.
Lin has full-time staff that covers his business interests in the US, China and Taiwan, managing a portfolio that includes the Jeremy Lin Foundation, an e-sports team and other ventures as they look to his post-basketball career. He admits he has not "fully figured" that out right now.
In China, he has a league and basketball schools with thousands of kids that's "growing a lot" and then there is his reality TV show where he and superstar Jay Chou captain a side, which he filmed this summer.
"We're probably at the half-way point of the season and in China I think we're at, 800-900 million views at this point. So that's three times the US population. It's a monstrous show, a huge endeavour."
The numbers suggest things are paying off, such as the viewership on the annual Lin celebrity charity game. "We've done it two years in a row. And this past year we had I believe 18 million people watching online."
Lin is in the third year of a US$38 million contract. Growing up "middle class" as the child of immigrants who spent heavily on offering him and his brothers every opportunity has informed his spending. He lives "comfortably" but rents his home and his biggest extravagance has been his Jeep Wrangler.
"Again, a lot of what I'm focused on right now is how do I make an impact with my money. So whether it's tithes and offerings or whether it's donating to my foundation."
While Lin's accounts stand up to scrutiny, so do his numbers, especially in the current NBA climate where analysis has been adopted over gut feeling for judging players, with Lin pointing to Steve Nash and Steph Curry.
"The game is becoming just more tailored to lay-ups, free throws and threes because those analytically are the most efficient shot."
Dubner points out that Lin's own three-point percentage has increased over the years, Lin knows he has to hit more threes: "It's like if I want to play in today's day and age I really have to be able to improve that."
That realisation is further proof for Dubner's argument that Lin's economics background has helped him on and off court. Lin is less convinced when pressed to give Harvard credit. "I'm never going to sell them short," he told Dubner, "but yeah, economics has not really helped me with putting an orange basketball through a hoop."
Respectful but good at basketball are two of Lin's values and he has another message on respect.
"Fans think, 'Man, I could take him' or 'I could beat him in one on one', or whatever. And it's like, 'do you understand how great ... there's six and a half billion people and there's only 450 that make it to the NBA'. Like, respect greatness."