Eileen Gu's Chinese fans flock to Weibo to hail star's decision to join US Winter Olympics bid as ambassador
Double Olympic gold medallist says decision shows 'beauty of globalisation', adding she has backing of 'incredibly supportive' China
More than 220 million Chinese fans flock Weibo to voice their support, with many describing Gu as a 'powerful' female role model and ambassador
A growing chorus of
Eileen Gu
fans have taken to Weibo to show support her decision to serve as an ambassador for the US bid to host the Winter Olympics in Salt Lake City in 2030 or 2034.
More than 220 million people have so far responded to a hashtag, with comments overwhelmingly in support of the teenager's decision to side with the Salt Lake City bid.
"Gu Ailing is an international ambassador and influential athlete," said one user. "I feel that it is rare to have such an excellent woman with international characteristics."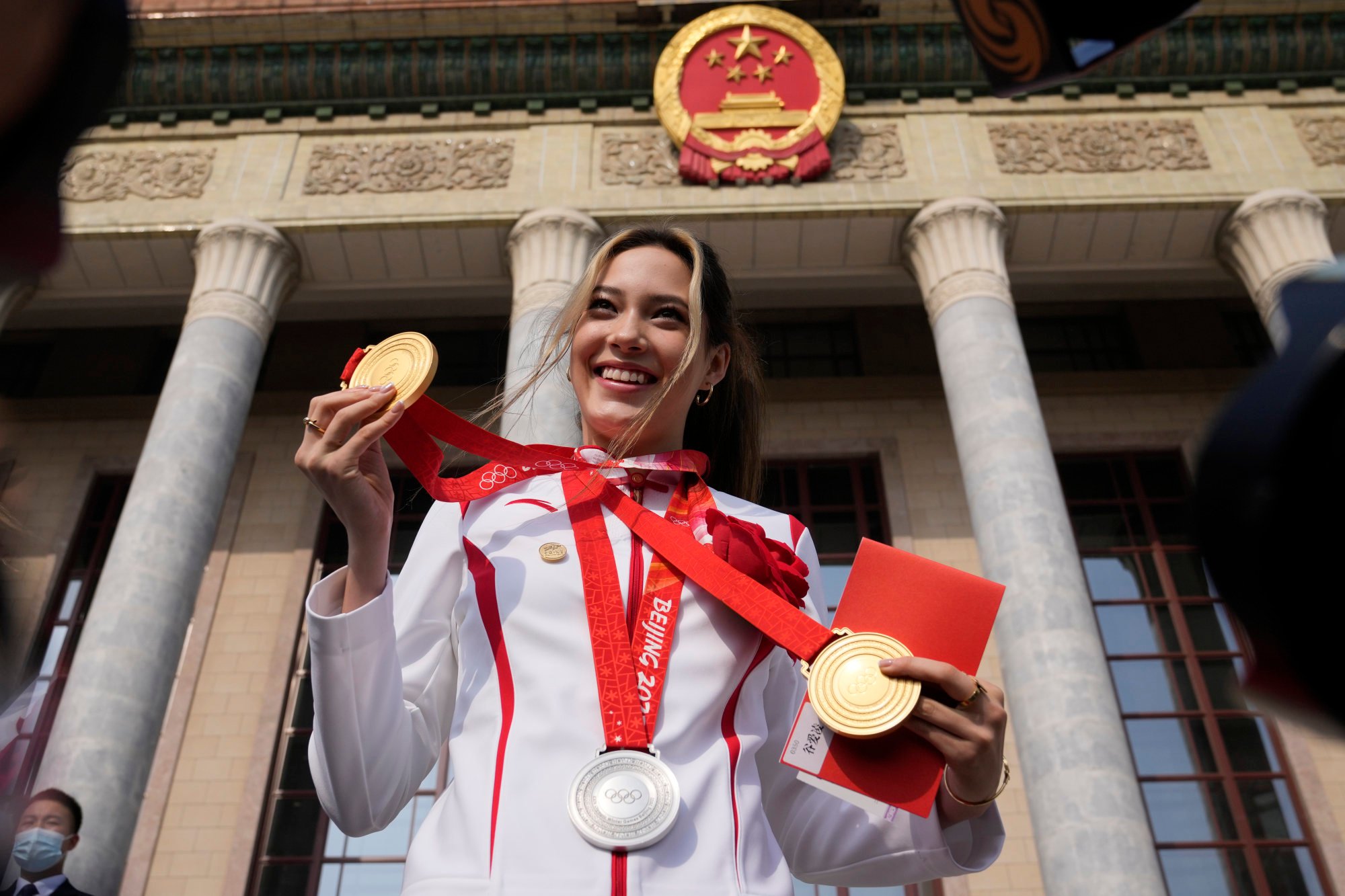 "Gu Ailing's influence in the sports field is far beyond the cognition of most Chinese people," said another user. "When the media interviewed her, they either asked her what she liked to eat, or asked her how many hours she slept a day, and never looked at her achievements."
Many have also referred to "Frog Princess" as she is known on Weibo as a "powerful" female role model and ambassador.
Gu represented China at the Beijing Winter Olympics earlier this year, winning two golds and a silver. A decision she said at the time was motivated by a desire to "inspire millions of young people" in her mother's home country.
The teenager revealed her decision during the TIME100 Summit on Wednesday (Hong Kong Time), and said she saw it as a "beautiful example of globalisation".
"Salt Lake specifically wants to become a global destination for athletes everywhere to come train there and they want to incorporate 15 new countries into the Winter Olympics," she said. "I think that's something that's really beautiful and I've always stood for that and so I'm really honoured to be a part of the whole thing."
Gu has long referenced the support she received in both the US and China when she was developing as an athlete, and said both countries continued to support her in her endeavours.
"I had this tremendous support from the US ski team from a moral level, from an emotional level in the sense that when I told them that I wanted to compete for China in the upcoming Olympics that it was to inspire young girls, it was to spread the sport and it was to create a shared future of globalism," she said.
"They were 100 per cent behind me and they continue to be incredibly supportive and the same is true of the Chinese side."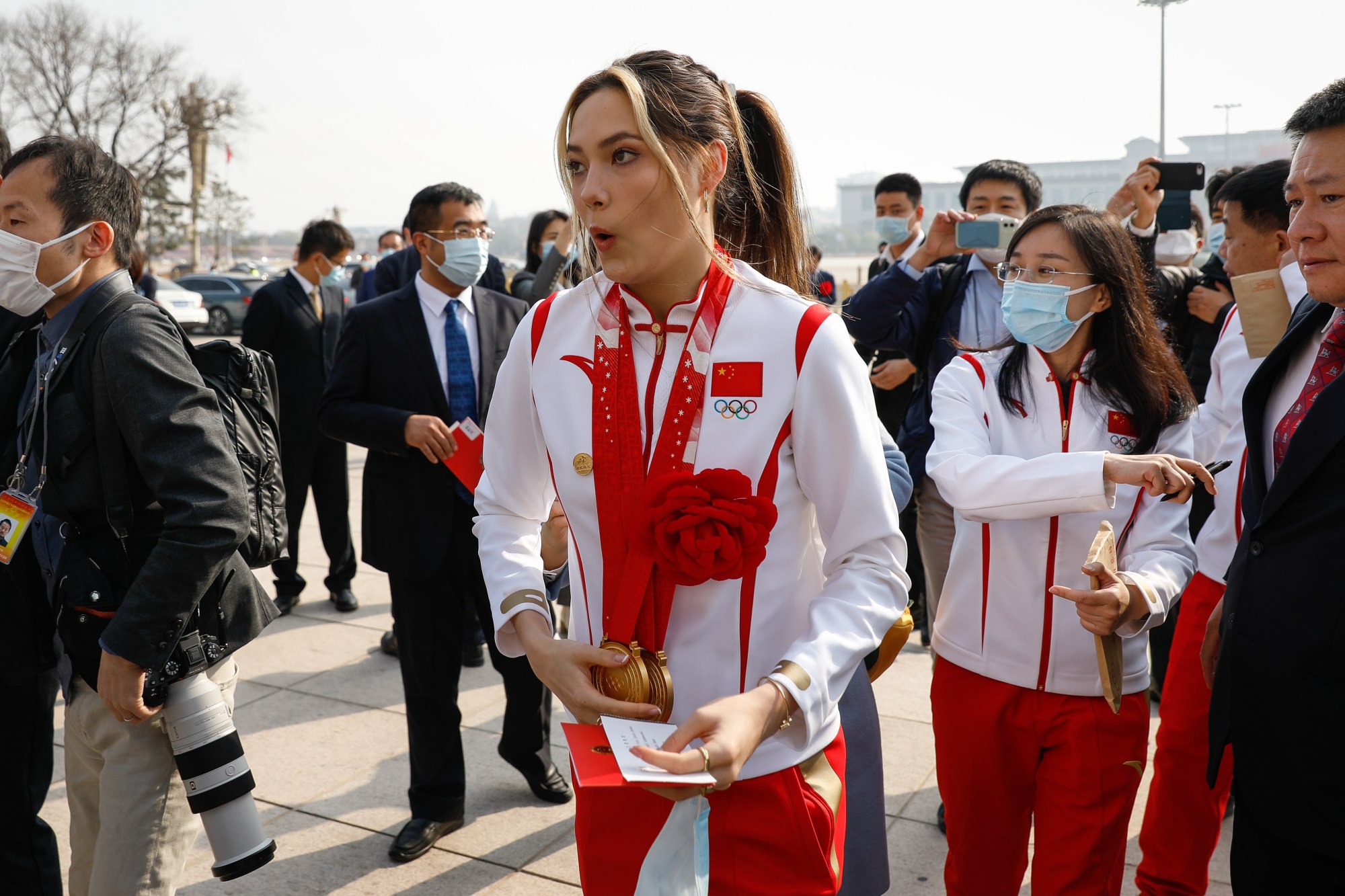 While Gu was widely embraced in China, she has continually refused to answer questions over her nationality and whether she still holds US citizenship.
China does not allow dual citizenship, but there is no record of Gu ever renouncing her US one.
Any time she has been asked, Gu has always pointed to the "hundreds of young girls" who contact her via social media saying she inspires them.
The 18-year-old said her desire to be involved with the US Olympic bid was not about that country or China, it was about making skiing visible "where it wasn't before".
"It's in the US, it's in Canada, it's in Europe," she said. "It's in all these places where free skiing wasn't visible before and now it is. And that's the bottom line."